September 4, 2017 | Daily Monitoring Report
Somali Foreign Affairs Ministry Officials Ordered To Stay Away From Media
04 September – Source: Radio Dalsan – 150 Words
The Federal Government of Somalia has ordered senior staff and diplomats at the ministry of foreign affairs to keep off the media. In a letter sent to all diplomatic missions across,the ministry cautioned the staff from talking to the press without permission from office headquarters in Mogadishu. The permanent secretary of the ministry of foreign affairs ambassador Ali Mohamed Ali has also banned all diplomats below the rank of representative from giving details to the media on any capacity or on the behalf of the government in Mogadishu.
The move comes days after a letter appeared in the mainstream media in which the federal government through its ministry of foreign affairs requested urgent US military intervention to curb Al-Shabaab and Islamic State uranium export to Islamic republic of Iran. No official communication yet from the ministry to deny or confirm the request made to the US embassy in Mogadishu.
Key Headlines
Somali Foreign Affairs Ministry Officials Ordered To Stay Away From Media (Radio Dalsan)
Fatal Car Accident Near Hobyo Leaves 1 Dead 3 Injured (Shabelle News)
Benadir Regional Administration To Fight Armed Gangs In Mogadishu (Jowhar.com)
2 Police Officers Killed In Suspected Al-Shabaab Attack On Kenyan Church (Xinhuanet)
The Fight Over Women's Basketball in Somalia (The New Yorker)
NATIONAL MEDIA
Fatal Car Accident Near Hobyo Leaves 1 Dead, 3 Injured
04 September – Source: Shabelle News – Words
Reports reaching us from Mudug region indicate that at least one person was killed and three others were wounded in a fatal car accident near Hobyo town on Monday. The incident took place after a vehicle carrying Muslim clerics overturned between Gawaan and Qararow areas, both located in the outskirts of the port town of Hobyo.
The wounded have been taken to a hospital in Galkayo, for medical treatment, according to Wasil administration spokesman Yoonis Abshir Balelm, who spoke to Radio Shabelle by phone. Road accidents are common in the war-ravaged country due to poor road construction, badly maintained vehicles, routine disregard of traffic laws, and lack of proper driving skills.
---
Benadir Regional Administration To Fight Armed Gangs In Mogadishu
04 September- Source: Jowhar.com – 130 Words
The Benadir Regional Administration (BRA) has issued a warning to gunmen that have gone on a robbing spree in parts of the capital Mogadishu. The regional administration now says it will fight robbery activities just like Al-Shabaab militants.
A spokesman for the Benadir Regional Administration, Abdifatah Omar Halane said the security forces will deal with the armed gangs swiftly. "The Benadir Regional Administration will take the necessary step in fighting armed gangs that have been robbing the resident especially civilians on the streets," said the Abdifatah Halane. He added that the Governor of Benadir has issued orders to take action against the armed gangs that have been terrorizing the residents of Mogadishu.  It is reported that armed groups are staging daily robbery activities in some neighborhoods in the capital Mogadishu.
INTERNATIONAL MEDIA
03 September – Source: Xinhuanet – 223 Words
Suspected Al-Shabaab militants shot dead two Kenyan police officers after raiding a church in the coastal Kwale region on Sunday, police said. Coast regional police commander Lorry Kieng said the gunmen riding on motorbike attacked Anglican Church of Kenya (ACK) before escaping with two rifles belonging to the slain officers who were guarding worshippers in Ukunda.
Kieng said one police officer was shot dead on the spot while another succumbed to injuries after being rushed to hospital, noting that the motive behind the attack has been not been established. "The two police officers were guarding the church when they were confronted," said Kieng. Residents said the gunmen were Al-Shabaab members who had returned to the country from Somalia. "Our officers have launched investigations to establish the motive of the gunmen. We can not rule out terrorism, the attack is not a normal robbery. Their intention was to steal the guns to plan other attacks," Kieng said.
Several areas in the northeastern Kenya including coastal regions that borders Somalia have been the target of Al-Shabaab terrorists who kill innocent citizens, as well as security officers and other government officials, using either gunfire or grenades. The regions are also prone to attacks in which police officers including civilians have lost their lives or sustained injuries when patrol cars ran over landmines or into grenade attacks.
OPINION, ANALYSIS AND CULTURE
"Mogadishu was once a beautiful place, with pale, handsome government offices, mosques, and grand homes, all angling for proximity to the white beaches at the edge of the Indian Ocean. Now, after more than two decades of civil war and lawlessness, the buildings are riddled with bullet and shell holes, or crumbling from neglect, or newly built and characterless; the streets, where sand pools in the cracks, are filled with soldiers and policemen."
04 September – Source: The New Yorker – 5826 Words
Aisha got her first call from the terrorists when she was fourteen. It was 2013, and she was at home, in Mogadishu, Somalia, when an unknown number appeared on her phone. She picked up. The man on the other end told her that Islam does not allow women to play sports, or to wear shirts and pants. It was immodest and indecent, he said. His voice was harsh and menacing. He told her that he was going to kill her if she didn't stop playing basketball. The next day, another man called to say the same thing.
Aisha changed her phone number three times, but the calls kept coming, and she became convinced that someone at the mobile-phone company was giving out her contact information. After a while, Aisha began to argue with the callers, telling them that she was going to do whatever she wanted. When they threatened to kill her, she responded that only God was permitted to be in control of people's souls.
She was just a teen-age girl, but even she knew that—unlike these supposedly pious men. Then her mother started getting calls, from men who warned that she was going to lose a daughter. Trying to appeal to her faith, they told her that basketball was haram—forbidden. Her mother was worried, and wanted Aisha to stop playing.
Aisha had first picked up a basketball only recently, but she had taken to it quickly. Her phone filled with photos and videos of the basketball player she most wanted to emulate: a famous American athlete named LeBron James. She had seen James on the Internet and found him mesmerizing. "He is black and tall and a really nice player," she said. He was powerful and agile, endlessly clever. She wanted to have that kind of magic.
In a way, she felt destined for the game. Her mother, Warsan, had played when she was younger. Her father, Khaled, had worked as a referee in Somali basketball leagues, and she had gone to his games. "To see women and men playing, it was inspiring," Aisha recalled. She began joining pickup games in tan-dirt lots around her house with kids who lived in her neighborhood.
She didn't know what she was doing, but she didn't care; it was exciting just to hold a ball. "I always wanted to play basketball, but I was afraid that I wouldn't find girls who would want to play with me," she said. Not long after, a coach named Nasro Mohamed, a former teammate of her mother's, asked if she was interested in playing regularly. Mohamed got Aisha together with seven other girls to start practicing.
TOP TWEETS
@HarunMaruf: #IED explosion reported at Elasha Biyaha Mogadishu suburb targeting a convoy, at least 2 civilians killed, several soldiers wounded: reports
@The_EastAfrican: Somalia seeks US help over 'Al-Shabaab uranium mining' http://bit.ly/2exi5TH
@t_mcconnell: Where basketball is a matter of life and death:@alexis_ok on the women's game in #Somaliahttp://bit.ly/2wA6z2h  via @NewYorker
@wazalendoKE: 20 Al-Shabaab Operatives Killed in Bula-gudud, Lower Jubba Southern Somalia… http://fb.me/AHYDvt29
@somaliact2: At least 20 #AlShabaab fighters killed during gun-and bomb attack on army base north of #Kismayo – Xinhua reports #Somalia
@bashir_somalia: #ICAO plans to steal Somalia's air space by handing over to #India & #Madagascar ,after somali gov tried to retake its air space from ICAO
@salaamedia: Somalia facts: The people of Somalia are suffering from famine and drought, due 2 fighting among the clans, food delivery is restricted
IMAGE OF THE DAY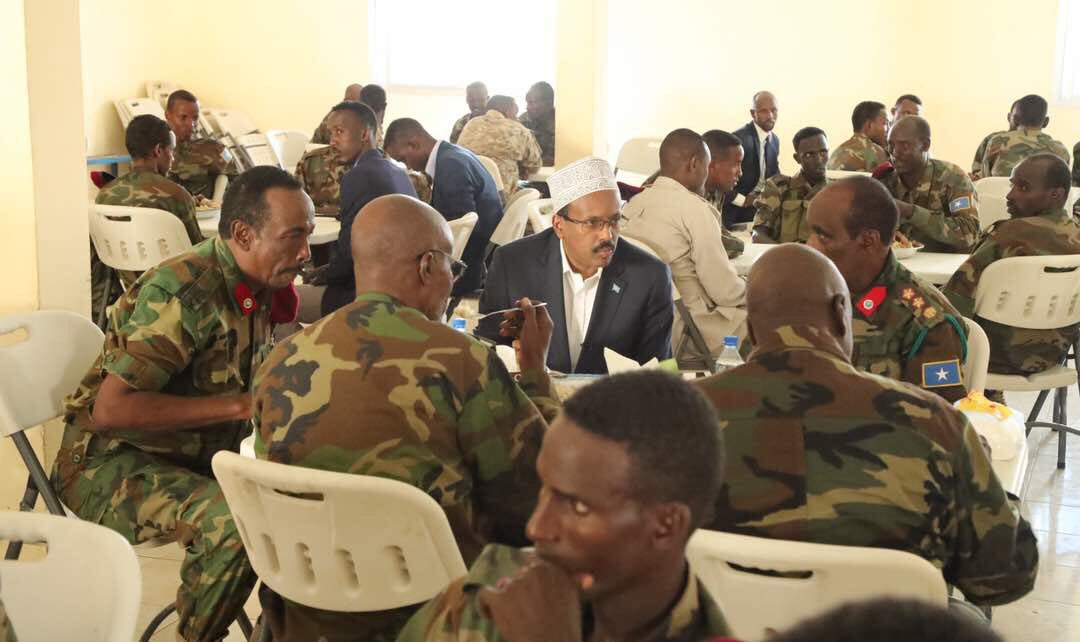 His Excellency Mohamed Abdullahi Farmajo spent Eid with a section of the leadership of Somali National Army and members  of his security details at Villa Somalia.
Photo: @TheVillaSomalia