September 25, 2017 | Daily Monitoring Report.
Ethiopian Prime Minister Meets Somali Prime Minister In New York
24 September – Source: Horn Observer – 163 Words
Ethiopian Prime Minister Hailemariam Desalegn held bilateral talks with Somali Prime Minister Hassan Ali Kheyre on Thursday on the sidelines of the United Nations General Assembly meeting in New York. "The two officials have discussed at length on the ways to further strengthen the already existing fraternal bilateral ties between Somalia and Ethiopia. Prime Minister Hailemariam expressed Ethiopia's unwavering support to realize strong and stable Somalia,"  Ministry of Foreign Affairs of Ethiopia said in a statement.
The Somali Prime Minister acknowledge Ethiopia's relentless support to the government and people of Somalia. He also expressed that his country value the relations it has with Ethiopia and, reaffirmed that the Somali government will not allow anyone to destabilize Ethiopia since the two countries' destiny is intertwined. The two Prime Ministers highlighted the need to work together on the Horn of Africa integration project. They also exchanged views on the upcoming joint commission between the two countries that is expected to be held on October 2017.
Key Headlines
Ethiopian Prime Minister Meets Somali Prime Minister In New York (Horn Observer)
Defiant Galmudug President Haaf Accuses Farmaajo Government Of Declaring War On Region After His Flight Was Blocked (Radio Dalsan)
Al-Shabaab Claims Killing Four Puntland Soldiers In Attack (Radio Shabelle)
Senior Somali General Gunned Down In Mogadishu (Voice of America)
Gates Bolsters Relief Efforts As Drought Ravages Somalia (Daily Nation)
In Minneapolis Somali-Americans Set Out To Reshape US-Somali Relations (Hiiraan Online)
NATIONAL MEDIA
Defiant Galmudug President Haaf Accuses Farmaajo Government Of Declaring War On Region After His Flight Was Blocked
24 September – Source: Radio Dalsan – 230 Words
A plane carrying Galmudug President Ahmed Haaf on Sunday blocked from departing Hargeisa Airport to Adado following instructions from Somali government. Radio Dalsan is privy to communication between the Somali Civil Aviation and Meteorology Authority, and owners of the chartered plane Bush Air Operations. The email dated 24 September and signed by Deputy Director General of the authority Mr. Ahmed Moallin Hassan partly said "This is an official instruction from SCAMA your flight 5Y-GG for today from Hargeisa (sic) to either Adado or Galkacyo for technical reasons…".
Haaf landed in Hargeisa from the U.A.E where he was on an official invitation. The outraged President Haaf later arrived back in Adado and said blocking his flight was tantamount to "declaring war" on him, and Galmudug regional state. The Gulf Crisis and its political ripples has reached Somalia, threatening to split the central government in Mogadishu and the regional states. Three regions Puntland, Southwest and Galmudug have declared their support for Saudi Arabia and U.A.E despite the government stance that it remains neutral. The government has said it is the only authority that can  speak on Foreign Affairs. Meanwhile in Galmudug, the Vice President and the President remain deeply divided over the announcement on Wednesday  regarding cutting ties with Qatar. Vice President Mohamed Hashi was on Saturday blocked by Galmudug security from leaving Adado following the fall out.
---
Al-Shabaab Claims Killing Four Puntland Soldiers In Attack
25 September – Source: Radio Shabelle  – 125 Words
Al-Shabaab, the Qaeda-linked Somalia based militants claimed to have killed at least four Puntland state soldiers in an attack near Galgala mountains in Bari region. The incident which took place late Sunday, has left two soldiers and a civilian dead, according to the local residents. Al-Shabaab ambushed a convoy travelling between Bosaso and Galgala.
Medical officials confirmed to Radio Shabelle that they had received five wounded soldiers, the bodies of two soldiers, and one woman following the attack in Galgala hills. The mountains which lies about 40 kilometers south of Bosaso, a regional commercial center had been a hotbed for Al-Shabaab for many years. Al-Shabaab militants said they carried out the attack, targeting a military vehicle carrying soldiers to the Puntland base in Galgala Highlands.
INTERNATIONAL MEDIA
24 September – Source: Voice of America – 261 Words
A senior Somali military officer was gunned down in Mogadishu Sunday evening, security sources told VOA's Somali service. Gunmen armed with pistols fatally shot General Abdullahi Mohamed Sheikh Qururuh and a bodyguard as the two men were walking home from a mosque in the Somalia's capital, witnesses said. The attackers walked past General Qururuh and the bodyguard, then turned and shot them from behind, the sources quoted the witnesses as saying. Both victims died on the spot.
Qururuh was a senior army officer at Somalia's command and control headquarters in Mogadishu. He served previously as deputy commander of logistics for the Somali army. There no immediate claim of responsibility for the assassinations. Al-Shabaab militants are believed to be involved in most such attacks on government officials. One week ago a similar shooting in southern Mogadishu killed a senior Somali intelligence officer and his bodyguard. The attackers in that case were in a vehicle that fired on Mohamud Moallim Hassan Qoley and his bodyguard in the capital's Dharkaynlay district. Al-Shabaab claimed responsibility for those killings. In a separate incident late Sunday, two government soldiers and a civilian were killed in an Al-Shabaab ambush in Somalia's Puntland region, witnesses said.
Hospital officials in Bosaso confirmed to VOA Somali that they had received the bodies of two soldiers and one woman following the attack in Galgala Highlands, 40 kilometers south of Bosaso, a regional commercial center. Sources said five other soldiers were wounded. Al-Shabaab militants said they carried out the attack, targeting a military vehicle carrying soldiers to the Puntland base in Galgala Highlands.
---
23 September – Source: Daily Nation – 269 Words
Microsoft co-founder and billionaire Bill Gates has offered financial support to Somalis hit by drought. Through the Bill and Melinda Gates Foundation, he gave out $1 million (Sh100m) toward this cause. Bill Gates made the pledge during an event called Goalkeepers in New York on September 20. The event was dedicated to accelerating world progress and achieving the Sustainable Development Goals.
The global event focused on women, entrepreneurship, global health and the role of technology and innovation in delivering change. In attendance was former US President Barack Obama who said that development is a collaborative endeavour. "We have to stand up for each other; recognize that progress is never inevitable; that it often can be fragile; it's in need of constant renewal,… each of us can make a difference," Obama said.
Also, Dahabshiil chief executive officer Abdirashid Duale said: "We are honoured to have been recognized and invited to a prestigious event such as this, bringing together agents of change concerned about impacting positively on people's lives." Furthermore, the 'Love Army', a group of young international social media activists, has been working with ARC and Dahabshiil to help families affected by the drought. The group made an aid appeal that caught the attention of the Gates. The contribution was transferred to 1,000 villagers in the severely affected places. The transfer of the money to their mobile phones was carried out live, enabling participants witness the efficiency of technology. This was facilitated through Dahabshiil, telecommunications company Somtel and eDahab mobile payment service. EDahab's technology has also played a critical role in providing an alternative to conventional financial services.
OPINION, ANALYSIS AND CULTURE
"Yussur Abrar was also the keynote speaker of the afternoon. She is an accomplished Somali-American who reached the pinnacles of the male dominated high-finance world. She spoke of the vision and action required to rebuild Somalia well beyond 2021."
24 September – Source: Hiiraan Online – 790 Words
Somali-Americans descended on Minneapolis Minnesota – home to the largest concentration of Somalis in the United States – for the inaugural 'Vision 2021' summit. Vision 2021 is a policy summit aimed at influencing US foreign policy in Somalia while also introducing Somalia as an investment opportunity to American companies. The two-day event brought together US politicians, national security expert and academics with Somali businessmen, civil organizations and key stakeholders to discuss Somalia's roadmap to 2021.
U.S Congressman Tom Emmer and U.S. Senator Amy Klobuchar made brief remarks at the summit and then opened the floor to Abdirizak Farah, a senior policy advisor with the Department of Homeland Security who talked about the impact the Somali community in the diaspora can have in forging U.S. public policy and public opinion on Somalia. The University of Minnesota President, Eric Kaler also attended the summit and spoke of the partnership between the university and the Somali community.
A panel discussion on National Security in Somalia with Irfan Saeed, the Director of Counter Violence Extremism with the U.S. State Department; John Harrington, the Metro Transit Chief of Police for the twin cities area and former Minnesota State Senator and Marc Frey, the Executive Director of Bancroft Global Development sought to chart a path to defeat violent extremism through strategic partnerships. The panel agreed that stability and peace is a key ingredient for economic and social growth in Somalia. They applauded the Somali government plan to develop a national CVE strategy that includes the civil society, religious groups, women and the diaspora; as well as their cooperation with the international community in tackling anti-money laundering in countering terrorism financing.
Mr. Frey and Mr. Harrington also discussed a plan to use Somali-American police officers to train their counterparts in Somalia. Bancroft Global Developments  – a private military company that grew out of a landmine clearing company – is currently training AMISOM troops in Somalia.  They explained the pilot project that involved a Minneapolis area police officer travelling to Mogadishu for a year and assisting with training and planning. The project also includes provisions for supplies and equipment that are instrumental to police work. Aman Obsiye, the Chairman of the Vision 2021 summit says that the event aims to develop policies that will help steer Somalia out of its failed state status by 2021. Universal suffrage is essential to Somalia becoming fully democratic.  He noted that Somalia was a functioning state for 30 years (July 1960-January 1991), and by 2021, if concrete gains aren't made, the Somali state will be failed longer than it has been functioning.
TOP TWEETS
.@M_Farmaajo: Congratulations to Angela Merkel on her election success and 4th term as Chancellor of Germany.#Partnership @GermanyDiplo @TheVillaSomalia
.@engyarisow: Somali PM Hassan Ali Khayre @SomaliPMmeets @antonioguterres in New York to discuss strengthening relations between #Somalia and the @UN
.@Somalia: We took the neutral decision on the #GulfCrisis after a three-day consultation:@SMMOFAhttps://www.facebook.com/Somalia/videos/1713923348915366/ …#Somalia #Somali #أزمة_الخلي
.@DalsanFM:Mayor Thabit Orders Arrest Of Police Who Shot Dead Motoris – http://radiodalsan.com/en/mayor-thabit-orders-arrest-of-police-who-shot-dead-motoris/ …
.@adancabdulle: The Shabelle River in Jowhar on the brink of flooding the city. Region oscillates btwn destructive floods and equally destructive droughts.
.@Somalia: A national youth campaign called "#WeAreCapable" starts from #Garowe to clean and repair roads.#Somalia#Puntland#WaanAwoodnaa#نحن_قادرون
.@HarunMaruf: Hearing reports that the govt, parliament may respond to the alleged interference by UAE into the domestic affairs of Somalia.
.@DalsanFM: Welcomes First Night Flight In 27 Years#MogadishuRising #SomaliaRising @ThabitMhd
.@HarunMaruf: Photo: Gen Abdullahi Mohamed Sheikh, one of the senior officers at the Ministry of Defense assassinated by suspected militants, Sun, Sept 24
IMAGE OF THE DAY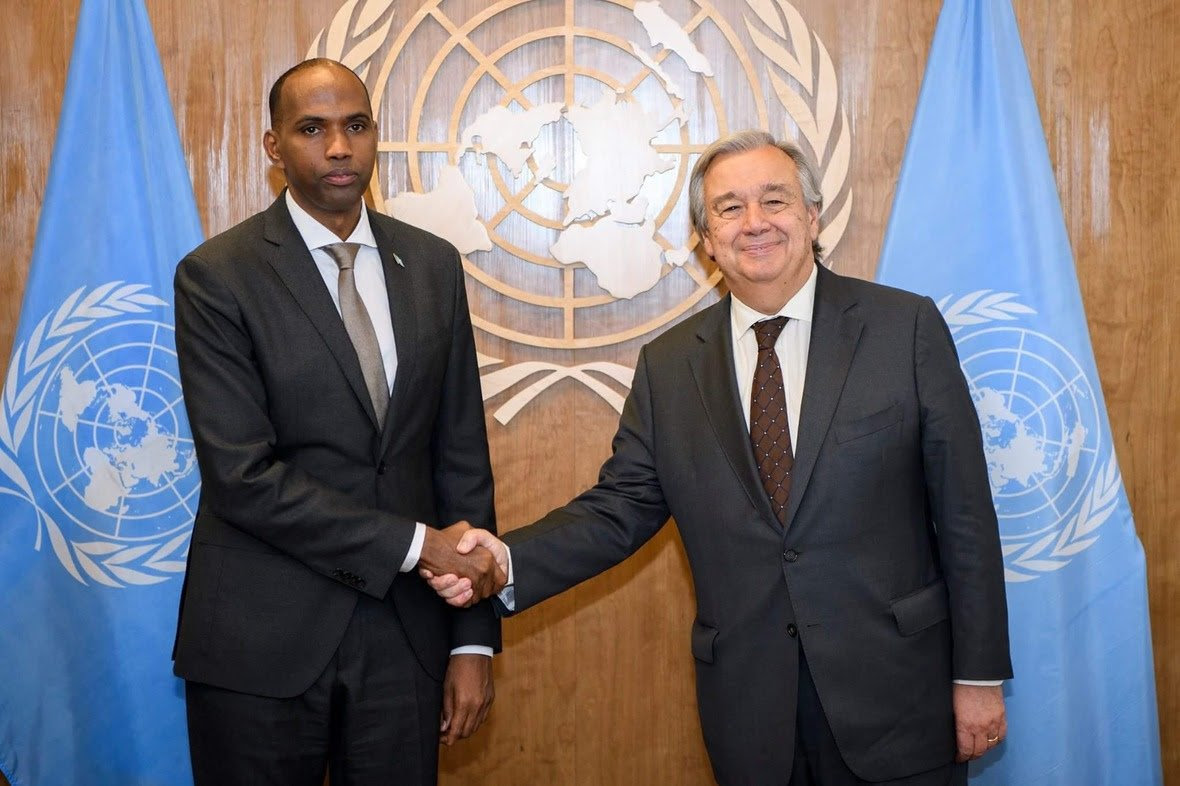 Prime Minister Hassan Ali Kheyre meets with António Guterres Secretary, General of the United Nations in New York.
Photo: @engyarisow