October 5, 2018 | Daily Monitoring Report
05 October – Source: New York Times – 177 Words
Somalia's government has issued a sharp "no" to the candidacy of a high-level al-Shabab defector for a regional presidency. A statement by the internal security ministry says Mukhtar Robow is not eligible to run for the leadership of the South West region because he is still under sanctions.
Robow is the highest-ranking official to have ever quit the al-Qaida-linked al-Shabab. He surrendered to the government last year after the United States cancelled a $5 million reward offered for his capture. He remains under U.S. sanctions imposed against him in 2008 when he was identified as a "specially designated global terrorist."
Robow announced his candidacy for the regional presidency this week, joining several candidates challenging former Somali parliament speaker and incumbent regional president Sharif Hassan Sheikh Aden. The election is Nov. 17. The former al-Shabab leader caused a minor sensation shortly after the massive truck bombing in Mogadishu a year ago when photos showed him donating blood for victims. He also called the Oct. 14 bombing that killed well over 500 people an "irreligious" and "heartless" act.
Key Headlines
Somalia Says 'No' To Al-Shabab Defector's Run For Office (New York Times)
Prime Minister Khaire Meets With New UN Envoy (Jowhar News)
Senior Communication Advisor To Mogadishu Mayor Fired For Participating In The Launch Of Hassan Sheikh-Led Political Party (Radio Dalsan)
UPDF Court Martial Sits In Somalia (Monitor Uganda)
Secret US Base In Somalia Is Getting Some 'Emergency Runway Repairs' (Air Force Times)
NATIONAL MEDIA
Prime Minister Khaire Meets With New UN Envoy
05 October  – Source: Jowhar.com – 94 Words
Prime Minister Hassan Ali Khaire has received in his office the new United Nations Envoy for Somalia Nicholas Haysom, a day after his arrival in the country. The two officials discussed a wide range of issues including collaboration and fast-tracking of the national agendas.
"I am delighted to receive in my office the United Nations Envoy to Somalia, Nicholas Haysom. I hope that we will be collectively working together in implementing the national agendas," said PM Khaire. Ambassador Haysom has officially assumed office following his takeover from former UN representative for Somalia, Michael Keating.
---
Senior Communication Advisor To Mogadishu Mayor Fired For Participating In The Launch Of Hassan Sheikh-Led Political Party
04 October – Source: Radio Dalsan – 157 Words
Mogadishu Mayor and Banadir Regional Administration Governor, Abdirahman Omar Osman (Yarisow) on Thursday fired his Special Communications Advisor, Shador Haji, for attending the launch ceremony of a political party led by former President Hassan Sheikh Mohamud. Confirming his sudden dismissal,  Mr. Shador noted that his firing was as a result of his presence at the launch of the Union for Peace and Development (UPD) political party in Mogadishu.
Shador further stated that he had received a telephone call from his boss, hours prior to his dismissal, informing him of the government's disapproval with his participation in the Opposition organized event. Shador, however, thanked his former boss for offering him the job in the first place, and for previously ignoring persistent pressure from within government to fire him over his alleged association with former President Mohamud's administration. Shador said he "joins a long list of people whose rights have been infringed by government and have  subsequently been sacked."
INTERNATIONAL MEDIA
05 October – Source:  Monitor Uganda – 364 Words
The UPDF General Court Martial is in Somalia to try soldiers over cases the army has not disclosed. On Monday, the former Inspector General of Police, Gen Kale Kayihura, was supposed to appear in court but the sitting was postponed because court members were in Somalia to handle other cases.
It is not clear what prompted the military court to go to Somalia because field cases are normally handled by the Unit Disciplinary Committee or Division Court Martial. However, the army Spokesperson, Brig Richard Karemire, said it was "usual routine" for the General Court Martial to move and sit in Somalia and other army units out of Kampala. "It is a normal thing for the General Court Martial to go there [Somalia] as long as there are reasons that require it to go there," he said. Brig Karemire refused to disclose the cases the military court chaired by Lt Gen Andrew Gutti has gone to handle in the Horn of Africa.
The General Court Martial that sits in Makindye normally handles high profile cases and has moved and held sessions in the field when there are cases of murder. Last month, the same court moved to the Fourth Division headquarters and sentenced L/Cpl Geoffrey Odaga to 40 years in jail after killing three people following a fight in a bar.
Meanwhile, the African Union Mission in Somalia (Amisom) and representatives of the armies across the globe met in Somalia to devise means of reducing al-Shabaab attacks using Improvised Explosive Devices. "This is a threat that is being effectively utilised by the enemy. And so we must go after it and defeat it," Amisom's deputy head of mission, Mr Simon Mulongo, was quoted in a statement on Wednesday.
The meeting convened by the British army, was attended by representatives from the United Nations Support Office in Somalia, the United Nations Mine Action Service, the United States Army, the Turkish Army, the European Union Training Mission in Somalia, and military officers from Amisom. The Al-Shabaab has been using roadside bombs or cars loaded with explosives to attack civilians and African Union troops that were in Somalia in 2007 to support the beleaguered government of Somalia.
OPINION, ANALYSIS & CULTURE
"AMISOM is a United Nations-backed African Union mission to defend Somalia and bolster its government forces as they battle internal terrorism threats from al-Shabaab. The African Union has a combined contribution of roughly 22,000 personnel in Somalia."
04 October – Source: Air Force Times – 647 Words
The U.S. Defense Department awarded a more than $12 million contract for "emergency runway repairs" at Camp Baledogle, Somalia, last month. Camp Baledogle was the subject of a Foreign Policy Magazine exclusive this year in which it was described as a training base for Somali Army commandos. The trainers were reported to be U.S. contractors working for Bancroft Global Development.
Now, the new runway repairs appear to be stepping up the capabilities of the airfield there, and could be the harbinger of an expanding U.S. footprint in Somalia. U.S. Africa Command confirmed to Air Force Times that it operates the facilities at Camp Baledogle alongside African partners, but remained scant on details regarding what aircraft currently, or are planned, to fly from there.
"These repairs are needed due to years of wear and degradation due to inadequate maintenance," said Mike Andrews, the public affairs director for Naval Facilities Engineering Command Atlantic, which executed the military construction contract for Camp Baledogle. "The repairs referred to in our press release will consist of full depth patching and overlay of the runway," Andrews said. He also provided the specifications for Camp Baledogle's runway: 10,092 feet by 140 feet and made of asphalt.
Andrews referred all other questions about armed aircraft, whether manned or unmanned, that fly from the site to U.S. Africa Command. That combatant command "owns" Camp Baledogle, he said. "Yes, AFRICOM operates out of Baledogle alongside our African partners," Maj. Karl Weist, an AFRICOM spokesman, confirmed in an emailed statement. "The command has a variety of platforms that can operate out of that location in support of missions designed to promote security and stability in the region."
The United States has carried out more than 20 airstrikes against al-Shabab militants in Somalia this year. One incident occurred in September, after U.S. and partner troops came under attack 37 miles west of Mogadishu, the country's capital. Two militants were reportedly killed by that airstrike. However, "we do not discuss where strike platforms originate from as a matter of operational security," Weist said when asked whether armed aircraft were flying from Camp Baledogle now.
Mikael Lindvall, Sweden's former ambassador to Somalia, posted pictures of Camp Baledogle from a verified Twitter account in January 2017. He described the base as having "impressive facilities" consisting of an "old, Soviet-built terminal [and] control tower." "I'll add that we will continue to work with our partners to support AMISOM and the federal government of Somalia in its effort to bring improved governance, development and stability," Weist said.
AMISOM is a United Nations-backed African Union mission to defend Somalia and bolster its government forces as they battle internal terrorism threats from al-Shabaab. The African Union has a combined contribution of roughly 22,000 personnel in Somalia. By comparison, al-Shabab has an estimated strength of 7,000 to 9,000 fighters, according to the Council on Foreign Relations.
"Our strategy in East Africa is to enhance partner capability to ensure that violent extremist organizations, who wish harm in the region, are contained," Weist said. Additionally, in early June, one U.S. soldier was killed and four more were wounded during an attack by al-Shabaab militants that consisted of small-arms fire and mortars. That attack occurred in southern Somalia's volatile Jubaland region.
TOP TWEETS
@AhmedKosar1: BREAKING: Roadside blast hits AMISOM  convoy in #Mogadishu's Warshadaha road. Initial reports say one vehicle destroyed. no casualties reported. #Somalia.
@olympicchannel: Imagine risking your life to play football. These Somali girls are doing exactly that. Full story http://bit.ly/2IFfZzE @FIFAWWC @FIFAcom @CAF_Online#womeninfootball #Somalia.
@MOsabrie: Farah Abdi Mohamed 21 , was one of #AlShabaabfighters in #Gedo region , He has surrendered himself last night to the #Jubaland security forces in #Dolow District of Gedo region , #Somalia . He will be transferred to the #DDR center in#Kismayo for rehabilitation.
@RAbdiCG: Banning ex-Shabaab leader Robow from contesting presidential polls in South-West State (SWS) is daft, and almost certain to have serious implications. Some thoughts:
1. Will be seen unfair considering other no less tainted/culpable men now in high office.
@Halbeeg_News: Secret US base in Somalia is getting some 'emergency runway repairs' https://en.halbeeg.com/2018/10/05/secret-us-base-in-somalia-is-getting-some-emergency-runway-repairs/.
@Goobjoognews: OUR BROTHERS in the North (Somaliland) brought unity in 1960, and therefore they must be acknowledged for their good deeds.
@AbdulBillowAli: #Somalia's govt has banned Mukhtar Robow "Abu Mansuur" an ex-Al-Shabaab commander who once served as the group's second in command from vying for any political office. This is after he announced his candidacy for "president" of South West State. Robow defected to the govt in 2017.
IMAGE OF THE DAY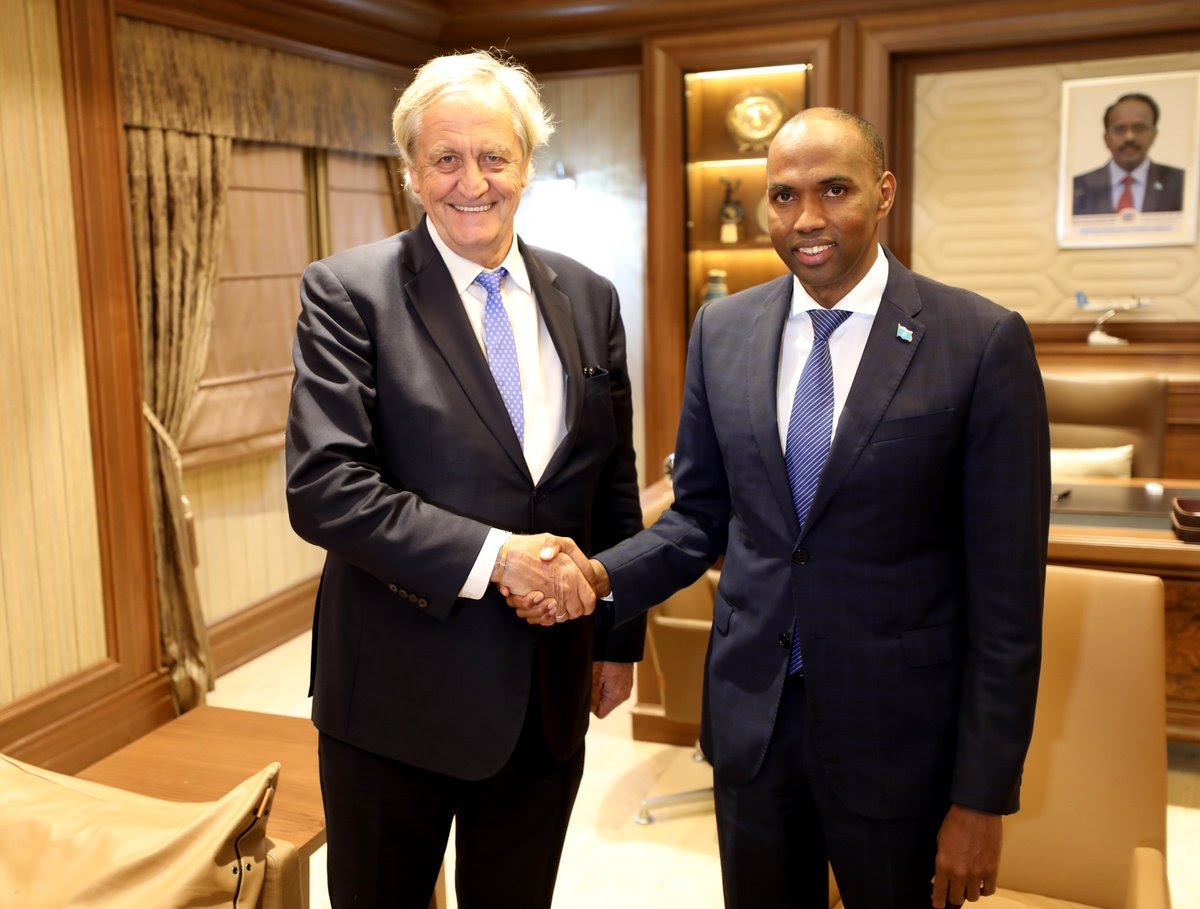 Prime Minister Hassan Ali Khaire during a meeting with the new UN Special Representative of Secretary General (SRSG) to Somalia, Nicholas Haysom in his office.
Photo: @SomaliPM