October 4, 2017 | Daily Monitoring Report.
04 October – Source: Reuters – 139 Words
Islamic State fighters killed one civilian and injured another and a police colonel in Somalia's semi-autonomous Puntland region, police said on Wednesday.  The attack came on Tuesday.  Police captain Abdifatah Ali told Reuters the colonel was walking to the police station in Bosasso when the gunmen opened fire and that suspected Islamic fighters in Somalia's port town of Qandala claimed responsibility.  "There is a thorough inspection in the town and we shall eliminate them," Ali said.
IS claimed responsibility for the attack in a statement on its website. On Monday, a policeman shot dead the chief of security at an airport in Puntland.  Somalia has been mired in conflict since 1991, but Puntland has been spared most of the violence. It has a dispute with the neighbouring semi-autonomous region of Galmudug that has in the past resulted in fighting.
Key Headlines
Islamic State kill One Injure Two In Somalia's Puntland (Reuters)
Puntland Leader Postpones Trip To Kismayo (Garowe Online)
Ahmed Madobe Invites Upper House Members From Jubbaland To Upcoming Kismayo Meeting (Jowhar.com)
Somalia Vows To Boost Resilience Against Climate Shocks (Xinhuanet)
AMISOM Brainstorms On How To Maximize Strategic Communications In Telling Somalia's Success Stories (AMISOM)
Turkish Base Key To Building Strong Somali Army (VOA)
NATIONAL MEDIA
Puntland Leader Postpones Trip To Kismayo
04 October – Source: Garowe Online – 256 Words
The President of Somalia's northeastern semi-autonomous region of Puntland, Abdiweli Mohamed Ali "Gaas" was reported to have postponed his trip to Kismayo city to unspecified date. Garowe Online has learnt that President Ali has put off his planned travel to Kismayo after he faced pressure from top government officials and members of Puntland state Parliament during talks held in the port city of Bossaso.
The President was expected to take off for Kismayo for the meeting between the leaders of Somalia's Federal Member States (FMS) and Somali Government with whom they are in deadlock over Gulf Diplomatic Crisis. Despite the mounting pressure, Ali insisted to attend Kismayo talks hosted by Jubbaland President, Ahmed Madobe.
Kismayo meeting was postponed until next Sunday following a call for conference between the leaders of the regional administrations who agreed to resolve Galmudug political crisis before the opening of the forum. President Ali said the anticipated meeting in Kismayo that was organized by Jubbaland has nothing to do with the reported standoff between the country's regional administrations and the Somali Federal Government.
Speaking to reporters at Garowe Airport, Vice President, Abdihakim Abdullahi Omar Amey, announced on Tuesday, October 3, that Kismayo conference will not serve the interest of Puntland Government. The President has been annoyed by VP's remarks, which also became a surprising statement to the state parliamentarians who had been putting pressure on Ali not to partake Kismayo summit, sources revealed. This was the first time in Puntland history that President and Vice President, make conflicting statements on the media.
What is not known is Somali Federal Government's role in the pressure on President Ali by some members of the Puntland parliament, however, Villa Somalia is believed to be unhappy with the upcoming Kismayo meeting. The Somali Government has made vigorous efforts, with the help of several neighbouring countries to cancel the crucial forum in Kismayo which aims to seek a solution for the growing division towards the GCC Crisis.
---
Ahmed Madobe invites Upper House Members From Jubbaland To Upcoming Kismayo Meeting
04 October – Source: Jowhar.com – 123 Words
Jubbaland President Ahmed Mohamed Islam (Ahmed Madobe) has invited members of the Upper House elected from Jubbaland to attend the proposed meeting in Kismayo for the regional states' leaders. Sources close to the Upper House say Ahmed Madobe also sent an invitation to the Upper House leadership and permanent parliamentary committees to attend the meeting and present their views in the meeting since the Upper House literally represents the regional states.
The Federal Government has expressed suspicion over the meeting and might put pressure on the Upper House leadership not to attend the meeting. Preparations for the event are underway in Kismayo despite regional leaders agreeing to delay it until Sunday to give time to ongoing efforts aimed at resolving the Galmudug Crisis.
INTERNATIONAL MEDIA
03 October – Source: Xinhuanet – 381 Words
The Somali government and its international partners will prioritize investments in projects that enhance the resilience of local communities in the face of climate shocks, a senior official said on Tuesday. Maryam Qasim, Somalia's minister for humanitarian affairs and disaster management, said Mogadishu will commit additional resources to programs that strengthen the capacity of citizens to cope with recurrent droughts that have worsened food and water insecurity in the Horn of Africa state.
"We are building robust safety net schemes to ensure our communities are strong enough to overcome shocks such as droughts," Qasim told journalists in Nairobi. "The government has also intensified efforts to address impact of climate change on livelihoods." Statistics from humanitarian agencies indicates that an estimated 6.2 million people, or half of Somali population, are in need of emergency food aid as a result of a prolonged drought.
At the same time, 1 million people in the country have been displaced by the drought, which is expected to last up to next year. Qasim said that timely intervention by the Somali government in Mogadishu and the international community prevented the drought from transitioning into a famine, though the risks are myriad.
---
04 October – Source: AMISOM – 368 Words
Senior leaders from the African Union Mission in Somalia (AMISOM) are meeting in Mogadishu to seek more effective ways, to communicate Somalia's and AMISOM's successes. The two-day Strategic Communications Master Class, which opened yesterday will brainstorm on communication challenges, especially in the un-governed digital space, how to mitigate them; and also seek ways to align AMISOM's strategic communications needs, with the needs of the Federal Government of Somalia.
"It is important that we have coordinated communications, because we have only one enemy and that enemy is violent extremism in the form of Al-Shabaab, it is an enemy that seeks out signs of disunity," Mr. Abdirahman Yusuf Yarisow, the Federal Minister of Information said in his remarks during the official opening of the Master Class. "To win the information war, we need the sheer volume of our messages to drown out Al-Shabaab and force them into irrelevance," Minister Yarisow stressed. "We have before us an opportunity to write a new positive chapter in our proud country's history."
The Master Class has brought together senior personnel from AMISOM, among them the AMISOM Force Commander Lt. Gen. Osman Noor Soubagleh, the Deputy AU Special Representative for Somalia, Simon Mulongo; the Deputy Police Commissioner, Christine Alalo; Chiefs of Staff from the military, police and civilian components of AMISOM; sector commanders and spokespersons among others. "It is the winning of the hearts and minds of the people that will determine the real victory of the war; because we can be winning battles but not actually winning the war," Mr. Mulongo told participants.
OPINION, ANALYSIS AND CULTURE
"Somali military officials say the newly-opened Turkish base will make sure all SNA troops receive the same training. "It's very important for the army, when they are trained outside the country, that they are brought here to have harmonized training," says General Abdullahi Mohamed Ahmed, a senior military officer at the Somali Defense Ministry."
03 October – Source: VOA – 825 Words
One year from now, if all goes according to plan, the African Union mission in Somalia will withdraw 1,500 soldiers from the country, in a crucial first step toward Somalia shedding its reliance on outside troops to maintain security and fight off Islamist militant group Al-Shabaab. But the plan depends on Somali government forces being ready to protect the government and civilians from the al-Qaida-linked militants.
Last month, Somalia's ambassador to the United Nations, Abukar Osman, told the U.N. Security Council that "the Somali National Army is not ready to take over the security of the country." Premature withdrawal of AMISOM, he said, might be a "recipe for disaster." That's why the opening of a new Turkish military base in Mogadishu is being hailed by some analysts as a possible turning point in the decades-long effort to stabilize Somalia.
Turkey, which backs the Somali federal government, plans to train thousands of troops for the Somali National Army in hopes the SNA will become cohesive and powerful enough to handle the Al-Shabaab threat by itself. The SNA has existed in one form or another since 2004, when the first transitional government since Somalia's 1990s civil war was created. But a host of factors including corruption, clan rivalries, poor training and a lack of funding have undermined all attempts to make the SNA bigger and stronger.
Ahmed Moallim Fiqi, the former director of Somali National Intelligence and Security Agency, says the Turkish training base is Somalia's best opportunity to acquire a unified, effective army. "This has to be the factory that produces the security forces, to enable the reintegration of a balanced army and to equip them before they are put to operation," he says. Turkey said it wants to do that. At the opening of the base on Saturday, the chief of staff of the Turkish army, General Hulusi Akar, said that his government plans to help Somalia until the country gets "militarily stronger."
The Turkish ambassador to Somalia, Olgan Bekar, said his government wants to "help the Somalis reclaim authority and restore order in the country." Fiqi says the government of Somali President Mohamed Abdullahi Mohamed, better known by his nickname, Farmajo, is feeling the pressure to get its forces in order. "The Somali government is under constant reminder that time is running out for AU troops, and the only troops who can replace them are Somali soldiers," he says.
TOP TWEETS
.@engyarisow: We have before us an opportunity to write a new, positive chapter, in our proud country's history We turned a corner
.@Goobjoognews: HIGH COURT judges in Galmudug dismiss verdict on state president –
.@DalsanFM: #Galmudug Crisis Escalates As High Court Judge Flees To Puntland After Validating Haaf's Impeachment#Somalia  http://radiodalsan.com/en/galmudug-crisis-escalates-as-high-court-judge-flees-to-galkayo-after-validating-haafs-impeachment/ …
.@MoPIED: First bilateral talks with Germany in 30 years. Historical day for both Somalia and German government.@AmbGamal @ADirshe
.@engyarisow: #Turkey is a genuine partner that provides direct & visible and valuable contributions to #Somalia…
.@MoPIED_Somalia: "Somalia is a rich country. It has agricultural resources and  the potential to feed  all people living in the region" Minister Gamal said
.@MrMidnimo: Amazing initiative! Who else is wondering where to buy traditional handcrafted products in #Mogadishu?#MadeInXamar
.@engyarisow: Somali President @M_Farmaajo received credentials of the new Sweden Ambassador to #Somalia H.E. Andreas von Uexkull
IMAGE OF THE DAY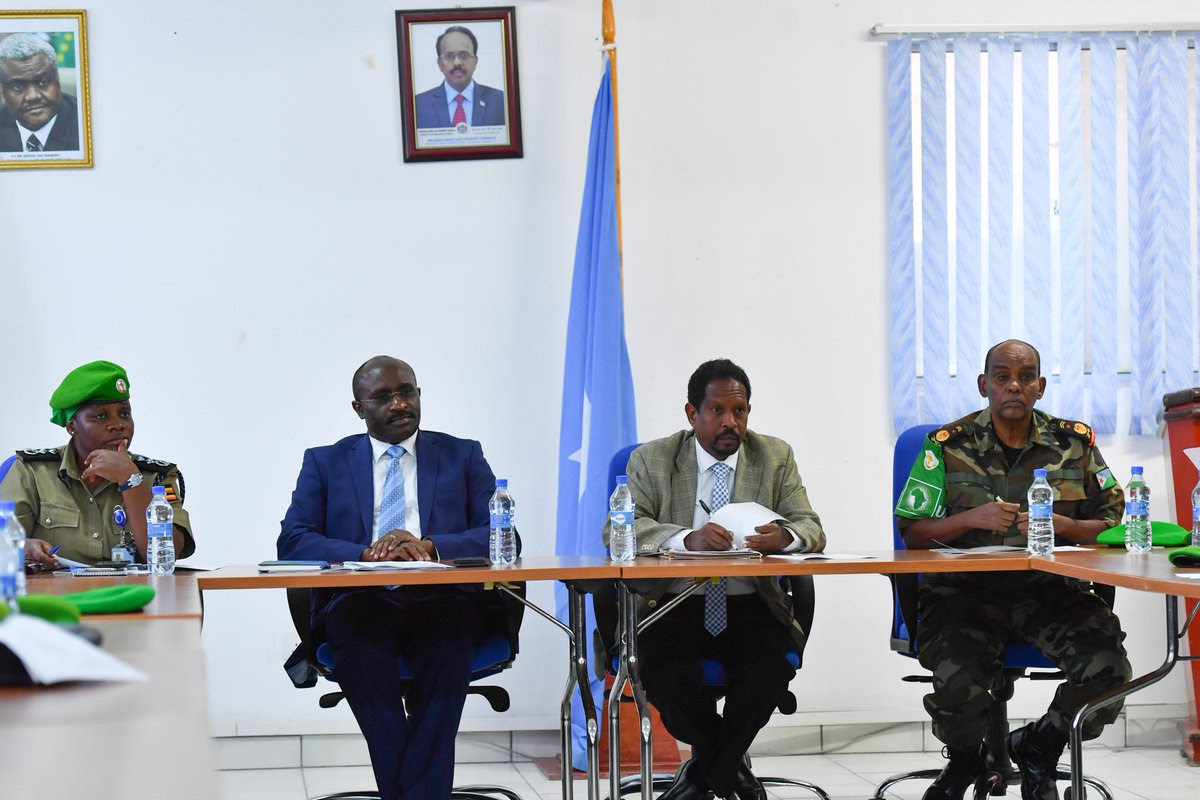 The Deputy Special Representative of African Union Commission Chairperson (DSRCC) Mr. Simon Mulongo, Meet with Abdirahman O. Osman, Federal government of Somalia Minister for Informationa and AMISOM force Commander Lt. General Osman Noor Soubagleh during Strategic communications meeting in Mogadishu.
Photo: @engyarisow