October 25, 2017 | Daily Monitoring Report
25 October – Source: VOA – 190 Words
Islamic State militants have claimed responsibility for an explosion in the Somali town of Bosaso on Tuesday, the fourth attack claimed by the group in two years. Witnesses said a man pushing explosives hidden on a wheelbarrow approached the central police station of the commercial port town. The explosion killed the bomber and injured six others. A second explosion was heard in the same area believed to be from an improvised explosive device but did not cause any casualties, witnesses said. The attack comes four days after IS militants based in Somalia attacked Injil village in the Bari region, killing two civilians including a child after accusing their father of collaborating with the regional government, relatives said. IS militants emerged in Somalia after splitting from al-Shabab in October 2015.
The group claimed its biggest attack in late October 2016 when its fighters seized the ancient town of Qandala from Puntland forces and kept control of it for 40 days. Islamic State militants in Somalia have bases in the eastern Al-Bari Mountains of Puntland and are led by Abdulkadir Mumin, a well-known cleric who was previously a member of al-Shabab's leadership.
Key Headlines
Islamic State Claims Attack In Somalia (VOA)
Federal Member States Accept To Attend Upcoming Mogadishu Security Meeting (Goobjoog News)
Djibouti Pledges To Back Somalia In New Offensive On Alshabab (Radio Dalsan)
Somali PM Makes First Official Visit To Turkey (TRT World)
Somalia's 9/11 (The Strategist)
NATIONAL MEDIA
Federal Member States Accept To Attend Upcoming Mogadishu Security Meeting
25 October – Source: Goobjoog News – 181 Words
Somali Federal Member States(FMS) government have accepted the invitation of President Mohamed Abdullahi Farmajo to attend the upcoming security meeting that is expected to take place at the end of this month in Mogadishu. Speaking to the media in Garowe, the capital of Puntland state, the chairperson of the newly formed Regional States Coordination Council, Abdiweli Ali Gas stated their readiness to honour the invitation sent to them by the Somali President. "Speaking on behalf of the coordination council of the federal member states governments, we have accepted to converge in Mogadishu on the 28th October on the invitation of the Somali president " said Puntland president.
In the media briefing, President Abdiweli was accompanied by the two federal houses speakers whom he had a meeting earlier in the state presidential house before addressing the press. President Farmajo has sent an invitation 3 days ago to the head of regional governments to attend a security meeting following the deadly truck bomb attack at Zoobe junction, Mogadishu in the middle of this month which has claimed more than 350 lives and injured more.
---
Djibouti Pledges To Back Somalia In New Offensive On Alshabab
24 October – Source: Radio Dalsan – 163 Words
Somali President Mohamed Abdullahi Farmaajo on Tuesday ended his visit of three East African countries in Djibouti as he seeks for military backing in the anticipated final offensive on militant group Al-Shabaab following the October 14 attack. Farmaajo met his Djiboutian counterpart Ismail Geelle at the presidential palace and discussed on security matters after the deadly Mogadishu twin truck bombing. Djibouti is a troop contributing country in the 22000 strong African Union peacekeeping force .
A source privy to the ongoings in the meeting told Radio Dalsan that President Geelle had pledged to back up Somalia in the retaliation following the October 14 truck bomb attack that killed more than 350 people in Mogadishu. The three day regional trip also took the Somali head of state to Entebbe and Addis Ababa which both pledged to give military support and will be returning back home in readiness to declare an anticipated state of war on what the government says is the final push on Alshabaab.
INTERNATIONAL MEDIA
25 October – Source: TRT World – 88 Words
Somali Prime Minister Hassan Ali Khayre began his first official visit to Turkey on Wednesday. According to Turkey's prime ministry, Khayre will meet Somali citizens being treated in Turkey after a truck bomb attack killed at least 358 people and injured 228 others on October 14 in Mogadishu. Thirty-five Somalis, including three children, injured in the truck bombing were airlifted to Turkey for medical treatment.  Khayre will also meet Prime Minister Binali Yildirim in Ankara on Thursday to discuss bilateral relations as well as regional and international issues.
OPINION, ANALYSIS AND CULTURE
"There's clearly a desperate need to address the root causes of violent extremism in Africa. However, one core issue that neither the report nor the international community has addressed is the role of local and regional stakeholders in fomenting dissent. Clannism has been Somalia's bane, and no substantive progress is likely to happen in the country until that is dealt with,"
23 October – Source: The Strategist – 990 Words
On 12 October, Mogadishu was rocked by a powerful bomb that killed more than 320 people and injured around 500. Security officials attribute the bombing to Al-Shabaab ('the youth'), although the group has yet to claim responsibility. The bombing involved two vehicles: a truck that was packed with 350 kilograms of homemade and military-grade explosives and a minivan. The target was apparently the airport compound where the United Nations, several foreign embassies and the African Union Mission in Somalia (AMISOM) are based.
The plan was for the minivan to blow up the checkpoint, which would then allow the truck through, but the truck was stopped at the checkpoint. As it was about to be searched, the driver accelerated, crashing through a barrier before detonating the charge next to a fuel tanker. Perhaps Al-Shabaab didn't expect so many casualties, which may explain why the group hasn't claimed responsibility for the attack.
The truck allegedly came from Bariire, an al-Shabaab stronghold about 50 kilometres west of Mogadishu. In May, a US Navy Seal died in a raid on an al-Shabaab compound in Bariire. It's been alleged that the bombing was a revenge attack for a failed US Special Forces operation in August in which 10 people died, including three children. Abukar Osman Sheikh, a clan elder, reportedly said, 'Last year, the US killed my people in Galkayo in a deliberate strike … We shall no longer tolerate it.'
This latest atrocity demonstrates that Africa has increasingly become a central battleground for salafi-jihadi activity, which killed more than 33,000 people between 2011 and 2016. Earlier this year, Al-Shabaab which has been under pressure from AMISOM and an energised US-led drone campaign vowed to increase its attacks, primarily against the newly formed government of Mohamed Abdullahi Mohamed. Mohamed is a dual US–Somali national who became president in February with a promise to defeat al-Shabaab and address many of Somalia's structural problems.
Poor security meant that Somalis couldn't vote directly for their president. The matter was left to 14,025 elders and prominent regional figures who come from 135 clans and subclans. They selected 275 MPs and 54 senators, who were then offered the choice of either giving Hassan Sheikh Mohamud a second term or opting for one of 21 rivals. There are reports that bribes ranging from US$1,000 to US$1.3 million were offered to secure votes.
TOP TWEETS
@sandhoolyare: The forum encourages dialogue between the police and the youth to find solutions to the many challenges
https://youtu.be/u_eIABMtWcM via @YouTube
@alijira: Political disagreement btw the federal government and regional administrations has delayed the political process in#somalia
@HassanIstiila: Somali army chief Gen. Abdiweli (Gorod) meets Brigadier General Pietro Addis, the Commander of the #EUTraining Mission (EUTM) in#Somalia.
@DalsanFM: Djibouti Pledges To Back Somalia In New Offensive On Alshabab – http://radiodalsan.com/en/djibouti-pledges-to-back-somalia-in-new-offensive-on-alshabab/ …
@HarunMaruf: Breaking: Four suspected Al-Shabab militants killed in Kenya's Lamu county, weapons recovered: Local media
@mpfsomalia: We are committed to supporting good governance, economic growth and useful data in #Somaliahttp://www.worldbank.org/en/country/somalia …
@AbdirahmanCumar: President @M_Farmaajo in his last leg of 3-Nation visit to drum up support for an all out war with Al-shabaab, #Somalis all over the world pray that this to be the last fight to clear the nation from AS Plague
IMAGE OF THE DAY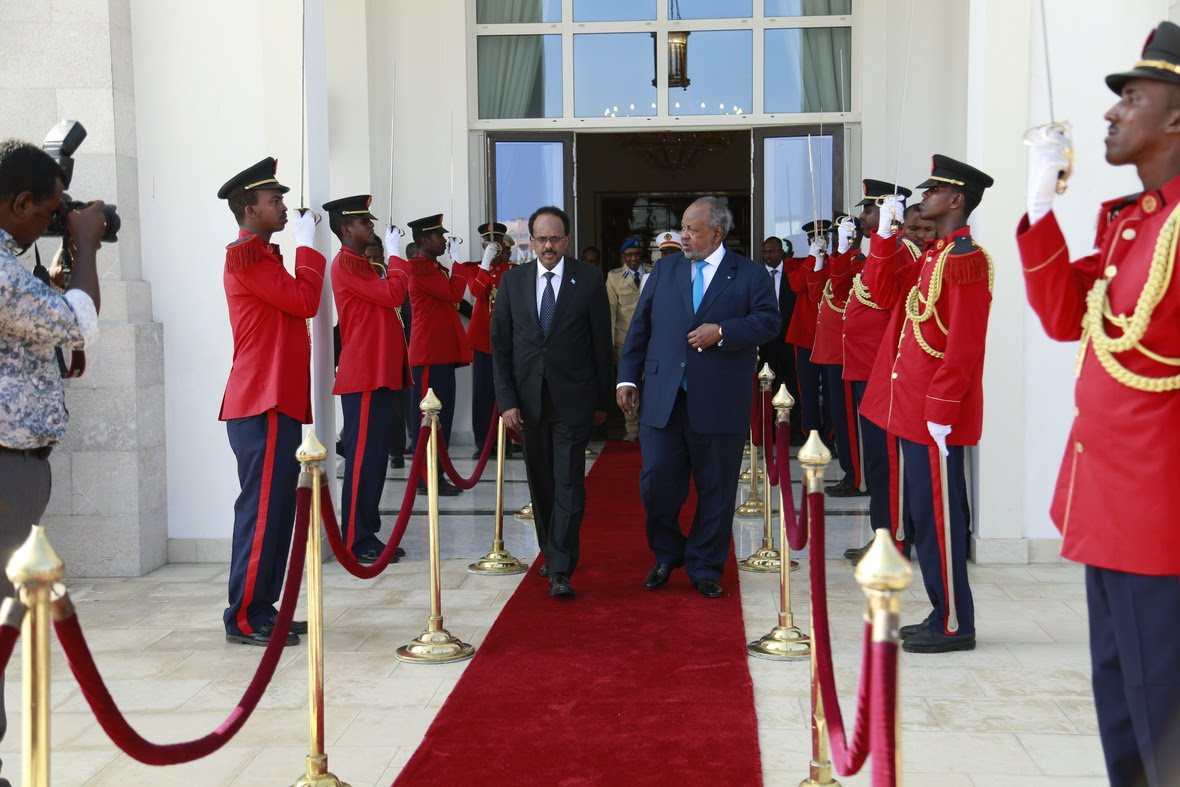 President, Mohamed Abdullahi Farmajo is welcomed by Ismail Omar Guleh of Djibouti during his regional tour to drum up support for anticipated offensive against Al-shabaab
Photo: Radio Muqdisho