October 24, 2017 | Daily Monitoring Report
Mayor Thabit Opens Counselling Center For October 14 Survivors
24 October – Source: Radio Dalsan – 123 Words
Survivors of the Mogadishu twin truck bombing will now have access to the services of clinical psychologists to help them cope with the trauma that they experienced after the deadly attack. A center for counselling has been opened by the Governor of Banaadir region who is also the Mayor of Mogadishu Thabit Mohamed.
The center has already received a significant number of survivors seeking psychological therapy to overcome the aftermath of the attack since it opened on Saturday. This is the first facility of its kind relating to clinical psychology services that has been opened for the public ever since the civil war broke out in 1991. More than 400 people were killed in what is the deadliest single attack in Somalia's history.
Key Headlines
Mayor Thabit Opens Counselling Center For October 14 Survivors (Radio Dalsan)
We Need To Settle Our Differences Amicably And Forgive One Another- PM Khaire (Gooobjoog News)
Ethiopia Affirms Solidarity With Somalia In Fighting Al-Shabaab (Shabelle News)
AMISOM Force Commander Reiterates The Mission's Continued Support To Somali National Army (AMISOM)
AU Calls For More Funding For Its Peacekeeping Mission In Somalia (Xinhuanet)
I Was An Eyewitness To The Mogadishu Bomb. I'm Alive But Heartbroken (The Guardian)
NATIONAL MEDIA
We Need To Settle Our Differences Amicably And Forgive One Another- PM Khaire
24 October – Source: Goobjoog News – 284 Words
Somali PM Hassan Ali Khaire has emphasized on the need for the central government and federal member states to settle their political differences in cordial way. Speaking yesterday in Jowhar during the second presidential inauguration of HirShabelle state of Dr. Mohamed Abdi Waare, PM Hassan noted the necessity of settling disputes amicably and forgiving one another since there are huge tasks waiting to be implemented in the country. "Since we have a lot of work to do including creating unity among the people, finalizing the draft constitution, achieving one man one vote in 2020, to strengthen the relationship between the federal government and regional states. Let us change disputes into a forgiveness like the way the other leaders said here today before me" said the Premier.
The Premier also touched on the importance of his government to support the youngest federal member state to ensure that the abundant resourceful region can support the whole country. "We need to create economic resources so that we can stop begging the world. It is imperative that we initiate states departments that will cater for the service of the people. This state is rich in resource and we expect to feed the whole nation" said the Premier.
PM Hassan also noted the readiness of his administration to give a hand implementation of state developmental priorities in order to achieve the desired goal of delivering services to the grass root levels. "Since your state is the youngest state in federal Somalia, it is important that we extend support to you on reconciliation, harmony and unity among the diverse communities in Hirshabelle state. We need to implement devolution in all member states on building state departments like security and stability."
---
Ethiopia Affirms Solidarity With Somalia In Fighting Al-Shabaab
24 October – Source: Shabelle News – 315 Words
Prime Minister Hailemariam Dessalegn affirmed that Ethiopia will continue its effort and solidarity with Somalia in the fight against Al-Shabaab. The Prime Minister told the visiting Somali President that Ethiopia will continue to work to end the threat of Al-Shabaab and bringing a lasting peace to Somali. In their meeting, the leaders have discussed on ways of ending the attacks by the terrorist group. Condemning the attack that the terrorist group has carried out recently, the Premier said Ethiopia will not allow the terrorist group dismantle the region.
The terrorist attack that Al-Shabaab carried out in Somalia took more than 300 lives and wounded about 400. "We believe that al-Shabaab did this inhuman act of terror on innocent civilians of Somalia thinking that it will conceal the problems that are from within itself and we are set to act upon it," Hailemariam stressed. "Setting a strategy to urgently and solidly response to this act in a more strategic way and never letting it happen again was the issue of our focus". In this regard, Hailemariam affirmed that Ethiopia will continue its effort to weaken the terrorist group through AMISOM and IGAD.
Somalia's President, Mohamed Abdullahi Mohamed on his part said "we need to support each other and strengthen our solidarity in order to effectively fight Al-Shabaab". He urged the need for countries in the region as Al-Shabaab is a threat to the region, "So this is not only a threat to Somalia, but also a threat to our neighbors". The two countries have agreed to continue working hard and bringing their resources in fighting the terrorist group al-Shabaab. Speaking of Ethiopia's role in peace and security in the region, the President said, "Ethiopia has been very helpful and sacrificed and that sacrifice will not go in vain, but we need to also step up and do more because the terrorists have developed a mass destruction".
INTERNATIONAL MEDIA
24 October – Source: AMISOM – 386 Words
The Force Commander of the African Union Mission in Somalia (AMISOM) Lt. Gen. Osman Noor Soubagleh has reiterated the Mission's commitment to continue building the capacity of the Somali National Army (SNA), ahead of its planned exit. Gen. Soubagleh made the remarks, on Monday, while meeting the new SNA Chief of Defence Forces (CDF), Maj. Gen. Abdiweli Jama Hussein, who had paid him a courtesy call at the AMISOM Force Headquarters in Mogadishu.
Gen. Soubagleh congratulated Maj. Gen. Abdiweli upon his appointment as CDF and hailed the cordial working relations existing between AMISOM and SNA, in the effort to rid the country of Al-Shabaab and restore peace and stability to the Horn of Africa country. "Your appointment comes at a time when the focus is on beginning the exit of AMISOM from Somalia and handover to the Somali National Security Forces. As AMISOM we remain committed to supporting the Somali National Army whenever needed, within the available means to ensure a smooth transition," he stated and pledged to continue fostering the good working relations.
---
23 October – Source: Xinhuanet – 186 Words
A senior official of the African Union (AU) on Monday called for more funding to the AU Peacekeeping Mission in Somalia (AMISOM) to help secure peace and stability in the continent. Minata Samate Cessouma, Commissioner for Political Affairs at the AU, told journalists at the AU headquarters in Addis Ababa that funding, especially from foreign partners of the AU, needs to be stepped up as AMISOM battles to restore peace and security to Somalia.
AMISOM, which was formed in 2007, is tasked with helping a weak central Somalia government fight lawlessness and extremist group Al-Shabaab. Cessouma was speaking during a joint press conference with Nikki Haley, U.S. ambassador to the UN, who was on a three African countries visit itinerary which includes Ethiopia, South Sudan and the Democratic Republic of Congo (DR Congo). For her part, Haley said the U.S. is looking for guidance from the AU and the East African body, Intergovernmental Authority on Development (IGAD), on resolving peace and security challenges in Somalia. Haley is expected to visit South Sudan and DR Congo after wrapping up her visit to Ethiopia on Wednesday.
---
23 October – Source: Anadolu Agency – 262 Words
U.S. Ambassador to the United Nations Nikki Haley Monday voiced concern over deteriorating security situation in Somalia. On Oct. 14, twin truck bombing rocked Somalia's capital Mogadishu, killing 358 people and injuring 228 others. "We will continue to support AMISOM [African Union Mission in Somalia]," Haley said in a news conference in Ethiopia's capital Addis Ababa. The ambassador's pledge came as a stark contrast to latest U.S. measures to cut back on funding for peacekeeping mission.
In June, the United Nations cut the budget of international peacekeeping missions by $570 million to make the total $7.3 billion. Nine of 14 missions are operating in Africa. Haley's visit — the first in a three-leg Africa tour coincided with Somali President Mohamed Abdullahi Mohamed's visit to Ethiopia. He said he is soliciting more military support from neighboring countries to defeat Al-Shabaab terror group.
Mohamed is in the middle of a three-nation tour in the horn of Africa after last week's attack in Mogadishu. "The countries in the region [East Africa] are in tandem in their stand concerning the present state of affairs in Somalia," the president told reporters upon arrival at the Addis Ababa Bole International Airport. There are 14,000 troops already deployed to Somalia forming the AMISOM force but the past years saw the multinational force being challenged by the Al-Shabaab insurgency.
OPINION, ANALYSIS AND CULTURE
"I was fortunate enough to have survived with minor injuries and a mild concussion, but dozens of people were buried under the demolished buildings, crushed under the weight of the rubble. Others were burned beyond recognition in the explosion and the subsequent fire at the fuel depot. I managed to walk a few paces before stumbling and falling to the ground. Zoobe Junction was unrecognisable."
24 October – Source: The Guardian – 863 Words
It was a bright Saturday afternoon in Mogadishu, a clear sky glowing blue above the once beautiful city. The busy K5, or Zoobe Junction, one of Mogadishu's vital arteries, with its string of shops, hotels and restaurants, was teeming with people from all walks of life. Heavily loaded donkey-carts, rickshaws, cars, buses and trucks all jostled for space through the tightly crammed streets. Across the street, tea women ground their spices at a makeshift tea-stall as a group of elderly men with henna-dyed beards and multi-coloured sarongs were engaged in a deep conversation.
It was my first visit to Mogadishu since I left the country more than 20 years ago. The bustle, the pristine beaches and the scores of returning Somali expatriates all gave me a sense of hope that the "pearl of the Indian Ocean" was, at last, beginning to return to its former glory. Everything seemed quite normal. Intuitively, however, I refused to be at ease just yet, for I have learned during my short stay here that things in Mogadishu can change quite abruptly. And that's exactly what they did.
I walked through the streets with tremulous enthusiasm, and as people went about their business, the sound of bullets cracked through the air, followed by screeching tires and blaring horns. Abdi Nur, a 27-year-old journalism graduate who was showing me around the city, pointed to a speeding truck in the distance and shouted: "Lie down! Lie down!"
We took cover behind one of the cars parked by the road and surveyed our surroundings. The truck was heading towards the Zoobe Junction. Not far behind Somali forces were in pursuit, aimlessly shooting. People began crouching down in order to avoid the bullets, with some running back into the shops. But just then a huge explosion ripped through the junction.
The explosion was unlike anything I had ever heard, completely demolishing buildings along the road and breaking windows more than a kilometre away. Immediately after the blast, a series of further explosions occurred at a fuel depot nearby, igniting a huge blaze. Razor-sharp tin roof fragments and shards of glass flew through the air, cutting through human flesh and maximising the harm caused by the explosion.
Despite the fact that I was quite far away from the truck, the shockwave from the blast lifted me off the ground and knocked me against a wall. It slammed hard against my rib cage, but fear and confusion overpowered the pain in my chest. I tried to run away, but no sooner had I started to crawl, than the wall above me came crumbling down, burying me, along with two other young men who were also running for their lives. For what seemed like an eternity, I lay beneath a pile of dust and debris, neither dead nor alive, inhaling the fumes, smoke and dust and waving a weak hand through a small opening, until I was pulled out by some passers by. Abdi Nur was nowhere to be seen.
TOP TWEETS
@anadoluagency: #US voices concern over security situation in#Somalia http://v.aa.com.tr/945706
@Fatumaabdulahi:#Somalia has practically moved formation of federalism much faster but process focuses on politics and not fiscal. #Somaliafederalismnetwork
@ahmedvision1: Somalia fishery forum kickstarts now in Garowe. @Shuraako with support of @ILOSomalia @GEEL_Somali #Dia sponsoring the event bringing together government, businesses, donor commnity, international organizations, experts, to discuss how to unlock the potential of Somali fisheries
@fanatelevision: #Ethiopia Affirms Solidarity with #Somalia in Fighting al-Shabaab http://www.fanabc.com/english/index.php/news/item/10352-ethiopia-affirms-solidarity-with-somalia-in-fighting-al-shabaab …
@AnalystSomalia: In #Djibouti participating 2nd consultative meeting #Somalia Federalism Network; representatives from the national gov't & regions are here
@Somane01: SOMALIA: Mogadishu Truck Bomb flattened properties worth more than $6.3 million. @GoobjoogBiz reports.
@irinnews: Mogadishu bombing, Al-Shabab and what's next for peace and security in Somalia https://www.irinnews.org/news/2017/10/16/shock-and-revulsion-over-mogadishu-bombing …
IMAGE OF THE DAY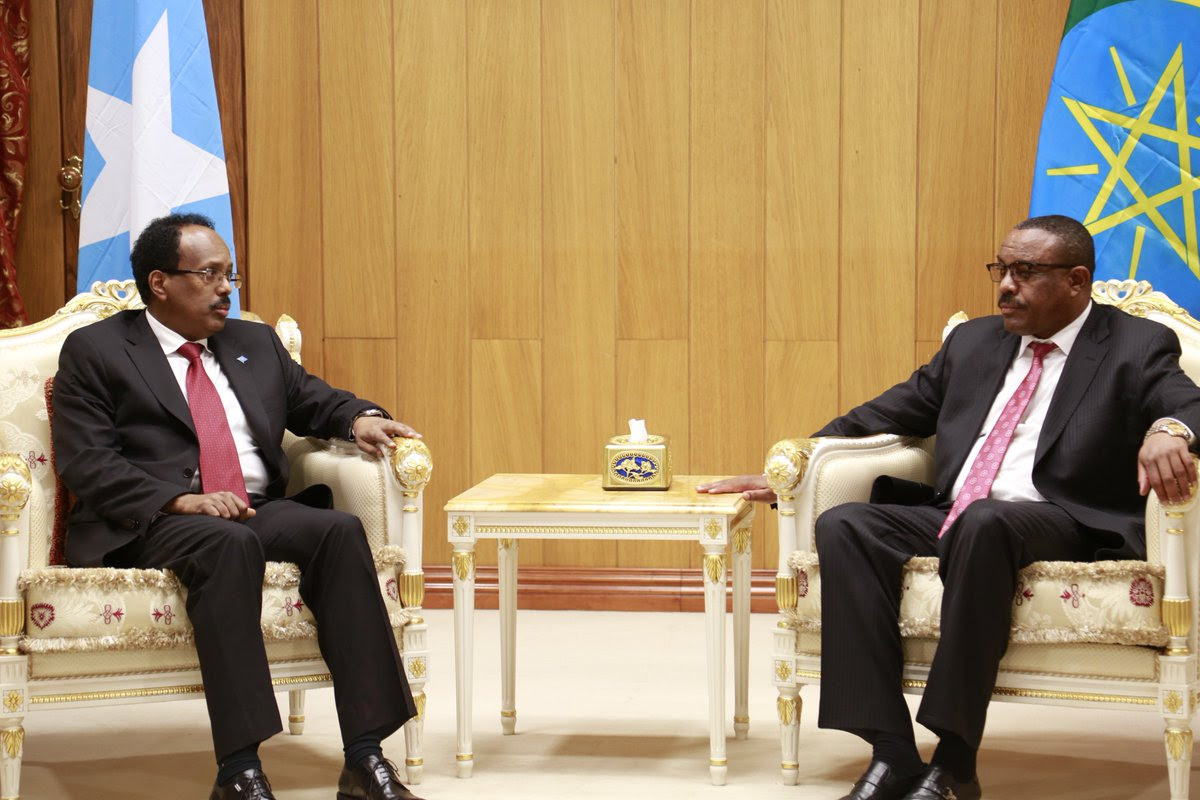 President, Mohamed Abdullahi Farmajo meets with Ethiopian Prime Minister Hailemariam Desalegn in Addis Ababa to discuss anticipated military operation against Al-Shabaab.
Photo: @TheVillaSomalia