October 2, 2018 | Daily Monitoring Report
02 October – Source: Voice of America – 124 Words
The U.S. military says it killed at least nine al-Shabab militants in an airstrike in southern Somalia that was conducted after an insurgent attack on government forces. A statement by the U.S. Africa Command said at least one al-Shabab militant was wounded in the airstrike, which was carried out in coordination with the Somali government on Monday, about 40 kilometers northeast of the southern city of Kismayo.
"We currently assess no civilians were injured or killed in this air strike", the statement said. The U.S. has conducted more than 20 such airstrikes in Somalia this year. Al-Shabab, which is allied with al-Qaida, has been fighting since 2006 to overthrow the Somali government and turn the country into a strict Islamic state.
Key Headlines
US Airstrike Kills 9 Al-Shabab Militants In Somalia (Voice of America)
EU Says Its Mission In Somalia Will Continue Despite Al-Shabaab Attack (Halbeeg News)
Deadly Clashes Erupt In Parts Of Middle Shabelle Between Local Militias And Al-Shabaab (Jowhar News)
Chinese Embassy In Somalia Hosts Reception To Mark China's National Day (Xinhua)
Somalia Urges Iraq To Probe Ship With Smuggled Charcoal (Xinhua)
Botched Somali Military Op That Shook US And World Led To Black Hawk Down (Daily Telegraph)
NATIONAL MEDIA
EU Says Its Mission In Somalia Will Continue Despite Al-Shabaab Attack
02 October – Source: Halbeeg News – 193 Words
European Union (EU) has said its Training Mission in Somalia (EUTM) will continue training of Somali troops in spite of Monday's car bomb attack on its convoy. At least three people were killed in a suicide car bombing which hit an armoured vehicle belonging to Italian military soldiers.
In a statement, Ms. Maja Kocijančič, European Commission's spokesperson for Foreign Affairs and Security Policy said a convoy of the EU Training Mission in Somalia was attacked but no one was wounded or killed. "A convoy of the EU Training Mission in Somalia was hit today in Mogadishu but no personnel of EUTM was injured," Ms. Kocijančič said in the statement.
The Mission condemned the attack saying the casualties of the blast show once again that Somali civilians pay the highest price from the terrorist threat in the country. The spokesperson condoled with the families of the victims killed in the attack. "We express our condolences to the families of those affected at this difficult time," she mourned. She said EU stand close to EUTM staff working for peace and security in Somalia. EU launched its mission to offer military advice and training in 2010.
---
Deadly Clashes Erupt In Parts Of Middle Shabelle Between Local Militias And Al-Shabaab
02 October  – Source: Jowhar News  – 152 Words
Fierce clashes have been reported in parts of the Middle Shabelle region between armed villagers and Al-Shabaab militants. The clashes in Masaajidka Ali Guud and nearby areas that fall under Adan Yabal district in Middle Shabelle, involved  the self-mobilized militias, better known as Ma'awisley (un-uniformed) and Al-Shabaab. Up to four Al-Shabaab fighters were killed in the attack, while Ma'awisley's commander, Hibad Ali Dasar, was killed in the confrontation.
A video featuring Hibad was released weeks ago calling on the local people to continue their fight against the militants. It also asked the Federal Government to support Hibad's militias fighting to protect their livestock and children from the Al-Shabaab militants.
The Ma'awisley militias revolted against the militants following Al-Shabaab's increased crimes against the local people, such as imposing zakat, forceful recruitment of local youth into Al-Shabaab among other atrocities. The local communities in villages near Adan Yabal accordingly mobilized themselves and waged war against the militants, and asked the federal government to support them in the fights against the militants.
INTERNATIONAL MEDIA
01 October – Source: Xinhua – 220 Words
The Chinese embassy in Somalia on Monday held a ceremony to celebrate China's National Day which falls on Oct. 1, as well as the 69th anniversary of the founding of the People's Republic of China in the Somali capital of Mogadishu. Dignitaries who included cabinet ministers in the federal government of Somalia, lawmakers and foreign diplomats attended the event.
Chinese ambassador to Somalia Qin Jian said that China, after decades of development, stands as the world's second largest economy and contributes more than 30 percent to the world economic growth. He added that by the current UN standard, more than 700 million Chinese people have been successfully lifted out of poverty.
The official added that China appreciates the positive progress Somalia has made in its peace and reconstruction process while safeguarding sovereignty and territorial integrity. "China is willing to work with Somalia to strengthen cooperation under the framework of the Belt and Road Initiative, the Forum on China-Africa Cooperation and the China-Arab States Cooperation Forum to achieve and write a new chapter in the relationship between the two countries," said Qin.
Abdukadir Ahmed-Kheyr Abdi, the state minister in the Somali ministry of foreign affairs, hailed China's phenomenal transformation as it marked its 69th anniversary of founding. "Somalia and China share long-standing friendship based on shared interests and aspirations." he added.
---
01 October – Source: Xinhua – 237 Words
The Somali government on Monday called on Iraq to launch urgent investigations into a ship carrying 200,000 bags of charcoal smuggled out of the Horn of Africa nation. Somali Ambassador to the United Nations Abukar Osman said the ship, which has docked at the Iraqi port of Umm Qasri, is said to have forged custom documents indicating to be from Ghana.
"The federal government of Somalia calls on the Iraqi government to expedite investigations and be swift in actions to halt further clearance of the said ship," Osman said in a statement issued in Mogadishu. He called on international partners to support efforts by Mogadishu in preventing charcoal smuggling out of Somalia.
Osman, who regretted the incident, condemned all parties involved in the racket and those who have been engaged in the illegal export of charcoal from Somalia. "Illegal charcoal smuggling is detrimental to the security and stability of Somalia, since revenue from illegal charcoal export is the main financial source for the terrorist organizations of al-Shabab and al-Qaida," Osman said.
The charcoal business has become al-Shabab's most lucrative source of income, according to the United Nations Monitoring Group on Somalia and Eritrea. According to a UN monitoring report, the militant group always pays for weapons and fighters with revenue it earns from taxing traders and from the export of charcoal, trade that was banned by UN Security Council Resolution 2036, which was adopted in 2012.
OPINION, ANALYSIS & CULTURE
'But as the famine worsened and the civil war intensified, there were calls for international action to relieve the suffering of the Somalis. In April 1992 the United Nations Operation Somalia (UNOSOM) was deployed to try to bring peace to the warring factions.'
02 October – Source: Daily Telegraph – 783 Words
The image of the bodies of US soldiers being dragged through a street in Mogadishu after their Black Hawk helicopter was shot down are seared into the memories of a generation. The notorious "Black Hawk down" incident, which became the basis of a 2001 hit film, was a disastrous moment in US foreign policy, the result of a botched military operation to arrest a war lord.
It happened in Somalia, on October 3, 1993, 25 years ago today. The one-hour plan to snatch Somali general Mohamed Farrah Aidid, went horribly awry and resulted in a pitched battle that lasted into the next day. The US suffered a humiliating defeat that led to the withdrawal of troops and has affected US foreign policy ever since.
The US troops were part of a UN peacekeeping force in Somalia, which was beset by famine and civil war. The war was a power struggle in the wake of the ousting in 1991 of dictatorial president Siad Barre, who had come to power in 1969. Barre had implemented socialist policies, trying to modernise the country, relying on a cult of personality, violence and oppression to keep order. But his disastrous military campaign in Ethiopia and his economic tinkering stirred a popular uprising in January 1991.
With Barre gone, two powerful generals, Mohamed Farrah Aidid of the Somali National Alliance (SNA) and Ali Mahdi Muhammad of the Somali Salvation Alliance (SSA), fought for dominance. The civil war disrupted food production, exacerbating the effects of a drought that had already hit the major grain-growing regions. The US had been supporters of Barre's regime since 1989 after Barre switched his allegiance from the Soviet Union, but America had been too busy with other foreign wars to restore Barre to power or to restore order. But as the famine worsened and the civil war intensified, there were calls for international action to relieve the suffering of the Somalis.
In April 1992 the United Nations Operation Somalia (UNOSOM) was deployed to try to bring peace to the warring factions. But after their mission failed the US initiated Operation Provide Comfort to deploy troops in December 1992 as part of a UN-approved multinational effort (which included Australia) known as the Unified Task Force (UNITAF). This effort stopped the fighting in the civil war for long enough to allow aid to get through.
But UNITAF was only a transitional body and in March 1993 a UNOSOM II was created, with increased powers, to take over from the US-led task force. However Aidid felt marginalised by the head of UNOSOM II, ambassador Jonathan Howe, and began to agitate against the UN presence. He made broadcasts against the new mission. In June 1993 when a group of Pakistani peacekeepers were sent to his radio station to search for weapons, Aidid assumed they were there to close the station down. A firefight ensued resulting in the deaths of 24 Pakistanis.
TOP TWEETS
@Halbeeg_News: Saudi condemns Monday blast in Mogadishuhttps://en.halbeeg.com/2018/10/02/saudi-condemns-monday-blast-in-mogadishu/ ….
@RadioErgo: New source of water boosts Mudug farmers after three years of drought #Somalia.
@AbdulBillowAli: Nine militants killed in a U.S airstrike in Jubbaland region. @USAfricaCommand says it launched the strike on Monday after government forces came under attack 40 kms northeast of Kismayo. #Somalia
@MohamoudKaarshe: Attending on @IOM_Somalia country strategy plan for 2019 – 2021 consultation meeting with@MoPIED_Somalia @AmbGamal @UNmigration
@Halbeeg_News: EU says its Mission in Somalia will continue despite Al-Shabaab attack https://en.halbeeg.com/2018/10/02/eu-says-its-mission-in-somalia-will-continue-despite-al-shabaab-attack/ …
@Goobjoognews: TURKISH RED Crescent has rolled at capacity building programme for prisoners in #Mogadishu's central jail. The programme involves training female prisoners on how to make clothes using sewing machines.
@HarunMaruf: Self-organised militias known Ma'awisley attacked, driven out Al-Shabab from villages near Adan Yabaal killing 4 militants on Sunday. On Monday Al-Shabab launched a counter-attack, killed two villagers including Hibad Ali Dasar (pictured) one of the Ma'awisley leaders.
@PDWilliamsGWU: Here's the @EUTMSomalia press release on the #AlShabaab attack on one of its convoys earlier today in#Mogadishu. https://www.eutm-somalia.eu/eutm-somalia-convoy-hit-in-mogadishu/ …
IMAGE OF THE DAY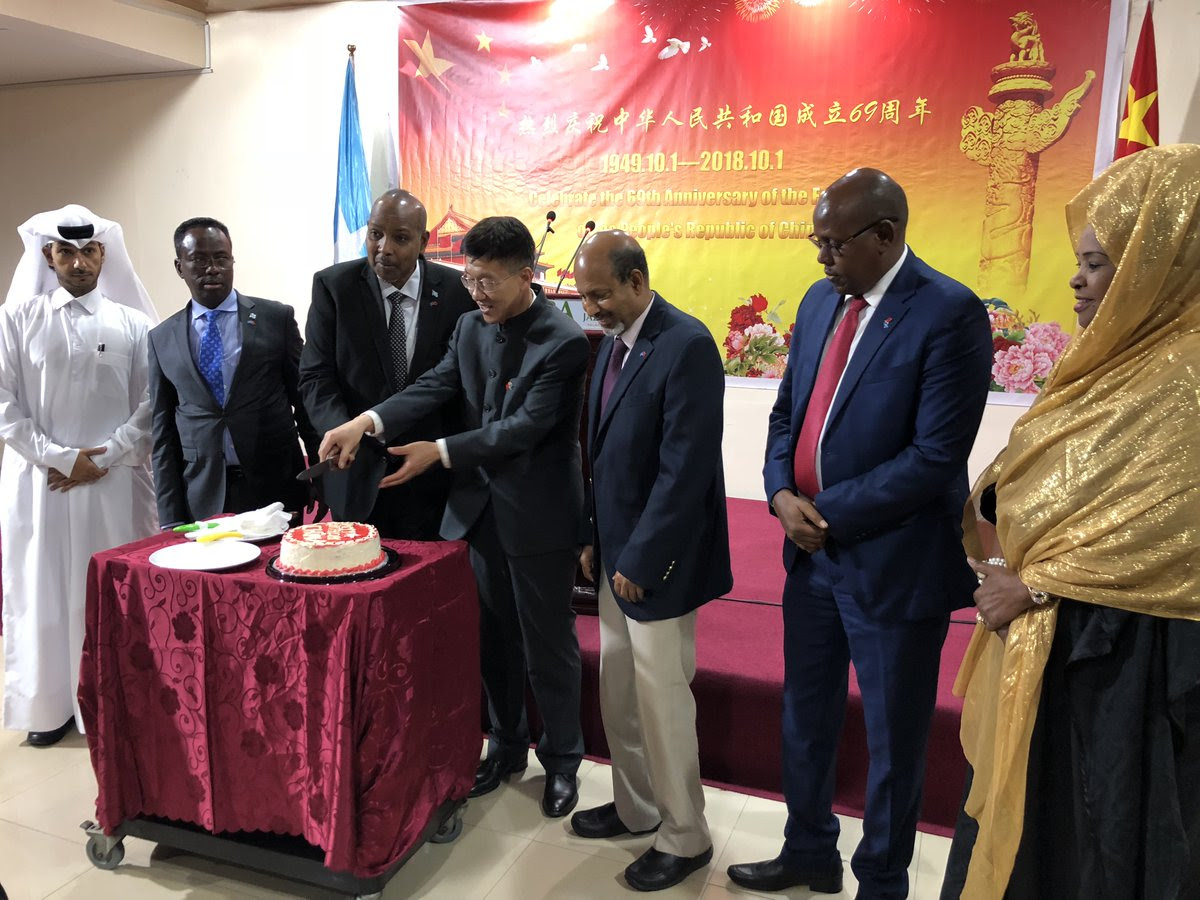 China's ambassador to Somalia, Qin Jian, and other dignitaries cutting the cake marking 69th Chinese National Day event held at Hotel Jazeera, Mogadishu.
Photo: @unicefsomalia