October 11, 2017 | Daily Monitoring Report
We Regret Cancellation Of Constitutional Convention – Minister Hosh
11 October – Source: Goobjoog News – 255 Words
Constitutional Affairs Minister Abdi Hosh has expressed regrets over the cancellation of the constitutional convention which was set to take place on Sunday. Hosh however noted that the move to cancel the meeting was a learning curve, and a practice in democracy. "People must not feel as a big deal for the meeting not to have taken place. We really wanted it to happen but I am delighted as we can feel our democracy is growing after our institutions advocated for its cancellation while we, the executive accepted their demand," the minister said.
The Parliamentary Oversight Committee and the Review and Implementation Commission dismissed the convention expressing it as a unilateral decision by the ministry forcing the federal government to cancel the meeting. Regional administrations also poured cold water on the convention declaring non attendance. The two constitutional review and implementation bodies had raised concerns over what it said was a move to usurp their powers and responsibilities by the ministry contrary to the provisions of the Provisional Constitution.
The ministry had widely publicized the convention scheduled in October 8-10 in Mogadishu bringing together regional administrations, civil society and international community among other stakeholders. The Oversight Committee and Review and Implementation Commission called on the international community to withdraw funding of the convention. Hosh said Wednesday's talks were still underway to resolve the underlying issues.
Key Headlines
We Regret Cancellation Of Constitutional Convention – Minister Hosh (Goobjoog News)
Defense Minister: Al-Shabaab Uses Mentally Challenged People As Suicide Bombers (Jowhar.com)
Security Ministry Says Security In Mogadishu Is Improving (hiiraan Online)
'Turkey Is Playing Key Role In The Lives Of Somalis' (Anadolu Agency)
UN Pledges To Help Somali Young Innovators Develop Dairy Industry (Xinhuanet)
How The Gulf Crisis Is Destabilising Somalia? (Polity)
NATIONAL MEDIA
Defense Minister: Al-Shabaab Uses Mentally Challenged People As Suicide Bombers
11 October – Source: Jowhar.com – 83 Words
Minister of Defense Abdirashid Abdullahi Mohamed has accused the militant group Al-Shabaab of using people with mental health problems as suicide bombers.  He made the remarks at an event marking the World Mental Health Day held in Mogadishu. "Al-Shabaab uses mentally sick people for its suicide missions, convincing them to carry out deadly attacks," he said. He noted there is an urgent need for joint cooperation to defeat the group and bring an end to their use of sick people in the conflict.
---
Security Ministry Says Security In Mogadishu Is Improving
11 October – Source: Hiiraan Online – 92 Words
Federal Security Ministry said security in the capital Mogadishu was improving and urged local residents to help security forces in their effort to stabilize the capital. Security Ministry spokesperson Ahmed Mohamud Sayid Arab said this is as a result of the ongoing Mogadishu stabilization operation, which he said made possible the collection of heavy weapons in the hands of the public and foiling of many Al-Shabaab attacks. His remarks come while the security stabilization forces have recently intensified their operations, conducting day and night search operations at key junctions in the capital.
INTERNATIONAL MEDIA
10 October – Source: Anadolu Agency – 255 Words
A Somali Parliamentarian Tuesday commended the Turkish Government for its contributions to developing infrastructure as well as providing humanitarian aid to the Horn of Africa country. ''The Turkish government is playing a significant role in the lives of Somalis and its government,'' Lufti Sheriff Mohamed, currently attending the Pan-African Parliament in South Africa, told Anadolu Agency in an interview.
He said the 2011 visit of then-Prime Minister and current President Recep Tayyip Erdogan to Somalia in the midst of a famine cemented the historic bilateral relationship. Mohamed said when Erdogan arrived in Somalia, he went straight to internally displaced people's camps instead of rushing to the presidential palace, a move which inspired Somalis' feelings of love and solidarity towards the Turkish people.
Turkey is "making a significant contribution. We hope they increase assistance to their sisterly nation and brotherly people,'' the lawmaker said. Asked about Turkey's recently launched largest overseas military training academy in Somalia, Mohamed said it will help rebuild the Somali Army by training them to enable them to secure their country.
---
11 October – Source: Xinhuanet – 508 Words
The United Nations and Somalia on Tuesday pledged to help young entrepreneurs develop technological solutions for the dairy industry in the country. Speaking at the end of a seven-day Social Innovation Camp that ended in Mogadishu, Deputy Special Representative of the UN Secretary-General for Somalia, Peter de Clercq challenged the youth to come up with practical solutions to social and economic issues facing the country.
According to a statement from the UN Mission in Somalia (UNSOM), De Clercq expressed his satisfaction with the ideas presented, saying it was testimony that simple and innovative ideas can be used to address real local problems. "We have to see how we can support people like you with all these amazing ideas and see how we can push forward and put them into practice and make them contribute to the economy of this country," he said, pledging continued UN support.
The UN-backed first ever "Innovate for Somalia" social innovation camp brought together 40 young Somali men and women who brainstormed on best business ideas to improve the dairy industry. The participants received mentorship and incubation support from UNDP to help firm up their business ideas. The social innovation event is being run by two ministries is part of a series of innovation camps which will be held across Somalia and which will give young Somalis between the ages of 19-30 a chance to come up with innovative solutions to address development challenges in Somalia.
OPINION, ANALYSIS AND CULTURE
"The tensions between the government and the federal member states go well beyond the Qatar crisis, and remain perhaps the biggest stumbling block to resurrecting a coherent Somali state. Nonetheless, while the crisis has highlighted this internal dilemma, this has been exacerbated by outside actors. Not being able to convince Farmajo to change his mind, the UAE set out instead to undermine his position by appealing directly to the federal member states."
11 October – Source: Polity – 1001 Words
The Saudi Arabia-United Arab Emirates (UAE) decision to break relations with Qatar, and more importantly their insistence for others to follow their lead, has pitted the Federal Government of Somalia ('Somali government') against many of its federal member states. This has created a serious challenge for the country's nascent state-building process. When Saudi Arabia cut ties with Qatar in June this year, it was the third time in three years that the nation (with the UAE close behind) had called on the Horn of Africa to remake its foreign policy in line with Riyadh.
In 2015, Saudi Arabia convinced the entire Horn – save Ethiopia – to sign up to its coalition against the Houthi movement in Yemen; a key priority given Iran's support for the Houthis, who are also Shia Muslims. Then in early 2016 when Saudi Arabia broke relations with Iran, Djibouti, Sudan and Somalia did so as well. Both these developments demonstrated how Saudi Arabia views its relationship with the Horn first and foremost via the prism of its proxy war with Iran, and the success its incentive-laden foreign policy has had on this front. After the break in relations with Qatar, Somalia – under the newly elected President Mohamed Abdullahi Mohamed (Farmajo) – remained neutral. This threw Somalia into chaos, with the government coming under fire both internally and externally.
At heart are two interrelated concerns – unclear definitions of the roles and responsibilities between the Somali government and the six federal member states in practice; and the undercutting of the weak Somali state-building project by external actors. In the first instance, Farmajo's position has proved unpopular to many in Somalia who believe the potential benefits of siding with Saudi Arabia and the UAE far outweigh those associated with neutrality (which in essence is a vote for Qatar).
Opponents note that the Saudi Arabia-UAE contingent offers Somalia much more in terms of a market for livestock exports, a source of migrant remittances and opportunities for ports management than Qatar can compete with. Nonetheless, Farmajo has held his ground.
In August Puntland announced it was breaking from the Somali government's position of neutrality, citing its strategic relationships with Saudi Arabia and the UAE. The Dubai-based P&O Ports secured a 30-year concession for Puntland's main port of Bosaso earlier this year, which probably influenced the decision and underlined the claim that siding with the Saudi-UAE camp was more beneficial.
TOP TWEETS
@US2SOMALIA: #DayoftheGirl, Girls #Basketball Unites Divided Communities in #Somaliahttps://www.youtube.com/watch?v=j7W-I9SQn1U&feature=youtu.be … #Somali #GirlsShine #IDG2017@USAIDSomalia
.@engyarisow: Thanks to the Mayor of #Mogadishu@ThabitMhd for hosting an awareness activity to commemorate the World Mental Health Day & to stop stigmatization and discrimination of mental health patients
@DalsanFM: 100 NISA Motor Cycle Mounted Agents Deployed To Boost Mogadishu Security –http://radiodalsan.com/en/100-nisa-motor-cycle-mounted-agents-deployed-to-boost-mogadishu-security/ …
.@Goobjoognews: 700,000 voters to cast vote for president in Somaliland next month –
.@UNSomalia: #Somali girls, with the right and effective support, can reach their full potential and change the country.#DayoftheGirl
.@antonioguterres:We can & must eliminate the stigma that prevents people from speaking freely and seeking treatment for mental illness #WorldMentalHealthDay
.@AnalystSomalia: The AU / IGAD Strategic consultative discussion on the Horn of Africa in Khartoum just concluded; the#Somali contingent with Prez Mbeki
IMAGE OF THE DAY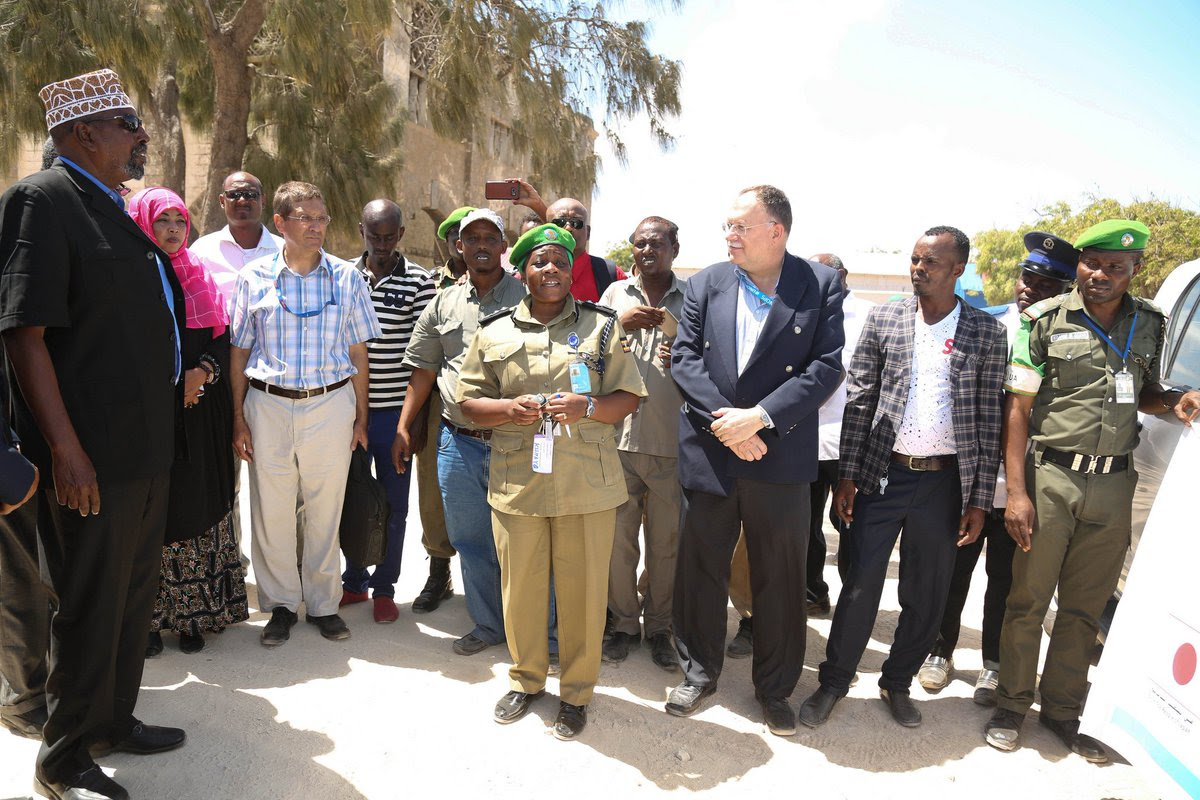 Christine Alalo ,AMISOM Deputy Police Commissioner speaks during the handing over ceremony of a renovated police station to Jubaland Regional Administration led by Deputy President State Abdikadir Mohamud Lugadheere.
Photo: AMISOM