October 10, 2017 | Daily Monitoring Report.
We Are Not Against The Government, Says Puntland President
10 October – Source: Garowe Online – 306 Words
The Presidents of Somalia's Federal Member States (FMSs) are expected to wrap up a three-day conference in the southern coastal city of Kismayo on Tuesday. The leaders of five of Somalia's regional administrations, namely Puntland, Galmudug, HirShabelle, Southwest, and Jubbaland are attending the meeting aimed at finding a solution to the political deadlock over Gulf Crisis. Speaking at the conference, Puntland President, Abdiweli Mohamed Ali "Gaas" said Kismayo forum is "constitutional" and was supposed to be held in the past. "It's not against the federal government," he said. President Ali highlighted that Somali Federal Member States have a legitimate right to hold such meetings to discuss their interest and the country's future, in accordance with the federal system. "In fact, it is unfortunate to seek a reason for this meeting, as the constitution allows us to meet and discuss relevant issues including power and responsibility sharing between the FMSs and federal government," said Ali.
Puntland President added what is needed to properly implement the federal system in Somalia, and bring an end to any hurdles from the central government or its federal member states. "Today's constitution in the country enshrines federalism, and we want to put it into practice correctly. The system we have and the actions of the central government sometimes are not compatible," he added. Ali also stated that regional states' meeting in Kismayo is a constructive forum, and will not derail the country's state-building efforts of the federal government led by President Mohamed Abdullahi Farmajo. The remarks of Puntland President comes amid frosty relations between Somali Federal Government and regional administrations that was sparked by a disagreement over the country's stance towards the Gulf Crisis. The current political crises in Somalia emerged after some regional states, including Puntland, have sided with Saudi-led bloc against Qatar, while the federal government stayed neutral on the diplomatic row between the Gulf Countries.
Key Headlines
We Are Not Against The Government Says Puntland President (Garowe Online)
Kismayo Conference Set to Be Concluded Today (Jowhar.com)
Commander of Defense Forces (CDF) Of Somalia Announces Operations Against Al-Shabaab (Hiiraan Online)
Five (5) Al-Shabaab Terrorists Killed In KDF Raid (Daily Nation)
Prime Minister Hassan Khayre Praises Uganda For Their Contribution In Ending Civil War In Somalia (AMISOM)
Third Annual Somali Heritage Week Marked With Pomp And Glamour (Goobjoog News)
NATIONAL MEDIA
Kismayo Conference Set To Be Concluded Today
10 October – Source: Jowhar.com – 119 Words
Regional states leaders' meeting in Kismayo is expected to be concluded today. A communique will also be released at the closing of the meeting. During the past two days, the leaders attending the conference reportedly held sensitive discussions about the country's political situation behind closed doors. Sources close to the venue say the regional leaders are planning to establish a council that will unite them.
After the end of the meeting, the leaders are expected to propose suggestions to the federal government, who has been recently at loggerheads with the federal member states over the Gulf Crisis. Reports also say that there is a possibility that regional leaders will travel to Mogadishu soon to meet with top government officials.
---
Commander of Defense Forces (CDF) Of Somalia Announces Operations Against Al-Shabaab
10 October – Source: Hiiraan Online – 136 Words
The Commander of the Defense Forces (CDF) of Somalia, General Mohamed Ahmed Jim'ale (Irfid) stated that military operations will soon begin to remove Al-Shabaab from certain areas in the country. The CDF said that there will be no delay for Somali Armed Forces to take a military action to engage with Al-Shabaab militants.
He further added that the Somali Government is ready to rebuild its army and promised that all military forces will have all the necessary military supplies in order to achieve its goals in the future. "In fact, sitting around and not doing anything is wrong, we need to look for the enemy that surrounds us and that is why we are going to begin these operations against Al-Shabaab," said the CDF. The CDF addressed the military forces in Barire after visiting them.
INTERNATIONAL MEDIA
10 October – Source: Daily Nation – 269 Words
Five Al-Shabaab terrorists were on Monday killed in a military operation in Boni Forest, Lamu County. Six AK-47 assault rifles, 321 rounds of ammunition, three grenades and explosives were confiscated after the onslaught by Kenya Defence Forces at Bodhei. KDF spokesman David Obonyo said other terrorists escaped with injuries. "KDF appeals to the local population to report any suspicious individuals with injuries and seeking medical attention within the area," Mr Obonyo said in a statement.
He added that: "KDF assures the public that tracking of the terrorists will continue until the area is free from all security threats posed by this group." The KDF spokesman said that soldiers who had been tracking the terrorists laid an ambush at Bodhei. The terrorists killed were part of a group that has been terrorizing residents.
The group carjacked, in broad daylight, Public Works Principal Secretary Mariam El Maawy at Milihoi in Lamu before she was rescued by the military and later died of her injuries at a South African hospital. The soldiers are part of Operation Linda Boni, a multi-agency security force in the forest. It was launched on September 2015 to flush out Jayshi Ayman, a local group of Somalia-based Al-Shabaab.
---
10 October – Source: AMISOM – 569 Words
Somali Prime Minister, Hassan Khayre, has commended the Ugandan government for contribution made in ending the decade-long civil war and bringing back hope for peace and security in the horn of Africa country. Mr. Khayre made the remarks at a ceremony hosted by the Ugandan embassy in Somalia, Monday, to mark 55th Independence Anniversary of the East African Nation.
He noted that the two countries had strong historical relations, which had seen them help each other in times of need. "Uganda led the rallying call to deploy forces to Somalia in 2007. These brave forces, working together with our Somali troops, and other Troop Contributing Countries have facilitated the return of hope for the Somali people; given them an opportunity for freedom and prosperity that they have not experienced for many years," the Prime Minister stated.
Somalia plunged into civil war in 1991 after the collapse of President Siad Barre's government, leading to the deaths of hundreds of civilians before the intervention of the United Nations and the African Union. The ceremony held in Mogadishu was attended by representatives of Troop and Police Contributing Countries in Somalia, United Nation officials and members of the diplomatic corp among others.
OPINION, ANALYSIS AND CULTURE
""The event among other issues is meant to discuss ways to empower and uplift Somali youth especially those living in places like Eastleigh which is congested and may not be conducive to empower youth to grow," Fardousa Jama founder of Somali Heritage Week said. The event brought together Somali professionals who formed a panel which discussed these issues before many youth who were in attendance."
10 October – Source: Goobjoog News  – 791 Words
The 3rd Annual Somali Heritage Week that was concluded Sunday 8th October at the Kenya National Theatre in Nairobi brought the finest, the unique and best of Somali culture. First launched in 2015, the event brings together prominent Somali professionals, business community, women, youth as well as politicians from the Somali community. The event showcased the uniqueness in the Somali language, fashion, food, art, poetry, traditional song and dance as well as panel conversation on various issues that affect the community.
According to Awjama Omar Cultural Centre and Heinrich Boll Stifftung Foundation, the organizers, the event was created to give the Somali people a platform where they can come together to celebrate the community, discuss and deliberate on various challenges facing them and to sustain their cultural tradition while offering others from outside the community to appreciate their rich culture. This year's theme was "Enhancing Inclusivity" and meant to highlight the position of the Somali community within Kenya's 43 tribes. Happening in the midst of a hotly contested presidential poll which normally divides Kenyans along tribal lines, the event sought to promote mutual coexistence among communities in the country.
Often, politics in the East African country are played along tribal lines with politicians keen to attain power mobilizing their communities to form the required numerical strength to triumph. In 2007, Kenya was plunged into a civil strife after a disputed presidential election led to clashes between supporters of the two presidential candidates Former President Mwai Kibaki and the then Opposition leader Raila Odinga who had claimed his victory was stolen. Mr. Odinga is currently engaged in another presidential election dispute with current president Uhuru Kenyatta after the country's Supreme Court nullified Mr Kenyatta's victory on 1st September. In the spirit of enhancing a peaceful co-existence, organizers of this year's event brought together different people from different cultures as well as panelists who deliberated the issues.
Among the issues that came to the fore were the challenges facing the Somali community in Kenya, among them religious aspects and police harassment. The Kenyan administration has often come under criticism over accusations of profiling the Somali community in its anti-terror activities often sparked by attacks within the country. Following the tragic events at Kenya's Garissa University on April 2015 where 147 students were killed by by Al-Shabaab militants, Kenyan authorities took steps that were seen by the international community as profiling the Somali community.
TOP TWEETS
.@Goobjoognews: Strand 4 covers the implementation of CVE, a component of the Security Pact agreed during May 11 London Conference
@awccsomalia: #Somalia humanitarian crisis continues to persist https://www.humanitarianresponse.info/system/files/documents/files/somalia_humanitarian_snapshot_-_october_2017_1.pdf …
@amisomsomalia: Prime Minister Hassan Khayre praises#Uganda for contribution in ending civil war in #Somalia.http://bit.ly/2g8cack , @SomaliPM
@Eye_on_Somalia: #Hiraan Women's health champion advocates for quality reproductive health services in Somaliahttp://dlvr.it/PtYRrJ  #Somalia
@lasoco: Somaliland, Somalia establish joint technical committee for airspace control talks – The Nationalhttp://j.mp/2grbxrh  #Somalia
@GEEL_Somali: We're investing in innovative & efficient solutions to water scarcity in #Somaliland to boost agricultural production #InvestSomali
.@MoPIED_Somalia: 3rd Steering committee Meeting with NIS Foundation and The Royal Norwegian Embassy.
@somaliact2: African Union commission chairperson today delivered donation to the drought response in #Somalia.
@ICRC_Africa: Drought conditions in #Somalia have forced some livestock farmers to switch to fishing. This is how we're helping: http://ow.ly/G4US30fLH3e
IMAGE OF THE DAY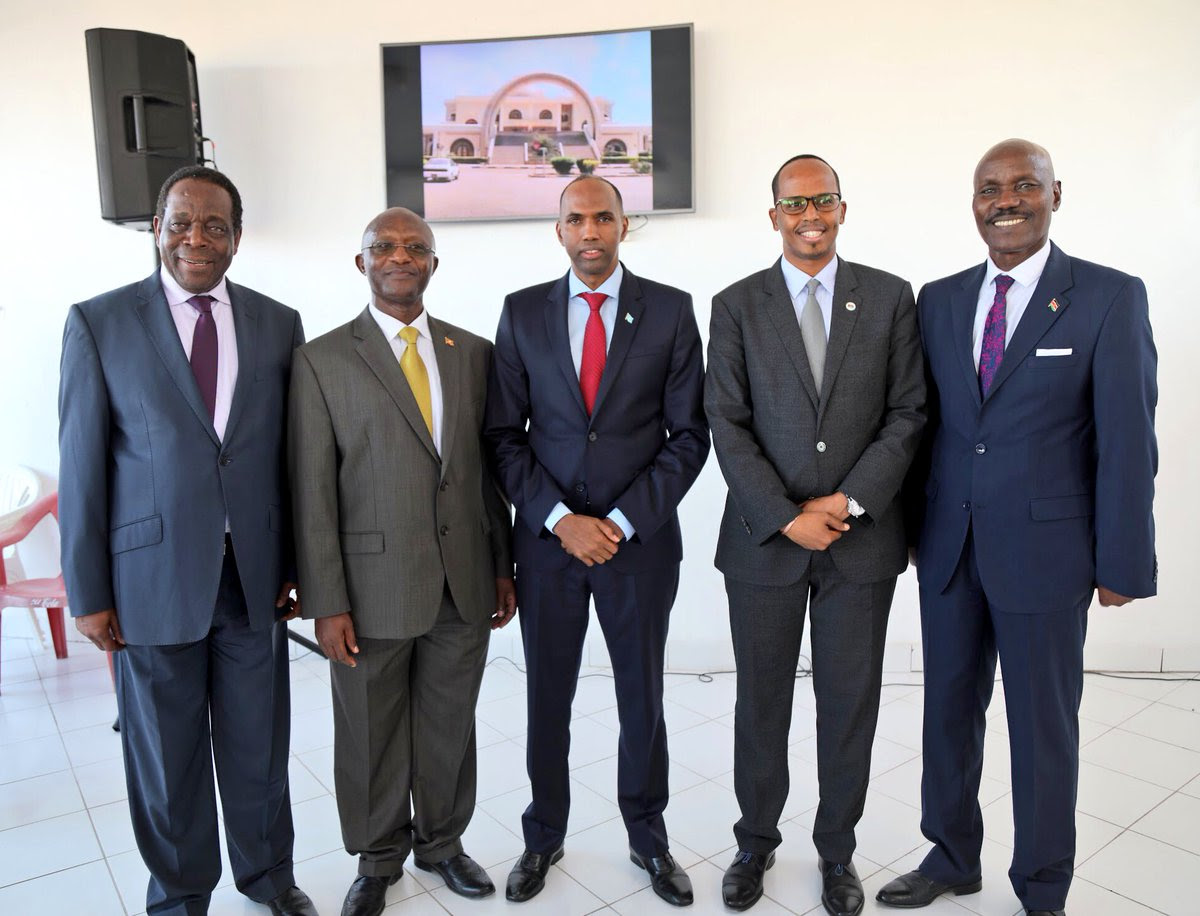 Prime Minister Hassan Ali Kheyre with Ambassador Francisco Madeira, Ambassador Major General Nathan K. Mugisha, Ambassador Major General Lucas Tumbo and Mogadishu Mayor Thabit Abdi Mohammed during the celebration to mark 55th Uganda Independence Anniversary in Mogadishu.
Photo: @SomaliPM