November 29, 2017 | Daily Monitoring Report
Government Adopts Revised PCVE Strategy Ahead Of Security Meeting Next Week
29 November – Source: Goobjoog News  – 242 Words
The second high level meeting on Comprehensive Approaches to Security co-chaired by the Federal Government and Sweden on Wednesday adopted the revised national strategy in Preventing and Countering Violent Extremist ahead of the security conference next week in Mogadishu. The meeting which was attended by representatives of the Federal Member States also set out a working plan for the next six months to implement the Preventing and Countering Violent Extremism (PCVE) strategy. "Today's meeting was a key milestone in which it was the second high level meeting on Strand Four and, we have agreed today and adopted the revised National Strategy for Preventing and Countering Violent Extremism," Information Minister Abdirahman Yarisow said. The Minister noted the meeting also agreed on the action plan and progress report which will be presented by the co-chairs (Deputy Prime Minister Mahdi Guled and Swedish Ambassador Andreas von Uexkull) in the upcoming December 4 security conference in Mogadishu.
The conference is a follow up on the London Conference which had initially agreed on October for donors to make financial commitments to fund the National Security Architecture. Ambassador von Uexkull said the adoption of the strategy was a remarkable progress in realizing the Strand Four objectives. "We agreed on the work-plan for the next six months, and I have been truly impressed by all the action plans that all the member states and the Federal Government have developed." The Comprehensive Approach to Security Strand 4 was launched October 7.
Key Headlines
Government Adopts Revised PCVE Strategy Ahead Of Security Meeting Next Week (Goobjoog news)
President Farmaajo To Leave For Ivory Coast To Attend EU-Africa Summit (Dhacdo.com)
House Defense Committee Visits Turkish Military Academy In Mogadishu (Goobjoog News)
Al-Shabaab Militants Kill 2 Police Officers In Coastal Kenya (Xinhuanet)
Neglected Environment of Somalia (Umadda Media)
NATIONAL MEDIA
President Farmaajo To Leave For Ivory Coast, To Attend EU-Africa Summit
29 November – Source: Dhacdo.com – 79 Words
President Mohamed Abdullahi Mohamed "Farmaajo" is expected today to travel to Ivory Coast to attend the African Union-European summit to be held in Abidjan on Wednesday. The two-day EU-Africa summit will, seek to enhance the partnership between the two continents which share a lot of mutual interest. President Farmaajo is set to deliver a speech on the latest situation of the country at the summit. He is currently in Nairobi where he attended the inauguration of President Uhuru Kenyatta.
---
House Defense Committee Visits Turkish Military Academy In Mogadishu
29 November – Source: Goobjoog News -162 Words
Lower House defense committee on Tuesday visited the Turkish military training academy in Mogadishu two months after it was opened. The committee said the visit was aimed at familiarizing parliament on the work of the academy which is expected to train and house at least 1,000 soldiers at a time. "The most important aspect was for us to see the training facility for our soldiers inside Somalia," committee chairperson Hussein Isse told Goobjoog News. "We saw training in progress but, no trainees in the air force section. They told us that they are waiting for us to furnish them with the selected individuals."
The $50 million academy billed as Turkey's largest overseas military school is expected to help Somalia reconstruct its military especially in light of African Union forces exit which starts gradually from next month. The facility is among other training camps in Somalia. UAE operate training camps in the country in addition to training support from US and UK.
INTERNATIONAL MEDIA
29 November – Source: Xinhuanet – 237 Words
Somali militant group Al-Shabaab on Tuesday killed two police officers and injured two others in Kenya's coastal town of Lamu in its latest attack in the tourism resort region. Coast Regional Police Commander Larry Kieng said the officers were escorting a convoy of six buses when they were ambushed along the Malindi Lamu highway. Kieng said a group of heavily armed militants emerged from the forest and sprayed a police escort vehicle with bullets that had four occupants. "During the shootout two officers were killed and two others injured. The officers were evacuated to Lamu hospital with serious bullet wounds," Kieng told Xinhua by phone.
The police commander said no passenger was injured during the incident since the majority were Muslim. "The militants demanded for passengers' manifests that indicated that they were Muslims. They were spared after a Somali passenger pleaded with them to let the buses pass," Kieng said. The militants gave the passengers Jihad leaflets/CD cards before letting all the buses to proceed their destinations. The attack came barely three days after police destroyed six Al-Shabaab camps in the vast Boni forest. During the operation weapons and medicine were recovered. Kieng said a combined team of military and police are combing the forest to hunt down the militants. Reports indicate that the militants are targeting both police and civilians within Lamu. The ongoing operation Linda Boni has reduced terrorist attacks in the coastal region.
OPINION, ANALYSIS AND CULTURE
"SEMG report also indicated that charcoal cargoes of more than 2 million bags weighing more than 50,000 metric tons were exported by criminal networks from kismayo and buurgaabo during 2014 and 2015. A conservative estimate would be that Al-Shabaab currently earns at least $10 million a year from the illicit charcoal trade through checkpoints and stockpiles that threaten to peace and security of the Somalia and enables Al-Shabaab financing and undermines counter-terrorism and counter-insurgency efforts in Somalia."
27 November – Source: Umadda Media – 894 Words
Charcoal production in Somalia, including for illicit export, has continued at a high rate. According to analysis of satellite imagery by FAO, there were approximately 26,000 total sites of charcoal production from 2011 to 2017, with approximately 4,000 sites identified during 2017. In 2017, the primary area of charcoal production has been south of Badhadhe, Lower Juba, in the south-east corner of Somalia, while the secondary area of charcoal production has been near Bu'ale, Middle Juba. Both have been Al-Shabaab-occupied territory.
The stockpiles at Kismayo and Buur Gaabo remain the main sources of exports of charcoal, while the stockpile at Barawe may also pose a threat to peace and security. On 11 and 12 June 2017, members of the Monitoring Group observed the two charcoal stockpiles located near the Port of Kismayo. The available evidence suggests that the scale of illicit charcoal exports from Somalia has not substantially changed from the Monitoring Group's previous mandate. The Group conservatively estimates that, other than during the monsoon season from August to October, approximately 15 dhows per month, or about 135 dhows per year, depart from Kismayo and Buur Gaabo with cargoes of charcoal. With cargoes averaging a volume of 30,000 bags, each weighing 25 kg, that would equal 750,000 kg of charcoal per dhow or more than 100,000 metric tons of charcoal exported per year. At an estimated value of $30 per bag wholesale in export markets (see S/2016/919, annex 9.2), approximately four million bags per year of charcoal exports would be worth $120 million.
Monitoring Group named in its annual report on 08 November, 2017 one of the major player of making almost all fake paperworks used for illegal charcoal and charcoal traffickers as Bashir khalif Mussa, who becomes familiar for illegal charcoal trafficking and fake paperwork making in Somalia. The utilization of falsified customs documentation, such as certificates of origin, continues to be the primary method for facilitating the illicit import of Somali charcoal. During the previous mandate, the main types of false charcoal paperwork were certificates of origin from the Comoros, Ghana and Pakistan.but,During the current mandate, the most prevalent type of false charcoal paperwork has been Djibouti certificates of origin made by Bashir Khalif mussa,with this paperwork having circulated at Port Al Hamriya in the United Arab Emirates, as well as being submitted at the Port of Doha, Kuwait. Investigations by the Monitoring Group indicate that the primary source of the false Djibouti charcoal paperwork is Basheer Khalif Moosa, a national of Djibouti currently residing in Dubai (see annex 12.2.2).
False Ghana certificates of origin have also been submitted at Port Al Hamriya and the Port of Fujairah in the United Arab Emirates during the current mandate. Other types of possibly false charcoal paperwork still under investigation by the Group include Côte d'Ivoire and United Republic of Tanzania certificates of origin. The Group has also discovered the use of falsified Sri Lankan ship registration documents by charcoal traffickers. The patterns of the illicit charcoal trade observed by the Monitoring Group have indicated transnational criminal networks operating in Somalia and the United Arab Emirates (see S/2016/919, annex 9.6). During the current mandate, these transnational criminal networks may have assumed a more formal structure. The Group has obtained information regarding the All Star Group, also known as the All Star General Trading Company, which comprises the main illicit charcoal suppliers, traffickers and investors in Kismayo and Dubai.
TOP TWEETS
@US2SOMALIA: Today is International Women Human Rights Defenders Day. Check out @DigiDefenders for tools and resources for human rights defenders to stay safe online.https://www.digitaldefenders.org/  #TakeBackTheTech #16Days
@engyarisow: During the High Level Meeting on Strand 4,#Somalia adopts National Strategy for P/CVE & Action Planhttp://fb.me/7PivCQPVC
@AmbGamal: Today I had the honor of signing a bilateral agreement on behalf of the FGS with the State of Qatar worth of $200M towards infrastructure, education and job creation projects. The projects will be implemented across the country.@MoPIED_Somalia
@DalsanFM 4h4: Top ISIS Commander In Somalia Killed In US Airstrike – http://radiodalsan.com/en/top-isis-commander-in-somalia-killed-in-us-airstrike/ …
@HarunMaruf: Replying to @HarunMarufBREAKING: ISIS militant killed in Monday's US strike is believed to be Abdulaziz Gure, a logistics commander: source
@CruickshankPaul: Paul Cruickshank Retweeted CTC at West Point Important analysis on al Shabaab bombmaking capabilities
@engyarisow: Watch UK Embassy @Dconcar hosting#16Days2017ِ activism to highlight the plight of Gender Based Violence in #Somalia
@Goobjoognews: HOUSE DEFENSE committee visits Turkish military academy in Mogadishu –
@UmmaddaMedia: A stable Kenya is good for Somalia. Read our latest Editorial.#Somalia  http://bit.ly/2k8PJVY  @TheVillaSomalia @SomaliPM @AMB_A_Mohammed@UKenyatta @MinisterMOFA@GlobSomDiaspora @SomaliEmbKenya @dailynation @StandardKenya
IMAGE OF THE DAY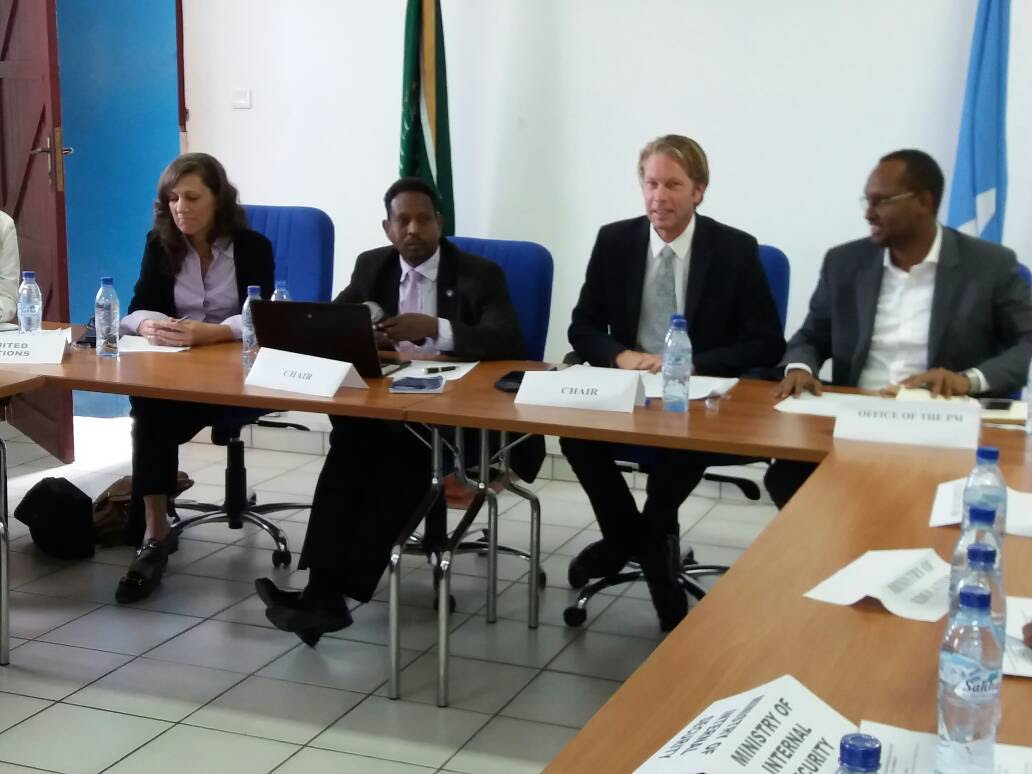 H.E. Abdirahman Omar Osman (Eng. Yarisow) and H.E. Andreas von Uexkull, the Swedish Ambassador to Somalia at  Comprehensive National Strategy for Preventing and Countering Violent Extremism (P/CVE) meeting in Mogadishu.
Photo: @engyarisow
The opinions expressed herein do not necessarily reflect those of AMISOM, and neither does their inclusion in the bulletin/website constitute an endorsement by AMISOM.
For more information, please contact;
Email: amisommediacentre@gmail.com or amisommediacentre@africa-union.org
View previous Round Ups from Daily Media Monitoring.
Copyright (C) 2017 AMISOM All rights reserved.
Forward this email to a friend | Unsubscribe instantly from these emails