November 21, 2017 | Daily Monitoring Report.
Somaliland Opposition Party Abandons Election Race, Accuses NEC
21 November – Source: Hiiraan Online – 261 Words
Somaliland's main opposition party said on Monday that it will disassociate itself from the poll results expected to be declared in forthcoming hours by Somaliland National Electoral Commission (NEC). The leaders of Wadani party have raised fresh claims over vote counting barely two days after NEC and the party solved their hatchet on fake ballot papers. Wadani presidential candidate, Mr. Abdirahman Mohamed Irro has confirmed the withdrawal of the party's poll agents from the tallying centre. "The commission did not solve our concerns, the problem with the counting of votes still exist. We have no other alternative but to dismiss the outcome," Irro said. He further pointed out that they will discuss with their supporters about the way forward. "If the commission fails to implement what we agreed upon, then we shall go back to our supporters to plan the next legal step," he noted.
Wadani officials blamed the commission for deliberately delaying the election results.  "It is more a week since Somaliland people headed to the ballot box and no results a bounced yet," said the party. The poll agency did not comment on the allegations and the latest move by Wadani officials. Following violent demonstrations in Burao and Hargeisa towns, the commission and the party on Saturday agreed to iron out their differences on fake ballot papers allegation after lengthy deliberations. Since last week, over seven people were killed and several others wounded in clashes between the law enforcement agencies and irate youths. According to sources, NEC officials are expected to declare the election results in the forthcoming hours.
Key Headlines
Somaliland: Waddani's Irro Rejects Presidential Poll Results (Radio Dalsan)
Somali Teacher's Day To Be Marked Today (SONNA)
Prime Minister Khaire Calls On Anti-corruption Commission To Scale Up Its Work (Hiiraan Online)
President of Somalia Visits Wahat Al Karama (Emirate Agency)
China Contributes US$2 Million Toward UNICEF's Humanitarian Response In Somalia (Relief Web)
Somaliland Ticks Boxes Of Statehood (Business Live)
NATIONAL MEDIA
Somali Teacher's Day To Be Marked Today
21 November – Source: SONNA – 138 Words
Some parts of the country are today marking the Somali Teacher's Day which is marked every year on November 21. Abukar Shuute Hussein, one of the local teachers of Mogadishu, said that marking this day is aimed at recognizing the significance of the teachers to the society as they work on shaping the future of all citizens.
Hussein said teachers work under tough conditions to carry out their mandate of teaching their nation, thus called on the public to support and recognize the work of the teachers in the society. Meanwhile, he urged the Somali youths to keep away from violence and lay down guns and instead resort to shaping their future by joining learning institution in the country, while he also called on fellow colleagues to double their efforts and boost the education sector of the country.
---
Prime Minister Khaire Calls On Anti-corruption Commission To Scale Up Its Work
21 November – Source: Hiiraan Online – 123 Words
Prime Minister, Hassan Ali Khaire on Monday paid a visit to the Office of the Auditor General and said his government is committed to scaling up its fight against corruption since accountability is one his government's major goals. Speaking to the Auditor General, Mohamed Mohamud Ali (Afgoye) and his personnel, Prime Minister Khaire noted that his government has put in place effective measures to fight graft, adding that the anti-corruption commission will soon be taken before the parliament. "The government has achieved tangible success in the fight against corruption.
To attain further successes, we'll have to unite against anyone found involved in or encouraging corruption. We are determined to enhance the quality of the government institutions and continue our fight against corruption," he added.
INTERNATIONAL MEDIA
20 November – Source: Emirates Agency – 143 Words
President of the Federal Republic of Somalia, Mohamed Abdullahi Farmajo, Monday visited Abu Dhabi's Wahat Al Karama, the national landmark built to immortalise the sacrifices of the UAE's brave heroes. President Farmajo was received by Sheikh Khalifa bin Tahnoun bin Mohammed Al Nahyan, Director of The Martyrs' Families' Affairs Office at the Abu Dhabi Crown Prince Court.
The visit began with the Honor Guard performing a ceremony, after which President Farmajo laid a wreath before the Memorial, the monument made up of 31 massive aluminum panels leaning on one another to symbolise solidarity between the people and the leadership of the UAE. Accompanied by Sheikh Khalifa bin Tahnoun, the President of Somalia toured the site's prominent areas. He concluded his visit by signing the visitors' log and lauded the UAE's heroes for their noble sacrifices and inspiring bravery in the face of adversity.
---
21 November – Source: Relief Web – 369 Words
As the devastating drought in Somalia shows no sign of ending, UNICEF's lifesaving work for women and children has received a boost from the Government of the People's Republic of China. A contribution of US$2 million will help UNICEF reach 15,000 young children who are suffering from severe acute malnutrition, in the southern and central regions.  The humanitarian crisis, which was triggered by the failure of consecutive rainy seasons, has led to massive displacement, disease outbreaks and malnutrition, with 6.2 million people – half of the country's population – now in need of humanitarian assistance.
Some four million of them are children. "Through UNICEF, we hope to reach the affected populations, especially those in remote places, with lifesaving services," said the Chinese Ambassador to Somalia, Qin Jian. "We are committed to supporting the humanitarian response led by the Somali Government, and pleased to be working with UNICEF to ensure the needs of the most vulnerable group – children and women – are met. Together, we can to help the Somali people go through this difficult time." Since the beginning of 2017, UNICEF, working through implementing partners, has provided treatment for severe acute malnutrition to over 200,000 children, nearly all of whom recovered. However, the needs remain immense.
Over the next year, UNICEF estimates there could be more than 230,000 children with severe acute malnutrition. The funding will help to treat the 15,000 children with a therapeutic peanut-based paste. The supplies will be distributed at facilities and mobile sites as part of an integrated package of health, nutrition and water and sanitation services for people in the most affected areas. Some 120,000 children and their mothers are covered under the integrated services approach. "Thanks to the generous joint response by the international community, we have managed to avert a famine so far," said UNICEF Representative, Steven Lauwerier. "However, sustained assistance is needed throughout 2018 to prevent the loss of lives and the collapse of livelihoods. The timely aid from the Chinese Government and the Chinese people will go a long way towards saving children's lives. We hope this will be the beginning of a long and productive partnership between China and UNICEF in Somalia."
OPINION, ANALYSIS AND CULTURE
"So why hasn't SA recognised the conservative but democratic Republic of Somaliland? Maybe the government is petrified that if it recognises the divorce of Somalia and Somaliland, it would have to give in to the powerful Cape Party and allow the Western Cape to become the world's first Hipster Republic."
21 November – Source: Business Live – 888 Words
The immigration official at the border between Ethiopia and the Republic of Somaliland says that, in his seven years of working at the small and dusty border post, he has never seen a South African passport before. During the day, the air in Somaliland's capital city Hargeisa is still and listless in the heat. There is not a great deal to do except nap to the lullaby of an electric fan, listen to the mu'addhin calling out to the faithful, or chew khat. Alcohol is banned, so there is no cold beer to help the day drift on by.
During the night, a cool breeze and sugary milky coffee lubricate conversations with Somalis, who often have American or British accents. The diaspora is returning home and investing heavily in the country. The usual topic of coffee shop conversations is the national elections: Somaliland went to the polls on November 13. After that conversation, there tends to be a bombardment of questions about President Jacob Zuma's corruption. I inevitably end up apologising for SA's xenophobia, like I have had to do in every country on my 1200cc motorcycle ride up Africa. Three parties contested the election: Kulmiye, Wadani and For Justice and Development. To reduce the potential for conflict, the parties held carnival-like marches on alternating days. The general feeling is that the politicians will accept the election results.
Street campaigning in Hargeisa is a million miles away from Kenyan electioneering — where I got tear-gassed twice — or SA's omnipresent threat of political violence. Somaliland is not exactly a hotspot for tourists: I did not see any. Perhaps the lack of tourism is due to the false impression that al-Shabaab rules the streets and there is no difference between Hargeisa and lawless Mogadishu in Somalia. If you are foolish enough to come to this part of the world, and move through the streets in anything but a tank, says the conventional wisdom, you'll be kidnapped by zealots of a perverse distortion of Islam. On the plus side, the YouTube video of your rolling head should get a few clicks.
But Somaliland is the safest and friendliest country I have ever been in. My Johannesburg mentality keeps freaking out with the locals: why are you talking to me? What do you want? Are you trying to set me up for some scam by inviting me over for a cappuccino? Instead of being mugged, stabbed, conned or generally intimidated, I'm in danger of tooth decay from sweet spiced tea. And then there is that disquieting feeling of a returning faith in humanity. Maybe tourists don't come to Somaliland because it is not an internationally recognised state. The UN, for example, sees Somaliland as a part of Somalia and not as an independent country. This is where matters start to get complicated. Is Somaliland a state? International recognition can't be the determinate of statehood. Even if we don't declare a camel to be a camel, it is still a camel. Camels are what they are. Generally, cantankerous animals that often run unexpectedly out of the bush and onto the road.
TOP TWEETS
@TheVillaSomalia: UAE & Somalia are historic allies with  enduring modern partnership. Our two sides agreed to strengthen bilateral ties in the areas of security and trade.#partnership
@engyarisow: Djibouti donated 1M USD to the victims of#MogadishuTruckBomb . #Djibouti stands shoulder to shoulder with #Somalia
@FarahmohamudM: The Somaliland presidial election on November 13, has received a lot of world attention, and was considered one of the African's success stories, unfortunately it seems that the main parties are challenging each other about the  election outcome.
@engyarisow: Abdirahman O. Osman Retweeted Somali National TV Thanks to the Mayor of #Mogadishu @ThabitMhdfor the establishment of Blood Bank for the country
@wakiilorg: Is universal election possible to take place in 2020?#Somalia #ParliamentaryDebate
@SomaliPM: I met with Norwegian Deputy Ambassador Vebjørn Heines, and discussed with him the strengthening of bilateral relations and joint cooperation in addition to their support for#Somalia
@HarunMaruf: Somaliland: Leader of Waddani party Abdirahman Irro reiterated claims that last week's election was "clouded by wide spread fraud". But Faysal A Warabe of UCID says 240 ballot boxes were audtited per request from Waddani and there is "no evidence of fraud"
@engyarisow: Young Somalis from Melbourne, Australia today played football with Waaberi football team at #Benadir Stadium in #Mogadishu. Melbourne team won 3 – 2. Young people who were born in Australia get experience to play in their homeland
IMAGE OF THE DAY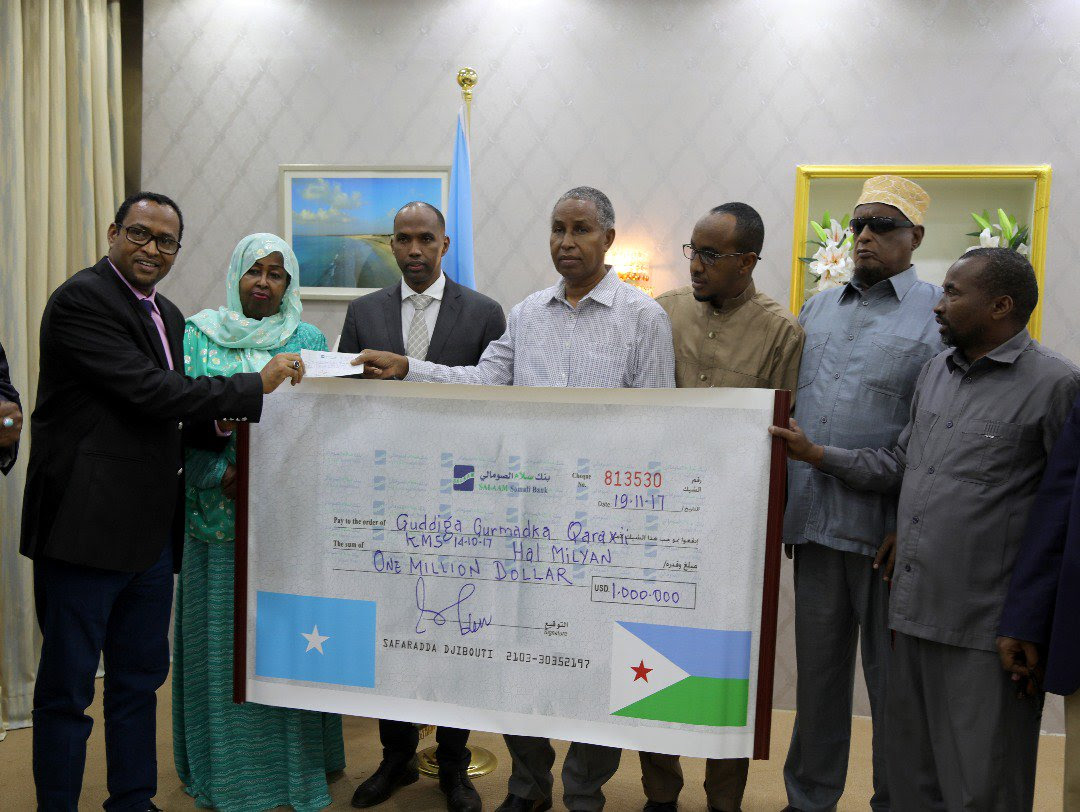 Photo: @SomaliPM
Prime Minister Hassan Ali Khaire received a donation from Dijabouti government for the victims of Zoobe bombings.