November 20, 2017 | Daily Monitoring Report
AMISOM Starts Vacating Mogadishu Stadium
20 November – Source: Hiiraan Online – 285 Words
The first batch of AMISOM troops have vacated Mogadishu Stadium, which is the biggest sporting facility in the county, Somalia's  Ministry for Sport confirmed on Sunday. The continental forces have been occupying the stadium since 2011, when Al-Shabaab militants were pushed out of the city.  Speaking to local media, Assistant Minister for Sports,  Mr. Ahmed Omar Islow said, the premises will be handed over to Somali government. "AMISOM withdrew number of its troops from Mogadishu to pave the ways for handing over the facility to the government, it will be rehabilitated by the government immediately after the withdrawal process ends, because the premise had been used as based therefore it needs a lot of work,"  said Islow.
Somali sport bodies have called on AMISOM to vacate from the football facility, which had been unused since 1991 when the central government  collapsed. Mr. Islow said as the country's sport is recovering from decades-long civil war, the government is putting more efforts to refurbish sport premises.  "Most sport facilities were destroyed during the civil war,  sport is part of the factors which influence peace restoration. The government is rebuilding sport centres," the Minister highlighted. More than two decades of lawlessness in Somalia, the stadium which had a capacity to hold 60,000 people had several times been used as military base by foreign forces. After the fall of the government led by late Mohamed Siyad Barre 1990, Mogadishu Stadium was occupied by US peace-keepers. More than a decade after US troops withdrew from Somalia, Ethiopian forces took over the facility and had been occupying it till 2009.  The stadium was subsequently occupied by Al-Shabaab which used it for training base before the group were forced out of the capital.
Key Headlines
AMISOM Starts Vacating Mogadishu Stadium (Hiiraan Online)
Traditional Elders To Be Included In The Constitutional Review Process Consultations (Jowhar.com)
Report: ONLF Rebel Leader Illegally Extradited to Ethiopia (Voice of America)
Somalia: EU Navfor's Italian Ship Virginio Fasan Chases And Captures Suspected Pirates (All Africa)
AMISOM Begins To Withdraw Troops From Somalia (Daily Nation)
NATIONAL MEDIA
Traditional Elders To Be Included In The Constitutional Review Process Consultations
20 November – Source: Jowhar.com – 133 Words
Ministry of the Constitutional Affairs held a meeting with some of the country's top traditional elders about the review process of the provisional federal constitution. Ministry of the Constitutional Affairs Deputy Minister, Hussein Abdi Elmi, hailed the meeting with the elders as important for the review process of the provisional constitution.
He said the elders took a key role in all the processes that saw the establishment of the federal government since the collapse of the central government, saying their input is very crucial. They asked the elders to support the efforts by the various commissions tasked to review and finalize the constitution. Some of the elders who attended the meeting promised to work with the ministry and the commissions involved in the process, praising the cooperation between the ministry and the commissions.
INTERNATIONAL MEDIA
20 November – Source: Voice of America- 358 Words
The controversial extradition of a prominent ONLF rebel leader to Ethiopia was illegal, a report by a Somali parliamentary commission said Saturday. Abdikarim Sheikh Muse, a top member of Ogaden National Liberation Front (ONLF), which is based in Ethiopia, was handed over to Ethiopian authorities on August 28, after he was detained by Somali security forces in the central Somali town of Galkayo on August 23. Somali authorities say Muse is a "terrorist and a regional threat." His transfer is sparking outrage in Somalia, however, along with a social media uproar against the Mogadishu-based government. Somalia's lower house of parliament has endorsed Saturday's report, which was submitted by a 15-member special commission set up in September.
The Somali cabinet had defended the transfer of Muse, saying it was done under a deal reached in 2015 that designates ONLF and al-Shabab as terrorist groups. But the parliamentary commission report found the deal was not struck at a federal level and should not be used as justification for exchanging criminals or prisoners. The commission's report also dismissed labeling the ONLF rebel group as a terrorist group, and it blamed the country's intelligence agency for the extradition of Muse and for misleading leaders. "The National Intelligence and Security Agency provided the leaders of government with the wrong information and did not inform the judiciary sector," the report said. "If the president and the prime minister knew about the rendition, it's a disaster. And if they did not, then they cannot be trusted to lead the nation," Abdirahman Hussein Odowaa, former interior minister and a member of parliament, said during the session.
Muse lived in Mogadishu for years, and his supporters say he holds dual Somali-Ethiopian citizenship. He is one of the ONLF's top leaders. Speaking to VOA Somali from Australia, ONLF spokesman Addani Hirmooge hailed the report and said it showed the parliament was against the "aggression" and stood with the true feeling of Somali people. Since 1984, the ONLF has waged an armed struggle against Ethiopia as it seeks secession of the Somali Region in Ethiopia. In 2011, Addis Ababa labeled the group a terrorist organization, alongside al-Shabab and al-Qaida.
---
20 November – Source: All Africa – 121 Words
EU NAVFOR Somalia's Flagship, the Italian vessel ITS Virginio Fasan, has apprehended six suspected pirates and seized their vessels. Six crew of a motor whaler, acting as mother ship, and a skiff have been detained following attacks on a 52,000 tonne container ship and a fishing vessel.
These events reportedly took place over a 24 hour period on 17th and 18th November in the Southern Somali Basin, in an area known for piracy incidents. During the incidents a number of rocket propelled grenades were fired against the container ship. However, adherence to BMP4, the presence of a security team on one of the vessels, and good seamanship avoided any damage or injuries, and all crew and vessels are now safe.
OPINION, ANALYSIS AND CULTURE
"He said terrorists were changing tactics and conducting "an asymmetric warfare".  It is very difficult to stop terrorists who want and are ready to kill themselves, especially if they want to do so in populated areas," the minister said. "The government has succeeded in securing its institutions and that is why Al-Shabaab terrorists are desperately turning to populated civilian zones to make newspaper headlines."
20 November – Source: Daily Nation – 505 Words
African Union's Mission in Somalia has begun withdrawing its troops from the country against the backdrop of heightened insecurity in Mogadishu. The capital has witnessed almost 1,000 deaths in just three months. This is the highest number of fatalities recorded in the country in such a short time since Amisom operations began in 2007. The intensified attacks have caused a security scare in Somalia, leading to the resignation of Defence minister Abdirashid Abdullahi and army boss Ahmed Mohamed Jimale Irfid. The fears have also led to the dismissals of senior security and intelligence officials, with the US State Department ordering Americans to leave the country. The United Nations asked local and foreign staff to be more vigilant while in Somalia. The same warning was issued to government ministries.
In an interview with the Sunday Nation, Information Minister Abdirahman Osman Yarisow admitted that the war on terrorism was becoming complex. He said terrorists were changing tactics and conducting "an asymmetric warfare".  "It is very difficult to stop terrorists who want and are ready to kill themselves, especially if they want to do so in populated areas," the minister said. "The government has succeeded in securing its institutions and that is why Al-Shabaab terrorists are desperately turning to populated civilian zones to make newspaper headlines." Shortly before his sacking following Somalia's worst ever attack that claimed the lives of more than 400 people last month, National Intelligence and Security Agency director general Abdillahi Mohamed Sanbalooshe unleashed stinging attacks on partners and the global community, saying the country needed material support "not tears or hollow empathies". "To defeat al-Shabaab, Somalia requires expertise and equipment.
It needs a new paradigm of cooperation between our security services and international partners," he said in a New York Time so pinion piece. "We have been operating almost blind. International partners offered to provide technical assistance but their good intentions served to blind us the more." The intensity of the attacks in the last three months has been high. Among the dead were tens of Kenyans working in Mogadishu and combatants attached to the Al-Shabaab group, most who have been felled by bullets from Amisom or Somali National Army soldiers. Yet still, several others have been beheaded by their hosts on suspicion of spying for the Kenya Defence Forces.
Only last week, three Kenyans allied to Al-Shabaab were executed, with four others having been beheaded in September in Lamu County.  And among those who perished in last month's attack in Mogadishu was a young Kenyan woman, who served as director of the gender office in the Federal Government of Somalia's Ministry of Planning. Last month, about 100 national army soldiers and 623 civilians were killed, with Amisom reporting an additional 281 members of its troops killed so far this year. Owing to attacks from militias, government soldiers have withdrawn from at least 32 bases in rural Somalia. President Mohamed Abdullahi Mohamed Farmajo is yet to announce a replacement of officers who resigned or were dismissed owing to the worsening security situation in Somalia.
TOP TWEETS
@Goobjoognews: SIX PIRATES captured in southern Somali following container ship attack –
@TheVillaSomalia: President Farmajo arrives in Abu Dhabi for a two day visit. Talks would mainly be on bilateral and trade cooperation.UAE a reliable partner with whom we share strong political and economic relations.
@engyarisow: #Somalia: The Federal Government Progress Activities for the past week 10 – 15 November 2017
https://madmimi.com/p/52ec2b
@HassanIstiila: Today is #WorldChildrensDay. A day for each of us to advocate for the rights of children. Let us sacrifice our today so that our children can have a better tomorrow. I salutes our somali children. #Somalia
@HusseinUCalgary: #Somali parliament did right by#qalbidhagax and #ONLF. He was transferred unlawfully and ONLF is not a terrorist organization. Period. The cabinet should acknowledge both mistakes and put judiciary controls in place. Qalbidhagax should be released or repatriated back to Somalia.
@MoPIED_Somalia: Deputy Minister of @MoPIED_Somalia H.E Fahma Nur is attending the 33rd Ministerial Session of#COMCEC in #Istanbul. @OIC_OCI @AmbGamal
@PDWilliamsGWU:Good overview of the increased US military operations in #Somalia. Not sure US has a new strategy though.https://www.politico.com/story/2017/11/19/troops-somalia-military-buildup-247668 …
IMAGE OF THE DAY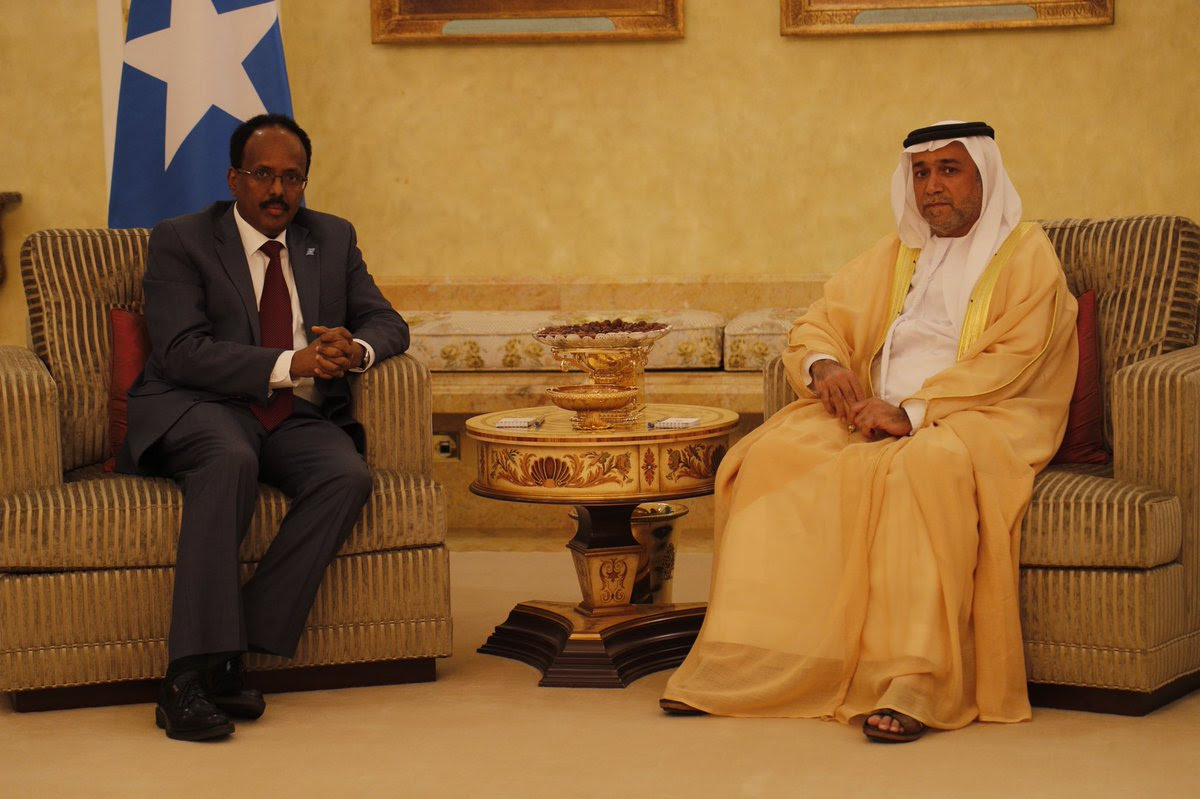 President Mohamed Abdullahi Farmaajo arrives in the UAE.
Photo: @TheVillaSomalia