May 11, 2018 | Daily Monitoring Report
SNA's General Anod Discloses Names Of Senior Al-Shabaab Members Killed In Bariire Raid
11 May – Source: Dhacdo.com – 125 Words
Somali National Army Chief Operation Commander General Abdullahi Ali Anod has disclosed the names of some of Al-Shabaab's senior fighters killed in a raid launched by US in Bariire district, Lower Shabelle region. Speaking to the pro-army media outlet, SNA Radio, he said the raid targeted Al-Shabaab bases near Bariire.
The SNA Commander named three senior Al-Shabaab members as Khalif Mohamed Warsame (Khalif Cadale), Yusuf Moalim Abdalla and Muse Ali Gabow. However he noted the raid also destroyed up to four Al-Shabaab bases where they used to assemble and plan attacks against civilians. He added they are investigating reports that there were civilian casualties as well in the operation
Key Headlines
SNA's General Anod Discloses Names Of Senior Al-Shabaab Members Killed In Bariire Raid (Dhacdo.com)
Puntland Security Forces Disrupt Garowe Meeting On UAE-Somalia Diplomatic Spat (jowhar.com)
Bosaso Port Closed Over Quality Control Row (Garowe Online)
No Evidence Of Al-Shabaab Role In Elephant Poaching US Says (Daily Nation)
Guarding Somalia: UPDF Tales From Frontline (Daily Monitor)
Hopelessness and uncertainty a way of life in Kenya's Dadaab refugee camp (Daily Mail)
NATIONAL MEDIA
Puntland Security Forces Disrupt Garowe Meeting On UAE-Somalia Diplomatic Spat
11 May – Source: Jowhar.com – 217 Words
Puntland security forces last night stopped a meeting that was was to be held at the New Rays Two Hotel in Garowe the capital of the administration. According to invitation letters sent out to guests, the main agenda of the meeting was to deliberate on "the intentions of the UAE and the disunity in the Somali nation".
Puntland security forces arrived at the scene of the event and informed the organiser of the event that their meeting was cancelled. They faulted the organizers over agenda of the meeting as well as the guest list. However, the security officials did not arrest organisers of the event. The organisers were accused of not informing the government of the meeting considering the requirement in Puntland that the administration must be informed beforehand of all meetings and event to be hosted in Garowe town.
The meeting was organized by youth from Puntland region and was viewed by the administration as meant to oppose the decision of President Abdiweli Gaas to support the United Arab Emirates against the Federal Government of Somalia. The Puntland leader, who returned from Abu Dubai two weeks ago, has declared his administration's support for UAE in its diplomatic tiff with the President Abdulahi Mohamed Farmaajo's administration.
---
Bosaso Port Closed Over Quality Control Row
10 May – Source: Garowe Online – 298 Words
The main seaport of Bosaso, the commercial city of Somalia's northeastern Federal member State of Puntland, remained closed for more than a week as a result of a quality control dispute. Sources revealed to Garowe Online that closure came following an intense dispute between local traders and a quality control firm tasked with monitoring the cargo arriving at the port.
Puntland's Minister of Trade, Abdilwali Hersi Abdulle, explained that his ministry had set up a department for quality inspection at the harbour and the airports in the state after having seen poor quality goods imported in the past. Garowe Online has learned that government officials and businessmen allied to the presidency have stakes in the firm which is based in the house of the 2nd deputy Speaker of the state Parliament Abdihakin Sheikh Abdisalam.
According to the report, several Puntland parliamentarians, including Nuuh Dheere, Abdirisack Muse and Mohamud Dheere are among the stakeholders of the quality control company operating at the state's ports and airports. To earn legitimacy and acceptability, individuals behind the establishment of the agency granted Puntland government officials, including the Commerce minister and Chief of Staff a stake in the business, the sources said. The row at the Bosaso port surfaced after the businessmen resisted paying a large amount of money for quality check service for their commercial goods at Bosaso's seaport. As a result operations of the port have been suspended.
To date, there have been separate meetings between local merchants and the Ministry of Trade at the headquarters of the Chamber of Commerce in Bosaso, to seek a solution to the crisis that has crippled operations at the port, which is the economic hub of Puntland. Last week, President Abdiweli Gaas fired seven top officials at the Ministry of Fisheries and Marine Resources over corruption allegations.
INTERNATIONAL MEDIA
10 May – Source: Daily Nation – 484 Words
A senior State Department official said on Tuesday that the US has no evidence that violent extremist groups such as Al-Shabaab are financing their operations through elephant poaching. The comments by Mr Richard Glenn, the department's top monitor of wildlife trafficking and transnational crime in Africa, contradict an earlier assertion by Ms Hillary Clinton, former US secretary of state, as well as claims by an elephant-protection NGO. "I've not seen anything that indicates a direct link between wildlife trafficking and extremist groups," Mr Glenn said in a press teleconference.
He added, however, that "it is not beyond the realm" that groups such as Al-Shabaab may have engaged in poaching. Ms Clinton said in 2013 after stepping down as secretary of state in the Obama administration that Shabaab funds its "terrorist activities to a great extent from ivory trafficking."
The Los Angeles-based Elephant Action League said in 2016 that an extensive investigation it had conducted uncovered clear links between Al-Shabaab and ivory trafficking. "The fact that elephants no longer populate Somalia is irrelevant given that Al-Shabaab did not directly participate in poaching," the environmentalist organisation stated. "The group treated ivory as a commodity, like charcoal, and functioned as a trafficker only."
---
11 May – Source: Daily Monitor – 1033 Words
The battle successes registered by UPDF against al-Shabaab militants in Somalia is at a higher cost than officials previously disclosed, Daily Monitor has learnt. The hardships, according to multiple interviews with frontline soldiers in Lower Shabelle region, about 120 km South of the capital, Mogadishu, range from delayed or delivery of rotten food stuff, lack of necessities such as toilet paper and soap.
One soldier, who preferred anonymity due to sensitivity of the matter, says they venture into hostile terrains to collect firewood for preparing meals. Death for every living being is a given, but not in the eyes of combatant charged with fighting Al-Shabaab in the Lower Shabelle. Here, death is always a minute away because one fights without clearly understanding the enemy, he says. "There is nothing as dangerous as fighting the enemy you do not know," he adds. Livingstone Odongo (not real name) stands on a cliff in one of the AMISOM forward operating bases, overlooking strategic locations of the enemy. He thinks deeply about home (Uganda) and tears roll down his cheeks. For a trained soldier at a battle front, this is weird. "Tosha!" a commanding voice blows his mind back to normal senses. He wipes his face and lifts his submachine gun, walks a few steps further and disembarks.
Darkness is already falling and Odongo's day on duty ends. He walks back to his shelter, a makeshift of military camp tents. Dinner is served but Odongo remains in his camp, locked in fresh memories of war and the unknown life of his family back home. He was paid three months ago and his salary was trimmed without explanation.
OPINION, ANALYSIS & CULTURE
"The uncertainty imposed on Dadaab by government is bad for aid workers, as well as refugees. "The first thing the donors tell us is: Why have long-term programmes when the camp will soon be closed?"
11 May – Source: Daily Mail – 762 Words
Between the rape she suffered during a traumatic return to Somalia, the constant hunger, and the uncertainty of her future in Kenya's Dadaab camp, Fartun has almost forgotten what hope feels like. Between the rape she suffered during a traumatic return to Somalia, the constant hunger, and the uncertainty of her future in Kenya's Dadaab camp, Fartun has almost forgotten what hope feels like.
Two years ago Kenya's government said it would close what was at the time the world's largest refugee settlement. It has failed to do so, but the threat looms over residents, adding a new layer of precariousness to an already tough existence. "Before, life at the camp was good… but it's not the same," said Fartun, a 37-year-old mother of 11. She went back to Somalia as part of a repatriation programme, criticised as coercive and premature by human rights groups, but returned to Dadaab when her homecoming went terribly wrong.
It was May 6, 2016 when everything changed for Fartun. Nairobi announced the closing of Dadaab — which had nearly 350,000 residents — and, deeming war-torn and famine-prone Somalia to be safe enough, said the refugees would be sent home. Without providing proof, the government also alleged that Dadaab was a staging ground for terror attacks in Kenya by Al-Qaeda affiliate Shabaab. "The Kenyan government had said in the past that it wanted to close the camp, but this time was different: they looked really serious," Fartun said.
Ignoring the legal and logistical concerns of international aid agencies, a deadline of November 2016 was initially set, and then postponed to May 2017, as a two-year-old programme of so-called "voluntary repatriations" was accelerated. For many there seemed little choice. "In the camp, it was said that if we did not leave, we would be beaten," said Fartun. "Maybe it was rumours, I don't know, but that was the atmosphere in the camp."
So Fartun joined an estimated 75,000 since the repatriations began and made her reluctant return to Somalia in June 2016. She took the $400 resettlement allowance and boarded a minivan with her family, bound for the border. But only 50 kilometres inside Somalia the convoy, bound for the south-western town of Baidoa, was ambushed by hooded, armed men and Fartun and her family were taken captive.
TOP TWEETS
@HarunMaruf: Using Somalia as a leverage, Ugandan MPs oppose a recommendation from UN Secretary-General Antonio Guterres to move a major logistics base out of the country. MPs say the move would be an injustice, given UPDF sacrifices in Somalia since 2007.
@mohaaze: I have been saying this since long time ago, Gulf States such as UAE funds & supports terrorist groups Alshabab/ISIS in Somalia. They main aim is to destabilize Somalia. The evil state of UAE must face justice ! #UAEHandsOffSomalia
@MTVEnglishNews: UAE extends military reach in Yemen and Somalia http://bit.ly/2Ig5v8z
@IamAbdi5: The absence of investigative journalism in Somalia has led many state crimes & corruption unreported. We have now the best program to help us understand whats happening behind the curtains. Thank you @HarunMaruf for shedding the light on so much needed information. #Guuleyso
@adancabdulle: BGR joins another well-connected Republican, ex-New York Senator Al D'Amato, on the Somalia lobbying team. http://www.odwyerpr.com/story/public/10621/2018-05-09/bgr-signs-somalia.html …
@HassanIstiila: #UPDATE: A U.S. drone airstrike reportedly killed several Al-Shabaab fighters near Bariire town on Wednesday. Reports indicate that the missiles destroyed Al-Shabaab training camp in the village. #Somalia
@DailyMonitor: The battle successes registered by UPDF against al-Shabaab militants in Somalia is at a higher cost than officials previously disclosed, Daily Monitor has learnt#MonitorUpdates
IMAGE OF THE DAY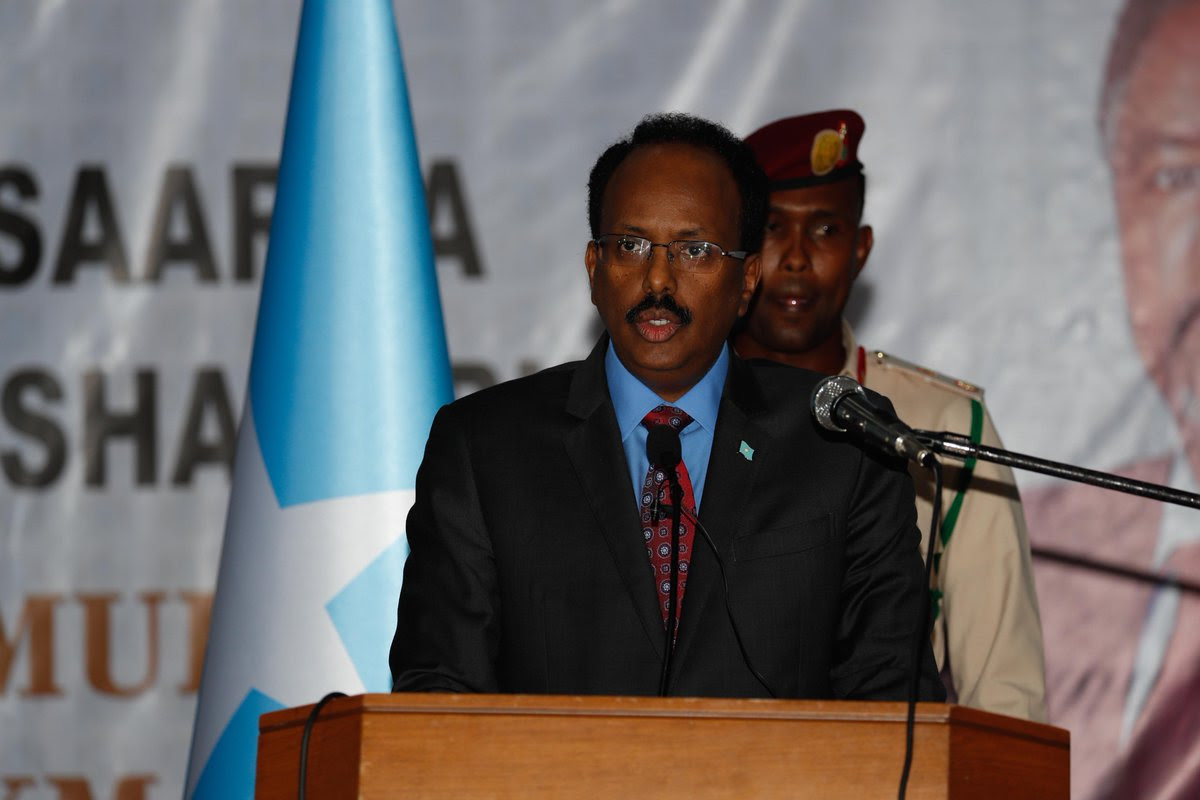 President, Mohamed Abdullahi Farmaajo addresses dignitaries during yesterday's inauguration ceremony for the newly elected Speaker of the Lower House.
Photo: @TheVillaSomalia