May 10, 2017 | Daily Monitoring Report
PRESIDENT ARRIVES IN LONDON FOR SOMALIA CONFERENCE
10 May- Source: Shabelle News -100 Words
President Mohamed Abdullahi Farmajo has arrived in London, United Kingdom, to attend the a high-level Conference on Somalia due to open on Thursday. The leaders of the country's Federal Member States  are accompanying President Farmaajo on his trip to UK, and will attend the upcoming international conference on Somalia. Somali President Mohamed Abdullahi Farmajo will co-chair the two-day London conference on Somalia along with UK's Prime Minister Theresa May. During the conference, Somalia will request from  international partners to support in the the effort to bring the needed political stability and development in the horn of Africa nation.
Key Headlines
President Arrives In London For Somalia Conference (Shabelle News)
Federal Indirect Electoral Team Sued Over Bribery Charges (Somali Update)
Federal Member States Agree To Share Fishing Revenues (Garowe)
President Uhuru Kenyatta Heads To London For Forum On Somalia (Daily Nation)
The Plight Of The Somalis (PressTV)
Somaliland Students Rely On Food Aid (Al Jazeera English)
The U.S. Made A Critical Mistake During Somalia's Last Famine. Will We Repeat It? (Washington Post)
NATIONAL MEDIA
Federal Indirect Electoral Team Sued Over Bribery Charges
10 May- Source: Somali Update – 207 Words
Forty defeated Parliamentary candidates on Tuesday filed a case at the country's Supreme Court suing the Federal Indirect Electoral Implementation Team (FIEIT) over bribe taking and malpractices during the late last year's parliamentary selection exercise, Somali Update reports. The 40 parliamentary aspirants, among them former lawmakers and civil society activists, allegedly wrote that they have become subject of misconduct as they claim that their rivals got victory thanks to the amount of cash the Dispute Resolution Mechanism Team received. According to the case filing documents through their lawyers, the former aspirants said they were never paid back with the fees they paid as required as candidates and demanded the money returned back."We ask the Supreme Court to consider the opening and setting hearing time to this case." Said the document signed by four renowned lawyers. The court case directly alleges the chairperson of the defunct Federal Indirect Electoral Implementation Team (FIEIT) Omar Mohamed Abdulle, a Somali-British, and the head of Dispute Resolution Mechanism Team, Abdirizak Barre Jama, a Somali-Dutch as the respondents of this case because of their active role and high responsibility to oversee the 2016 electoral process in Somalia. Among the plaintiffs were Mohamed Mohamud Godir and Ibrahim Habeb Nur, were both former members of 2012-2016 parliament.
---
Federal Member States Agree To Share Fishing Revenues
09 May – Source: Garowe – 266 words
A brokered talks over tuna fishing revenues between Somalia's Federal government and Federal member states was held in Seychelles in May 5, Garowe Online reports. Delegates from the ministries of fisheries from regional administrations and representatives from the Federal government were at a meeting to ink a deal on sharing tuna fishing revenues. Sources in the meeting confirmed to GO that Federal member states have agreed to sign the agreement, amid disapproval from the Somali Federal government over the sharing quota. A consortium of international organizations; FAO, UNODC, Secure Fisheries and USAID were reported to jointly organize the event, to create source of revenue for the Federal government from the fishing trade off Somalia's coast by the International companies. The sources added that the first phase of the talks took place in Mogadishu last month, and ended without agreement, before it was moved to Victoria, the capital of Seychelles. Western corporations are seeking to utilize the tuna reserves in the waters of Somalia, a lucrative trade globally amid high demands and soar prices. Those companies are aiming to obtain legal permits from the Federal government and Federal member states for tuna fishing by paying taxes. GO has learnt that the Federal Government refused the proposed 30-percent from the revenue generated, whereas the regional administrations will get the remaining 70-percent after being deposited in Somalia's Central Bank. Illegal and unregulated fishing practices by foreign trawlers was reported to cause loss of millions dollars of income revenues to Somalia and destroying the livelihoods of coastal communities that led to the re-surge of piracy off the coast of Somalia.
---
INTERNATIONAL MEDIA
09 May – Source: Daily Nation  – 216 words
President Uhuru Kenyatta travelled to the United Kingdom on Wednesday to attend the third London Conference on Somalia. The conference will focus on accelerating the progress of security reforms in Somalia, build on the international response to the ongoing drought and humanitarian crisis, and agree on the new international partnership needed to keep the Horn of Africa nation on course for peace and prosperity. State House spokesman Manoah Esipisu said previous conferences were held in 2012 and 2013.
Mr. Esipisu said the 2012 conference focused on the causes of instability in Somalia as well as famine, refugees, piracy and terrorism. At the conference, the international community agreed to inject new momentum into the political process to strengthen the African Union Mission in Somalia (Amisom) and help Somalia develop its own security forces to build stability at the local level. After the London conference, President Kenyatta will head to Beijing, China, to attend the Belt and Road Forum for International Cooperation. The plane carrying the President and First Lady Margaret Kenyatta departed Jomo Kenyatta International Airport shortly after 9am. They were seen off at the airport by Deputy President William Ruto, Cabinet secretaries Joseph Nkaissery and Charles Keter, Chief of Defence Forces Gen Samson Mwathethe and National Assembly Majority Leader Aden Duale, among other senior government officials.
---
09 May – Source: PressTV – 208 Words
This edition of the program is about the humanitarian crisis in Somalia as Somalis are struggling with drought, famine, outbreaks of diseases, malnourished children, accumulated debt and a host of other problems. With areas of the country gripped by a crippling drought, one million Somali children need urgent treatment or face acute malnutrition and 350,000 are at imminent risk of starvation. But could urgent relief be currently blocked by Somalia's crippling debt? Are the hands of the leaders in this chaotic nation tied by financial deals made decades ago that still impact one of the poorest countries in the world to this day? As hundreds of thousands of Somalis make critical choices about how much to eat every day, a crucial reason for the country's ongoing situation may well be the huge debt that continues to cripple the East African nation. The people of Somalia are once again staring down the barrel of a crisis both environmental and man-made. With external debt running at some 5 billion dollars or roughly 80% of GDP, Somalia is almost guaranteed never to be in a situation to fully repay this amount. With the country's political and economic situation in need of urgent stability, are global financial leaders almost abandoning Somalia?
---
10 May- Source: Al Jazeera English – Video – 2.11 Minutes
Tens of thousands of children are out of school in Somaliland because of drought.Many of those still in the classrooms are relying on aid from the World Food Programme.Teachers say that although the children do not get a balanced diet, the food gives them enough energy to stay in class.
---
OPINION, ANALYSIS AND CULTURE
"Al-Shabaab's experience during the 2011 famine was dismal as it lost much of its popular support and territory. At  least on the issue of aid access, the current drought is an opportunity to open a line of dialogue with the group. There are precedents for senior Islamist leaders becoming U.S. allies, former Somali president Sharif Sheikh Ahmed and southern regional president Ahmed Madobe are two such examples,"
09 May- Source: Washington Post – 828 Words
Later this year, a drought in Somalia will likely become a famine. Hundreds of thousands of people are at risk. International aid agencies will scramble to deliver food and medical care. As usual, most of those who may die will be children.It will be the third famine to tear through Somalia in a quarter-century, a rate of starvation unmatched on Earth. The scenario is familiar to the United States, which has intervened in the previous famines with disastrous results. This time, the United States has a chance to get it right. Somalia's harsh land makes life tenuous. Drought is common but when combined with conflict it turns deadly on a massive scale. In 1992, U.S. forces joined a United Nations effort to stop the starvation that followed a military dictator's overthrow by a coalition of clan warlords. The Marines' ability to protect food deliveries from thieving gunmen was crucial to ending the famine, which nevertheless killed more than 220,000 people.
But the humanitarian intervention degenerated into a manhunt as the United States sought a powerful militia leader who threatened international efforts to resolve the conflict. A botched raid ended with the deaths of 18 U.S. soldiers in a military disaster captured in the book and film "Black Hawk Down." The United States withdrew from Somalia — followed by the rest of the world — abandoning the country and its people to the warlords.When a deep drought struck the region again in 2011, al-Shabab controlled much of the country. Suspicious of Western humanitarian agencies, the militants refused to allow aid in nor would they let people out. Under strict U.S. regulations aimed at countering terrorism financing, aid agencies faced possible prosecution if supplies were to find their way into the hands of al-Shabab, a group with links to al-Qaeda.What aid workers euphemistically call "diversion" is an accepted reality: A portion of whatever they supply will be stolen by someone, whether unscrupulous officials, corrupt local partners, greedy business people, gunmen or al-Shabab. It's the cost of working, but the threat of U.S. prosecution made it a price most aid agencies were unwilling to pay.
TOP TWEETS
@DConcar: Beautiful spring morning in London. Warm welcome to @M_Farmaajo & his delegation arriving for the #Somalia Conference #NabadiyoNolol
@Suzy_Madigan: London #Somalia Conference starts with focus on role of #civilsociety  #diaspora # women & #youth #FutureforSomalia
@Dahirkulane: First side event London on contribution of Diaspora & Civil Society #FutureForSomalia #NabadIyoNolol #Somalia live http://bit.ly/2q1kWes
@UNSomalia: Somali diaspora remittance to #Somalia, estimated at over $1 billion each yr, is a mainstay of the economy. #NabadiyoNolol #FutureForSomalia
IMAGE OF THE DAY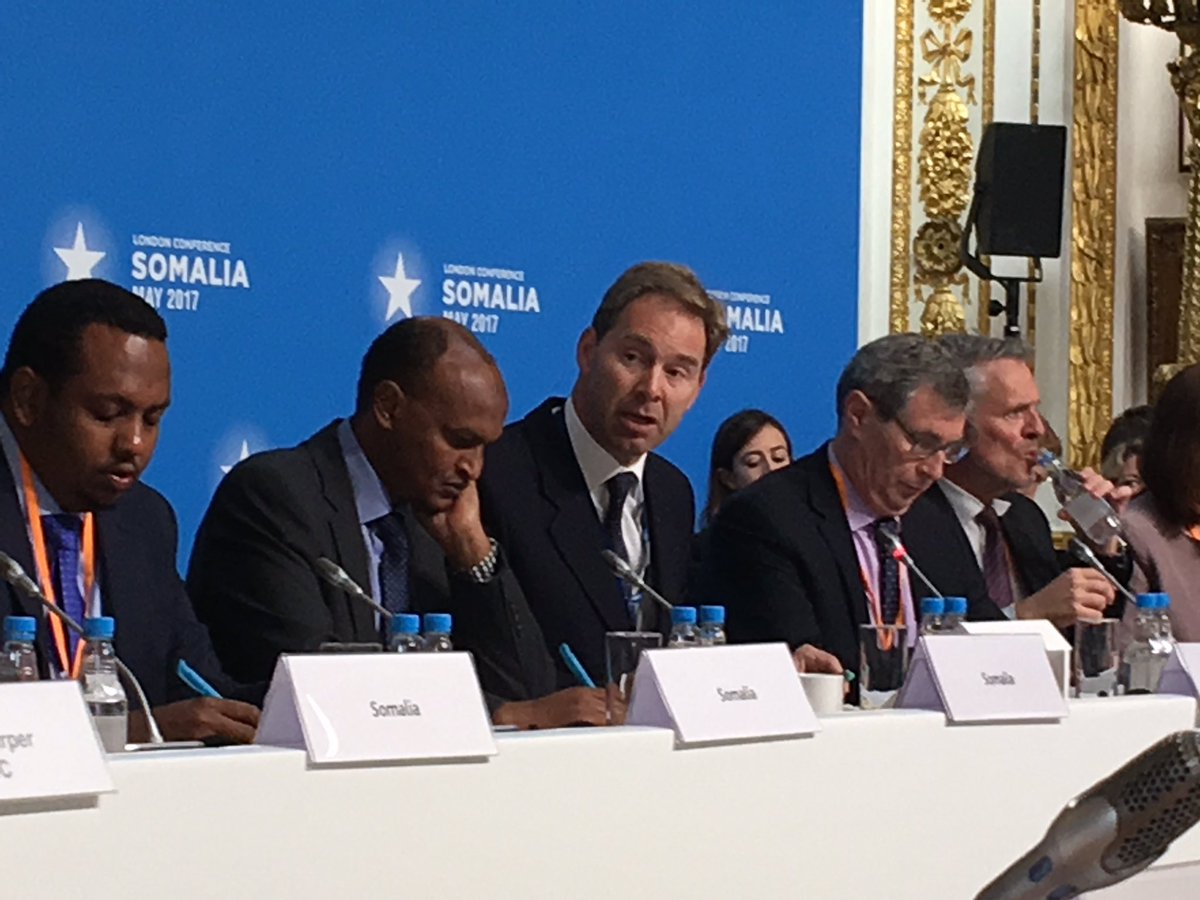 Somalia's Deputy PM, Mahdi Ahmed Guled Khadar attends a side event ahead of the London Somalia conference.