March 5, 2018 | Daily Monitoring Report
We Foiled Further Attacks During Security Crack-down-Mogadishu Mayor
05 March – Source:Goobjoog News – 148 Words
Recent security operations including closure of roads have foiled several terror attacks in the city, Mogadishu mayor Abdirahman Yarisow has said. Yarisow told the media that security forces have been able to collect credible intelligence to nail terror activities in the city following several days of security operations. "Our security agencies have received very crucial leads and managed to prevent further attacks in the city. We are telling the public to bear with the situation and support the security agencies," said Yarisow.
Many roads in Mogadishu have remained closed and traffic diverted this past week following twin attacks which claimed over 30 lives late February. The government had warned of vehicle loaded with explosives a day before February 24 attacks in Villa Somalia and near the Intelligence Headquarters. The government declared a major security crack-down in the wake of the attacks involving all security agencies in the city.
Key Headlines
We Foiled Further Attacks During Security Crack-down-Mogadishu Mayor (Goobjoog News)
Somalia And Turkey Sign Agreement To Rebuild Water Reservoir In Middle Shabelle Region (Hiiraan Online)
Security Threat  Has Increased In Balaad District HirShabelle Administration Says (Radio Dalsan)
Somalia On Edge Of Slipping Back Towards Famine If Aid Is Pulled Out (Relief Web)
Somalia: The nexus Between Taxation Public Trust And Public Services (The Somali Public Agenda)
NATIONAL MEDIA
Somalia And Turkey Sign Agreement To Rebuild Water Reservoir In Middle Shabelle Region
05 March – Source: Hiiraan Online – 337 Words
Turkey and Somalia on Sunday signed an agreement to reconstruct storage reservoir in Middle Shabelle region. The project which will be implemented by the Turkish Cooperation and Coordination Agency (TIKA) aims to rebuild the Jowhar Off-Stream Storage Reservoir which will be used for irrigation and flood management. Somalia's minister of Agriculture, Saeed Hussein said the deal will help Somalia in agricultural production. "This landmark pact will help the farmers by providing adequate water for irrigation. The project will also help to manage floods," Hussein said.
The TIKA coordinator, Gilib Yilmaz who spoke at the signing ceremony which took place in Somali capital, Mogadishu said the project will focus on the rehabilitation of the reservoir which collects water for future use. "This project will deal with reconstruction of reservoir to collect the water from River Shabelle for irrigation when the level of river water decreases, it will be easier for the farmers to continue production. This will help Somalia to increase production," Yilmaz said.
Turkish Ambassador to Somalia, Olgan Baker, who attended the signing ceremony said his country is committed to support Somalia and its people. "Turkey plans to complete the implementation of several development projects in Somalia  before the end of this year," Bekar pledged. Somali deputy prime minister, Mahdi Mohamed  Guled who also witnessed the signing of the deal said the nation will benefit from reconstruction of Hawaadley and Sabuni reservoirs. "The project will inject the nation with over ten beneficial programmes including increasing food production which lowers food shortages and the hunger,  availability of adequate water for irrigation, flood management and exportation of the country's farm products," Guled explained.
Somalia and Turkey have signed several deals including trade, agricultural, education and among others. Last Month, a Turkish delegation led by Ambassador Baker toured Somalia's southern regional state, Jubbaland for assessment ahead of Turkey's investment in Jubbaland. The ambassador and delegation who visited Goobweyn town had pledged to implement development projects in the town which is famous  for fish and farm products.
---
Security Threat  Has Increased In Balaad District, HirShabelle Administration Says
05 March – Source: Radio Dalsan – 94 Words
HirShabelle administration says that Al-Shabaab fighters are still hiding in parts of villages under Balad district in Middle Shabelle region.  There is tension in the area since Friday when Al-Shabaab briefly seized Balad district, residents are now fearing further fighting between Al-Shabaab and government forces might start.
The HirShabelle police commander, Hassan Dhicisow said following Friday's attack on Balad,  government forces have recovered weapons belonging to AMISOM including two heavy machine guns that were handed over to AMISOM forces. He said that they aware of Al-Shabaab's movements in villages near Balad district, and there are ongoing plans to remove remnants of Al-Shabaab from the region.
INTERNATIONAL MEDIA
05 March – Source: Reliefweb – 333 Words
As diplomats gather in London for Somalia humanitarian conference tomorrow, the lives of 2.7 million people hang in the balance. "The international community saved thousands of lives in Somalia last year, and helped stop a famine before it could happen. But less humanitarian aid now threatens to throw the country back into a deeper crisis, even towards catastrophe," says the Norwegian Refugee Council's (NRC) Regional Director, Nigel Tricks. "Half a million people today are on the brink of famine."
On 6 March, diplomats from governments, donor agencies, the UN and other delegates are meeting in London for the High-Level Event for the Humanitarian Situation in Somalia. While the country dodged famine last year, 2.7 million people today are living in what the UN describes as crisis or emergency phases of hunger. With more drought forecast, the humanitarian community seeks USD 1.5 billion for programmes to sustain and rebuild the drought and conflict stricken country.
A catastrophe was averted last year as donors, governments and agencies heeded crisis warnings, and acted quickly to help hold off another famine. This year the situation is urgent. 5.4 million Somalis need humanitarian aid this year. Over 300,000 children under age five are acutely malnourished, including 48,000 severely malnourished children who face an increased risk of death.
OPINION, ANALYSIS & CULTURE
"Citizens and taxpayers have to understand that the payment of tax is obligatory and the engine of the government functions. Failure to pay tax implies that citizens have no right to make the government accountable to the public, and that Somalia will remain financed by foreign taxpayers."
03 March – Source: The Somali Public Agenda – 986 Words
The Federal Government of Somalia (FGS) has recently started financial reform initiatives aimed at increasing domestic revenue. The government commenced the collection of two types of tax: income tax and sales tax. Income tax collection — 6% on salaries between $200 and $800; 12% on salaries between $800 and $1500 and 18% on salaries above $1500 — was started for the employees working with some private companies and international non-governmental organizations operating in Somalia. A 5% sales tax has been introduced in hotels in Mogadishu.
The Ministry of Finance has also changed the traditional lump sum approach for the taxation of imported goods, and levied a 5% sales tax on commodities other than basic necessities imported at the Port of Mogadishu. The Law Number 5, issued on November 5, 1966 is the legal base of the income tax (wages and salaries of public and private employees). Also Law Number 2, issued January 7, 1984, which amended the law of 5th November 1966, is the base for the sales tax. However, the recent attempt to collect sales tax has not gone down well with the business community in Mogadishu.
Bakara market, the biggest market in the country, was closed for a number of days in protest against the sales tax. Businesspeople complained that first the 5 percent rate is too high; second, the government levied the sales tax on commodities before they are sold; and third, the tax is not applied nationwide. The minister of finance defended the tax in several media appearances, explaining the fairness of the rate, and the importance of the taxation for the government's self-sufficiency and improvement of public services.
The Federal Government of Somalia's 2018 budget estimation indicates a deficit of 43% (or $118.6 million), which it hope to address by increasing internal revenue through taxation. Yet the primarily driver for financial reform efforts is to secure relief of Somalia's decades-old international debt, through the International Monetary Fund (IMF)'s Heavily Indebted Poor Countries (HIPC) Initiative designed to help poor countries clear arrears. The latest IMF staff-monitored program (SMP) has duly acknowledged Somalia's commitment to economic and financial institutional reforms.
TOP TWEETS
@yaab_amakaag: Obviously, #Berbera port deal with #DPWorldis null and void. But @SomaliPM needs to pull the trigger on#UAE meddling in #Somalia. Otherwise his statements will be nothing but mere talk. #Mogadishu
@HarunMaruf: The national relief and response committee have received $4.4m  in donations on behalf of Oct 14 truck bomb victims. Somalia and Djibouti paid $1m each, Puntland $1/2m, rest came from Somali diaspora; money was used to support 3,748 victims incl 2,360 children orphaned in attacks
@Halbeeg_News: Turkey Donates Military Uniform to Somalia Forces http://en.halbeeg.com/2018/03/05/turkey-donates-military-uniform-to-somalia-forces/ …
@abdi_adaani: #UPDATE: Tensions in Bal'ad district following#AlShabaab's repeatedly attack. A report says that some fighters of the militants are in the parts of DC. Residents Fearing to break again a fighting.  #Somalia
@sntvnews1: #Turkey and #Somalia on Sunday signed an agreement to reconstruct storage reservoir in Middle Shabelle region @olganbekar @TC_Mogadishu
@NRC_Egeland: Only a massive aid effort prevented famine striking Somalia last year. Pulling aid out now is playing with fire. It risks hard-won gains and threatens the lives of countless Somalis
@Eye_on_Somalia: #Goobjoog We foiled further attacks during security crack-down-Mogadishu mayor http://ift.tt/2FpzE7p  #Somalia
IMAGE OF THE DAY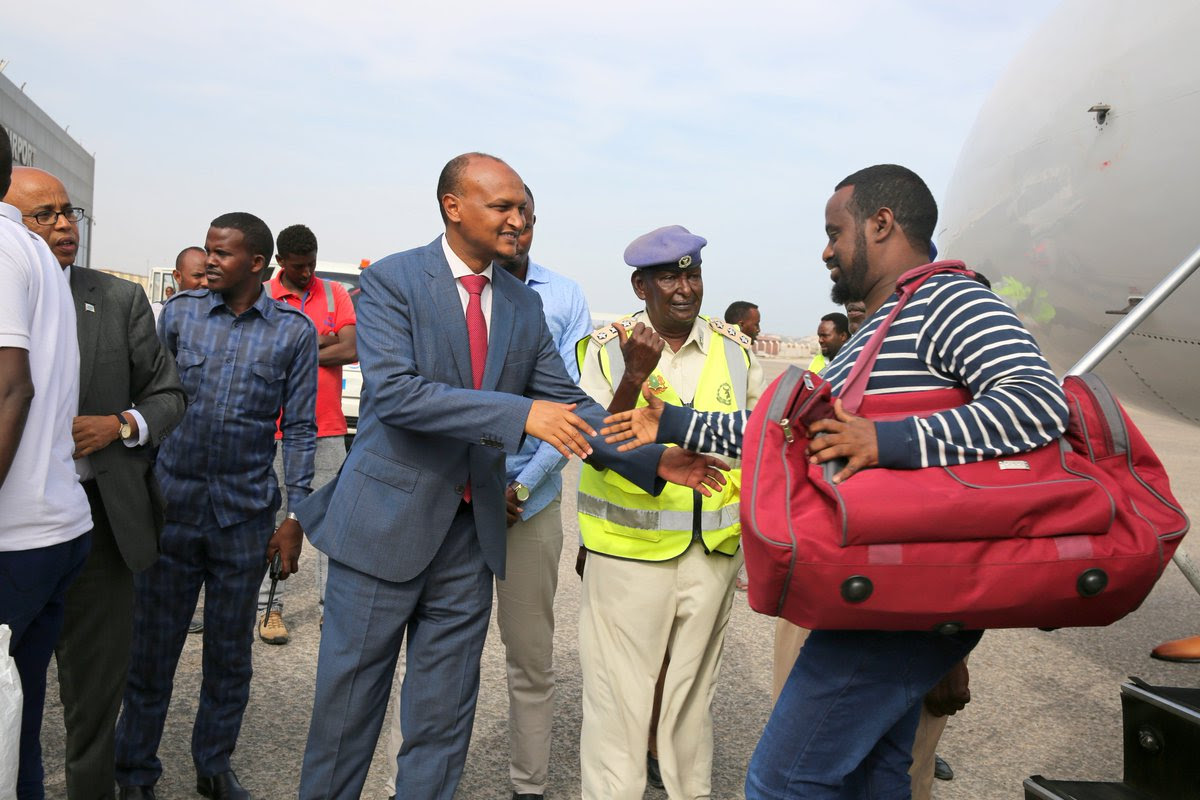 Somali Deputy Prime Minister, Mahdi Mohamed Gulaid welcomes Somali prisoners that were repatriated from India following agreement between the Federal Government of Somalia and the Indian government.
Photo: @DeputySomaliPM