March 17, 2017 | Daily Monitoring Report
17 March – Source: The Guardian – 215 Words
Boat carrying refugees was travelling to Sudan when it was hit by airstrike from Apache helicopter, coastguard says. Thirty-one Somali refugees were killed off the coast of Yemen when a helicopter attacked the boat they were travelling in, a coastguard in the Houthi-controlled Hudaydah area has said.
Mohamed al-Alay said the refugees, carrying official documents, from the UN high commissioner for refugees, were on their way from Yemen to Sudan when they were attacked late on Thursday by an Apache helicopter near the Bab el-Mandeb strait.
A sailor who had been operating the boat, Ibrahim Ali Zeyad, said 80 refugees were rescued after the incident. It was not immediately clear who carried out the attack. Hudaydah is controlled by Iran-allied Houthi fighters who in 2014 overran Yemen's capital Sana'a and forced the Saudi-backed government of Abd-Rabbu Mansour Hadi to flee into exile.
Key Headlines
31 Somali Refugees Killed In Helicopter Attack Off Yemen Coast (The Guardian)
MPs File No Confidence Motion Against ISWA Leader Sharif Hassan Sheikh Adan (Hiiraan Online)
National Drought Response Committee So Far Collects $1318492 For Drought Response (Hiiraan Online)
The Government Of Somalia Launches First Oral Cholera Vaccination Campaign (Medical Life News)
WhatsApp Proves Harbinger Of Hope For Somali Families On The Brink Of Famine (The Guardian)
Right Mix Of Skills In New Cabinet To Make Somalia 'Great Again' (The East African)
NATIONAL MEDIA
MPs File No Confidence Motion Against ISWA Leader Sharif Hassan Sheikh Adan
17 March – Source: Hiiraan Online – 82 Words
More than 70 MPs in the regional assembly of Interim Southwest Administration tabled a motion against President Sharif Hassan Sheikh Adan. The MPs have accused President Sharif of poor leadership, saying he has not been fulfilling the duties he was elected to do.  The MPs who have submitted the motion to the Speaker of ISWA assembly said they will debate on the motion on March 20th. According to reports, the MPs vowed to push the motion ahead and impeach the regional leader.
---
National Drought Response Committee So Far Collects $1,318,492 For Drought Response
17 March – Source: Hiiraan Online – 186 Words
Somalia's national drought response committee has revealed it has so far received $1,318,492 donated by the Somali government and Somalis across the world, saying that it wasn't enough to cover the existing dire needs. In a statement sent to newsrooms, the committee said it sent $935,000 of the fund to district level-drought response committees to immediately deal with crisis in the regions.
The committee said it is expecting over $21 million of pledged funds from the federal government, businesspeople, diaspora communities and the local general public. It praised ongoing efforts by international donors and aid agencies who are also busy collecting funds for the drought relief campaign.
The statement said that the drought is widespread displacing over 1 million people and killing over 70 per cent of Somalia's livestock. Drought-related diseases also broke out with cholera alone killing up to 1,630 people. Children are among the most affected people with 71,000 of them facing acute malnutrition, the statement added. It further added that about 6.2 million Somalis are in urgent need of food aid. The ongoing drought has also dried up rivers severely affecting the agricultural production.
INTERNATIONAL MEDIA
17 March – Source: Medical Life News – 450 Words
The Government of Somalia has launched an oral cholera vaccination (OCV) campaign today with the support of WHO, targeting over 450 000 people in 7 high-risk areas around the country. It is the first OCV campaign to be conducted in the country, and comes at a critical time after Somalia announced the ongoing drought as a national disaster and faces the possibility of another famine.
The campaign is being held in select communities in Mogadishu, Kismayo and Beledweyne through a combination of fixed and mobile sites for maximum accessibility by the communities. The vaccines, which will be administered to at-risk persons aged one year or older, are being delivered in 2 rounds. The first round of the campaign has commenced today and will continue until 19 March, and the second round of the campaign will be held from 18 to 22 April.
"This is one of the largest oral cholera vaccination campaigns conducted in Africa," said Dr Ghulam Popal, WHO Representative in Somalia. "This vaccination campaign will contribute to the reduction in the number of new cholera cases, interrupt transmission and limit the spread of cholera," he said.
Somalia is currently experiencing a large-scale outbreak of cholera with a total of 10 571 over 11 000 cases of cholera and 269 268 deaths with a case-fatality rate of 2.5% reported in 11 regions since the beginning of 2017. This is more than half the number of cases reported in total for 2016. The response efforts by the Ministry of Health, WHO, UNICEF and health partners have included active case search, effective case management, intensive household chlorination campaign, and community awareness.
OPINION, ANALYSIS AND CULTURE
"The WhatsApp groups were organised by one person and it just took off, snowballing. Someone added me and then I added another. Then we were hundreds and came up with this formula. Everybody is very concerned about their own clan or sub clan. With this, you know that at least you have taken care of people who you know."
16 March – Source: The Guardian – 980 Words
With the humanitarian response to Somalia's food crisis lagging, communities have turned to social media to identify families in need of urgent help. Unable to wait for help from their own government or the international community as they face the prospect of a devastating famine, Somalis at home and abroad are turning to one another for support.
Combining 21st century social media with the age-old clan network – the bedrock of Somali society as well as its safety net – communities are using WhatsApp to sponsor hard-hit families and raise funds to buy them life-saving supplies. "This is the first time this has been done, because of the level of desperation," says Jamal Abdi Sarman as he scrolls through a group set up by members of his clan, showing how each member has pledged to donate money.
Based on the formula that one family needs approximately $60 (£49) a month, members of the group decide how many families then can sponsor. Then they deposit the money into a bank account set up by Dahabshiil, the international funds transfer company created in 1970 by a Somali entrepreneur, and post a photo of the receipt on the group to prove that the money is there.
A committee of five people withdraws the money from the account and buys basics for the sponsored families – usually rice, powdered milk and water. "Initially, people have drawn on their own coping mechanisms for the drought," says Sarman, who works for an international aid agency. "But now it's just too big for them to cope. Their livelihoods have gone. People have lost whatever they had, and have gone into camps for internally displaced people.
---
"Since 2008, we have committed $1.3 billion in Somalia, or about $127 million annually on the three sectors in our development strategy: Governance and rule of law; education, which we consider the seed for Somalia's future; and food security, which is more important now with the ongoing drought. Security and education are more capital-intensive."
16 March – Source: The East African – 604 Words
What does the outcome of the recent presidential election mean for EU relations with Somalia?
We are happy that we finally came to the end of the long-drawn out electoral process. There were security concerns, intimidation of candidates and allegations of manipulation.
However, having a successful election makes our work easier as partners.  We will work closely with the new president to establish strong relations with the federal member states, the sub-region and with the broader international community. The president himself has identified his priorities: Security, better governance and reconciliation.
Are you hoping to see a new phase of Somalia after the recent elections?
Yes. Though it is an uphill road, the uncertainty is now over; the next step is for the prime minister to form a Cabinet that would include the right mix of skills and experience to drive the reforms. We are happy that the president has called on parliament to complete the constitutional reform as a priority. There have been delays on constitutional reforms in the past few years and we need a fresh drive to complete the process. We have been the biggest funders of all the work on the Constitution and we continue to be a strong supporter of parliament?
TOP TWEETS
@HassanIstiila : #BREAKING Jubaland security officers claimed to have killed six #Alshabaab leaders at Mugaabow village in Middle Jubba region. #Somalia
@werriye : BREAKING: More than 30 Somalis travelling in small fishing boat killed by helicopter air raid near the coast of #Yemen. #Somalia
@awladmonshi: #TurkishAirlinesHelpSomalia Let show that there is still some human alive! #Somalia
@farahblue : #Somalia Congratulations to the #SIMADUNIVERSITY Class of 2017. Hambalyo qalin-jabinta dufacadda 12-aad fasalka 2017 ee @Jaamacaddasimad
@USAIDSomalia: Civic engagement courses bring out the leadership and advocacy skills of #Somalia #youth @USAID @MercyCorps #somaliarising
@Vatescorp : #Somalia: Pirates release oil tanker and crew, negotiations by local elders and passage for hijackers
IMAGE OF THE DAY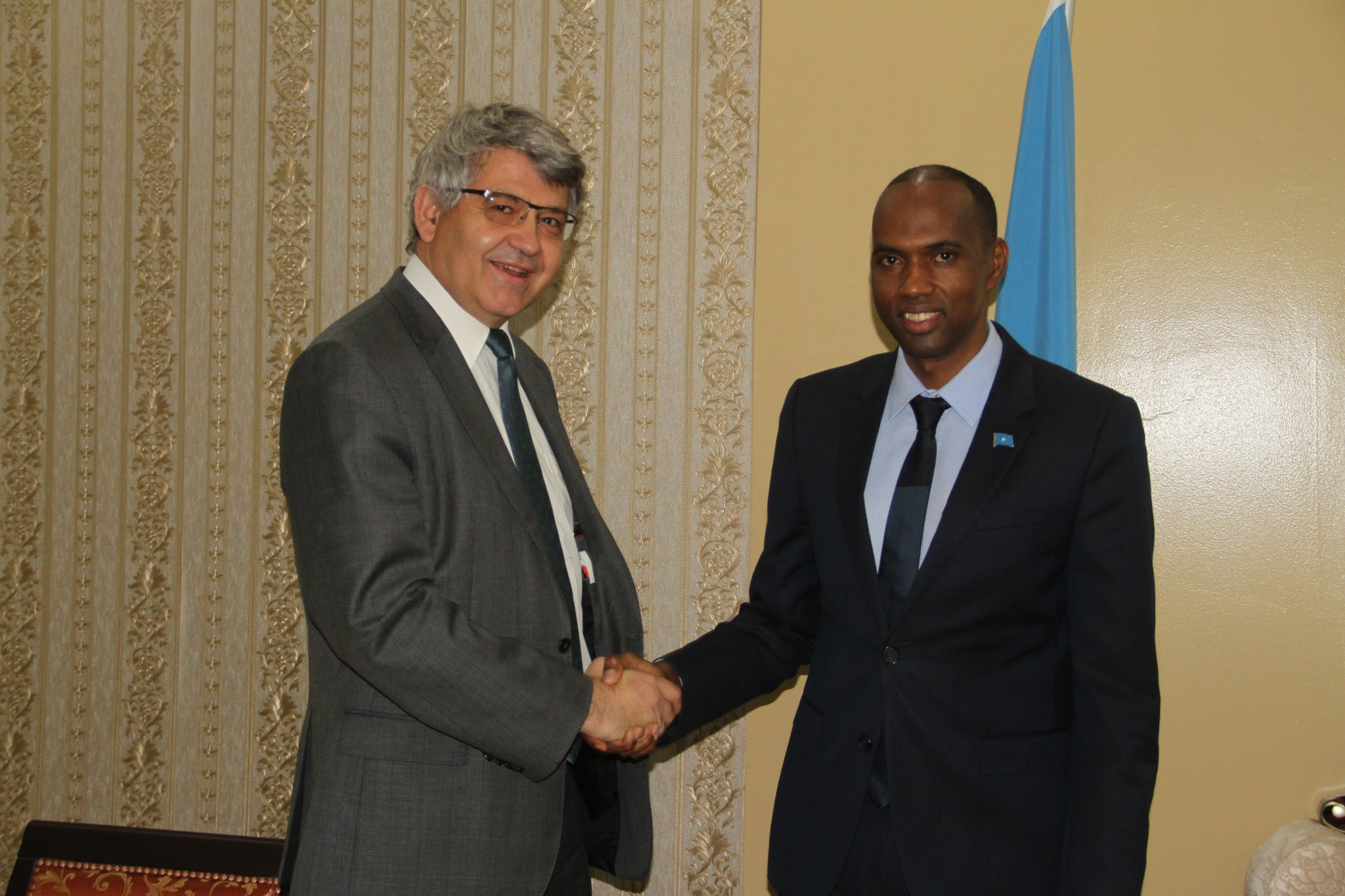 Amb Ronneberg of NorwayInSomalia meets with Prime Minister Hassan Ali Khayre at Villa Somalia
@SomaliPM