March 16, 2017 | Daily Monitoring Report
16 March – Source: Daily Monitor – 441 Words
President Museveni, is on May 11 scheduled to travel to London to attend a high level conference organised to drum up support and humanitarian assistance for the war ravaged Somalia. The invite to 'London Conference on Somalia' was delivered yesterday by the visiting United Kingdom Foreign Secretary, Mr Boris Johnson. The summit is a follow up to the earlier-one held in 2013.
At a joint press conference at State House, Entebbe, Mr Boris, revealed that he [the president] had "accepted to come to London" to attend the summit. "This morning I was in Mogadishu (Somalia capital), where while inspecting the guard of honour I saw several Ugandan troops as part of the forces. We really appreciate your steadfastness in peace building in Somalia," Mr Boris remarked
Uganda's national army, the UPDF, have been praised for taking a lead role in pacifying Somalia after almost two decades of political anarchy. The government deployed troops to Somalia in 2007, and currently maintains the largest peace keeping force of 6,000 in Somalia under AMISOM. Other countries contributing troops to AMISOM include Burundi, Ethiopia, Kenya and Djibouti. The Mission is funded by the European Union (EU) and United Nations through trust funds, respectively.
Key Headlines
Boris Invites Museveni To UK Summit On Somalia (Daily Monitor)
Senior Al-Shabaab Leader In Mogadishu Felled By Security Forces (Goobjoog News)
Outgoing Defense Minister Tours Turkish-built Military Training Facility In Mogadishu (Jowhar.com)
Celebs Call On Turkish Airlines To Bring Somalia Food And Water (NJ.com)
Desperate Appeal For Somalia Sees Even Queen Donate (News Hub)
AMISOM Instrumental In Bringing Peace To Somalia Says Jubbaland President (AMISOM)
Somalia Pirates: Anger Fuels Return Of Ship Attacks (Al Jazeera)
NATIONAL MEDIA
Senior Al-Shabaab Leader In Mogadishu Felled By Security Forces
16 March – Source: Goobjoog News – 119 Words
Somali security forces Thursday morning killed a senior Al-Shabaab member in Hilwa district of Mogadishu, the regional government spokesman has confirmed. Banaadir region spokesman Abditiftah Halane said in a Facebook post security forces cornered the militant following a tip off in the wee hours of the morning. Halane identified the man as Jafar. The militant is said to have been the head of Al-Shabaab in Suuqa hola in the northern side of Mogadishu. Security forces launched a swoop in a separate operation in the area nabbing over 30 people. The killing of the Al-Shabaab leader comes barely a week after a deadly attack near Wehliye hotel in Mogadishu which claimed about 15 lives.
---
Outgoing Defense Minister Tours Turkish-built Military Training Facility In Mogadishu
16 March – Source: Jowhar.com – 113 Words
Outgoing Somali Defense Minister has visited a Turkish-built military training facility in Mogadishu that is near completion.  General Abdulkadir Sheikh Ali Dini paid a visit to the military base at Jazeera which is in its last stages of construction. Accompanied by other senior Somali military officials, he was received at the base by Turkish military officials.
General Dini thanked the Turkish government for building the modern military facility that will help train the Somali National Army. Diini said, once completed, the new military centre will play a significant role in the training and betterment of the Somali armed forces. The Turkish government recently said it was planning to inaugurate its first military base in Somalia.
INTERNATIONAL MEDIA
16 March – Source: NJ.com – 600 Words
Drought and hunger are afflicting Somalia, but no one knows because the media is not talking about it — that's the message that propelled the hashtag #TurkishAirlinesHelpSomalia to the top of Twitter's global trends Wednesday night. Thanks to several celebrity tweets, the call to spread awareness of the need for aid in Somalia and neighboring countries in East Africa is top of mind (or at least fingers) for those passing word on to their followers on social media.
Ben Stiller recorded a video explaining the importance of the hashtag, started by French Snapchat star Jerome Jarre, who appeared in "Zoolander 2" alongside the actor in 2016.  "I know there's so much going on in the world so it's kind of hard to focus on stuff that's going on outside of our own experience," Stiller said in the video.
Jarre had posted his own video (see below) on Wednesday in French with English subtitles, explaining that a volunteer in Somalia had called him to ask for his help, saying they had just been watching a 6-year-old girl dying from dehydration. Since Turkish Airlines flies to Somalia, the hope is to put enough social media pressure on the airline to get it to send a plane full of food and water to the country. Where to get that food and water? Jarre proposed that companies could make donations to be loaded onto the plane.
---
16 March – Source: News Hub – 453 Words
An emergency appeal is being organised by Britain to raise money for the famine crisis in Somalia. The Queen has announced she'll make a personal donation, and aid agencies say the lives of a million children under five depend on the response. In Somalia, desperate mothers and their babies wait for food in chaotic queues, knowing trouble is on its way.
For some, the crisis has already arrived. It has consumed young Mohamed Hassan Ibrahim in a one- sided struggle – he's been barely a match for it. "This is my first child, and I pray for him," his mother Habiba Ibrahim said. The fact he's survived so far seems a miracle. If starvation itself is not the killer, it opens the door to so many others.
"Where I live, many people are starving. Most of my family have died from the cholera outbreak. I am the only survivor," Ms Ibrahim said. "I've only been able to feed him on water and sugar. That's all I could give him until now."
---
16 March – Source: AMISOM – 549 Words
The President of Jubbaland state H.E Mohamed 'Islam' Madobe has said the African Union Mission in Somalia (AMISOM) has been instrumental in bringing peace and reconciliation to Somalia. President Madobe lauded AMISOM for its "great" work in Somalia and asked the Mission to assist with reconstruction activities of public amenities, in areas already liberated from Al Shabaab.
He was speaking on Tuesday in Kenya's capital Nairobi, where he officially closed a week-long capacity building workshop for members of Jubbaland regional assembly. "You have liberated a lot of areas for us. We still need your support, please keep nurturing us," President Madobe told AMISOM officials present at the workshop. The capacity building workshop was organized by AMISOM and supported by the Danish government, through its funding to the Mission's Stabilization and Early Recovery Programme.
The aim of the workshop was to enhance the capacity of the regional parliament to effectively play its oversight role. The workshop exposed the legislators to democracy and enlightened them on issues revolving around the separation of powers, role of parliament in a democracy, conflict resolution, effective parliamentary committees, and the AMISOM mandate and role, among other topics.
OPINION, ANALYSIS AND CULTURE
"If you look at the sea at night, there are so many lights out there [from fishing vessels]. It looks like New York, complained one former Somali official who asked not to be named."
16 March – Source: Al Jazeera – 597 Words
A volatile build-up of weapons and resentment along the northern Somali coast culminated in the hijack of an oil freighter this week, the first such seizure by Somali pirates since 2012, experts and locals say. Gunmen hijacked the Aris 13, a small oil tanker, on Monday and are demanding a ransom to release the ship and its eight Sri Lankan crew, the European Union Naval Force that patrols the waters off Somalia said on Wednesday.
Now shipping companies are scrambling to find out whether the attack is a one-off, or whether pirates could once again threaten one of the world's most important shipping lanes and cost the industry billions of dollars annually. Somali forces have been sent to try to free the tanker. But locals say the attacks will continue and blame their government in the semi-autonomous Puntland region for granting foreigners permits to fish in Somali waters.
"Since the fish are drained by foreigners, my colleagues plan to go into the ocean to hijack other ships. We have no government to speak on our behalf," said fisherman Mohamed Ismail. Although Somalia remains mired in violence and poverty, the Horn of Africa nation has shown some small signs of progress in recent years despite a civil war lasting more than a quarter of a century. A return to piracy could derail those fragile gains.
Monday's hijack followed a long hiatus in pirate attacks, with only four unsuccessful attempts in the past three years. The lull encouraged foreign fishing vessels to return to Somali waters, locals told Reuters news agency, fuelling resentment.
TOP TWEETS
@JISN288 : Fishermen are negotiating with the ship's owners on a ransom & their ships to stay away from #Somalia & their goods.
@Moshireh : #Somalia is greatful 4 the moral/material support frm the world, however, it must find local solutions 2  the recurring draughts.#Resilience
@HassanIstiila : #BREAKING Heavy fighting between Puntland forces and pirates  going on at Haabo location in Bari region. #Somalia
@MoulidHujale : Trump travel ban devastating for #Somali refugees cleared for new life in US – http://goo.gl/alerts/JyTpZ  #Dadaab #Somalia #Kenya
@AbdyMhuD : #BREAKING Somali Government has ordered the deportation of 2 #Kenyans found to be in the country illegally. #Somalia
@Qawdhan : President M_Farmaajo held fruitful discussions with #UK foreignoffice Minister BorisJohnson in Villa #Somalia today.
IMAGE OF THE DAY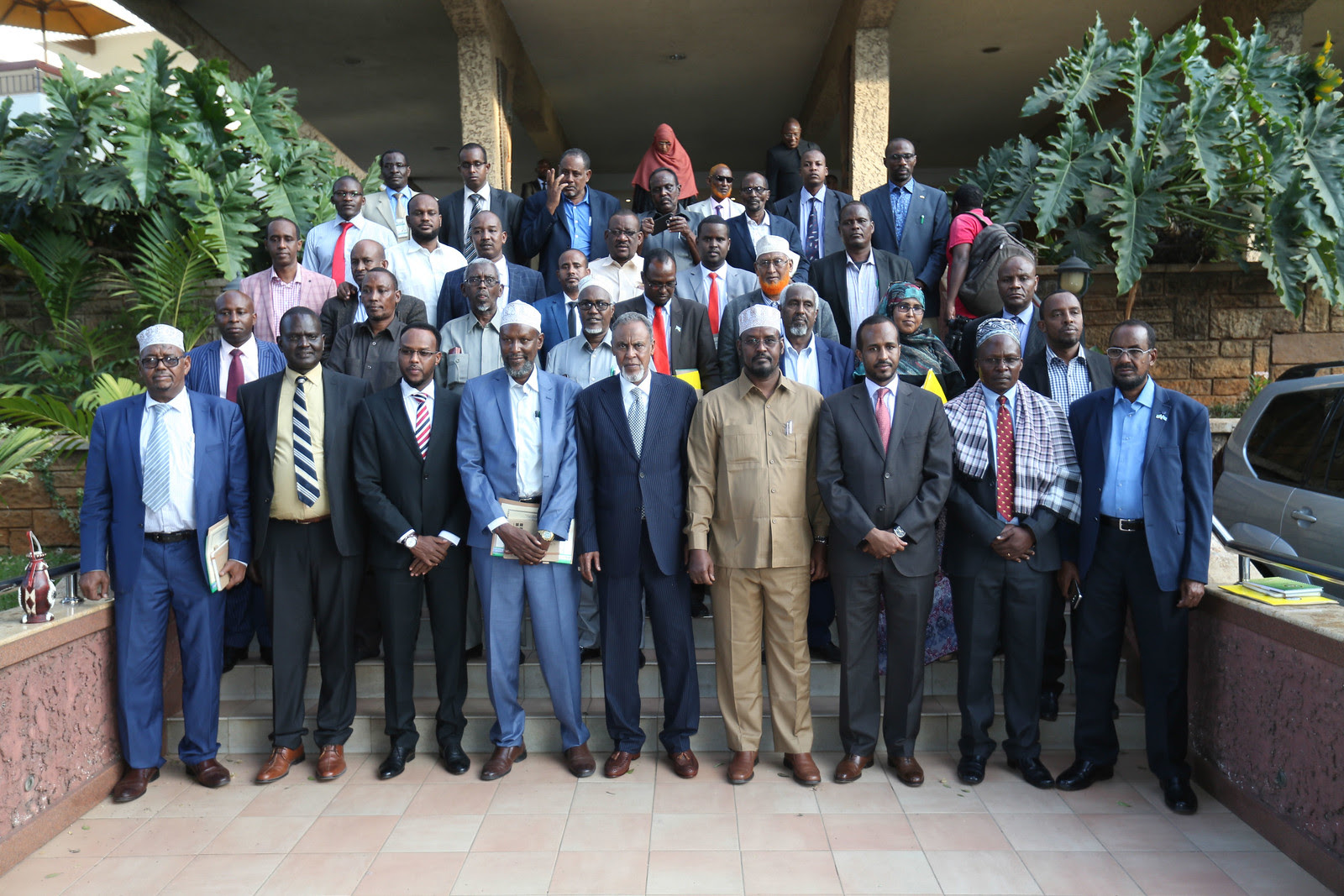 Members of the Jubbaland Regional Assembly with pose for a group photo with the Nairobo City County Assembly members during a courtesy visit to the Nairobi City County Assembly on March 14, 2017.
Photo: AMISOM