March 14, 2017 | Daily Monitoring Report.
14 March – Source: Xinhua – 152 Words
A Somali military court on Monday sentenced an Al-Shabaab militant to death and two others to 15 years in jail after convicting them of being behind a deadly bomb attack on November 26, 2016. Chairperson of the court in Mogadishu Hassan Ali Nur Shute said the three militants are proved to have been behind a car bomb attack that left 30 people dead and 43 others injured at a market in Waberi district.
Abdukadir Abdi Hassan, 40, who admitted that he had carried out the terrorist attack, was sentenced to death, Shute said. Mohamed Abdulahi Negaye, 60, and Abdinasir Omar Hassan, 23, who facilitated the attack and kept the car in a garage before the mission, got 15 years in army prison, Shute added. The military court chairperson added that the court released four others who were also arrested in operation after that attack.
Key Headlines
Al-Shabaab Militant Behind Somali Bombing Sentenced To Death (Xinhua)
HirShabelle To Build Dams In Long-time Plan To Avert Drought (Goobjoog News)
Newly Formed HirShabelle Cabinet Sworn In (Jowhar.com)
Somali Army Is Capable Of Fighting Rebels (Presna Latina)
Amad Zahid Receives Courtesy Visit From Somali DPM (WP News)
Somali Army Is Capable Of Fighting Rebels (Presna Latina)
Amad Zahid Receives Courtesy Visit From Somali DPM (WP News)
Years In The Making Cedar Riverside Opportunity Center Opens For Business (MinnPost)
NATIONAL MEDIA
HirShabelle To Build Dams In Long-time Plan To Avert Drought
14 March – Source: Goobjoog News – 192 Words
Somalia's Hirshabelle regional state is planning to build mega dams across its territory in a long-term plan to mitigate drought, Hirshabelle president, Ali Abdullahi Osoble said Monday. Osoble said the state is expecting to to tap water from River Shabelle which runs from southern Ethiopia to mitigate perennial water shortages facing the region. "Irrigation is the only solution to drought; we must invest in water harvesting to ensure food production throughout the year,'' said Osoble.
He said his administration had taken the decision to set up a water grid to maximise the use of water in the river through scientific inter-linking to drought-hit villages. "Instead of depending on rainfed farms, we have decided to optimise the current resources through proper planning and filling up gaps." Osoble said.
Somalia has two river Shabelle and Jubba of which one them (River Shabelle) dried up last year worsening the drought in the country. An estimated 6 million people in this Horn of Africa nation, or about half the population, need aid amid warnings of a full-blown famine. Somalia has declared this drought a national disaster.
---
Newly Formed HirShabelle Cabinet Sworn In
13 March – Source: Jowhar.com – 148 Words
The 52-member of HirShabelle's newly formed cabinet have been sworn in on Monday in Jowhar. The swearing-in of the newly appointed ministers was witnessed by HirShabelle President Ali Abdullahi Osoble, his Deputy Ali Abdullahi Hussein, the regional Assembly Speaker Sheikh Osman Barre Mohamed and members of the regional assembly.
Congratulating the ministers,  President Osoble expressed confidence that they were up to the tasks ahead of them, urging them to execute their duties diligently while serving their people in the best manners possible. During his brief address, he also presented his four-year plan of his government promising to do tangible work during his tenure in office.
Speaker Sheikh Osman Barre and Deputy President  Ali Hussein also spoke at the ceremony. The sworn-in cabinet comprises of 23 ministers, 6 state ministers and 23 deputy ministers. 33 of them came from the regional assembly while the rest are from outside the parliament.
INTERNATIONAL MEDIA
14 March – Source: Prensa Latina – 209 Words
The African Union Mission in Somalia (AMISOM), after a decade of presence, has been harping on the most favorable conditions, the Somali National Army (SNA) will fight the insurgent Al-Shabaab group. The African Union (AU) special representative for Somalia, Ambassador Francisco Caetano Madeira, stated at a two-day meeting that more resources are needed so that the SNA can adequately secure peace in this country.
Madeira said that AMISOM 'is convinced that the Army can take over the situation, in addition to deterring and restraining Al-Shabaab's attacks.'  'SNA must create the ideal conditions under which the government provides essential services and people have a normal life,' the AMISOM head said.
He also expressed the AU commitment on monitoring progress and supporting Somali security forces. 'Political will and determination are quite essential to overcoming Al-Shabaab, but Somalis will have to reach consensus on what kind of leadership they need in order to fight that guerrilla group,' Madeira said.
The meeting, which also discussed funding for peace initiatives, was held in a context of reduced investment in aid programs to stabilize the nation, while participants debated the political mandate of the mission relating to the Civil and police actors.
---
14 March – Source: WP News – 289 Words
Deputy Prime Minister Datuk Seri Dr Ahmad Zahid Hamidi today received a courtesy call from his Somali counterpart, Mohamed Omer Arteh, at his office in Parliament building, here. At the half-hour meeting, both leaders discussed various matters related to Malaysia-Somalia ties.
According to a statement issued by the Deputy Prime Minister's Office, the meeting breathed new life and further strengthened bilateral relations between the two countries in the areas of trade, investment, defence and education. Besides that, both leaders were also expected to discuss regional and international issues of common interest to both countries, it said.
Mohamed Omer is on a personal working visit to Malaysia from March 9 until tomorrow. This is also his first visit to Malaysia since being appointed as Somalia's deputy prime minister in Feb 2015. Trade between Malaysia and Somalia was recorded at RM344 million last year involving export of machinery, items and equipment, metals, electrical and electronic goods, chemicals, timber products, minerals, iron, steel and petroleum.
There are also 1,531 Somali students studying in Malaysia, with 715 of them enrolled at public universities and 816 at private institutions of higher education. Meanwhile, 16 Somali officers are participating in the Malaysia Technical Cooperation Programme since 2016. In a separate statement, the Deputy Prime Minister's Office said Malaysia would be channelling humanitarian aid such as food and medicines to Somalia through non-governmental organisations and political parties in this country.
OPINION, ANALYSIS AND CULTURE
"It's also a space that signifies the East African community's growth in this part of the city of Minneapolis, said Council Member Abdi Warsame"
14 March – Source: MinnPost – 421 Words
The Cedar-Riverside neighborhood on Sunday celebrated the grand opening of a long-heralded career center aimed at connecting area residents to employment opportunities and educational resources.  The ribbon-cutting ceremony for the Cedar Riverside Opportunity Center, which has been in the making for over two years, drew nearly 100 neighborhood residents and government officials from the city of Minneapolis and Hennepin County.
The center — which is housed in the Five15 on the Park high-rise building — begins its operations on Monday, providing residents everything from on-site employment recruiters to counseling services for assisting people in earning career credentials. The 5,000-square-foot facility features four interview rooms and a training room.
The center was founded to combat unemployment challenges among East African residents in the neighborhood, which has long seen some of the highest joblessness rates in the city. "This is a community space," said Council Member Abdi Warsame, who led the effort to establish the center in partnership with Hennepin County commissioner Peter McLaughlin. "It's also a space that signifies the East African community's growth in this part of the city of Minneapolis."
TOP TWEETS
@digitaldjeli : #Somalia Somali pirates suspected of first ship hijacking since 2012
@UNmigration : Persistent #drought in #Somalia has led to a severe food insecurity for millions. Your help is needed:  http://bit.ly/2lDhYI4
@shabaabwatch : #alshabaab can tell as many lies as it wants: but the people of #Somalia know the truth http://bit.ly/2mAWjBL
@Agayare : #Somalia PM @HassanAliKhair hs lead a national prayer rally in #Mogadishu, whr residents gathered to pray for rain. Allow abaarta naga saar.
@Saed_Faadi : #Somalia can't afford bloated cabinet. It requires lean govt obsessed with reforms and devt. #ForwardEverBackwardNever @HassanAliKhair
@Amalow11: #SOMALIA:84 people h've been killed, and 78 others h've been wouned in separate attacks,with in one monthin #Mogadishu,the city of #Somalia
IMAGE OF THE DAY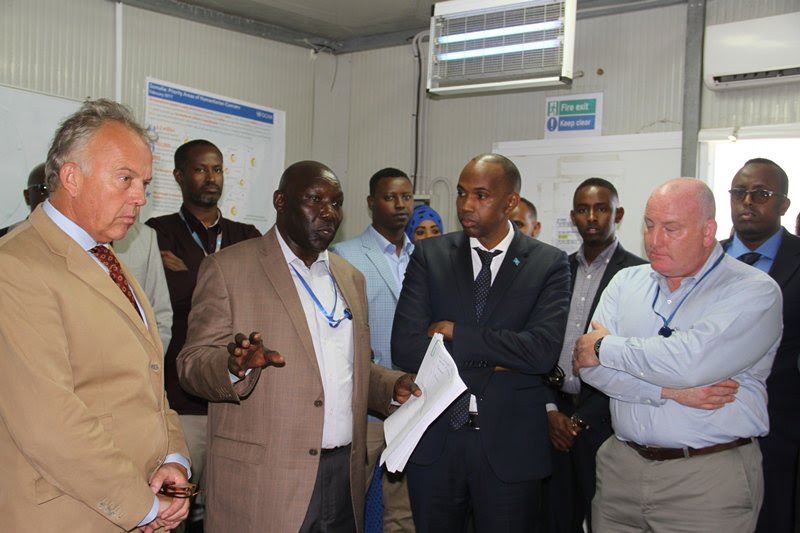 Prime Minister Hassan Ali Khayre met with UN/ODC to discuss means to balance distribution of aid to drought stricken areas.
Photo: @HassanAliKahir