March 12, 2018 | Daily Monitoring Report
Berbera And Bosaso Port Deals At Stake As Somali Parliament Bans DP World
12 March – Source: Goobjoog News – 375 Words
The Lower House has banned the Emirati ports operator DP World from Somalia declaring it a threat to the country's sovereignty, independence and unity throwing off balance the recently unveiled tripartite agreement with Somaliland and Ethiopia. In a strongly worded resolution on Monday, the Lower House said DP World had deliberately infringed on the country's sovereignty noting the UAE government owned ports operator was no longer welcome in Somalia. "DP World has outright infringed on the sovereignty, independence and unity of Somalia," the House said. "DP World is no longer part of the agreement and is therefore forbidden in Somalia."
The lawmakers who debated the agreement in their first sitting after recess today noted the agreement with DP World was against the country's Provisional Constitution adding, 'DP World has crossed the red line'. President Farmaajo Saturday told a joint session of the Federal Parliament any agreements without the approval of state institutions were illegal adding,' I am warning companies and countries not to cross the line and put to question the sovereignty of Somalia."
Today's response adds voice to the Federal Government's dismissal of the Berbera Port deal as a nullity even as Somaliland and DP World maintain they would proceed shrugging off Mogadishu's response. Somaliland Foreign Minister Sa'ad Shire Sunday told parliament the entry of Ethiopia into concession was 'strategic with hopes the capacity of the port can be increased'. Ethiopia has since remained mum over the controversial deal as the other two parties trade barbs with Mogadishu. DP World's CEO and group chairman Sultan Ahmed Bin Sulayem drew the anger of Somalis last week when he rubbished the Federal Government's dismissal of the agreement.
The House has also directed the Prime Minister to convey its decision to the government of UAE and brief the House on the government's plan to implement the resolutions passed Monday. Also at stake in today's resolution is the Bosaso Port agreement between Puntland and DP World's P&O Ports which locals are now questioning its rationale. P&O Ports secured the 30 year concession valued at $336 million last April but if Somalia actualizes today's resolution then that deal could now hang in the balance. A row between Mogadishu and Garowe will almost be inevitable.
Key Headlines
Berbera And Bosaso Port Deals At Stake As Somali Parliament Bans DP World (Goobjoog News)
Somali Forces Clash With Al Shabaab In Mogadishu 1 Dead (Shabelle News)
River Shabelle Flows Again After A Month of Dry Up (Halbeeg)
AMISOM Urges UN To Rescind Withdrawal Of Troops Resolution (The East African)
Federating Banaadir: Restoring Political Rights Ending 4.5 Toxic Formula And Offering Path To Unity For All Of Somalia (Hiiraan Online)
NATIONAL MEDIA
Somali Forces Clash With Al Shabaab In Mogadishu, 1 Dead
12 March – Source: Shabelle News – 137 Words
At least one soldier was killed and several others wounded in Mogadishu after Somali security forces clashed with Al-Shabaab militants on Monday, Police and witnesses said. The clash came following an attack against Somali Intelligence officers on a security patrol in a remote area in Kahda district which left one soldier dead and several wounded.
The local authorities said the attack has been repulsed and the Somali troops inflicted heavy losses on the Al Shabaab attackers, without elaborating the number of the fatalities. This comes hours after Al-Shabaab gunmen shot dead a Soldier in the same district and seized his AK-47 rifle, according to the residents. Al-Shabaab did not comment so far on both attacks in Kahda, a newly established district in southern Mogadishu, which has been hit by attacks from Al-Shabaab in the past few months.
---
River Shabelle Flows Again After A Month of Dry Up
11 March – Source: Halbeeg – 163 Words
River Shabelle has once again started flowing after it dried up following the ongoing drought in various parts of the country. River Shabelle, which originates from mountains in neighbouring Ethiopia, has today started flowing after about a month of dry spell with cases of diseases outbreak reported as a result of water shortage. Residents in Hiiraan region said that the River is once again flowing  although the water levels are very low compared to its previous levels.
Riverine farmlands across the region faced immediate danger last month, as farmers of Hiiraan, Middle and Lower Shabelle regions said that the recent dry spell experienced caused damages to their crops. The farmers who expressed hope over the upcoming season said they start planting as they lost what they had planted last season following the drying up of the river. Shabelle River extends from Ethiopian highlands and enters Somalia in Hiiraan region where it passes through Beledweyne, Bulabarde, Jalalaqsi and dozens of villages and other towns.
INTERNATIONAL MEDIA
10 March – Source: The East African – 392 Words
The troop-contributing countries to peacekeepers in Somalia now want the United Nations Security Council to reconsider its resolution on phased withdrawal issued last September. The countries Kenya, Uganda, Burundi, Ethiopia and Djibouti are concerned that the Council's resolution that called for withdrawal and gradual handover of security responsibilities to the Somali security forces, is not realistic and would lead to a reversal of the gains made by the peacekeepers.
The Summit of troop-contributing countries (TCCs) held in Kampala, Uganda a week ago, decided that while the African Union Mission in Somalia (Amisom) has recovered 80 per cent of Somalia in collaboration with the Somalia National Army (SNA), the situation remains fragile and Al Shabaab is likely to bounce back if the resolution is implemented.
Monica Juma, Kenya's Cabinet Secretary for Foreign Affairs and International Trade (pictured), said the TCCs and the Somalia government will petition the UN Security Council to reconsider the resolution. "The stability and development of Somalia is key for Kenya's and the region prosperity. This explains why Kenya remains a strong voice for Somalia in the international system.  This is a role we shall continue to take in order to mobilise the international community to help Somalia back on its feet, to free it from terrorists and set it on a path of development and prosperity," said Dr Juma.
OPINION, ANALYSIS & CULTURE
"Before we can have a serious and meaningful attempt at offering a viable alternative to resolving the vexing issue of what a Federal Capital City should be and how it fits in the overall framework of a Federated Republic, it is important to first define what a capital city is and in particular what it means in a federated configuration."
11 March – Source: Hiiraan Online – 2175 Words
No other nation has grappled so deeply to re-establish basic state institutions as Somalia has over the last 25 years. The Somali Civil War that started in the early 1990s has rocked 12 million people of Somalia on all critical levels (politically, socially, economically). The vast human rights violations, constant violence, toxic tribalism and effective statelessness has seen to it that Somalia is synonymous with the 'failed state' tag.
However, Somalia has come a long way from the ruins of the Civil War and has begun to gradually re-establish a functional democratic system in order to attain sustainable peace for its people through dialogue and political reconciliation rather than through the barrel of the gun. Although the process has gone through some false starts, in 2012 a permanent federal government emerged and the process of federating Somalia started in earnest with the exception of the Banadir Region which includes the capital city Mogadishu.
The gridlock on settling the status of the capital city has led to the exclusion of 3.5-million Somali citizens from the political process in the legislative branch of the federal government. Even worse, the prolonged reluctance to address and settle the status of the capital city risks the stability of all other Federal Member States of Somalia. The significance of taking care of this problem immediately is because in less than 3 years Somalis will go to the polls (if a one person, one vote approach is deemed viable) and elect their next Federal representatives and their next (Federal) President.
Under the current status quo, the existing Federal Member States of HirShabelle, Galmudug, Puntland, Somaliland and Jubbaland will be eligible to participate in the next election if a one-person-one-vote approach is deemed viable and voter registration can be carried out in time. This means that those Somalis living in the capital city of Mogadishu and its region of Banadir will not have the same equal opportunity despite suffering disproportionally from Al Shabaab's campaign of instability.  This is because Banadir residents despite being the sole domestic revenue source of the federal government are excluded from the process due to the political and legal ambiguities surrounding the status of the federal capital city and reluctance of previous governments to tackle the status of the capital city.
TOP TWEETS
@abdi_adaani: #BREAKING: #SNA radio reports that at least 12 member of #AlShabaab killed in an operation at Kunta-warey area in lower Shabelle region among them three top commanders, including the son of #AlShabaab leader which called Hassan Ahmed Diriye. #Somalia
@HarunMaruf: Somalia: Security officials now admit that Al-Shabab could potentially cut off the 90-KM main highway linking Mogadishu to Jowhar. Large parts of the 240-KM long Mogadishu-Baidoa Highway is already impassable.
@DrBeileh: Yesterday's Fiscal Federalism meeting in#Mogadishu
produced promising outcomes which we will build on. We will work together for a better fiscal & economic future for Somalia & our people #Somalia
@radiogarowe: The security guards of #Somalia's Presidential Palace open fire at a Bullet-proof vehicle at #Sayidka junction in#Mogadishu mistaken for militants, no casualties reported.https://www.garoweonline.com/so/news/somalia/gaari-bullet-proof-ah-oo-lagu-rasaaseeyay-nawaaxiga-villa-soomaaliya-sawirro …
@HarunMaruf: Saudi Arabia offered to 'mediate' b/w Somalia and UAE as relations worsen following Somali govt's rejection to cut ties w Qatar. Somali officials accuse UAE of taking 'vindictive' measures to destabilise Govt. UAE-based surrogates, social media sites have been bashing @M_Farmaajo
@IamAbdi5: Somalia's strategic location in the Horn of Africa, a strait for Superpowers, is both blessings & cursing. We've been rebuilding ourselves 4rm the ashes after 2 decades of conflict. And now we're being affected by the gulf crisis. Very critical moment 4 somalia to make tough decisions.
@Goobjoognews: #BREAKING: #Somali Lower House declares Emirati ports operator @DP_World threat to country's sovereignty and unity, bans it from #Somalia
IMAGE OF THE DAY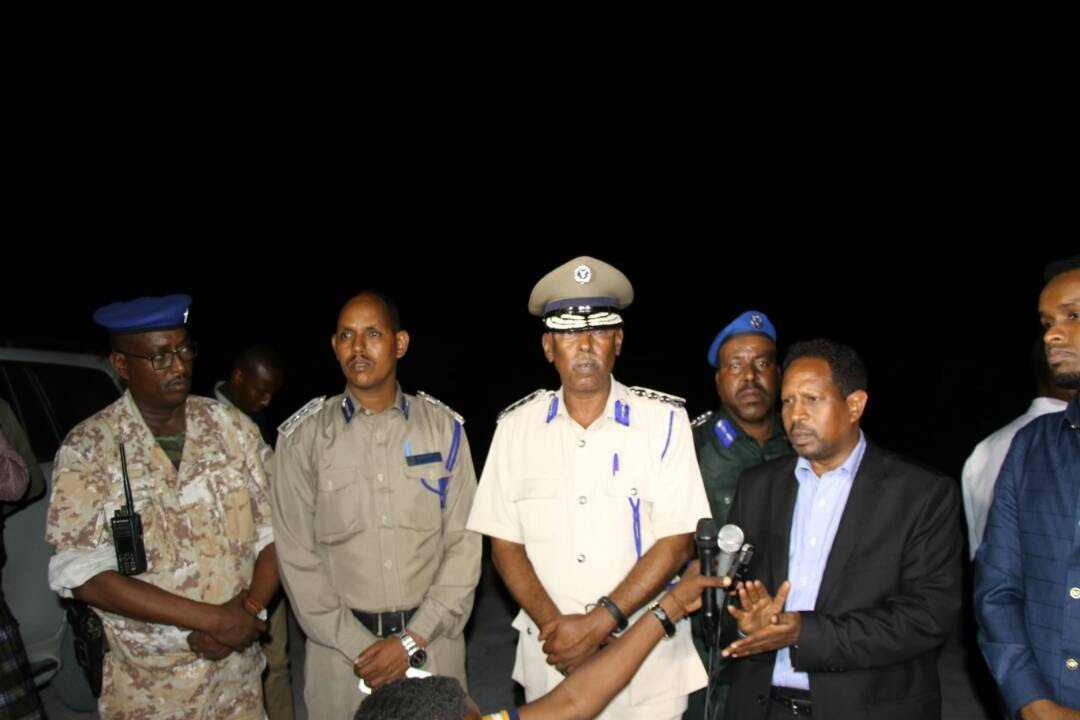 Mogadishu Mayor, Abdirahman Omar Osman accompanied by Somali Police Commissioner Bashir Abdi Mohamed, last night visited the city's stabilization forces patrolling industrial road junction in Mogadishu.
Photo: @engyarisow