March 1, 2017 | Daily Monitoring Report
Hassan Ali Khaire Confirmed As Prime Minister By Parliament, Vows To Tackle Corruption
01 March – Source: Hiiraan Online – 138 Words
Somali Parliamentarians have voted unanimously to approve Hassan Ali Khaire as Prime Minister of Somalia on Wednesday afternoon. In total, 231 MPs gave their nod of approval to the President's first pick for PM. In a tweet sent by the PM's office, Hassan Ali Khaire thanked lawmakers for their overwhelming support.
He also vowed to tackle corruption by prosecuting individuals involved, regardless of their position. "We will tackle the corruption and vow to prosecute individuals implicated regardless of his/her status. The era of impunity is over." In a video released after he was nominated as PM, Khaire promised to form a representative cabinet.
His expertise as a regional director with the Norwegian Refugee Council (NRC) is expected to be drawn upon by the government as it battles severe drought conditions and struggles to fend of a famine. Upon the nomination, PM Khaire resigned from his position at Soma Oil and Gas and "relinquished" all of his shares to avoid any possible conflicts of interest. The New PM is expected to fill his cabinet in the coming days.
Key Headlines
Hassan Ali Khaire Confirmed As Prime Minister By Parliament Vows To Tackle Corruption (Hiiraan Online)
Galmudug Sets Date For The Presidential Election (Goobjoog News)
Top Army Officer Escapes An 'Assassination Attempt' (Shabelle News)
Former Lawmaker Wants Ministers Not Picked From Among MPs (Goobjoog News)
Unidentified Warplanes Have Bombed An Al-Shabaab Convoy In Gedo Region Of Southern Somalia (Strategic Intelligence News)
What Somalia Can Teach Kenya On Elections And Power Transitions (Africa Blogging)
NATIONAL MEDIA
Galmudug Sets Date For The Presidential Election
01 March – Source: Goobjoog News – 176 Words
Galmudug Assembly has announced the date it will elect new president following the resignation of President Abdikarim Guled. The chairperson of Galmudug electoral body, Mohamed Hassan Ghedi told the reporters in Adado that the members will hold election of the regional president on 21st of March. "The commission set the date of Galmudug presidential election to be on 21st of March and we hope there will be no delays," said Ghedi. Ghedi called on the presidential candidates to register with the electoral body.
"We want everything to run smoothly, we tell all those wishing to vie for the office of the president to meet the conditions set for election process and register before the time expires," Ghedi said. Guled on Sundayannounced his resignation; citing health reasons prompted his sudden decision. Guled who has been President of Galmudug since July 2015 underwent a heart treatment in India last year.
---
Top Army Officer Escapes An 'Assassination Attempt'
01 March – Source: Shabelle News – 82 Words
A senior Somali military commander has survived an assassination attempt in the capital Mogadishu on Tuesdaynight, according to witnesses. Somalia military official, Col Adan Rufle, told Radio Shabelle by phone that he narrowly escaped an attempt on his life at Nasteho Village in Mogadishu last night. The attack was the latest in a series of targeted assassinations in the seaside city since the election of the new President Mohamed Abdullahi Farmajo on February 8, 2017.
---
Former Lawmaker Wants Ministers Not Picked From Among MPs
01 March – Source: Goobjoog News – 111 Words
Former Somali parliament member, Awad Ahmed Ashara called on Somalia's newly appointed, Hassan Ali Khaire not to include his cabinet the current MPs. "Unlike previous administrations where the premier appointed ministers from the existing Members of Parliament through a process that was quite opaque the new prime minister should appoint the cabinet from outside parliament through thorough vetting," said Ashara.
Ashara predicted that the prime minister will be approved by the parliament as was appointed by President Mohamed Abdullahi Farmajo. "I strongly believe that the new prime minister, Khaire will be approved by the House because he was appointed by the president who has the support of Somali people," said Ashara.
INTERNATIONAL MEDIA
01 March – Source : Strategic Intelligence News – 131 Words
According to reports from local residents, the warplanes fired the bombs that destroyed Al-Shabaab convoy and subsequently killed several fighters near El-Adde town. Somali National Army (SNA) commander in Gedo, Abas Ibrahim Gurey, confirmed on the heavy shelling saying Al-Shabaab travelling in a convoy were engaged by unknown war planes. "The warplanes pounded the convoy in the desert area where the Al-Qaeda linked militants have their bases," Gurey was referenced by Somali open sources.
Kenya and U.S warplanes severally have carried out attacks against the Islamist militant group which fights to topple the western backed Somali government. Kenyan troops –KDF battling the militant group in Somalia were sent to the war torn country in mid-October after the insurgent group threat increased including kidnappings of aid workers and attacks on tourists.
OPINION, ANALYSIS AND CULTURE
"A graceful concession from a losing incumbent is exactly what the world witnessed in the Somali capital"
01 March – Source: Africa Blogging – 804 Words
Incumbents losing an election and graciously conceding is not what most associate with the continent, let alone Somalia. By contrast, the Kenyan experience is rather typical. Here, no incumbent President has ever lost an election. Whether by hook but more often by crook, they manage to cling onto either the end of their terms or their lives, whichever came first.
But a graceful concession from a losing incumbent is exactly what the world witnessed in the Somali capital on Wednesday. The election of former Prime Minister Mohamed Abdullahi Farmajo as the country's ninth President upheld a rather curious, perhaps unique tradition: Somalia has never re-elected an incumbent as President.
It's a tradition that goes back to the founding days of the Somali republic. In its first election following independence and unification in 1960, the popular Aden Abdullah Osman Daar was elected President. Seven years later, he would become the first African head of state to peacefully hand over power to a democratically elected successor -his former Prime Minister, Abdirashid Ali Shermarke.
Now this week's election in Mogadishu was not, by any stretch of the imagination, one to be emulated. Due to the ongoing terrorist insurgency perpetrated by the Al Qaeda-allied al Shabaab, universal suffrage was out of the question. Instead 135 elders picked 14,000 delegates who elected 275 MPs and 54 Senators who elected the President.
The process was marred by allegations of corruption, vote buying and intimidation, which is perhaps not surprising for a country that ranks at the very bottom of Transparency International's Corruption Perception Index. The head of the country's police publicly supporting the incumbent and security concerns led to both the shut down oftransportation across the Somali capital and the moving of the election to the airport, which is secured by troops from the African Union Mission in Somalia.
Much of this would be familiar to Kenyans as our own general election looms. Though not as dire as that of our neighbor, our system is not without it controversies. There are credible suspicions of attempts to steal it right from the voter registration stage, with public officials, especially chiefs, illegally co-opted into an effort to help boost registration numbers in areas perceived as supporting the incumbent Uhuru Kenyatta's Jubilee party.
TOP TWEETS
@HassanIstiila: #BREAKING Somali president @M_Farmaajo has just arrived the parliament session. #Somalia
@Fatumaabdulahi: #Somalia fundraising needs 2 b formalised + made transparent. By providing clear guidance + info on how funds r used, more will contribute.
@MoulidHujale : #Somalia drought now a National Disaster.I hope the emergency meeting    becomes fruitful 2the millions going hungry.#ReshapeAid #Mogadishu
@SSG_Somalia : @MoPIC_Somalia led professional certificate course on M&E for line Ministries continues in #Mogadishu for 2nd day. #Somalia @USAIDSomalia
@Atulinda_Allan : During the roundtable, more than $400 million was pledged by development partners, diplomatic missions in #Somalia, various NGOs
@bloggingafrica : @gathara  very interesting analysis of what #Somalia can teach #Kenya on elections and power transitions.
IMAGE OF THE DAY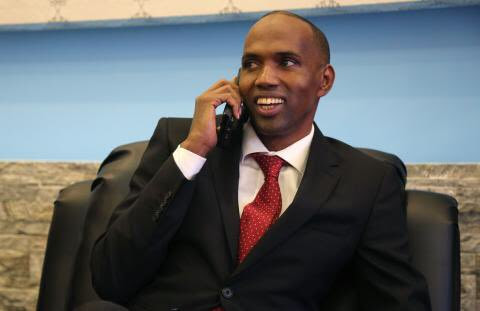 Congratulations to the Prime Minister Hassan Ali Khayre who was confirmed by the Parliament today.
Photo: @HarunMaruf