June 12, 2018 | Daily Monitoring Report
Government Forces kill Dozens Of Al-shabaab, Seize Weapons In Hiran
12 June – Source: Halbeeg News – 190 Words
Somali military in Hiraan region have reported success against Al-Shabaab militants in an operation in the region. The commander of the 52nd Battalion of Somali military, General Mohamed Ahmed aka Tredishe, stated that the government forces in Hiraan region have killed dozens of Al-Shabaab fighters in the recent operations conducted at Moqokori district and its environs. "For the last four months, Somali National army have been conducting operations in Moqokori and the surrounding areas while implementing the orders of President Farmaajo. We killed 80 Al-Shabaab fighters during the operations and also seized weapons and ammunition, we will continue with the operations" said the commander.
The commander called on the local people in Hiraan region, particularly Moqokori and the surrounding areas, to collaborate with government forces and take an active role in the fight against Al-Shabaab. Finally, the commander said the recent withdrawal of government from Moqokori was due to military tactics but not a defeat by Al-Shabaab fighters. Federal government forces withdrew from Moqokori recently after Al-Shabaab waged a full scale attack on a military base in the area. They seized the town for hours before pulling out of the area voluntarily.
Key Headlines
Government Forces kill Dozens Of Al-shabaab Size Weapons In Hiran (Halbeeg News)
HirShabelle President Meets With Senior Military Officials At His Residence In Mogadishu (jowhar.com)
Four Prisoners Released From Kenya Due To Arrive In Mogadishu (Halbeeg News)
AMISOM Meets To Evaluate Implementation And Effectiveness Of Quick Impact Projects In Somalia (AMISOM)
New Details Emerge In Attack That Killed US Soldier In Somalia (Voice of America)
FGM Law Change Call From 'Persecuted' Somali Women (BBC)
NATIONAL MEDIA
HirShabelle President Meets With Senior Military Officials At His Residence In Mogadishu
12 June – Source: Jowhar.com – 162 Words
HirShabelle President Mohamed Abdi Waare on Monday evening hosted an Iftar dinner for senior military officials from his State to discuss critical security issues including the rising Al-Shabaab threat in HirShabelle and plans to resume the offensive against the militants in the region. President Waare briefed the military officials on the security challenges in the region and the need for the military to support his administration with military advice since they possess vast military experience.
The officials expressed their willingness to support the administration in its fight against Al-Shabaab and promised to forge a strong working relationship with the president and his administration. On his side, President Waare thanked the commanders for their willingness to work with the administration and underscored the need for such meetings to take place on regular basis. He held similar meetings with other SNA and AMISOM commanders discussing with them the growing Al-Shabaab threat in the region. The group recently killed two HirShabelle MPs in an ambush.
---
Four Prisoners Released From Kenya Due To Arrive In Mogadishu
12 June – Source: Halbeeg News – 318 Words
Four Somali nationals who were released from Kenyan jails are expected to arrive in Mogadishu on Tuesday. The government has been carrying initiatives to release Somali nationals in jails of neighbouring countries. The four men spent ten years behind bars after they were allegedly accused by the international naval task forces in Somalia waters of being pirates. They were later on transferred to Kenya where they were prosecuted and transferred to serve their jail terms in Kamiti Maximum Prison in Nairobi. The men claimed that they were fishermen and not pirates as accused by Kenyan authorities. "We are fishermen who are jailed in Mombasa for a long time, we were kidnapped from our sea without committing any crime," said the men.
Speaking to the media, Somalia's ambassador to Kenya, Ali Mohamed Sheikh said the four who served their jails will be repatriated soon. "The four will return to the country and there is an agreement between the two countries, that ensures all of them are taken back to Somalia," said Sheikh. The ambassador said the government will soon release two other groups from jails "there will be 25 others who will be released in August and four more who complete their jail in February 2019, so these two groups are the last group of Somali nationals accused of been involved in privacy," he affirmed.
Kenya is one of a few countries that are prosecuting pirates, alongside Seychelles and Mauritius. But the cases are notoriously difficult to prosecute and take a long time to complete. Hundreds of Somali piracy suspects are in prisons around the world. Some of them have already been convicted while others are still waiting to be prosecuted. Piracy at sea has declined massively since 2011, falling 60 percent for the first time in seven years, according to Maritime reports. The drop in piracy incidents is a relief to shipping companies using the Indian Ocean.
INTERNATIONAL MEDIA
11 June – Source: AMISOM – 639 Words
Senior officials of the African Union Mission in Somalia and partners, are meeting in Kenya's capital Nairobi to reflect on the Mission's Quick Impact Projects (QIPs), aimed at improving the quality of life of communities in recovered areas. The three-day meeting is expected to take stock of the QIPs, their success in contributing to peace and recovery in Somalia,  challenges faced and lessons learned in their implementation.
"On conceptualizing this workshop we looked at how we can  be able to strengthen the process of implementing projects that are helpful to the people of Somalia in terms of helping Somalia to stabilize," explained Dr. Opiyo Ododa, the Senior Civil Affairs Officer in charge of Stabilization and Early Recovery, at the African Union mission in Somalia (AMISOM). Quick Impact Projects are small scale, low cost programmes that are planned and implemented within a short period of time and have a rapid positive impact on targeted communities. In Somalia's case, AMISOM implements the QIPs through its Civil Affairs Unit.
---
11 June – Source: Voice of America – 563 Words
New details have emerged about an attack by al-Shabab militants that killed one U.S. soldier and injured four others in southern Somalia last week. Somali officials say the attack occurred just before 2 p.m. local time Fridayas U.S., Kenyan and Somali forces set up a combat outpost two kilometers north of the town of Sanguni, in the Lower Jubba region.
Mukhtar Abdiweli Mohamed, a unit commander with the Somali forces in Sanguni, told VOA Somali that the soldiers were in the outpost when the militants fired a series of mortars at the camp. "They fired about four mortars rounds from the other side of the [Jubba] river, and one of them hit the U.S. soldier," he said. The Pentagon has identified the deceased soldier as Staff Sgt. Alexander Conrad, 26, of Arizona. The military's Africa Command said the four wounded service members received medical treatment and were in the care of the U.S. embassy medical team in Kenya.
Sanguni is an agricultural town that sits on the equator. It has been the scene of several confrontations in the past between Al-Shabaab and Somali forces accompanied by U.S. advisors.  Mohamed said due to flooding in the area, the soldiers set up the combat outpost in an open space. He said it was possible the militants could see the U.S. service members before firing the mortar rounds.
OPINION, ANALYSIS & CULTURE
"My sister was shocked, my mum was mortified by the accusations." The family had to take the girl for a physical examination with a specialist before doctors agreed that no FGM had taken place."
12 June – Source: BBC – 542 Words
Some Women from Wales' Somali community have said they are being "persecuted" and called for a change to female genital mutilation (FGM) law. Health workers must report children they believe at risk to social services and report any FGM evidence to police. Campaigners said FGM was a thing of the past in Wales' Somali community and want to stop being "racially profiled". The Welsh Government said its safeguarding procedures were "sensitive to culture, race and religion".
FGM is illegal in the UK and figures show there were fewer than 17 cases in under 18s recorded by Welsh health boards last year. The cases, revealed in a BBC Freedom of Information request, were in children who had been born outside the UK and not in established British-African communities. One two-year-old was born with complex care needs and has been in and out of hospital her entire life.
During one spell in intensive care her family were called to an urgent meeting and feared the worst, only to be told by doctors they suspected that she had been subjected to FGM. Her aunt says the whole family were angry they had been accused of such an act, "I was thinking why are we being interrogated?" she said. "Why are we being asked these intrusive questions? "My sister was shocked, my mum was mortified by the accusations." The family had to take the girl for a physical examination with a specialist before doctors agreed that no FGM had taken place.
It is a story that campaigners in Cardiff's Somali community say is not uncommon in Wales since 2014, when a new law meant all health care workers were obliged to report any children they suspect to be at risk of FGM. Hamda was shocked when a health visitor referred her to social services after she had a baby girl, even though she told the health worker she had no intention of doing FGM to her. "I felt as though my opinion didn't matter," she said. "I was from a certain culture, a certain community and the assumption was made that I was definitely going to do it, that's what it seemed like. "I am educated – why would I do that to my daughter?"
TOP TWEETS
@Hamza_Africa: A pregnant lady and a young girl missing after boat accident on Shabelle River near Bariire, #Somalia last night. 18 others who were on board the boat rescued.
@SomaliaToday1: Four soldiers killed in al-Shabab attack in Somalia, http://www.somaliatoday.so/2018/06/12/four-soldiers-killed-in-al-shabab-attack-in-somalia/ …,
@UKinSomalia: "The Joint Policing Programme will support a more professional and accountable police force and represents a huge step towards improving security for all citizens of#Somalia" said #UK Acting Ambassador Mary Shockledge
@UNSomalia: Federal Government of #Somalia and @UNunveils support programme for Somalia's new policing model. The programme has already received commitments from the UK and the #EuropeanUnion to donate $42 million while Germany is promising additional pledges. http://bit.ly/2LJt7nC
@ahmedchancellor: IDPs numbers in #Somalia are poised to rise from 1.1 million to 2.6 million according to FSNAU. The projection is slightly over 50% which is quite an alarming trend.This could mean almost a 5th of #Somali population is an IDP
@VOANews: New Details Emerge in Attack That Killed US Soldier in Somalia http://dlvr.it/QWy7gS
@HarunMaruf: Somali MP, ex-state minister of Finance@AbdullahiMNOR warns the Govt against printing new money until several challenges are overcome – securing funds to finance printing & keep its value, political stability w regions, set mechanism to tackle corruption
IMAGE OF THE DAY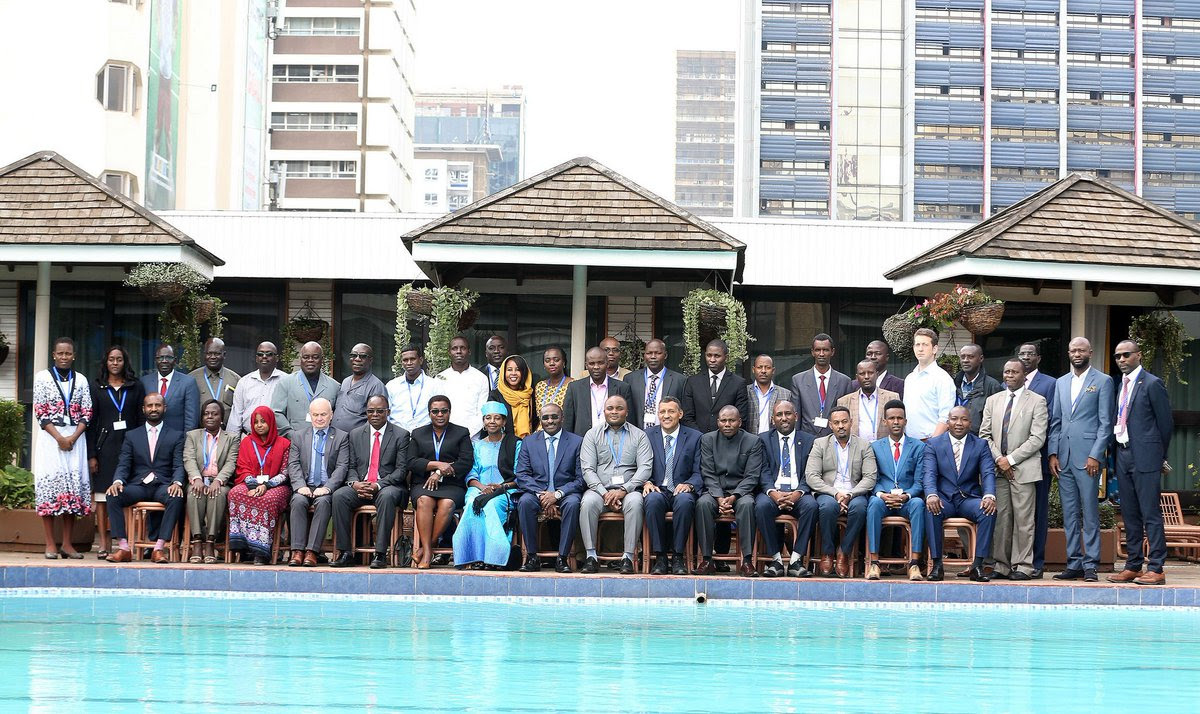 AMISOM staff and partners pose in a group photo on the sidelines of Lessons Learnt Workshop on Quick Impact Projects Implementation.
Photo: AMISOM