July 26, 2017 | Daily Monitoring Report
25 July – Source: CNN – 274 Words
A joint US-Somali military raid on an Al-Shabaab target in Somalia on Sunday resulted in the capture of an Al-Shabaab facilitator who is suspected of being a lawful US resident, two US defense officials told CNN. US military advisers were conducting an "advise and assist mission," accompanying local Somali security forces as they launched a raid on an Al-Shabaab target, al Qaeda's Somali affiliate, in the area of Galkacyo, Somalia.
During the raid the officials said a "known Al-Shabaab facilitator and suspected lawful resident of the US was captured by the Somali National Security Forces." One official called the capture "a target of opportunity" and said that the individual recently traveled to the United States. The official said the detainee is not an American citizen and that the military is working to confirm the nature of his US residency with US law enforcement. The individual is currently being detained by the Somali government.
The Pentagon referred CNN to the government of Somalia. Sunday's operation follows news of another joint US-Somali raid against Al-Shabaab that was launched earlier this month. "US forces are assisting partner forces to counter Al-Shabaab in Somalia to degrade the al-Qaeda affiliate's ability to recruit, train and plot external terror attacks throughout the region and in America," US Africa Command, which oversees US troops in the region, said in a statement following the earlier operation in Kunyo Barrow, Somalia. About 50 to 100 US Special Operations Forces have been advising local Somali forces battling al-Shabaab since 2013. Al-Shabaab is considered al Qaeda's third largest affiliate. The group has claimed responsibility for a number of attacks in Somalia and the wider region.
Key Headlines
Joint US-Somali Raid Nabs Suspected US Resident (CNN)
Finance Minister Discusses Debt Relief Asks New Assistance With World Bank Officials (RBC)
New French Ambassador Presents His Credentials To Somalia President (Horn Observer)
HirShabelle Accuses Puntland Of Run-away Inflation As Traders Display Sacks Of Fake Notes (Goobjoog News)
UN Says Food Security In Somalia Unlikely To Improve Before 2018 (Xinhua)
Kenya Steps Up The War Against Al-Shabaab Before Its Elections (The Daily Beast)
NATIONAL MEDIA
Finance Minister Discusses Debt Relief, Asks New Assistance With World Bank Officials
26 July – Source: RBC Radio – 195 Words
Somali Federal Government called for a debt relief and continued support for the country's national institutions to help with state-building efforts, said Finance Minister Abdurahman Dualeh Beileh on Tuesday after meeting with World Bank Group delegation in Mogadishu. The World Bank Group delegation led by Hugh Ridell, Somalia representative visited the capital and also met with Information Minister Abdirahman Omar Yarisow and other officials. "We have discussed how Somalia could be granted a debt relief and also asked for a continued support for the state institutions" said the Finance Minister Beileh shortly after the meeting was concluded.
Hugh  Ridell and Minister Beileh signed a new agreement in which the World Bank and the African Development will release $1 million fund to assistant the drought-affected people in the country. "We have signed an agreement with pledges of $1 million to assistant the drought affected people to improve their livelihood and reduce poverty" Minister Beileh added. Meanwhile, the Information Minister Abdirahman Yarisow highlighted in the meeting with the World Bank Group officials, the role of the media in regards to reporting all donor funded projects, and to ensure government's deliveries are transparent in order to tackle corruption.
---
New French Ambassador Presents His Credentials To Somalia President
26 July – Source: Horn Observer – 65 Words
The New French Ambassador to Somalia, Antoine Sivan, has on Tuesday presented his credentials to Somali President Mohamed Abdullahi Farmaajo, officials said.  Antoine Sivan, the new French ambassador conveyed a message from the French President Emmanuel Macron to President Mohamed Abdullahi Farmaajo. The diplomats from the two countries, Somalia and France discussed bilateral relationship among other issues including the formation of the Somali national army.
---
HirShabelle Accuses Puntland Of Run-away Inflation As Traders Display Sacks Of Fake Notes
26 July – Source: Goobjoog News – 339 Words
HirShabelle President Ali Abdullahi Osoble has accused Puntland of flooding his state with counterfeit Somali notes plunging traders into massive losses as they hold on to fake notes exchanged for thousands of US dollars. Speaking during a meeting with traders who displayed counterfeit Somali shilling notes estimated in the range of over one hundred million in Beledweyne, Osoble said the fake currency had robbed traders of their hard earned cash and caused run-away inflation.
"Today we converge here to get first-hand information on the extent of the business crisis affecting the people of Hiiraan especially the local traders including dry food dealers, farmers and livestock sellers. What we see here are people robbed of their wealth and exchanged with papers. These people have business connection mostly with Puntland state" said President Osoble. Traders displayed Somali shilling notes which they said they got in exchange of US dollars. "I was conned of Somali Shillings 80 million ($3,480) through fake money exchange from Puntland" says Abdi Musa Sigaale, a local trader.
"The people of Hiiraan have been swindled of their dollars through fake papers disguised as Somali Shillings. I have with me now Somali Shillings 180 million (US$ 7,830) said to be fake money," another trader said. Traders in Puntland and central Somalia have in the past months complained of fake notes which have led to high rates of inflation driving the economy on the downward stream especially at a time the country is fighting an ongoing drought. Early this month the financial crisis started in Hiiraan region when the local traders refused to accept Somali shillings over reports the notes were fake. The Puntland government is reported to have authorized the printing of fake Somali shilling notes in 2015 to offset salary arrears for the military who had mutinied a number of times over unpaid salaries.The Federal Central Bank warned of inflation following the printing of the notes. "Counterfeit money will spur economic problems, unethical acts and wrongdoings," said central bank governor Bashir Isse Ali in 2015.
INTERNATIONAL MEDIA
26 July – Source: Xinhua – 274 Words
Food and nutrition security situation in Somalia is not likely to improve before the end of the year or January 2018, the UN humanitarian agency said on Tuesday. The UN Office for Coordination of Humanitarian Affairs (OCHA) called for donor commitments to help improve the situation, citing preliminary assessment results by the UN Food and Agriculture Organization (FAO)-managed Food Security and Nutrition Analysis Unit (FSNAU) . "Severe drought is expected to continue to deepen till the start of the next rainy season in October and an improvement in the food security and nutrition situation is not likely before December/January," the UN said. The OCHA said in its humanitarian drought response report that while famine has been averted so far, thanks to critical investments early in the year, drought conditions are expected to continue to deepen till the start of next rainy season in October. "Reprieve from the effects of prolonged drought will however persist till early next year when improvements in the food security and nutrition situation is expected to start being felt," it said.
Somalia is in the midst of a drought after rains failed in November 2016, for a third year in the row. Humanitarians in Somalia are calling for donor commitments to reach the most vulnerable with life-saving assistance. "The momentum in new donor contributions has been declining. New donor commitments per month have declined from about 258 million U.S. dollars in March to 26 million dollars by end of June," the OCHA said. "This is likely to affect continuity of response till the end of the year. Despite ongoing response, humanitarian needs far exceed available resources," it said. The UN estimates that at least 100 million dollars is required per month to sustain current levels of response. The April-to-June "Gu" rainy season was late and shorter than normal, and generally poor in most of the country and the temporal distribution was erratic.
OPINION, ANALYSIS AND CULTURE
"Most tourists can't distinguish between Lamu Mainland and Islands. They hear Lamu and think that it is all dangerous, even if we have not had a single attack on the islands," lamented a Swahili tourism manager on Shela.
26 July – Source: The Daily Beast – 1,593 Words
Against the backdrop of untainted white beaches on the Indian Ocean and the regal beach houses here that mix Omani, Indian, and Swahili architecture, live mortars arched across the Kenyan night skies. Unsuspecting tourists could have mistaken them for shooting stars. But they kept on coming. One after another, like fireworks. This was another naval exercise by the Kenyan Defense Forces (KDF) conducted earlier this month, on the night of July 9, at the start of the tourist season on Lamu Island—and just weeks before Kenya's elections. The show of force went on for an hour, alternating between live mortars and storms of gunshots as a response to the brutal and indiscriminate beheadings and killings of innocent civilians by al Shabaab, an al Qaeda affiliate in nearby Somalia, just a few days earlier.
Lamu and neighboring islands are a part of the Swahili Coast facing the Indian Ocean in eastern Kenya. Culturally, the region is distinct from the rest of Kenya, influenced by trade with the Arabian Peninsula, the Indian subcontinent, and even China.  The population descends from five or six original families who have been on the islands for the past 400 years. Most practice Sunni Islam with centuries of Sufi spirituality,  historically mainstream Kenyan Islam, with an emphasis on peaceful coexistence with all members of Kenyan society. Modern-day Lamu County is comprised of two parts: Mainland and the Islands. The major islands are Shela, Lamu Island ("Lamu Town"), and Manda. Tourism, primarily from Europe, makes up most of the economy. A new port in Lamu Town is projected to surpass Mombasa as Kenya's largest, which may not help tourism but ought to bring jobs and a much-needed lifeline to citizens affected by al Shabaab's merciless attacks near the border.
The KDF Navy base where the live exercises took place is on Shela, which is a popular destination with tourists and long-term expatriates. Our time in Lamu was part of an original field study looking at how Muslim populations in the Horn of Africa themselves perceive the threat of al Shabaab. To our surprise, local Swahili communities and tourist managers were notified of the exercise merely three hours ahead of time, leaving little time to know whether this was a live battle with al Shabaab militants or an exercise. The result was not only to heighten fear of the militants, but to deepen mistrust of the government, making the job of those trying to push back against extremism all the more difficult. The July 9 live exercise came at a key moment. A couple of days earlier, al Shabaab had attacked a police station on the Mainland and planted an IED underground. The next day, al Shabaab followed up the violence with the beheading of nine civilians in the little village of Jima on the Mainland, a gruesome tactic that surprised even the locals, who have been living with the al Shabaab threat and subsequent military actions for the past four years.
TOP TWEETS
@TheVillaSomalia: President Farmaajo accepts credentials from Antoine Sivan, the new French ambassador to #Somalia.#France, a friend and a valuable partner.
@mpfsomalia: We met with @DrBeileh & @engyarisow, discussed how @mpfsomalia continues to support country-owned #development
@Goobjoognews: HirShabelle accuses Puntland of runaway inflation as traders display sacks of fake notes –
@AmbGamal: Today, H.E. Deqa Yasin @MinisterWHRD & I announced the official launch of NDP Pillar #9: Human Rights and Gender #NabadIyoNolol
@ThabitMhd: Participated at AMISOM/SFG joint meeting on transitioning security to Somali security forces. I reiterated the urgency of citizen safety 1/2
@MandeqArmani: It's hard to be a women in Somali politics/institutions,you must think like a man,act like a lady & work like a horse,U won't be appreciated
@engyarisow: #Somalia thanks Hugh Riddell, Country Representative of@WorldBank for the support 2 the Public Financial…
@HarunMaruf: Harun Maruf Retweeted Harun Maruf, CNN reporting that captured Al-Shabaab figure may have US residence; says it was a joint operation conducted by American and Somali forces.
IMAGE OF THE DAY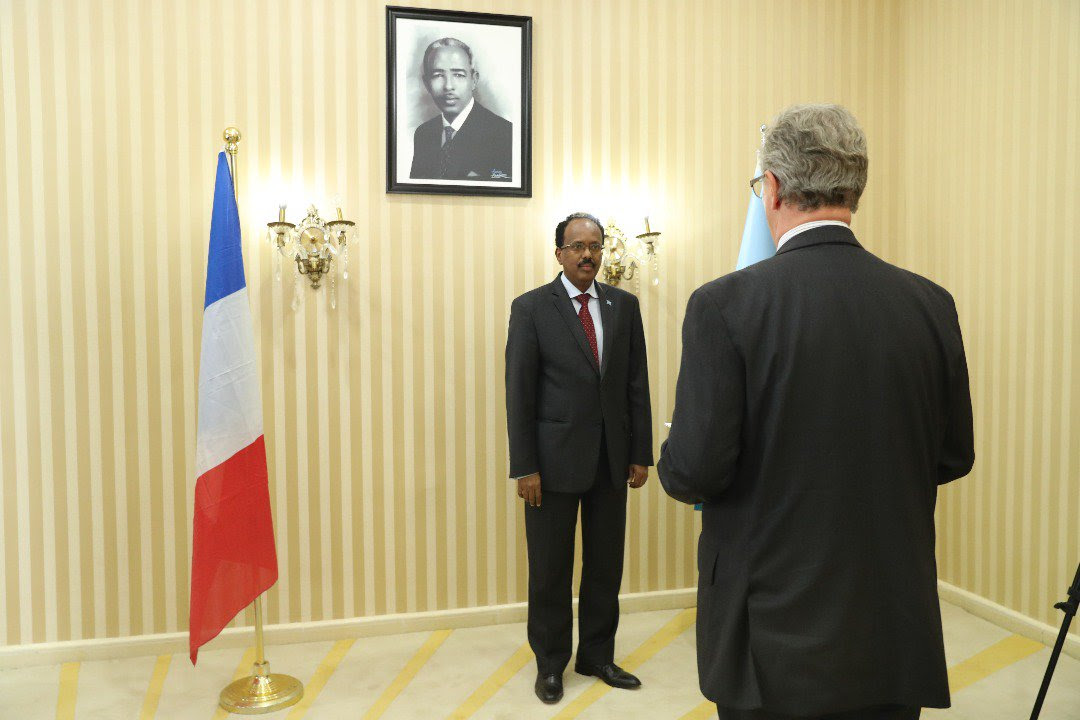 President Mohamed Abdullahi Farmaajo accepts credentials from Antoine Sivan, the new French ambassador to Somalia.
PHOTO: TheVillaSomalia