July 14, 2017 | Daily Monitoring Report
14 July – Source: Associated Press – 453 Words
United States and Somali military forces raided a rebel-held village in southern Somalia and killed several Al-Shabaab fighters early Thursday, a senior Somali intelligence official said, as both countries step up efforts against Africa's deadliest Islamic extremist group. Somali commandos accompanied by U.S. forces in two helicopters raided two locations, the official said. They included a detention center run by Al-Shabaab in Kunya-Barrow village in Lower Shabelle region, and an unknown number of detainees were freed. Troops engaged a small number of extremist fighters, said the official, who spoke on condition of anonymity because he was not authorized to speak to the press. U.S. Africa Command spokesman Mark Cheadle said U.S. forces conducted an "advise and assist mission" against al-Shabab with members of the Somali National Army in Kunya-Barrow. He gave no further details. There were no U.S. casualties, AFRICOM spokeswoman Jennifer Dyrcz added Friday morning. The al-Qaida-linked Al-Shabaab said via its Andalus radio arm that its fighters foiled an attempted raid by U.S. and African forces.
Earlier this month, the U.S. military said it carried out an airstrike against al-Shabab in Somalia and was assessing the results. The airstrike followed another last month that the U.S. said killed eight extremists at a rebel command and logistics camp in the country's south. Somalia President Mohamed Abdullahi Mohamed said a training camp near Sakow in the Middle Juba region had been destroyed. President Donald Trump has approved expanded military operations against al-Shabab, including more aggressive airstrikes and considering parts of southern Somalia areas of active hostilities. The U.S. in April announced it was sending dozens of regular troops in the largest such deployment to Somalia in roughly two decades, saying it was for logistics training of the country's army.
Key Headlines
US Somalia Forces Raid Al-Shabab Kill Several: Official (Associated Press)
Somali Parliament Sends Letter On Gulf Crisis To President Farmajo (Garowe Online)
Somali Government To Start Repairing The  Fibre Optic Cable (Jowhar.com)
Council Of Minister Approves Slight Changes In Somali Media Law (Horn Observer)
Somalia Detains Ship That Caused Internet Outage Demands Compensation (Africa News)
The Empowered Women of Little Mogadishu (Pacific Standard)
NATIONAL MEDIA
Somali Parliament Sends Letter On Gulf Crisis To President Farmajo
14 July – Source: Garowe Online – 166 Words
The Chairman of the parliamentary committee on Foreign Affairs, Abdulkadir Osoble Ali, has written  an advisory letter to President Mohamed Abdullahi Mohamed, advocating for full consultation of the political decision by government in regards to the rift between the Gulf countries. "Mr. President the purpose of this letter is about the conflict in the Gulf, and the political decision the government took, many people are anxious and have expressed their concerns to parliamentary committee on foreign affairs," Osoble wrote in his letter.
Garowe Online which received a copy of the  letter stated that many MPs are not satisfied  with the  political decision of the government in regards to the Gulf crisis. In the coming days, Garowe Online is expecting to receive further news from the Foreign Affairs Council of both houses to discuss the political decision that President Farmaajo took. Previously the chairman of the upper house committee on foreign affairs, Professor Jurile requested government officials to reverse the neutral political decision they took.
---
Somali Government To Start Repairing The Fibre Optic cable
14 July – Source: Jowhar – 200 Words
The Somali government on Friday started to fix the fibre optic for the internet after it was accidently cut off several weeks. The vessel to repair has finally reached the Mogadishu port. Director of the Ministry of Posts and Telecommunications, said this morning at about 8:00 am, the vessel will look into how deep the cable of the internet is cut. The vessel to repair the Fibre Optic cable for the internet left Oman several days ago. "The vessel to repair the internet is currently at the port and this morning is set off to assess the cable and thereafter will the work begin," said the Director. "I would like to also state that the Somali government will be very careful that such situation does not occur again and will begin a plan to expand the internet services in this country"
The company Dalkom that provides the Fibre Optic internet which runs under the sea stated that the internet will be back soon. It is more than 15 days since the internet has been down in parts of southern and central Somalia, and it has caused many services to slow down such as money-wire transfers services, travel agencies and educational institutions.
---
Council Of Ministers Approves Slight Changes In Somali Media Law
13 July – Source: Horn Observer – 214 Words
The Cabinet has on Thursday approved the Somali media law in their historic meeting in the town of Kismayo, the regional capital of Jubbaland Administration, officials said. The approval of the bill comes after the Ministry of information held  extensive consultations with key stakeholders in the the country and considered their input, feedback and comments during the review process. "The reason that led to this review came after we have received complaints from the journalists requesting for possible amendment on Article 35 which restricts the practice of the profession to University degree." Eng Abdirahman Yarisow, Somali Minister of Information said.
The Somali Parliament has passed the controversial media bill on December 2015, which aimed to regulate media in Somalia for the first time in twenty-five years since 1991 civil war.  The media law which was later signed by then president Hassan Sheikh Mohamed received wide widespread criticism and complaints from the Somali media stakeholders over its restrictions on the practice of journalism. Upon taking oath of the office early this year,  the minister of information Eng. Abdirahman Omar Osman  undertook to review the law following concerns raised by media practitioners in the country. The Cabinet will pass the media law to the parliament for approval.
INTERNATIONAL MEDIA
14 July – Source: Africa News – 377 Words
Somalia has detained a ship alleged to have cut undersea fibre optic cables and plunging the country into a state of internet blackout. The Horn of Africa nation has for the past two weeks been without internet connection after the MSC Alice vessel reportedly cut undersea cables. The vessel had brought goods to a port in the capital Mogadishu when the accident occurred.
Somalia's Attorney General confirmed to the BBC that the vessel is being held in Somali waters and that the country was also demanding compensation from the losses that they have incurred since the incident."Whoever was involved in this incident will be tried and the company that belongs to the ship that was involved in cutting the undersea cable is required to pay for the loss," Ahmed Ali Dahir is quoted to have said.
According to him, the outage costs the country $10m each day, he however did not state how much compensation Somalia will be pushing for. A Voice of America (VOA) journalist, Harun Maruf,  reported weeks back that the internet outage had taken a toll on activities in the country. He cited the media, businesses and government offices as those worse affected by the situation.
Reports indicated that many Internet Service Providers (ISPs) in the country rely on the affected cable line resulting in internet and fixed voice service providers going down. The journalist further reported that engineers had been dispatched from Oman to repair the cables but it is not clear when connection will be restored. It is also said to have affected money transfer transactions especially as it happened during the end of Ramadan period.
OPINION, ANALYSIS AND CULTURE
"Despite the risks, a group of Somali-American community leaders in Minneapolis are fighting against this toxic political moment—and are empowering other people to do the same. Here, in their own words, is what their religion and their advocacy work mean to them in Trump's America."
13 July – Source: Pacific Standard – 655 Words
Two days before the 2016 presidential election, Donald Trump stepped out of his personal jet and into a hangar at the Minneapolis–St. Paul airport to promise a crowd of more than 9,000 supporters that, if elected, he would halt arrivals of Somali refugees. Minnesota has the largest Somali population in America—estimated to be around 46,000—as well as comparatively large populations of Ethiopians, Liberians, and Nigerians. "You've suffered enough in Minnesota," Trump told the audience, referring to Somali immigrants as a "disaster."
After Trump was sworn into office, it wasn't long before he turned this campaign rhetoric into policy, in the form of an executive order restricting immigration from Somalia and a group of other majority-Muslim countries. Despite the risks, a group of Somali-American community leaders in Minneapolis are fighting against this toxic political moment—and are empowering other people to do the same. Here, in their own words, is what their religion and their advocacy work mean to them in Trump's America.
Ilhan Omar, Minnesota House Representative for District 60B. "My faith is the center of everything. It is what is calming about me, it is what gives me my drive for justice and righteousness, and liberty and equality and consensus. My faith is very much about not one person being the guider or the leader—that in every decision there needs to be a consensus with the people, and everybody needs to have a voice in decision-making."
Ifrah Mansour, writer and producer of the traveling one-woman show How to Have Fun in a Civil War, a semi-autobiographical multimedia play that explores Somalia's civil war through the eyes of a seven-year-old girl. "A little girl who looks just like me, who is sitting in the same refugee camp that I was sitting in 21 years ago, can't come to America and have this very fulfilling yet complex life."
Habon Abdulle, executive director of the Women Organizing Women Network, a non-partisan civic-leadership organization in Minneapolis. "We don't want to just empower, encourage, and set off women into office, but we want to support them while they are in office. We want to keep them accountable on what they promised. Ilhan promised a lot of things. … So far, she is doing marvelous."
Asma Jama, the victim of a 2015 assault in a suburban Minnesota Applebee's, where a white woman threw a beer mug at her face for not speaking English. Jama needed 17 stitches, but publicly forgave her attacker in court. She now serves as a community advocate for domestic-abuse victims at Voice of East African Women. "My religion teaches me to forgive people and to move on, because if I hold onto hate, it will destroy me."
TOP TWEETS
@PDWilliamsGWU: #AlShabaab deputy commander & spokesperson, Sheikh Ali Dhere / Ali Mohamud Rage killed by US-#Somali raid. @SOFREP
@HarunMaruf: Ilhan Omar on @TheDailyShow: Fighting for a Better Life for All Americans: @IlhanMN.
@TheDailyShow: Tonight at 11/10c, Trevor welcomes Minnesota State Rep. @IlhanMN!
@Somalia: According to FAO, satellite imagery shows a mangrove island in southern #Somalia.Mangroves provide essential habitat for 100s of fish species
@DrumChronicles: #Somalia Al Shabaab deputy commander and spokesperson Sheikh Ali Dhere / Ali Mohamud Rage killed in#USA raid
@PPRMOFA:#PublicDiplomacy serves as a beacon of diplomatic success by cultivating overseas public opinion in support of our#Somali nation. #Somalia
@FAOSomalia: See how simple & cost-effective animal treatments are protecting livelihoods and saving lives across#Somalia: http://goo.gl/aIVzKR
@MoradNews: BREAKING: #AlShabaab hijacks a car with 6 occupants at#Kenya's Milihoi in #Lamu County; top State official among hostages – @NationBreaking
IMAGE OF THE DAY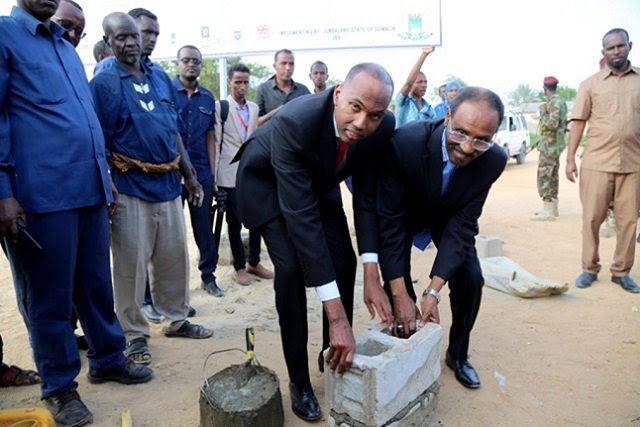 Prime Minister Hassan Ali Kheyre lays down the foundation stones for new government offices in Kismayo city.
Photo: Radio Dalsan