July 11, 2018 | Daily Monitoring Report
Southwest Cabinet Held Urgent Meeting In Baidoa
10 July – Source: Halbeeg News – 208 Words
The cabinet of Southwest state held an extraordinary meeting in Baidoa on Tuesday. The  meeting chaired the state leader, President Sharif Hassan Sheikh Aden, focused on the effects on the recent River Shabelle floods in the Lower Shabelle region and ways of improving food production in the region. Officials from the government of Italy were also in attendance during the meeting held at the presidential palace in Baidoa.
The cabinet listened reports from the ministers of Agriculture and Livestock on the consequences of the flash floods in region, particularly the revine areas. Sources close to the presidential palace of the Southwest state said the officials from Italy are expected to pay visit to areas affected by the floods. They will assess the impact of the torrential rain and the subsequent flash floods of River Shabelle. The exact date of the visits has however not been disclosed.
River Shabelle, which stretches from Ethiopian highland, broke its banks following the torrential rains in parts of Somalia and Ethiopia. The number of flood victims in Somalia's riverine regions reached about 300,000 people following the flash floods in Hiiraan and Shabelle regions. At least  200,000 people in Beledweyne town were displaced by the floods and scores of others left homeless.
Key Headlines
Southwest Cabinet Held Urgent Meeting In Baidoa (Halbeeg News)
Speedboat Ambulance Weathers Storms On Remote Tip Of Somali Coastline To Ferry Pregnant Women To Hospital (Radio Ergo)
We Will Table In Parliament Cases Of Rape Occurring Along The Mogadishu-Baidoa Road Says MP (Dhacdo.com)
Somali Volunteers Educate Kids Hit By Famine War (The Gulf Today)
'We Laugh Sing And Play Music': The Rise Of Mogadishu (The Guardian)
NATIONAL MEDIA
Speedboat Ambulance Weathers Storms On Remote Tip Of Somali Coastline To Ferry Pregnant Women To Hospital
10 July – Source: Radio Ergo – 395 Words
A speedboat run by the Ministry of Health in a remote part of northeastern Somalia's Puntland region is helping to save lives by ferrying emergency patients to hospital. The speedboat, donated by the international non-governmental organization, Save the Children, in March, has especially been valuable in saving pregnant women with childbirth complications and and their babies. Farhiyo Mohamed Ahmed, a mother of five living in Haabo village in the isolated area of Alula, took the speedboat ambulance to the major port city of Bosaso after doctors in Alula told her she had very high blood pressure which they could not address.
She successfully delivered her baby in hospital, Bosaso. It was her third maternity trip to the city, although on the previous two occasions she had to hire a local fishing boat at a cost of $800 to get there. Alula, on the tip of the Horn where the Gulf of Aden meets the Indian Ocean, lies 430 km from Bosaso. The road to Bosaso is dangerous, dusty and rough. The terrain is mountainous and hard to navigate by ordinary vehicle. The fastest vehicles from Alula take more than 30 hours to reach Bosaso.
The speedboat ambulance, by contrast, takes six hours to reach Bosaso, 170 nautical miles away. Apart from pregnant women, others who have been whisked away for emergency treatment include a man injured during a fall from a high ridge whilst harvesting frankincense, and two knife wound victims. According to Dr Adan Ali, Health ministry coordinator in Gardafu – a new region in Puntland on the North Eastern tip of Bari – more than 30 pregnant women have delivered at the Alula health centre free of charge since April, although the centre only offers basic services.
The health centre staff liaise with the ambulance boat when they have patients they are unable to help. The boat also delivers vaccines to remote villages. The most recent patient to use the marine ambulance was a pregnant woman, whose journey by boat on 6 July was punctuated by a forced stopover at a small mountainous coastal village because of high winds and waves. The boat reached Bosaso the following day and the woman gave birth successfully to a baby boy.  For some time, the boat was out of communication due to phone network failure and the authorities thought it had gone missing in the sea.
---
We Will Table In Parliament Cases Of Rape Occurring Along The Mogadishu-Baidoa Road, Says MP
11 July – Source: Dhacdo.com – 132 Words
Members of Parliament from Southwest state have said they will table a motion on the rampant rape cases that occur along the Mogadishu-Baidoa road. The lawmakers said the population they represent faces rape and insecurity related hardships along that stretch of the road.
MP Mohamed Omar Dalxa, who is among the area lawmakers and who is currently travelling with the Speaker of the Lower House, Mohamed Mursal, said they will hold a special meeting with the locals to seek a lasting solution to the problem. He noted they had filed a complaint on the hardships the Southwest residents were experiencing: "There are various risks along that stretch of the road that covers Afgoye, Buur and Barawe towns,  including robbery, rape and even murder."..
INTERNATIONAL MEDIA
11 July – Source: The Gulf Today – 355 Words
Taking time out from their studies, a group of young student volunteers in Somalia's capital are providing free education to children uprooted from their homes by war and famine. Seven years after hunger and disease killed a quarter of a million people, and in the midst of an ongoing hardliner insurgency in Somalia, so-called IDP camps dot Mogadishu. These squalid villages of makeshift huts for the homeless, called "internally displaced people" by aid workers, crowd the spaces between buildings and neighbourhoods in Mogadishu.
They are among the most destitute: landless, penniless and with little hope for their children's future. But an initiative by some of the city's more fortunate young folk is offering basic literacy and numeracy skills to the displaced youngsters. Most of the volunteers are students at local universities, such as Abdirashid Abdulahi, one of the group's founders.
"After having seen, and studying, the existence of lack of government-controlled education centres for the destitute communities, we have decided, as academics, to assist our needy people at the displacement settlements in Mogadishu," said the 20-year-old medical student. "We have nothing else to give to these people, except our time to educate them," he said.
Abdulahi said the group's 30 volunteers are teaching 600 pupils aged six to 15 in four centres at informal settlements around the city. "Nothing is easy here − some of our classes are held under trees or simple shelters − but we are happy because our morale, and that of the students, is high," he said. "All that matters is the positive objective we seek to achieve together." Education, like many other state-provided services, has been disrupted by decades of civil war. While private schools and colleges thrive in Mogadishu, they are only an option for the well-off few.
OPINION, ANALYSIS & CULTURE
"I do not need to fight with a gun. I have a powerful pen with which I draw my feelings. I believe through it I can bring change. I can make Mogadishu peaceful… Somalia is no longer a war zone. It is a love zone,"
11 July – Source: The Guardian – 930 Words
The surprising sounds of a late evening in Mogadishu: surf on the beach, laughs of revellers, clinking of cups and glasses, oaths of harassed waiters and the soft melodies of the oud of Aweys Kabanle. Kabanle, a 45-year-old former dressmaker turned musician, is playing traditional Somali music at the luxury Mogadishu Beach View hotel at the city's Lido to a smartly dressed audience in one of the world's most dangerous cities: "This is Mogadishu. We laugh and sing. We play music. Music is for peace so we no longer live in fear," Kabanle says, sipping a cappuccino.
There are few cities with contrasts as stark as those of Mogadishu. Swollen by hundreds of thousands of people displaced by famine, drought and conflict in rural areas, its outlying districts resemble a vast refugee camp. Authorities are incompetent, corrupt or simply absent.
It is seven years since the Islamic militants of Al-Shabaab withdrew but many streets bear the scars of more than two decades of incessant warfare. Mogadishu's inhabitants have long been known for their resilience, but a new wave of activists, entrepreneurs and artists are now trying to improve their city. Two years ago, Kabanle survived an al-Shabaab gun attack and suicide car bombing close to where he now performs every evening. The attack left at least 10 dead, including three of Aweys's friends. The oud player was forced to jump over the wall of the hotel where he was playing to escape.
"For several months following, there was no show," he says. "People were unwilling to come back but I was committed to come here again. I started the first night by myself alone playing music and resumed hosting the show. Thanks be to God, people got confidence and now they are coming back for my show."
Despite the ongoing violence in the Somali capital, the economy is growing, hundreds of expatriates are returning from the west or African nations, scores of colleges are opening to cater for the young population and there is growing investment from the diaspora. Estate agents thrive: a two-storey house can cost nearly £100,000. Mogadishu has hosted a TEDx conference.
TOP TWEETS
@MarkTJones500: 'We laugh, sing and play music': the rise of Mogadishu https://www.theguardian.com/world/2018/jul/11/somalia-the-rise-of-mogadishu-artists-music-activists?CMP=share_btn_tw … #Somalia #Mogadishu#HornofAfrica
@UNSomalia: Today is #WorldPopulationDay – a day to raise awareness of the importance of #family planning and how it can help a nation's development. In #Somalia, family planning services are limited and few women have access to contraceptive methods.
@DrBeileh: Transparency & accounability are crucial for fiscal reforms. Public information & engagement is key. The real stakeholders& beneficiaries of our efforts are us, the Somali people & our country. We must work hard for each other & be accountable. #Somalia #WadaShaqeyn
@Fatumaabdulahi: Milestone on behalf of the #Jubbaland Land Authority giving orientation to the new committees of land and dispute resolution in #Kismayo. They have a tough task ahead but they will be properly trained, supported and monitored closely to ensure they do their job. #Somalia
@mpfsomalia: Our country rep Hugh Riddell outlines how@mpfsomalia supports teacher payroll financing and will continue to support all FMS. "Teacher financing will be complimented by reforms targeting improvements in teaching quality" #EducationForAll
@HRJournalists:Somalia: The editor of #RadioMarkabley Yahye Abdirisak Sofe narrowly escaped from an assassination attempt by a member of #Jubaland security forces in Bardhere town of Gedo region. The journalist is safe and the perpetrator was arrested.
@SomaliSTEM: Somali STEM Society thanks to @undpsomaliafor thier tremendous support to make the summit  very successful. Looking for more coooperation with @undpsomaliainnovate for somali initiative. #SomSTEM2018 #SomSTEM
IMAGE OF THE DAY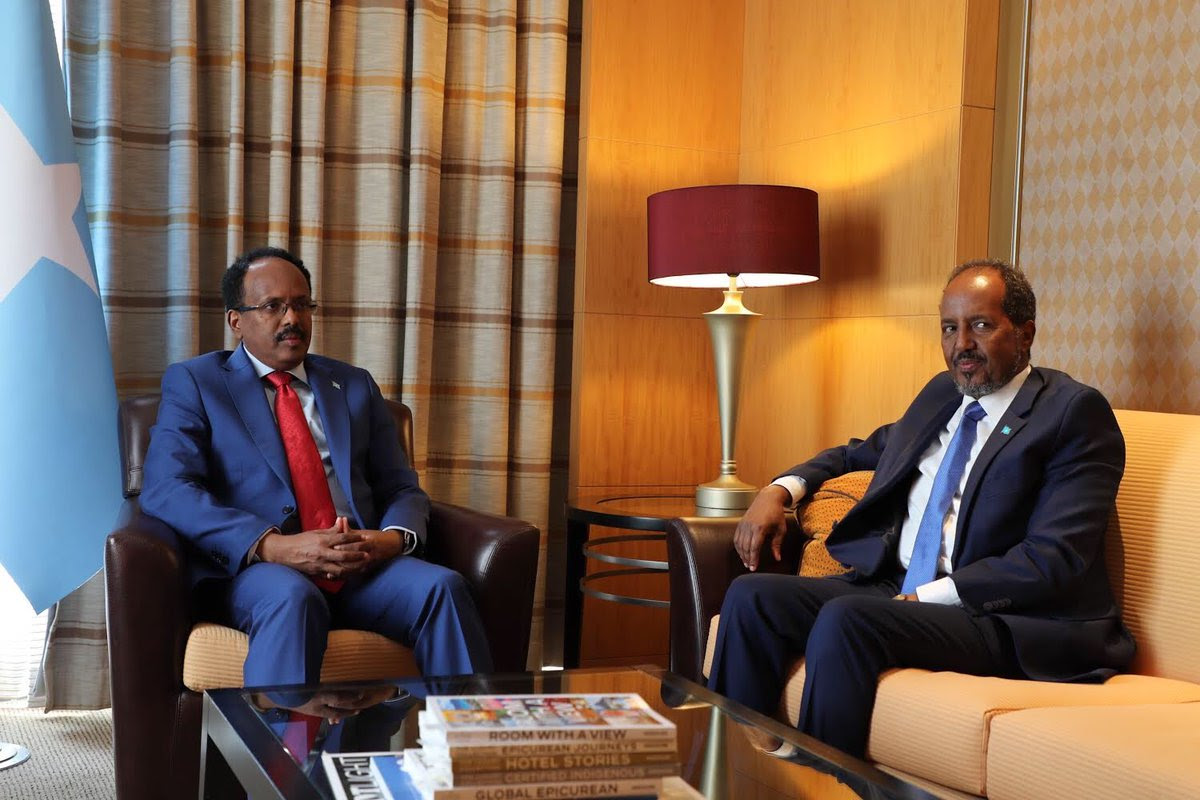 Somalia President, Mohamed Abdullahi Farmaajo during a meeting with former President Hassan Sheikh Mohamud in Ankara Turkey.
Photo: @M_Farmaajo