July 10, 2018 | Daily Monitoring Report
Somali Army Command Announces Fresh Offensive Against Al-Shabaab
10 July – Source: Shabelle Media – 123 Words
The Commander-in-Chief of Somali National Army (SNA), General Abdiweli Hussein Jama Gorod, has announced a new anti-Al-Shabaab push. During a meeting with military officers in the capital of Mogadishu, Gorod said they have readied an offensive aimed at flushing out Al-Shabaab from the remaining areas still under their control. The commander urged the young military officers to serve the nation honestly and take part in the war on Al-Shabaab.
General Gorod called on the SNA leading officials to prepare for a final push against Al-Shabaab which is expected to be unleashed in the coming weeks. Al-Shabaab has lost large ground to Somali and African Union (AU) forces. However, the militants still control swathes of territory in south and central regions of Somalia.
Key Headlines
Somali Army Command Announces Fresh Offensive Against Al-Shabaab (Shabelle Media)
Hirshabelle MPs Complain Over Insecure Mogadishu-Jowhar Road  (Goobjoog News)
Former Refugee Brothers Bring Carpentry Jobs To Baidoa (Radio Ergo)
AU And UN Reiterate Commitment To Help Somalia Tackle Conflict-related Sexual Violence (AMISOM)
Supporting Resilience Building Is Key To Reducing Humanitarian Needs In Somalia (Reliefweb)
NATIONAL MEDIA
Hirshabelle MPs Complain Over Insecure Mogadishu-Jowhar Road
10 July – Source: Goobjoog News – 147 Words
Farah Mohamed, one of the Members of Parliament from the Hirshabelle administration, has told Goobjoog News that insecurity along the Mogadishu-Jowhar road has affected Hirshabelle parliamentary sessions: "The MPs were, for instance, expected to start their sessions on Tuesday, but delayed to do owing to insecurity. They could not travel by road and we accordingly request for transportation by air."
Farah said attacks by Al-Shabaab are ordinarily carried out along the Mogadishu-Jowhar road and the Hirshabelle administration requires support from the national government in beefing up security along this stretch. According to the MP, the attacks staged by members of the militia group mainly target MPs and top officials of the Hirshabelle administration. Two months ago, Members of Hirshabelle Parliament, alongside their body guards and soldiers from the regional government, were killed on the road between Mogadishu and Jowhar following gunfire attack by Al-Shabaab  on their convoy.
---
Former Refugee Brothers Bring Carpentry Jobs To Baidoa
09 July – Source: Radio Ergo -311  Words
Two Somali brothers have applied carpentry skills they learnt while living as refugees in Yemen to establish a thriving business that is now creating employment in Baidoa. Tabit Ali Ahmed, 39, and Ishaq Mohamed Adan, 24, who spent more than a decade in Yemen, brought back to Somalia a unique style of making Arabian furniture that has become popular as wedding gifts, and in local houses and hotels.
Radio Ergo's local reporter visited the workshop they set up in Baidoa, where they have already trained 70 young people in carpentry skills. Ishaq said they returned to Mogadishu from Yemen in October 2016, and finally managed to persuade a businessman they knew to lend them $1,500 to buy equipment and rent a workshop. They came to Baidoa for a particular contract and saw the business potential and ended up staying. "The young trainees work with us for three months without pay, while we give them training on carpentry, carving wood, making chairs and tables," Tabit, the elder brother, explained.
They now employ 10 former trainees on salaries of $150 a month. Two of them are from a camp of the Internally Displaced Persons (IDPs) in Baidoa. Another eight trainees are preparing to take up other jobs. Ishaq, a father of four, and Tabit, a father of nine, seized the chance to learn carpentry as unpaid apprentices in the evenings whilst living as refugees in the southern port city of Aden.
Tabit was working days as a waiter at a restaurant earning $50, while Ishaq worked for the municipal authority cleaning roads. The business in Baidoa has taken off in the past year. Tabit has managed to enroll seven of his children in school, paying $70 school fees as well as house rent for $200. The brothers, who share one mother, have invested in generators and other equipment worth around $18,000.
INTERNATIONAL MEDIA
10 July – Source: AMISOM – 570 Words
The African Union Mission in Somalia (AMISOM) and the United Nations have reiterated their commitment to help develop capacity of the Somali national security forces to address all forms of human rights violations. The two organizations promised to continue mobilizing resources and providing specialized training to the Somali national security forces, during the transition period, to prepare the officers for the handover of security responsibility as per the UN Security Council resolution (2372) adopted last year.
The commitment was made, on Monday, at a joint AMISOM-UN trainer of trainers (TOT) workshop on the prevention of conflict-related sexual violence for the Somali national security forces (SNSF), which is being attended by participants from both federal and state governments.
Speaking during the opening ceremony of the four-day workshop, the Special Representative of the Chairperson of the African Union Commission (SRCC) for Somalia, Ambassador Francisco Madeira, described sexual violence as a weapon of war, reiterating the urgent need to build the capacity of the security forces, both at the federal and regional states level, to tackle the vice. "AMISOM is happy to support the Somali national security forces, the regional states and the Federal Government of Somalia to ensure the elimination of all forms of violence against women and children including conflict-related sexual violence," Ambassador Madeira noted.
AMISOM, the SRCC added, has taken concrete steps to end sexual and gender-based violence in Somalia by working to prevent its occurrence, facilitating response to incidents and advocating for the availability of resources to meet the needs of survivors. "The deployment of Women Protection and Child Protection officers to AMISOM is a significant step to ensuring that the security forces and the government of Somalia are supported accordingly," Ambassador Madeira said.
OPINION, ANALYSIS & CULTURE
"Opportunities now exist to implement longer-term investment strategies and to build-up the country's resilience to the recurrent shocks. Recent evidence shows that doing so improves efficiency and establishes a foundation for long term development programmes. More importantly, it allows people to fend for themselves with dignity."
10 July – Source: Reliefweb – 728 Words
There is a proverb attributed to the ancient Greeks that says, 'A society grows great when old men plant trees in whose shade they know they shall never sit.' Few such trees have been planted in Somalia in the past three decades leading to a population rated one of the most vulnerable in the world to severe climatic shocks and conflict.
Somalia is at a critical juncture, where it has made true progress on the political and governance fronts, but where these significant, yet fragile, gains have yet to translate into sustainable development – mainly due to a lack of strong governmental institutions since in 1991. Proof of the improved conditions came in 2017, when the collaborative efforts of aid agencies and authorities, aided by timely and historic levels of support from donors, staved off the threat of famine.
But the damage caused by recent flooding has attenuated communities' ability to recover from prolonged drought. In addition, protracted conflict that defines the protection crisis at the heart of the Somali experience continues to cause mass displacement and disrupt livelihoods across the country. Malnutrition and disease continue to stalk the population. Some 5.4 million people need assistance in 2018.
Meanwhile, the cost of delivering aid continues to spike. In 2017, $1.3 billion was provided to avert famine in Somalia. Another $1.5 billion is needed in 2018 for aid. Between 2010 and 2017, $7 billion was provided for aid – an average of $875 million per year. The vast majority of this funding saved lives but has not strengthened the resilience of disaster-prone communities, despite the idea having been a standing agenda item since 2012.
The initial interventions in 2012 were aimed at the family level, but the gains in governance and security already mentioned now open the door for more systemic resilience efforts. Unfortunately, growing donor interest in resilience has yet to be matched with the resources required to implement it. The Overseas Development Institute (ODI) estimates that, for every $100 spent on response in Somalia, only $0.08 go towards disaster risk reduction. Put simply, aid is funded to avert humanitarian catastrophes, but not to extricate people from the margins of vulnerability.
TOP TWEETS
@M_Farmaajo: It is an honour to be attending the inauguration of President @RT_Erdogan in #Ankara. Under H.E Erdogan's leadership, #Somalia & #Turkey have advanced bilateral relations. We're committed to build further on this. I wish President Erdogan & the great Turkish people success.
@UNIDOSomalia: Funding from @MOFA_Japan_en@JapanMissionVie being used to develop the technical skills of IDPs, returnees and host communities in #AfmadowDistrict to foster integration into the labor market, build the private sector and improve valuable community services. #durablesolutions
@RadioErgo: Former refugee brothers bring carpentry jobs to Baidoa, they have trained 70 young people from scratch in carpentry skills. #Somalia http://www.radioergo.org/2018/07/09/former-refugee-brothers-bring-carpentry-jobs-to-baidoa/?lang=en …
@ypeer_puntland: Tilmaame Youth Centre provides services all youth in Puntland that includes; Library Services, computer learning services and Clinic services such as Counseling on SRH, Prevention HIV/AIDs, Birth spacing, & VCT, as well as provision of information. With de support @UNFPA_SOMALIA
@RadioErgo: Radio Ergo's round up of local humanitarian news from #Somalia.
http://www.radioergo.org/?lang=en&newsletters_method=newsletter&id=472 …
@HodanTV: Nice to see positive events happening in#Mogadishu! Follow @SomaliSTEM as Africa Science Week comes to #Somalia to support growth in Science, Technology, Engineering and Mathematics. #SomSTEM2018#GrowthMindset
@ypeer_somalia: Young people in Kismayu come together in solidarity to demand for better representation of youth and women in governance. They were concerned about in the recent appointments in the cabinet where women and youth were not accorded enough slots. #YouthPower
IMAGE OF THE DAY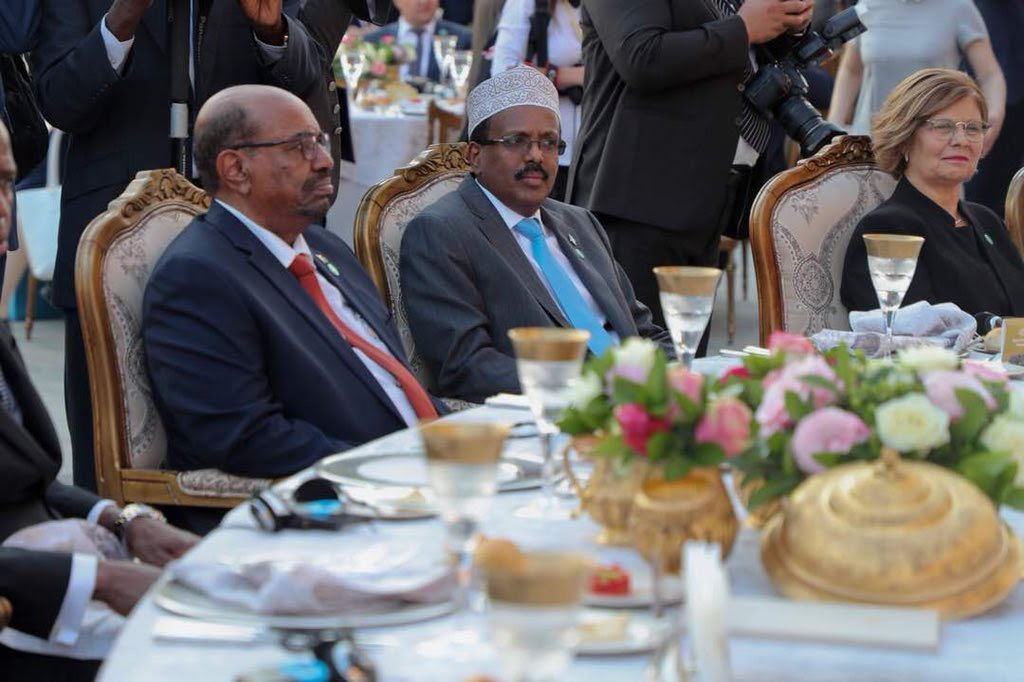 President Mohamed Abdullahi Farmaajo with other African leaders attend yesterday's inauguration of Turkish President Recep Tayyip Erdogan in Ankara.
Photo: @M_Farmaajo