January 24, 2018 | Daily Monitoring Report
President Farmaajo Wraps Up His Tour To Puntland And Galmudug
24 January – Source: Hiiraan Online – 124 Words
President Mohamed Abdullahi Mohamed 'Farmaajo' has concluded his two-week tour to Puntland and Galmudug with a historic visit to the coastal town of Hobyo in Mudug region. The president and his delegation jetted back to Mogadishu on Tuesday. His visit to Hobyo was the first by a Somali president in several decades. Before his arrival in Hobyo, he visited Adado for a second time to sort out the grievances of the Adado residents over the Galmudug and Ahlu Sunna Waljama'a agreement.
The president's tour kicked off with a visit to Garowe and other main cities in Puntland. Sources close to the presidency say that the president's tour was successful and peaceful. A press statement about the travel is reportedly being issued by the presidency.
Key Headlines
President Farmaajo Wraps Up His Tour To Puntland And Galmudug (Hiiraan Online – Somali)
Somaliland Calls For An End To Inter-Clan Fighting In Sanaag (Radio Shabelle)
IMF To Accelerate Somalia Debt Relief (Radio Dalsan)
Germany Contributes EUR 25.6 Million Towards Urban Resilience in Somalia (Worldbank.org)
Guards Repel Pirate Attack On Cement Carrier (Maritime)
Exclusive: Somalia Lures Defectors In New Push Against Insurgents (Reuters)
NATIONAL MEDIA
Somaliland Calls For An End To Inter-Clan Fighting In Sanaag
24 January – Source: Radio Shabelle – 215 Words
Somaliland administration has called an immediate end to the deadly inter-clan battle in Sanaag region, north of Somalia. Mr. Mohamed Kahin Ahmed, the Minister of Interior for Somaliland, urged the warring clans to halt the bloodshed, and solve their differences through dialogue. At least 17 people have been killed in inter-clan clashes, at Dararweyne village in El-Afweyne district of Sanaag region.
The fighting which is the latest in a series of clashes between rival clans, which began on Sunday morning reportedly lulled in the evening. A local resident in Airigavo town said, about 17 people from both sides were killed after rival clan militias engaged in deadly gun battle. He also pointed that fighting had displaced many people from their homes. "Fierce fighting erupted between neighboring clans. Though there is no confirmed number of deaths from both sides early reports put the death toll between sixteen and seventeen," Darwish told reports.
According to the journalist, forces including police and military had been deployed to the area to intervene the fighting on both sides. There is no comment yet from the local authorities and elders in the region. The region has experienced clan clashes that claimed many lives. Arguments over land use, borehole and pasture have contributed to fighting among Somali community who are largely pastoralists.
---
IMF To Accelerate Somalia Debt Relief
23 January – Source: Radio Dalsan – 204 Words
International Monetary Fund, President Ms. Christine Lagarde has pledged to push for speedy relief for debt on Somalia. Ms. Lagarde met with Somalia Prime Minister Hassan Khaire on Tuesday in Davos, on the sidelines of the World Economic Forum. "I had a very constructive meeting with Somali PM Hassan Ali Khaire in Davos today" Lagarde tweeted after the meeting. "Somalia's debt relief is a priority for the IMF and, every effort is being made to accelerate the process within established procedures" the IMF Chief said. "We exchanged views on the way forward for our country's endeavor to get a debt relief" PM Khaire later tweeted. "Was pleased with the positive and encouraging atmosphere of my meeting with the IMF Chief  and her support for Somalia's need for an accelerated process within the IMF standards" PM Khaire later tweeted.
He termed the meeting "very fruitful".  Somalia economy has been on the rise according to IMF with its growth  projected to increase from 1.8% to 2.5% in 2018. However the Horn of Africa is struggling with the heavy burden of external debt approximated to be at  $5.2 billion. Somalia has not serviced its debt since the civil war broke in 26 years ago.
INTERNATIONAL MEDIA
23 January – Source: World Bank – 409 Words
The German Government announced its commitment of EUR 23.4 million to support infrastructure work in Somalia.  Channeled through the World Bank's Multi Partner Fund (MPF), the contribution will strengthen municipal planning and implementation capacity to improve access to basic infrastructure. "Germany joins the MPF at a critical and exciting juncture," said Marius Rauh, Head of Development Cooperation: "Investments in infrastructure through municipalities will not only contribute to generating growth in urban areas, and improving the living conditions for Somali citizens, but will also support local governments in planning and managing more resilient cities." In addition, an amount of Euro 1.2 was committed to support necessary preparatory studies.
The MPF has been investing in urban infrastructure through the Somali Urban Investment Planning Project and through the Somalia Financing Facility for Local Development. The German contribution will allow for an expansion in the support to urban development through the MPF. The contribution from the German Government recognizes the key role of government in the development and implementation of the urban agenda in Somalia, in line with the MPF's approach to using country systems and putting the government in the lead in the country's development.
"The World Bank's role in Somalia is about working with and through government and building the capacity of the authorities to spearhead reform and development," said Hugh Riddell, World Bank Country Representative for Somalia. "Germany's contribution to the MPF will allow us to build on the initial work in urban resilience and to expand this agenda across the country." "The Federal Government appreciates Germany's commitment to use government systems and channel funds through the MPF. We cannot underestimate the importance of government leadership in rebuilding the country," said Abdirahman Beileh, Minister of Finance for the Federal Government. "We also welcome the important contributions that Germany will bring to the agenda, given their role in co-chairing the Infrastructure Working Group."
The Multi Partner Fund works predominantly through Somali authorities and includes institution-building, economic growth and urban development activities. MPF is supported by the European Union (EU), United Kingdom's Department for International Development (DfID), the German Federal Ministry for Economic Cooperation and Development (BMZ), the Swedish International Development Cooperation (SIDA), the Royal Norwegian Embassy, Danish International Development Agency (DANIDA), the Swiss Agency for Development Cooperation (SDC), the Ministry of Foreign Affairs of Finland, United States Agency for International Development (USAID), Italy's Ministry of Foreign Affairs and International Cooperation, and the World Bank's State- and Peacebuilding Fund (SPF).
---
23 January – Source: Maritime – 353 Words
On Sunday, embarked maritime security contractors aboard a bulker repelled a pirate attack in the high-risk area off Somalia.  According to maritime security firm LSS-SAPU, the cement carrier NACC Valbella was transiting 90 nm south of Mukallah, Yemen when it was approached by a pirate mother ship. The LSS security unit on board the Valbella lit warning flares, in keeping with their rules of engagement, then fired warning shots. The attacking vessel opened fire, and the guards fired another volley of warning shots. The pirates then abandoned their attack and veered away. The Valbella did not suffer material damage and no injuries were reported.
On Friday, Indian authorities deported 41 Somali pirates who were arrested in Indian waters in 2011. The Somali government arranged a charter flight to bring them back to their homeland.  The convicted pirates were among a group of 120 Somalis arrested during the peak of the East Africa piracy epidemic. Most of them were captured by the Indian Navy and Coast Guard off the Lakshadweep Islands, over 1,000 nm to the east of Somali waters. In a series of actions from January to March 2011, Indian units deterred ongoing attacks on the region's merchant shipping, capturing scores of pirates and freeing more than 50 hostages aboard pirate mother ships.
These pirates were taken to the Indian mainland and imprisoned pending trial. Three died in jail, and last year, the remaining 117 suspects were sentenced to time served followed by deportation. All are scheduled to be sent back to Somalia by the end of next month. "Another 76 will be released in two batches on February 15 and 23 and will be sent back to their home country," said lawyer Vishwajeet Singh, their appointed representative, speaking to the Mumbai Mirror.  "The offenders have been given a lesson that in India there is rule of law and that the offenders are brought to justice," special public prosecutor Ranjeet Sangle told the Times of India at the time of the sentencing. "From 2011, since the pirate were arrested, the entire piracy operation in the western waters of India has come down."
OPINION, ANALYSIS & CULTURE
"Somalia has no law granting amnesty for defections, but there is a cabinet-level policy that all regional states accept.  Many defectors are working alongside the government they once fought. Hersi is deputy head of intelligence at the National Intelligence and Security Agency. Atom was relocated to Qatar. Robow, his militia intact, is exhorting Somalis to fight al Shabaab".
24 January – Source: Reuters – 1284 Words
As an undercover operative for Somalia's al Shabaab militia, Nasteh spied on the insurgent group's senior commanders to ensure their loyalty and planned bombings and assassinations in government-controlled territory. But late last year, the government officials he once hunted became his handlers after the 26-year-old joined a slowly growing stream of defectors to the U.N.-backed Somali administration.  A Western-backed push by Somali officials to encourage al Shabaab defections has lured commanders, the former head of intelligence and a major regional warlord, security officials and defectors told Reuters, offering a rare window into secretive efforts to undermine the al Qaeda-linked insurgency from within.
Senior defectors provide operational intelligence – such as how al Shabaab makes armored vehicle bombs – and insights into its leadership. Most importantly, the government says, those defectors sow suspicion among al Shabaab's leaders and encourage further defections by contacting former comrades.  The message: defectors are welcomed, not punished. One former commander relocated abroad with his family; another now holds a senior position in the security services. Many have simply returned home, Somali officials say.  Others, like Nasteh, are becoming intelligence assets after saying they are disillusioned with the Islamist insurgency, accusing it of un-Islamic practices.  "They were killing clerics," he told Reuters during an interview via video link from a safe house, naming three Islamic scholars he said were killed by the movement. "They were killing without consultation, it was just the guys at the top deciding."
The amnesty has angered some Somalis, who say those who commit crimes should be punished. Critics say the government has failed to penetrate the insurgency's core – the top three defectors had all fallen out of favor with Shabaab's inner circle.  The stakes are high: al Shabaab, which wants to overthrow the Somali government and impose Islamic law, has killed hundreds of civilians across East Africa and thousands of Somalis in a decade-long insurgency.  The full effect of the defections is unclear, although al Shabaab was needled into denouncing one former top commander, Mukhtar Robow Abu Mansur, as an apostate after he publicly urged his clansmen to fight the insurgency. Robow joined the government in August.
Government officials say only negotiation can end Somalia's 26-year-old civil war – especially given the ragged state of the military.  "Those [defectors] who have been rehabilitated can be ambassadors back to their communities," said Abdirahman Osman, a former minister of information who is now Mogadishu's mayor. "We know military pressure helps, but it is not the end game."  Defections start with a phone call – from an al Shabaab fighter to his soldier cousin, or a former student to his teacher. Somalia's clan relationships mean everyone knows someone on the other side.  "Their only request usually is not to go to jail. Most don't need to be resettled or sent anywhere," said one Somali who helped bring over defectors and asked not to be named.
The Shabaab member is passed to someone working with the government – often known to them personally – and told he'll be welcomed if he rejects the insurgency, renounces violence, and accepts the Somali government. Clan elders act as guarantors.  The defector then plans his escape, which can take months. Al Shabaab has tried to prevent defections by requiring senior members to get travel passes, two defectors told Reuters, forcing some to take circuitous routes through the bush.  "I didn't tell my wife … I didn't eat. I barely slept. I left all my books, threw away all my SIM cards that they knew," said a former district level head of education, describing his week-long escape by motorbike.
Deserting is irrevocable, Somali officials say, because Shabaab jails or executes defectors. So far, they say, none of the 45 mid- and high-level defectors have reneged on their agreement. Twenty-two of those came across since January 2017. Al Shabaab told Reuters the defections were exaggerated and more than 50 soldiers – including senior commanders – had surrendered to the insurgency in the past three months.  "The apostate Somali regime often resorts to fabricated reports in a desperate attempt manipulate public opinion and hide its mounting security failures in the capital and the endemic corruption hampering all its institutions," said Sheikh Abdiasis Abu Musab, the insurgency's military operations spokesman. "As for the so-called deserters, most of them were already working as spies for the apostate regime. Once their cover was blown, they fled (al Shabaab) territories for fear of being executed … Others were successfully apprehended before they could flee and were put to trial."
TOP TWEETS
@HarunMaruf: Somalia lures defectors in new push against insurgents: @Reuters
@SomaliPM:I had an interesting friendly chat with H.E. Cyril M. Ramaphosa, Deputy President of South Africa, and Mr. Tony Blair, UK former Prime Minister.
#WEF18  #Somalia #Davos
@SomaliPM: At #Davos had a pleasant meeting with the Qatar DPM, Sheikh Mohammad Bin Abdulrahman Al Thani,  where we discussed current issues and enhancing our bilateral relation.
#WEF18#Somalia
@M_Farmaajo: The fresh breeze of the beautiful beach at Hobyo, another reminder that our country is rich with enormous resources. It's why we must work hard, unite and strive to make good use of our untapped wealth. I laid the foundation stone of the Hobyo port. #NabadIyoNolol
@DalsanFM: President @M_Farmaajo officially commissioned the construction of a modern port in the coastal town of Hobyo.#Mudug #Galmudug
@SomaliPM: At #Davos had a pleasant meeting with the Qatar DPM, Sheikh Mohammad Bin Abdulrahman Al Thani,  where we discussed current issues and enhancing our bilateral relation.#WEF18 #Somalia
@DalsanFM: IMF To Accelerate Somalia Debt Relief   –http://radiodalsan.com/en/imf-to-accelerate-somalia-debt-relief/ …
@Lagarde: I had a very constructive meeting with Somali PM Hassan Ali Khayre in Davos today. Somalia's debt relief is a priority for the IMF and every effort is being made to accelerate the process within established procedures.
IMAGE OF THE DAY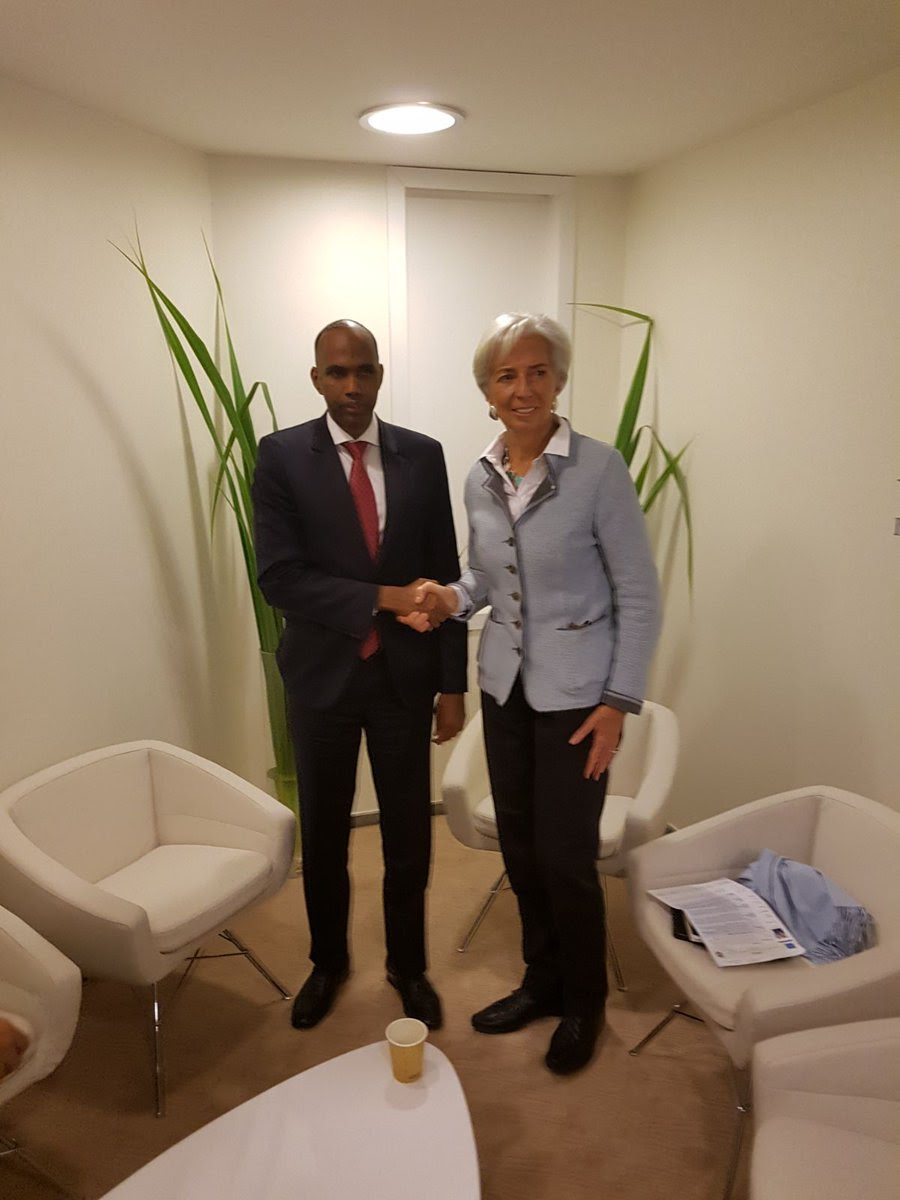 Prime Minister Hassan Ali Khaire with President of International Monetary Fund, Christine Legarde, during sidelines meeting at the World Economic Forum in Davos, Switzerland.
Photo: @SomaliPM