January 11, 2018 | Daily Monitoring Report
Farmaajo Heads To Bosaso On Day 5 Of Puntland Tour
11 January – Source: Radio Dalsan – 183 Words
Somali President Mohamed Abdullahi Mohamed Farmaajo with his host regional President Abdiweli Gaas on Thursday  made a colourful procession of a motorcade on their  way to the port city of Bosaso on day five of his official tour of the northeastern state of  Puntland. The presidential motorcade was flanked by horsemen as he left Qardho, the seat of the region's Sultan, on his way to Armo where he made a stopover at one of Somalia's biggest police training academies.
As the motorcade snaked through the mountainous landscape of the region, hundreds of residents came out to greet the President with songs of praises and waving green leaves symbolizing peace. "We are highly welcoming our President Mohamed Farmajo. We were waiting for him and we are happy with his arrival. We stand by him. He is a hero" said Nasri Yussuf. The President accompanied by a delegation of Federal Ministers and MPs addressed residents at several stopovers. In a region that has recently been dealing with an insurgency from both Al-Shabaab and Pro Islamic State elements, security has been beefed up in Bosaso ahead of Farmaajo's arrival.
Key Headlines
Farmaajo Heads To Bosaso On Day 5 Of Puntland Tour (Radio Dalsan)
Somaliland jails 3 Youths Over An Attack On A Japanese Photographer (Goobjoog News)|
Former Puntland Leader Appeals For Peace  (Radio Dalsan)
Somalia Launches Digital Counter-Extremism Center (VOA News)
Somaliland's New President Has Work To Do (Daily Maverick)
NATIONAL MEDIA
Somaliland jails 3 Youths Over An Attack On A Japanese Photographer
11 January – Source: Goobjoog News – 129 Words
A court in Hargeisa, the capital of the self breakaway region of Somaliland yesterday sentenced 3 youth to two years and nine months in jail for robbing a Japanese photographer in the town. On the 24th December 2017, Kazawa Taichi, a Japanese Photographer was robbed of an amount totaling US$ 5,000 his passport, camera lens and a hard disk.
Disguised as clients, the three teenagers had initially asked for a picture of two of them when they met him but the third one went behind his back and took out the alleged amount and other items from a bag strapped on the victim's shoulder and ran away with them. Somaliland police spokesperson captain Faisal Haji Mohammed said the youths had bought a luxury car with the stolen money.
---
Former Puntland Leader Appeals For Peace
11 January – Source: Radio Dalsan- 107 Words
Former Puntland President and current Senator, Abdirahman Mohamed Faroole held a press conference in Garowe commenting on  the recent conflict  in Tukaraq. Faroole commented on the  Puntland President statement regarding Tukaraq fight saying it's retrogressive step to call a new fight for the brotherly people, pointing that those remarks can stimulate conflict in the region.
He added that the fight does not have any connections with the ongoing presidential visit in the region.  On the other hand, he called the new Somaliland President  Muse Bihi to focus on peace and to address any conflict amicably. In his statement the former Puntland president appealed for peace between the people of Puntland and Somaliland.
INTERNATIONAL MEDIA
10 January – Source: Voice of America – 282 Words
Somalia's government has launched a digital counter-extremism center that aims to dissuade young Somalis from supporting militant groups such as Al-Shabaab and Islamic State. The Somali Ministry of Information says the center will carry out campaigns on Facebook, YouTube, Twitter, and state-run media designed to promote stability in the Horn of Africa nation, which has seen little peace during the past 30 years. "The center plans to raise public awareness campaign on countering violent extremism, security and peace building, good governance, civic education, and implementing programs that can provide confidence to the people by discrediting terrorists' narratives of violence and destruction," said Information Minister Abdirahman Omar Osman.
During the opening ceremony Wednesday, Osman said the center will specifically target Al-Shabaab "by exposing their brutality, and hence weakening its following and public support." The Al-Qaida-linked militant group has carried out dozens of suicide attacks in Somalia during the past decade, including one in October that killed more than 500 people.
"This will be an opportunity to contribute to the overall peace and stability in Somalia," Abdurahman Yusuf, the director general of Somalia's Ministry of Information told VOA. "We will provide accurate and useful information to young people, which in turn helps them to understand the benefits of democratic institutions in Somalia.
OPINION, ANALYSIS & CULTURE
"Despite a peaceful and democratic poll, voting occurred largely along clan lines, perpetuating the politicisation of the clan, rather than serving as a chance to move away from it. The unbroken alliance between the Isaaq sub-clans Habar Awal and Habar Jeclo ensured victory for Kulmiye. This brought together two of Somaliland's largest clans in a repeat to how former president Ahmed Mohamed Mohamoud (Silanyo) won in 2010."
10 January – Source: Daily Maverick – 966 Words
With the inauguration of Muse Bihi Abdi on 13 December 2017, Somaliland's oft-delayed presidential election process officially ended. The Kulmiye party retained power, but the president changed for the third time in 14 years – impressive for an unrecognised nation, all the more so considering the neighbourhood it's in.
Besides the change in power, the electoral process itself was conducted in a credible manner. Somaliland's National Electoral Commission (NEC) was lauded by all three political parties for undertaking a successful voter registration process, including using an iris-scanner system, a first for Africa.
The campaign period even included a presidential debate, another first for Somaliland, while media coverage was generally considered fairer than in previous contests. Both domestic observers from the Somaliland Non-State Actors Forum (SONSAF) and the International Election Observation Mission, comprising 60 observers from 27 countries, said election day passed without significant irregularities.
But the elections also highlighted key tensions in Somaliland that need to be addressed between electoral cycles, as noted in a recent Institute for Security Studies (ISS) report. For example, relations between Bihi and his main challenger from the Waddani party, Abdirahman Mohamed Abdullahi (Irro), grew heated and personal in the campaign's second week. And days after the 13 November poll, Waddani claimed to have evidence of fraud, and suspended cooperation with the NEC. This spurred protests by Waddani supporters in Hargeisa, Burao and Erigavo, leading to at least three deaths.
As usual though, Somaliland was able to weather the storms – another sign of maturing democratic processes. The candidates drew a sharp rebuke from traditional and religious leaders following the personal attacks on their opponents, demonstrating that such rhetoric has little place within Somaliland society. Waddani also resumed its cooperation with the NEC after it agreed to undertake measures to disprove the allegations, quelling further violent outbursts. Although Irro again distanced himself from the official results just hours before the NEC announced them, he later switched course. This successfully ended a process that had been hanging over Somaliland since the first presidential electoral delays were announced in early 2015.
Nevertheless, while Waddani's acceptance demonstrates a larger theme in Somaliland politics – that of subordinating personal ambitions for the greater good in the hope that a solid democratic record can eventually lead to international recognition – the manner of it raised additional concerns. Irro said he accepted the results to safeguard Somaliland unity, but still considered them to be concocted.
TOP TWEETS
@Goobjoognews: Al-shabaab fighters last night attacked government military position in Bardeere, Gedo region, Jubbaland state. Casualties: 4 dead from the warring sides.
@DalsanFM: Farmaajo Heads To Bossasso On Day 5 of Puntland Tour – http://radiodalsan.com/en/farmaajo-heads-to-bossasso-on-day-5-of-puntland-tour/ …
@Goobjoognews: #Wadajir Party announced today to file a case in the courts against the perpetrators of the 18th December 2017 attack on their headquarters in #Mogadishu .
@Goobjoognews: Senator Abdirahma @AFarole appeals for cessation of hostilities between Puntland and Somaliland: "I am dismayed by the attack on Tukaraq by Somaliland forces. I appeal for peace between the people of Puntland and Somaliland."
@engyarisow: #Somalia has launched a digital counter-extremism center to dissuade young Somalis from supporting militant…
@HarunMaruf: A rare appearance by Hussein Ali Fidow, one of Al-Shabab's top leaders, and head of policy and regions (equivalent to interior minister). He met with clan elders in Adan Yabaal district of Middle Shabelle region, Monday Jan 8, 2018.
@adancabdulle: #PT What NISA desperately needs is a democratic legislative framework that insulates it from political interference and not more funding without accountability.
@HarunMaruf: Qardho must be a candidate for the 'most welcoming town' in Somalia! Not just based on this visit by@M_Farmaajo but I've seen it welcome other dignitaries in the past! (Feel free to disagree or share your thoughts on other welcoming towns and places)
IMAGE OF THE DAY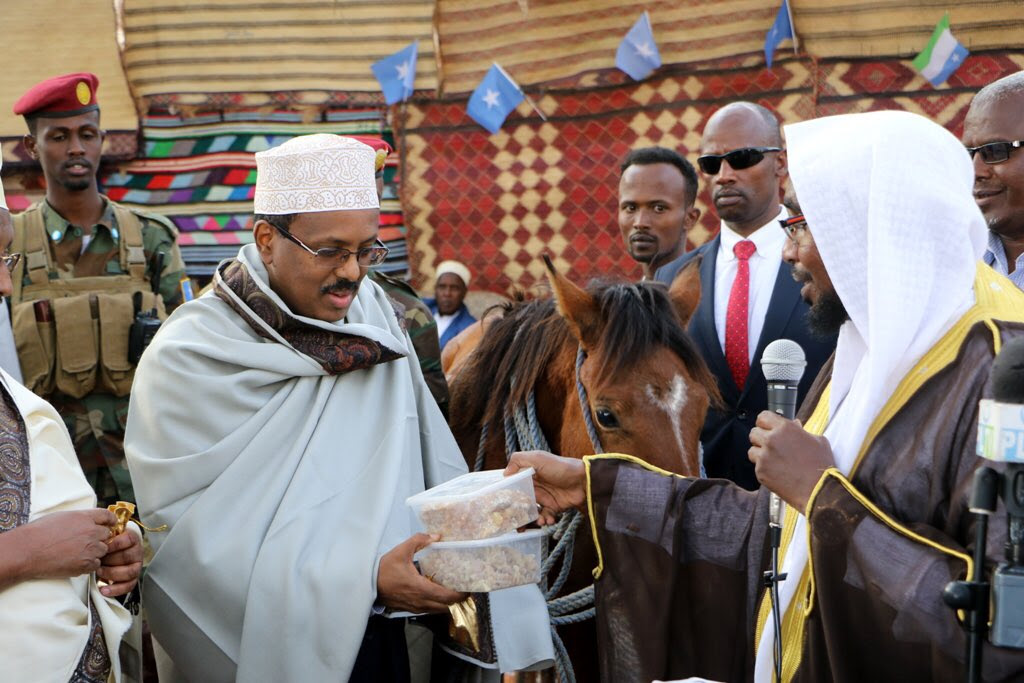 President, Mohamed Abdullahi Farmaajo receives gifts from King, Burhan Muse of the Darood Sultanate in Somalia.
Photo: @TheVillaSomalia