February 9, 2018 | Daily Monitoring Report.
President Farmaajo Speaks Out For The First Time About The Extradition Of ONLF Official Qalbi-dhagah
09 February – Source: BBC Somali – 195 Words
President Mohamed Abdullahi Mohamed Farmaajo has for the first time in months spoken out about the extradition of the senior Ogaden National Liberation Front (ONLF) official, Abdikarin Sheikh Muse Qalbi-dhagah, who was extradited to Ethiopia.
In an interview with BBC Somali about his government's achievements during its first anniversary, President Farmaajo said he believes the parliament's decision about the extradition of Qalbi-dhagah is final. The federal parliament termed the extradition of Qalbi-dhagah as 'illegal' and accused the National Intelligence Agency of carrying out the extradition without informing the country's parliament and as well giving incorrect information to the top government leaders.
The Qalbi-dhagah saga has once again attracted media attention this week following interviews given to the local media by former NISA boss Abdullahi Mohamed Sanbalolshe. Sanbaloloshe insisted that the extradition of the ONLF official was carried out for the interest of the national security. It is the president's first remark about the extradition of the ONLF official despite facing public pressure to comment on the incident. Prime Minister Khayre's cabinet had earlier supported the extradition saying that the renditioned official was a terrorist and his continued presence in Somalia was a threat to security.
Key Headlines
President Farmaajo Speaks Out For The First Time About The Extradition Of ONLF Official Qalbi-dhagah (BBC – Somali)
President Waare Met With Federal MPs From HirShabelle In Mogadishu (Radio Muqdisho)
Bari Security Commission Suspends Regional Police Chief (Garowe Online)
Two Somalia Soldiers Killed In Roadside Blast (Xinhuanet)
The Problem Of The Gated Communities In Today's Somalia (Architecture of Somalia)
A Year Of Challenges And Future Of Opportunities For President Farmaajo (Umadda Media)
NATIONAL MEDIA
President Waare Met With Federal MPs From HirShabelle In Mogadishu
09 February – Source: Radio Muqdisho – 176 Words
HirShabelle regional state president Dr Mohamed Abdi Waare have met with federal MPs from both houses who hail from HirShabelle. The president and the lawmakers discussed on many issues pertaining to the country and the region, and how to prioritize the development of HirShabelle state and noted the need to cooperate.
During the meeting, they also addressed the security and social issues in the Hirshabelle region, and MPs elected from Hirshabelle to unite for development of the regional government and to work with the current administration. President Waare, speaking to the lawmakers, discussed achievements and the challenges during his term in office, the plans of his administration in the coming months and how the MPs can participate.
Some of the MPs shared with the president their recent trip to some district in Hiiraan and noted the importance to work together. The president of HirShabelle is currently in Mogadishu taking part of the National Security Council meeting and has held similar meetings with other officials from the international community where they discussed how to develop HirShabelle.
---
Bari Security Commission Suspends Regional Police Chief
09 February – Source: Garowe Online – 293 Words
Following the recent terrorist attacks in the commercial city of Bosaso, the security commission of Bari region has suspended Bari's Police Commissioner on Thursday and accused him of incompetence and abuse of authority.
The commission comprises of Minister of Ports, Puntland President's advisor Mr. Abdijamal, Osman, the Commander of Custodial Corps, the Commander of Central Prison, Mayor of Bosaso and Governor of Bari have jointly issued a statement to suspend the Police Commissioner Mr. Abdihakim Hussein Yusuf till an investigation is carried out over the recent attack against the Police station and the twin-bombings in Bosaso town on Friday.
The commission also accused Mr. Hussein of not cooperating with the regional security officials in the last six months, also misusing government vehicles and weapons for his own personal use. In many occasions, Somalia's international partners donate vehicles to be used for the public services.
Mr. Yusuf hails is close to Puntland President Abdiweli Mohamed Ali Gas, and it is said he enjoys the support of Puntland President despite mounting pressure from Bari politicians and officials to replace him over incompetence. A close source revealed that Mr. Yusuf has spoken to associates about the move and said that officials and Bari's security committee can't suspend him.
This comes as the security situation in Bosaso has worsened lately amid weak security policy and incompetence from the Police commissioner of Bari region. Puntland President is accused of being responsible for the deteriorating security apparatus of Puntland region, as he appointed them  to high-ranking positions within the security agencies. However, Puntland President and his Vice President were reported to have both refused the suspension of the Police Commissioner of Bari region and said it will appoint a committee that will oversee the complaints filed against the official.
INTERNATIONAL MEDIA
08 February – Source: Xinhuanet – 136 Words
At least two Somali soldiers were killed and several wounded in a roadside explosion near the town of Afgoye, about 30km south of Mogadishu, officials confirmed on Thursday. A police officer said the Wednesday night roadside blast ripped through a security checkpoint near Aden Seraar farm close to Afgoye town.
"Two soldiers were killed in the roadside explosion near Afgoye town on Wednesday night. Investigation is underway and we have launched a manhunt for the perpetrators of this heinous act," said the officer who declined to be named.
Al-Qaida allied group Al-Shabaab claimed responsibility for the latest attack, saying its militants killed five soldiers and injured four others. The police officer said no arrest has been made so far amid increased attacks by the insurgents targeting government institutions and African Union Mission in Somalia (AMISOM) bases.
---
08 February – Source: Architecture of Somalia – 967 Words
We all know how Somalia is gradually emerging from a long and complex period that has characterized the history of this beautiful nation for more than 20 years. Today's Somalia is in a transitory period of its history, between an elusive past and a fuzzy future, pursuing a long-dreamed development but often difficult to achieve. And it is from here that I would like to start this short post.
The development of a nation is characterized by various factors, above all political and economic, which in some way dictate the rules and directions to be followed for progressive growth. Among the various means that lead to the development of a nation there is certainly the building sector that in particular when we are talking about an area emerging from a conflict like Somalia it is (or better to say it should be) one of the main drivers of development, because as we can all understand the reconstruction offers many different job opportunities that help to move the economy of the country.
Now, it is absolutely not my interest and I do not even have the skills to delve into issues such as politics and economics in Somalia, but what I want to focus on is the unregulated development, without directives and often lacking in aesthetics that is characterizing the building and " the architecture "of what was once an extremely beautiful country with beautiful cities like Merca, Eyl, Mogadishu and so on.
OPINION, ANALYSIS & CULTURE
"In addition, the National Security Architecture has been agreed but not yet operationalised due to issues of financing and capacity on the part of the Somali Government. This must be addressed quickly if the Somali Government is to benefit fully from the last remaining sums of European Union support towards its security in the coming years."
09 February – Source: Umadda Media  – 1264 Words
The 8th of February 2017 is a special day for President Mohamed Abdullahi Mohamed Farmaajo. This is the day he was elected ahead of the well- financed incumbent Hassan Sheikh Mohamud in a very late tight election held in an airport hangar in 2017. A year later, the President still appears energetic and determined to achieve his agenda of Nabad and Nolol. Moreover, he remains committed to surprising his opposition and critics with future policy successes.
However, his first year in office has been far from the smooth ride he expected given his popular mandate. Indeed, 2017 has been an incredible year of highs and lows for this new administration. In his first speech, President Farmaajo pledged that his Government was going to improve security, increase opportunities, promote good governance and deliver public services.
These are the key pillars of the Nabad and Nolol agenda that the President and his Government seek to advance. However, a year on, what has been achieved within this noble list of endeavours, what remains to be resolved and how will the Government overcome the obstacles in its way?  The Government of President Farmaajo must be recognised for its efforts in reforming the finances of the country.
In this one-year period, the Federal Ministry of Finance managed to raise more domestic revenue, pass the IMF Staff Monitored Program and pay the civil service wages and allowances in full for the first time since the civil war. The message of raising domestic revenue and self-reliance appears to be communicated well followed by the implementation of the 5% sales tax which started this week.
In addition, the Fiscal Federalism discussions led by Minister Beileh seem to be taking shape and producing results like the harmonisation of taxes on Khat and cigarettes. The Constitutional review process is ongoing and there appears to be momentum to complete it and hold free and fair elections in 2020. The Political Party laws have been passed and many political organisations are registering to participate in the upcoming elections. On the military front, for the first time, the Somali National Army is registering soldiers for biometric payment and the new National Security Adviser is determined to implement the National Security Architecture. The Somali Government appears more serious than ever in its commitment to see through the security reforms required to allow for an orderly and successful AMISOM transition.
TOP TWEETS
@DalsanFM: IGAD Pivot To Somalia's Gained Stability, EX FM Omer Says – http://radiodalsan.com/en/igad-pivot-to-somalias-gained-stability-ex-fm-omer-says/ …
@MOALIMUU: Saabir Abdikadir Warsame a journalist who works with London based Somalicable Tv is detained by regional authority in #Kismayo Jubbaland state on Thursday.Reason is not yet known.This is not the first time that Saabir is arrested in Kismayo.NUSOJ worries ongoing arbitrary arrests
@HarunMaruf: Well-known Somali video journalist Sabir Abdulkadir Warsame who was detained yesterday by Jubbaland regional forces has spent overnight in jail. Sources say he was interviewing ordinary people about their reflection on@M_Farmaajo's 1st anniversary as president when arrested.
@iugasi: The February 8, 2017 Story: Achievements and Milestones | Jowhar Somali News Leader @JamaKadija@xertadhexe @HoshAbdi #Somalia @TheVillaSomalia@M_Farmaajo @USAfricaCommand @US2SOMALIA https://www.jowhar.com/news-english/the-february-8-2017-story-achievements-and-milestones.html5 …
@DrBeileh: It has been a fruitful year of action for @mofsomalia. We are proud to be contributing to the progress & development of our country led by @TheVillaSomalia @SomaliPMPlz watch:
@TC_Mogadishu: #Turkey–#Africa Second Ministerial Review Conference will be held on
11-12 February 2018 in #Istanbul   #TurkeyAfricaPartnership@_AfricanUnion
@Baher_Kamal: Mapping the Devastation of Somalia's Droughthttp://human-wrongs-watch.net/2018/02/09/mapping-the-devastation-of-somalias-drought/ …
IMAGE OF THE DAY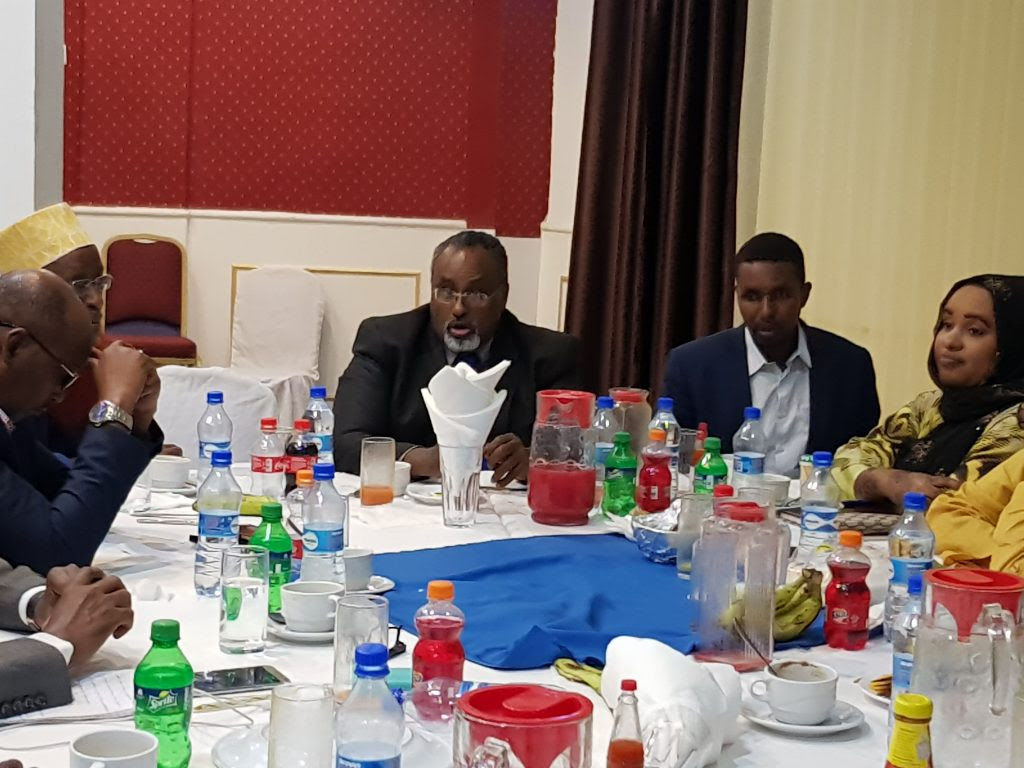 HirShabelle regional state president Dr. Mohamed Abdi Waare meeting with federal lawmakers in Mogadishu.
Photo: @DalsanFM