February 6, 2018 | Daily Monitoring Report
06 February – Source: BBC.com (Africa) – 183 Words
A military court in Somalia has sentenced a man to death for his involvement in the country's deadliest-ever bombing last October. At least 500 people died when a truck bomb exploded in the capital Mogadishu.
Although no group claimed to have carried out the attack, the government believes al-Shabab jihadi militants were behind it. It's rare for such attacks to lead to convictions in Somalia.  The 23-year-old man at the heart of the trial has been accused of being a member of al-Shabab, specifically in charge of a unit that carried out bomb attacks.
Another suspect, who is believed to be on the run, was sentenced in absentia to life in prison, while a third man was also found guilty and will serve three years.  Two other suspects initially named were freed for a lack of evidence against them.
The bombing prompted outrage from the Somali public at al-Shabab for its perceived role in the attack, and at the government for failing to prevent it. This pressure is being seen to be paying off following the progress in the trial of the suspects.
Key Headlines
Somalia Sentences Man To Death Over 'Deadliest Bombing' (BBC.com)
Former Buloburde Mayor Shot Dead In Beled Weyne (Hiiraan Online)
Deputy Minister Of Ports And Chinese Officials Arrive Hobyo (Halbeeg News)
Commercial Ship Runs Aground In Bosasso (Hiiraan Online)
Police Deny IS Presence Near Mogadishu (Voice of America)
The Plight Of Somalia's Youth (Hiiraan Online)
NATIONAL MEDIA
Former Buloburde Mayor Shot Dead In Beled Weyne
05 February – Source: Hiiraan Online – 144 Words
Unidentified gunmen have killed the former mayor of Buloburde, a town in the central of Hiiraan region of Somalia, 220 Km north of the capital Mogadishu on Monday evening. Mr. Abdi Idow Sabriye was shot dead near his home in Beled Weyne after two armed men approached him as he walked out the mosque in the Hawa Tako neighbourhood, according to witnesses who spoke to reporters
Mr. Sabriye was the former mayor of Buloburde during President Abdullahi Yusuf government. No group has immediately claimed the responsibility for the murder. His murder highlights the challenges and security threats facing former government officials who are now primary target by Al-Shabaab group. Beledweyne, an agricultural strategic town that straddles between central Somalia and the neighboring Ethiopia has seen a relative stability since the AMISOM forces together with the Somali National Army forced militants out of the town.
---
Deputy Minister Of Ports And Chinese Officials Arrive Hobyo
05 February – Source: Halbeeg News – 193 Words
Somali deputy Minister for Ports, Osman Mohamed Abdi leading delegates from a Chinese company and other government officials on Monday, visited the ancient coastal town of Hobyo in Mudug region. The minister and delegates were welcomed by the town officials, by elders and civil society from all walks.
Minister Osman visited and Chinese officials the construction site for major expansion project that is currently underway at the port of Hobyo town. The delegates later held talks with the port officials and local administration over the progress and the construction of the port.
The chairman of the Joint Constitutional Review Committee of the parliament, Mr. Abdi Hassan Qaybdiid and other MPs accompanied the minister during the visit to the port. The foundation stone for the construction of the port was laid on 23rd of January by Somali President, Mohamed Abdullahi Farmaajo during his visit to the regions dubbed peace and reconciliation.
The facility is expected to serve a wide area of northern Somalia and the neighbouring Ethiopia which is landlocked country. The exports are anticipated to be livestock, with imports comprising food, vehicles fuel and among others expected to reach the port with ease.
---
Commercial Ship Runs Aground In Bosasso
05 February – Source: Hiiraan Online –  122 Words
A commercial ship carrying millions of dollars worth of cargo has run aground near Bosaso port in Puntland. The ship was said to have been contracted by Somali merchants who were importing food and other supplies from the United Arab Emirates, according to a Puntland official.
The traders said that the value of the assets being ferried on the plane was worth at least $7 million dollars. The cargo is believed to have been irreversibly damaged after the ship took on water. The traders also allege that the ship ran aground after it was denied entry to the port. The port authorities refute this claim and have blamed the ship's captain. Port authorities in Bosaso have declined to comment on the issue.
INTERNATIONAL MEDIA
05 February – Source: Voice of America – 737 Words
Security officials in the Somali town of Afgoye say they are not aware of the presence of pro-Islamic State militants in the town, despite a series of social media posts by the group claiming responsibility for attacks in the area. Afgoye police commander Captain Abdulkadir Osman Mursal says attacks against civilians in Afgoye are carried out by the al-Shabab militant group and not "Daesh," but says police are "on alert and investigating the claims."
"Daesh and al-Shabab are the same to us, they both kill civilians," he said. Pro-Islamic State militants have been claiming responsibility for series of attacks in Afgoye since the second half of last year. One of the attacks in January took place last week with pro-IS militants claiming they killed a finance officer. In another incident in January, the group said it killed a man who worked for the national intelligence agency of Somalia.
IS even published a purported video showing assassins carrying pistols who approached the target from a behind. The young man who is already lying on the ground is shot and killed. Even more confusing, Al-Shabaab claimed killing an intelligence agent in Afgoye on the same night, but did not provide any video or pictures. It is unclear if the two militant groups are claiming responsibility for the same incident.
OPINION, ANALYSIS & CULTURE
"The government of Somalia must garner the necessary political will needed to address the multitude of challenges plaguing its youth today. By making primary the needs of the youth such as employment, it automatically solves problems that are almost existential threat in nature like Al-Shabaab whose existence has largely been dependent on the miserable situations which face the youth in Somalia today such as unemployment."
05 February – Source: Hiiraan Online – 1304 Words
For More than a quarter of a century the state of Somalia is experiencing a protracted conflict, this prolonged conflict which lasted for a generation now has negatively impacted all groups in Somalia's population but one group's impact stands above all with the exception of women and children, that group is Somali youth. The population of Somali youth is estimated at 70% of the general population of Somalia, two-thirds of them were born after the overthrow of Siad Barre government in 1991. This period marked the downward spiral, disintegration and collapse of the state of Somalia.
The current generation of Somali youth have been dubbed as the "forgotten generation", this largely because this the first generation since independence that is worse-off then their parents have been, especially in regard to opportunities like education and employment, the personal impact endured or experienced by Somali youth in the various phases and stages of Somalia's prolonged conflict is enormous, to say the least, the conflict has rendered the youth in Somalia almost futureless.
Throughout Somalia's history the youth until recently (since 1991) have always had positive contributions to society, one understated contribution by Somali youth to the state of Somalia was independence by a small but brave thirteen individuals in a group called SYL (SOMALI YOUTH LEAGUE), today the value and image of Somali youth has plummeted to the ground, once viewed as freedom fighters today they are viewed as a burden and negative force to society.
This is largely due to their large number and energy being used by rogue political actors and radical groups like Al-Shabaab (an Arabic word that translates in English as the youth) to destabilize Somalia, partaking these undesirable and destructive activities is not by choice but too many forgotten Somali youth it has unfortunately become a necessity.
Hope and optimism among Somali youth is a rare novelty, this is due to the fact that majority of Somali youth in their lifetime have only know about violence, poverty  instability and insecurity, this negative experience has rendered the Somali youth totally hopeless, adding more to their misery is the multitude of the challenges that confront them today.
Unemployment and underemployment is part of life too much of Somalia's youth. This is largely due to a lack of viable employment opportunities in the country. The booming private sector currently does not exist in Somalia which would at least cover the employment opportunities needed by our youth today and public sector employment opportunities are also inadequate too and to make matters worse employment in public sector largely depends on nepotism and tribalism rather than on merit.
The unemployment rate for Somali youth aged between 14 to 29 is at 67 percent, one the highest rates in the world according to UNDP. This miserable situation facing our youth today has been exploited by rogue actors like Al-Shabaab by using the youth as destructive agents. Furthermore, unemployment provides a fertile ground and makes this possible. Through propaganda and financial inducement, radical groups like Al Shabab have courted the Somali youth to take part in their devilish activities.
TOP TWEETS
@MohaBulbul: BREAKING:Somali military  court sentences an  Al-Shabab Jihadist identified as Hassan Aden to death penalty for role in last year's truck bombing which killed over 512 people in Mogadishu's Somali capital.
@Goobjoognews: #Somali prime minister Hassan Ali Khaire@somaliaMP noted yesterday his administration will do all its best in ensuring how the civil servants will get their rights.
@StopFGM4: Good news: Three Somali mothers have accepted that they will never cut their daughters after they met with volunteers from @StopFGM4.
@Goobjoognews: #Somali national security council meeting kicks off today in #Mogadishu. http://bit.ly/2GPdI3o
@AbdulBillowAli: A military tribunal in #Mogadishu has sentenced to death Hassan Aden, an Al-Shabaab militant who was nabbed by authorities alongside a vehicle laden with explosives. 14th October's deadly truck bomb claimed more than 500 lives & was the deadliest in #Somalia's modern day history.
@Goobjoognews: #Somali federal government dispatches foreign engineers to #Hobyo town. http://bit.ly/2nK1BMl
@Goobjoognews: Most of the main streets in Mogadishu city are blocked this morning causing huge traffic congestion and forced thousands of pedestrians to walk to their various destination.
@omabha: #somalia Somalia: US Drone Strikes Rise By 80 Percent Worldwide, Including Somalia
IMAGE OF THE DAY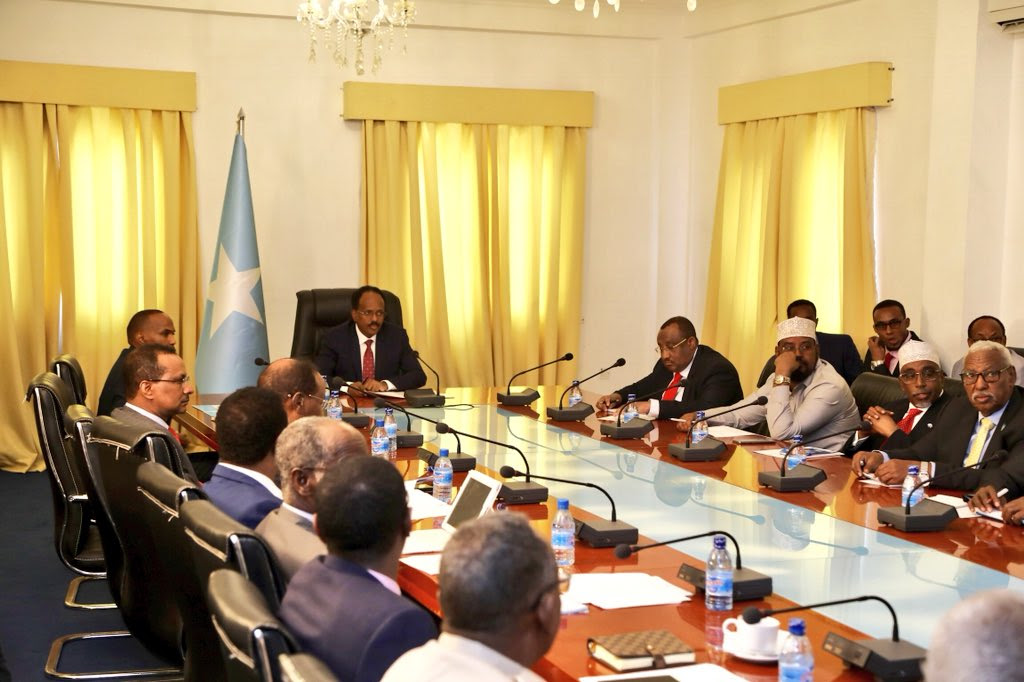 President Mohamed Abdullahi Mohamed (Farmaajo), Prime Minister Hassan Ali Khaire and regional presidents attending the National Security consultation meeting that opened today in Mogadishu.
Photo: @SomaliPM