February 22, 2018 | Daily Monitoring Report.
PM Khaire To Visit UAE Amid Strained Relations
22 February – Source: Garowe Online – 222 Words
The Prime Minister of the Federal Government of Somalia, Hassan Ali Khaire is expected to pay his first official visit to the United Arab Emirates next week. Reliable Sources close to Villa Somalia informed Garowe Online that PM Khaire will embark on an official visit to the United Arab Emirates starting from 25th February following an invitation by UAE's authorities. Somali PM is scheduled to meet with UAE officials in Abu Dhabi next week. Matters of mutual interest, especially in ways to mend strained relations between the two countries will be discussed during the talks. The upcoming visit comes as the leaders of Somali Federal Government have reaffirmed the 2017 decision to stay neutral in the Gulf Crisis.
Many believe that Somalia's position is important for Qatar – Somalia's airspace remains open for Qatar Airways, a critical lifeline amid an air, sea and land blockade imposed on Qatar by its neighboring Countries in the GCC. Last year, Somali PM Hassan Ali Khaire paid his first visit to Qatar amid political tension sparked between Somali Government and its Federal Members States over the stance towards the conflict of Gulf countries. The UAE has historic trade and strategic relationship with Somalia and is playing a leading role in the efforts to rebuild the war-torn country by training its national army and carrying out development projects.
Key Headlines
PM Khaire To Visit UAE Amid Strained Relations (Garowe Online)
Two Killed In Mogadishu's Wadajir District (Radio Dalsan)
Somali Custodial Corps To Celebrate Its 48th Anniversary In Mogadishu (Jowhar.com )
Somali Government Denies HRW Reports On Abuses Against Detained Children (Dhacdo.com)
Somalia's First Forensic Lab Targets Rape Impunity (AFP)
Somalia's Climate Change Refugees (IRIN)
NATIONAL MEDIA
Two Killed In Mogadishu's Wadajir District
22 February – Source: Radio Dalsan  – 97 Words
Gunman last night shot dead two people in Mogadishu's Wadajir district. Eyewitnesses said a man armed with an AK-47 shot dead a Tuk-tuk driver and a passenger for unknown reasons. The assailant immediately fled the scene of the incident.
Government troops who arrived at the scene conducted a manhunt operation to arrest the individual responsible for the brutal killing. But no arrests were so far made. Local residents said the victims were civilians, according to relatives who collected the bodies from the scene. The Wadajir district authorities have not yet commented on the killing.
---
Somali Custodial Corps To Celebrate Its 48th Anniversary In Mogadishu
22 February – Source: Jowhar.com – 75 Words
The Somali custodial corps is to celebrate its 48th anniversary in Mogadishu today. The event at the Maslah base will be attended by senior government officials including Prime Minister Hassan Ali Khaire. The custodial corps boss Bashir Mohamed Jama Goobe congratulated the prison corps on the anniversary. The custodial corps has been preparing for the event in the past few days. The event commemoration comes days after a new custodial chief, Bashir Goobe was appointed.
---
Somali Government Denies HRW Reports On Abuses Against Detained Children
22 February – Source: Dhacdo.com – 75 Words
The Somali government dismissed a Human Rights Watch accusation that Somali authorities are unlawfully detaining and prosecuting in military court, children with alleged ties to Al-Shabaab. Spokesman of the ministry of security, Abdiaziz Hildhibaan denied the report as baseless and over exaggerated.
INTERNATIONAL MEDIA
22 February – Source: AFP – 610 Words
The new freezers at Somalia's only forensic laboratory can store thousands of DNA samples, although for now there are just five. The big hope is that they could be the start of a revolution in how the troubled Horn of Africa country tackles its widespread sexual violence provided some daunting hurdles are overcome. The first sample arrived at the start of the year taken on a cotton swab from the underwear of a woman, a rape victim, from the village of Galdogob.
It was wrapped in paper and driven 250 kilometres (155 miles) to the Puntland Forensic Centre in Garowe, capital of semi-autonomous Puntland, slipped into a protective glass tube and placed in one of the three ultra-low temperature fridges. If DNA ID can be teased from the sample, this would be a crucial step in convicting the woman's rapist. No longer would it be a case of he-said-she-said, in which the victim is less often believed than the accused. Two decades of conflict and turmoil have made Somalia a place where lawlessness and sexual violence are rampant. "Now, people who have been raped hide because they don't have evidence," said Abdifatah Abdikadir Ahmed, who heads the Garowe police investigations department.
But with the lab, he said, "it's a scientific investigation. There are biological acts you can zero in on." Not yet, however. Abdirashid Mohamed Shire, who runs the lab, has a team of four technicians ready but is awaiting the arrival of the final pieces of equipment. Their work to provide the evidence that might convict or exonerate is yet to begin. And the pressure is on. The freezers mean the DNA samples can be safely stored for years but Somali law allows a rape suspect to be held for a maximum of 60 days. Shire needs the analysis and identification machines urgently so that, as he put it, "justice will be timely served".
OPINION, ANALYSIS & CULTURE
"This decline of good environmental governance, combined with the changing climate over the years, has placed pastoralism and farming – the economic and social backbone of the country – under threat. Lush grassland has become desert; increasingly unpredictable rainfall has led to more frequent and severe droughts,"
21 February – Source: IRIN – 1232 Words
Displaced by drought and conflict, rural Somalis have been heading to Mogadishu in their tens of thousands. They get no safety or support and are increasingly targeted for forced evictions, but they are still coming. After yet another bad rainy season at the end of last year, Amina Muse abandoned her four-hectare farm in Qorylooley, a small village in southern Somalia. For Muse, no harvest meant no business, and no business meant she would struggle to buy food or other essentials until the next rainy season in three months' time – if those rains came at all.
Uncertain what to do, Muse called friend and former neighbour Faduma, who had left Qorylooley in 2013 when fighting erupted nearby between al-Qaeda-linked al-Shabab militants and government forces. Faduma made her way to the capital, Mogadishu, finding refuge in a settlement for displaced people in the heart of the city. Muse asked her how life was now. Faduma told her she was barely surviving, reliant on the goodwill of neighbours and occasional odd jobs, washing clothes and selling any goods she could find. Muse considered those bleak prospects then looked at her land. "I didn't think I had a choice," she told IRIN. "My only option was to move to Mogadishu."
The decade-old conflict between Al-Shabaab and the government has driven hundreds of thousands of Somalis from their homes. But even as the scale of violence-related displacement has dipped in recent years, the impact of food shortages as a result of climate-related shocks – from drought to floods – means the level of disaster-affected displacement has risen steeply over the same period. One million Somalis were displaced by drought and conflict last year, according to OCHA, the UN office that coordinates humanitarian aid.
The rains in Somalia have underperformed for four successive seasons and today everyone – from farmers in the previously fertile south to pastoralists herding camel further north – has felt the impact. Smallholder farmers are producing smaller harvests; water points have become scarce; and large numbers of livestock have died in a drought Somalis now refer to as "the leveller" due to its far-reaching effects. Their livelihoods withering away in front of them, many rural Somalis have few options but to migrate to the large towns in the hope of finding new sources of income.
In a recent technical study, the UN's Food and Agriculture Organization noted that 2.7 million Somalis are still in urgent need of emergency assistance. It could have been far worse. Somalia was one of four countries where famine was feared in 2017. Aid was dramatically scaled up and, as a result, food security has markedly improved, according to the FAO report. But Mogadishu has seen a surge in internally displaced people (IDPs) escaping the drought and violence in the countryside who now squat in makeshift camps on increasingly valuable private land. The response from the authorities has been to clear them.
TOP TWEETS
@Vatescorp: #Somalia: US airstrike on Feb 19 kills 3#alShabaab militants near Jilib http://ow.ly/nXNv30ixUlx
@NRC_HoA: 301,000 children face acute malnutrition in#Somalia.
We support agriculture to avert catastrophe in the country,
and call on the world's governments to be #WithSomalia and#SustainSomaliSupport as $1.5 billion in aid is needed this year.
@AnalystSomalia: Looking forward to our roundtable discussion with @AmbFMadeira head of #AMISOM tomorrow 3:00pm#Somalia time #HeritageForumForIdeas #AskAMISOM;@amisomsomalia @HarunMaruf @Aynte @farhanjimale@HIPSINSTITUTE
@shf_somalia: Urgent treatment and nutrition support is needed for approximately 301,000 acutely malnourished children in Somalia. Quality nutrition programs, especially those integrated with education projects, not only save lives but give the children a chance to a better future #WithSomalia
@HarunMaruf: In the latest transparency index, Somalia, South Sudan and Syria are ranked most corrupt countries while New Zealand, Denmark and Finland rank highest as the least corrupt. The index uses a scale of 0 to 100, where 0 is highly corrupt and 100 is very clean: @anticorruption https://pbs.twimg.com/media/DWncGshXkAAnJKV.jpg https://pbs.twimg.com/media/DWncGsiX4AEaacf.jpg
@AbdirahmanCumar: To know more about  #AMISOMachievement, challenges and plans ahead, join @AmbFMadeira, the Special Representative of the Chairperson of the African Union Commission (SRCC) & @HIPSINSTITUTE@AnalystSomalia @amisomsomalia #Somalia this afternoon.
@UGIndependent: Garowe, Somalia | AFP | The new freezers at Somalia's only forensic laboratory can store thousands of DNA… https://fb.me/6w2AV0jG0
IMAGE OF THE DAY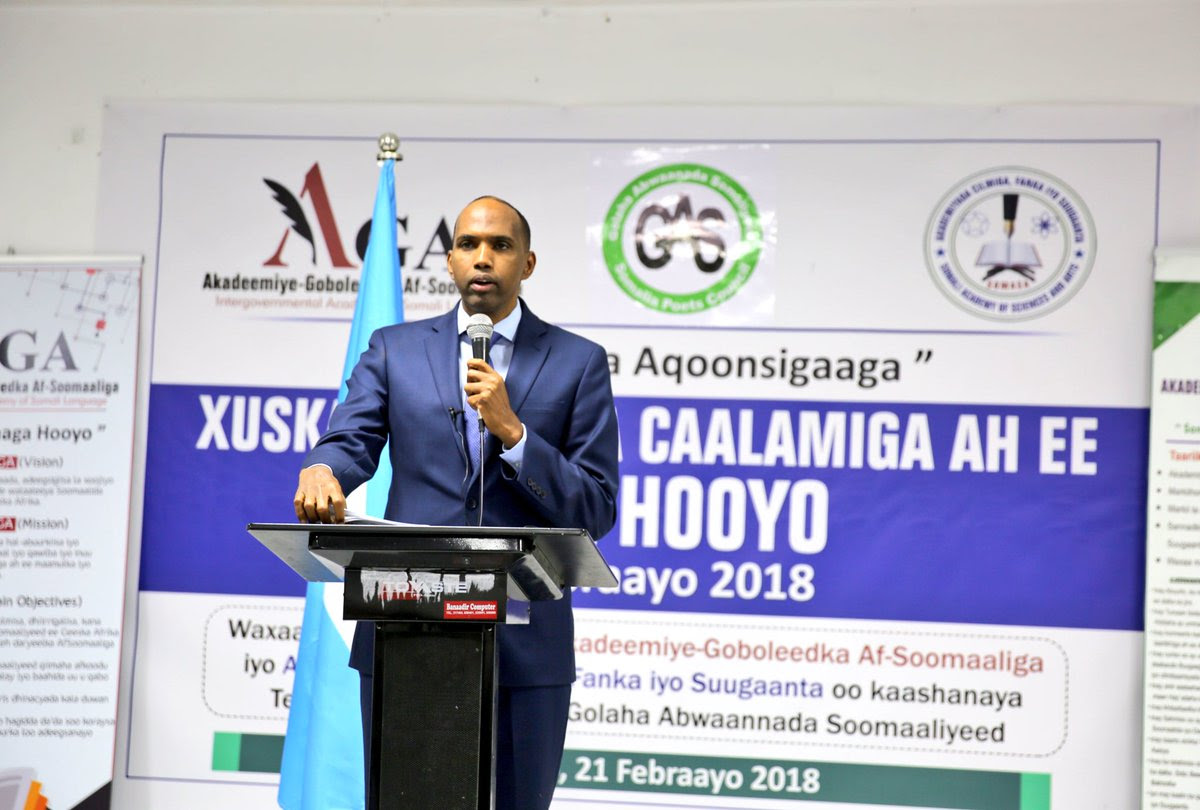 Prime Minister, Hassan Ali Khayre address participate at an event organized to celebrate International Mother Language  day in Mogadishu.
Photo: @SomaliPM