February 12, 2018 | Daily Monitoring Report.
If You Can't Stand By The Government, Don't Subvert It, Says PM Khaire
12 February – Source: Hiiraan Online – 155 Words
Prime Minister Hassan Ali Khaire has made a speech at a dinner event organized by the Banadir regional administrations for the regional states leaders who attended the recently concluded National Security Council meeting held in Mogadishu.
In his address, Prime Minister Khaire sent a message to the public urging them to stand by their government in its efforts to execute its important responsibilities such as the finalization of the federal constitution, reforming the justice sector, the national elections and the reconstruction and development of the country.
He requested the public to fully back his government. "The public should fully support the government. Anyone who is not willing to support us should at least avoid from undermining us," he noted. As per the plans, the leaders of the federal government and regional states will gather in Baidoa on March 28 for a meeting on the finalization of the national resources sharing agreement and the election affairs.
Key Headlines
If You Can't Stand By The Government Don't Subvert It Says PM Khaire (Hiiraan Online)
Civilian Killed In Bal'ad Explosion (Radio Dalsan)
Bulo Burde Administration Decry The Security Failure Of The State And Federal Authorities (Goobjoog News)
Bodies Of Al-Shabaab Fighters Found After Attempted Attack On AP Camp (The Standard)
Four Ways To Avert Catastrophe in Somalia (The Medium)
NATIONAL MEDIA
Civilian Killed In Bal'ad Explosion
12 February – Source: Radio Dalsan – 114 Words
A civilian was killed and another one seriously injured after a vehicle carrying them was hit by an IED explosion near Hirshabelle's  Bal'ad town on Monday morning. Eyewitnesses told reporters,  that a landmine planted on a road hit a Dyna truck carrying a driver and his turnboy.
The driver was identified as Mr. Bashir. Mr. Bishar was reported to have died on the spot, while the turnboy who suffered serious injuries was rushed to a hospital. Locals said that the truck left Bal'ad town early in the morning to carry charcoal from the outskirts of the town. Al-Shabaab has recently intensified its attacks on the road between Bal'ad and Jowhar targeting government security agents.
---
Bulo Burde Administration Decry The Security Failure Of The State And Federal Authorities
12 February – Source: Goobjoog News – 197 Words
Local administration in Bulo Burde yesterday pointed out the failure of the HirShabelle state and the federal government to maintain security in the area due to the perpetual siege imposed on feeding roads to the town by Al-Shabaab fighters.
Local commissioner Mr. Abdi Dair Karore noted the failure of the state and federal authorities to supply the local residents with food and health provisions, who are under siege for a long time yet the matter is well known to the country leaders.
"No ministry that help us neither the federal government nor the state authorities. The Somali government knows us being ostracized. I am here for 6 months and I have not yet seen any federal minister, whether the security or the defense ones. Even the latter has no idea if there are government soldiers in the area" lamented Commissioner Karore.
In 2014, the town was taken over from Al-Shabaab fighters by the Somali national army with AMISOM troops which prompted Al-shabaab to barricade completely the movement of transport vehicles entering the town. Buloburde is 108 km southeast of Beledweyne town and is situated along the Shabelle River, and it is the second largest town in Hiiraan.
INTERNATIONAL MEDIA
12 February – Source: The Standard, Kenya – 360 Words
Security agents have found three bodies believed to be those of Al-Shabaab fighters killed in last week's foiled attack on a police camp in Kutulo. Some Al Shabaab fighters tried to attack the camp on Thursday night, but they were repulsed and they fled into a nearby thicket.
Local police commander Stephen Ngetich said a patrol team later found three bodies of the attackers in a thicket near the Kenya-Somalia border. "We are still patrolling the area to see if there are more bodies," said Ngetich. Mr Ng'etich said the attackers invaded the special forces camp at around 8pm, leading to a gun battle that ended with the assailants retreating. The force is a combination of elite officers drawn from the Administration Police, mainly the Rapid Deployment Unit and the Rural border Patrol unit.
The militants seem to have moved from Mandera to Wajir where there have been persistent attacks in the recent months. In Wajir, the attackers have been targeting communication masts. At least five masts have been attacked in less than a month. Officials attribute the decrease in terror attacks in Mandera to the construction of a border wall. The wall has already covered 10km and plans are underway to increase the area covered to 28km.
The Government has not disclosed the exact cost of constructing the 700km wall, but officials say it will comprise a concrete barrier with observation posts, surveillance stations and CCTV cameras. North Eastern regional commissioner Mohamud Saleh said with only 10km of the wall in place, incidents of attacks in Mandera town had gone down by more than 90 per cent. "They used to attack and run to Somalia but since the wall was erected, the incidents are now almost zero," he said.
Mr Saleh, however, described the stretch from Arabia to Kotulo  as "volatile", saying Al Shabaab operatives were using the area to attack vehicles, plant landmines, target security installations and communication masts before retreating back to Somalia. Saleh said the Government would fast-track the construction of the security wall to completely block the militants from entering Kenya. The wall will stretch from the Indian Ocean to the Kenya-Somali-Ethiopia border convergence point.
OPINION, ANALYSIS & CULTURE
"Famine is preventable. It should be eradicated from the human experience. And it can be. The history of the last 50 years across the world, during which many vulnerable countries have escaped the scourge, teaches us that."
09 February – Source: The Medium – 689 Words
Last year, extraordinary prevention efforts by donors, the Government of Somalia and humanitarian partners helped stave off a famine. Thanks to early funding, large-scale, sustained prevention efforts and better-than-expected seasonal rains, this year too, the risk of famine in Somalia has been reduced.
This year 5.4 million people still need humanitarian assistance, down from 6.2 million. But these recent gains are fragile and could easily be reversed without more help. In Somalia there are still nearly half a million people just a step from starvation. "Acute humanitarian needs are expected to persist in this country as the impact of prolonged drought, conflict and displacement continues," said the UN's Emergency Relief Chief, Mark Lowcock in Mogadishu at the launch of the 2018 Somalia Humanitarian Response Plan and Resilience and Recovery Framework.
"These factors will continue to drive people from their homes, expose them to risk of diseases, deny them access to adequate food, and rob them of their means of making a living." To stave off a massive emergency, the 2018 Humanitarian Response Plan (HRP) for Somalia is seeking US$1.5 billion to help the most vulnerable 5.4 million people. Here are four areas that require urgent action to avert a catastrophe in Somalia this year:
Provide food and cash: Chronic drought over the past two years has led to multiple crop failures, substantial livestock losses and large-scale displacement from rural areas to towns and cities. Many of these displaced people have limited or no access to food, water, health care or sanitation services. In 2017, humanitarian agencies helped avert famine in rural areas by supporting people to purchase and produce food, including by transferring cash to families through vouchers.
Cash programming will again feature prominently this year, in addition to food assistance and longer-term interventions, such as skills training. Despite a dangerous operating environment, including threats against humanitarian personnel, humanitarian agencies alongside the Government are reaching more than three million people per month.
Reduce acute malnutrition:Humanitarian agencies in Somalia will mount large-scale nutrition programmes, but they will also try to provide holistic responses that combine nutrition, food security, health, and water, sanitation and hygiene services, which have a proven track record of building resilience to malnutrition over time.
Protect the displaced: In 2017, drought and persistent conflict resulted in unprecedented levels of displacement, with over 1.2 million people internally displaced over the course of the year. There are now 2.1 million displaced people in Somalia, nearly two thirds of them children. Displacement increases people's vulnerability by upping the risk of gender-based violence and sexual exploitation, as well as putting children at risk of recruitment into armed forces and forced early marriage. Displacement into towns also puts added pressure on scarce resources, meaning basic services need to be shored up. Forced evictions are also common.
TOP TWEETS
@omabha: #somalia Turkey's foray into Somalia is a huge success, but there are risks
@Goobjoognews: #Bulo Burde administration decry the security failure of the state and federal authorities. http://bit.ly/2EZbCNG
@HornDiplomat2: #Somaliland President to meet with #SomaliaPresident in #Djibouti http://www.horndiplomat.com/2018/02/12/somaliland-president-to-meet-with-somalia-president-in-djibouti/ …
@SC_Somalia: "In 2017 the International community and the government worked together to avert hunger in Somalia and Somaliland. However, the needs are still enormous in 2018. We must act urgently!" Timothy Bishop Somalia Country Officr Director #SustainSomaliaSupport @JMwanjisi @MowlidMudan
@DalsanFM: Civilian Killed In Bal'ad Explosion –http://radiodalsan.com/en/civilian-killed-in-balad-explosion/ …
@adancabdulle: Disagreements on new taxation imposed on Banadir has resulted in the closure of Mogadishu port.
@Goobjoognews: Local residents living in locations surrounding#Jowhar town, capital of @hirshabeele2017 state began digging wells on the dry riverbed of #Shabelle River to get access to drinking water.
@Goobjoognews: Lack of water compels villagers to dig wells on a dry riverbed. http://bit.ly/2CdHTOp
@Halbeeg_News: Somalia State Minister For Foreign Affairs Meets Turkish Foreign Minister In Istanbulhttp://en.halbeeg.com/2018/02/12/somalia-state-minister-for-foreign-affairs-meets-turkish-foreign-minister-in-istanbul/ …
IMAGE OF THE DAY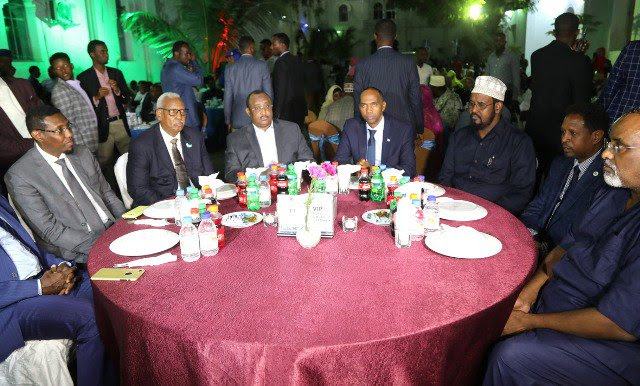 Prime Minister Hassan Ali Khaire, Regional State Presidents and other government officials at a dinner event held in Mogadishu, Somalia last night.
Photo: @DalsanFM