December 5, 2017 | Daily Monitoring Report
05 December – Source: Reuters – 267 Words
The force of 22,000 deployed a decade ago is set to lose 1,000 soldiers this year as part of a long-term plan to pull out of the country and hand security to the Somali army. AMISOM is confronting the Islamist militant group al Shabaab, whose ranks have been swelled by Islamic State fighters fleeing military setbacks in Libya and Syria. Militants killed more than 500 people in an attack in the capital Mogadishu last month. It was the deadliest such attack in the country's recent history.
AMISOM deployed to help secure the government of a country that since 1991 has struggled to establish central control. The peacekeepers helped push al Shabaab out of Mogadishu but the group still frequently attacks civilian and military targets. "Unless we have a proportionate forces multiplier in terms of equipment … intelligence, electronic intelligence, that (withdrawal) will have a very considerable effect on our mission," AMISOM head Fransisco Madeira told Reuters. "We believe the U.N. will find ways and means of covering or making up the gap that might result."
The diplomat from Mozambique was speaking on the sidelines of a security conference in Mogadishu. He said it was hard to estimate the number of al Shabaab fighters. Somalia's minister of internal security Mohamed Abukar Islow told Reuters the government wants the lifting of an arms embargo "so that our forces get enough weapons and military equipment." The United Nations imposed an arms embargo on Somalia shortly after the nation plunged into civil war in the early 1990s. It partially lifted the ban in 2013 to help equip government forces.
Key Headlines
Somalia's Peacekeeping Mission Could Be Hurt By Cut In Force Size: Mission Chief (Reuters)
SNA Commander Survives Car Bombing In Mogadishu (Garowe Online)
The Main Streets In Mogadishu Remain Closed For The Second Day (Shabelle News)
Former President Hassan Sheikh Hails Mogadishu Security Conference (Jowhar.com)
UN Voices Support For Somali Government's Efforts At First-ever Security Conference In Mogadishu (UN News Centre)
AMISOM Participates In High-Level Forum On Peace And Security In Africa In Zambia (AMISOM)
Turkey's Big Play In Africa Starts With Somalia (Albawaba)
NATIONAL MEDIA
SNA Commander Survives Car Bombing In Mogadishu
04 December – Source: Garowe Online – 186 Words
A senior Somali National Army [SNA] commander escaped unharmed when an explosive device planted in his vehicle blew up in Mogadishu on Monday. The blast occurred in Villa Baidoa, military command and control Head Quarter near Zoobe , a busy junction in the heart of the capital, where a truck bomb killed at least 512 people on 14th October and injured 295 others.
The car bomb went off moments after the army officer identified as General Abdiweli has stepped out of his car in the heavily fortified compound, no casualties reported as a result of the explosion. No group has yet claimed the responsibility for the blast, which happened hours before a high-level meeting on the security kicked off in Halane, the biggest AMISOM military base adjacent to the Airport.
Somali President has opened the forum which aims to have a comprehensive approach towards security in the country. The meeting is a follow-up to the London Conference on Somalia that held in May this year. The leaders of Somalia's Federal Member States, central government, Ambassadors, Representatives from the International Community and partners are participating in the meeting.
---
Former President Hassan Sheikh Hails Mogadishu Security Conference
05 December – Source: Jowhar.com – 96 Words
Former President Hassan Sheikh Mohamud has hailed the ongoing high-level Mogadishu conference on Somalia's security and expressed optimism that its outcome would help tackle the security, political and economic problems in Somalia.
He, however, called on the Somali leaders to rely upon on the strengths and resources of the Somali people with the help of the international community. The former president made the remarks in a post published on his Facebook page. The Mogadishu conference entered its second day with Somali leaders and international partners discussing issues of key relevance to the Somali nation and people.
---
The Main Streets In Mogadishu Remain Closed For The Second Day
05 December – Source: Shabelle News – 111 Words
The main streets in Mogadishu remained closed for the second consecutive day as the top leaders of the Federal government, regional states, and international community are holding a crucial conference in the capital. The government has deployed additional troops into the key roads as a result blocking the public transportation and halting people's movement in some areas for security reasons.
The meeting is taking place inside the heavily protected Halane Base that accommodate AMISOM, which is next to the Aden Abdulle International Airport. The leaders are discussing the country's national security and the exit strategy of African Union forces [AMISOM] who are beginning gradual withdrawal by the end of this month.
INTERNATIONAL MEDIA
04 December – Source: UN News Centre – 376 Words
At Somalia's first-ever security conference, hosted by the country's Federal President Mohamed Abdullahi Mohamed "Farmaajo" in the capital, Mogadishu, participants agreed to speed up security sector reform and develop a plan to transfer primary responsibility for the country's security from the United Nations-backed African Union Mission in Somalia (AMISOM) to its own security forces.
"Security is our greatest requirement if this country is to realize its full potential," President Farmaajo said in his keynote address. "As a Government, we are absolutely determined to win the war against al-Shabaab and (Islamic State) with the full support of our international partners. Without security and counterterrorism, there cannot be a peaceful, prosperous and progressive Somalia to which we all aspire."
The conference was jointly convened with the UN and the African Union (AU) and featured the participation of Prime Minister Hassan Ali Khaire, the presidents of Somalia's five federal member states, cabinet ministers and a host of ambassadors and other senior representatives of the international community. The top UN official attending was the Secretary-General's Special Representative for Somalia, Michael Keating.
---
04 December – Source: AMISOM – 448 Words
A high-level annual conference on Peace and Security, aimed at mobilizing efforts to address common challenges facing the African continent, is underway in Lusaka, Zambia. Senior diplomats of the African Union, among them Ambassador Smail Chergui, the AU Commissioner for Peace and Security Department and the Deputy Special Representative of the AU Commission Chairperson (SRCC), for Somalia, Mr. Simon Mulongo, are among participants attending the 5th high-level forum on Peace and Security.
In his keynote address to the conference, Mr. Mulongo enumerated achievements made by the African Union Mission in Somalia (AMISOM), in the fight against militant group Al-Shabaab. "AMISOM is one of the most complex Peace Support Operations ever undertaken in Africa and likely, the deadliest in modern recent times. AMISOM has made major sacrifices in the push to stabilize Somalia," he told participants at the conference.
Since its inception ten years ago, AMISOM, which is African Union's largest peacekeeping operation, has been able to dismantle Al-Shabaab influence and presence in most parts of Somalia, succeeding in maintaining peace, that has enabled robust political activities to take place. AMISOM is also capacitating the Somalia security forces and institutions, to enable them take the lead, in managing the national security responsibilities. "AMISOM is reconfiguring its forces to address existing and emerging challenges in this transition," Mr. Mulongo remarked, in reference to the planned transitioning of the security responsibilities from AMISOM to the Somali security forces.
OPINION, ANALYSIS & CULTURE
"So far, Turkey's massive project to build and help stabilize Somalia has gone under the radar, and attention instead has focused on China's investments in Africa and Russian involvement in the Middle East. While Turkey's ambitions in Somalia are smaller in scale, it could help boost Turkey's economy while stabilizing what has historically been one of the most unstable countries in the world."
04 December – Source: Albawaba – 804 Words
In the project to modernize itself and combat terror, Somalia has an unlikely ally: Turkey. Although the countries have little to do with each other on the surface, Turkey has invested countless millions into developing Somalia with the hopes to open a gateway into Africa. Most recently, Turkey opened its largest overseas military base in Mogadishu, Somalia's capital city. And now that African Union's coalition troops, who were sent into to fight the extremist group Al Shabaab, have begun their withdrawal from Somalia, the Somalia-Turkey partnership will become more critical than ever to ensuring Somalia's future.
While Somalia gets an influx of money and military backing, Turkey secures access to African markets and crucial naval ports on Somalia's coast. Somalia is not traditionally thought of as a stable place in which to invest. Near-constant war and famine have kept the country on the brink of disaster for decades. A civil war tore the country apart in the early-to-mid 1990s, and the extremist group Al Shabaab has posed a consistent threat to national security. Its versatile but persistent tactics have allowed it to temporarily capture Mogadishu in the past and control much of Somalia's south.
In this chaos, Turkey has sensed and seized on the opportunity to establish a close relationship with the embattled country. Mogadishu's airport was modernized thanks to Turkish investments, its naval ports in Mogadishu are managed by Turkish firms, commercial flights in and out of the country are cornered by Turkish Airlines. Now, Somalia's military will be able to be trained and schooled by Turkish officers. Turkey has also built schools, roads, hospitals and provided scholarships to Somali students to study in Turkey.
In only six years, Turkey has moved up to Somalia's fifth-biggest source of imports when it was only the 20th in 2011. Turkish officials claim their close partnership with Somalia spawns from a humanitarian desire to help the ailing country: "Ankara aims to help Somalia rebuild its public institutions that have been ruined since 1991. Turkey will train Somali soldiers here so that the Somali army can recuperate," Olgan Bekar, Turkey's ambassador to Somalia told TRT World–one of Turkey's state-owned news outlets.
When Turkey's President Erdogan visited Somalia, Somalia's Former President Hassan Sheikh Mohamud told TIKA News that "Turkey has come to Somalia at a time when Somalia was in need. H.E Erdoğan's visit to Somalia was absolutely a game-changing activity in Somali developments." And while Somalia has undoubtedly benefited from Turkey's aid, it comes from a geopolitical and economic gambit to cement Turkish influence and access in Africa.
According to the intelligence firm Stratfor, "the Turkey-Somalia relationship is closely tied to the economic interests of Turkish corporations that seek to develop and manage infrastructure in Somalia." This is likely heightened by Erdogan seeking to achieve his economic ambitions as part of his Vision 2023, which aims to increase Turkey's international trading and needs new markets to which Turkey can import and export goods.
TOP TWEETS
@UNSomalia: #ShirkaMuqdisho / #Somalia Partnership Forum: the International Community and Somalia's partners strengthen their commitment to the safety, well-being and prosperity of the Somali people. #MogadishuConference
@DrBeileh: Much to think about in the opening speech of H.E. President @M_Farmaajo at the Somali Partnership Forum. Security, economic development, good governance, investment  & JOBS! Good progress made but more needs to be achieved. #MogadishuConference #Somalia
@FNF_Africa: Somalia's peacekeeping mission could be hurt by cut in force size: mission chief #reuters #fntop5africa
http://reut.rs/2AVRYTP
@jsteed773: Somalia Signs Jeddah Amendment on Illicit Maritime Activity https://maritime-executive.com/article/somalia-signs-jeddah-amendment-on-illicit-maritime-activity …@Piracy_OBP @UNODC_MCP
@MowliidHaji: Somalia's president Mohamed Farmajo has appealed for increased international donor support to strengthen the capacity of the country's security forces ahead of planned withdrawal of African Union forces from the country.
@Eye_on_Somalia: #Hiraan Muse Bihi set to be inaugurated as Somaliland new president. .."Prospects and Challenges"http://dlvr.it/Q4Q1C7  #Somalia
@HarunMaruf: Mission Chief: Somalia's Peacekeeping Mission Could Be Hurt by Cut in Force Sizehttps://www.voanews.com/amp/amisom-set-to-lose-soldiers/4149583.html …
IMAGE OF THE DAY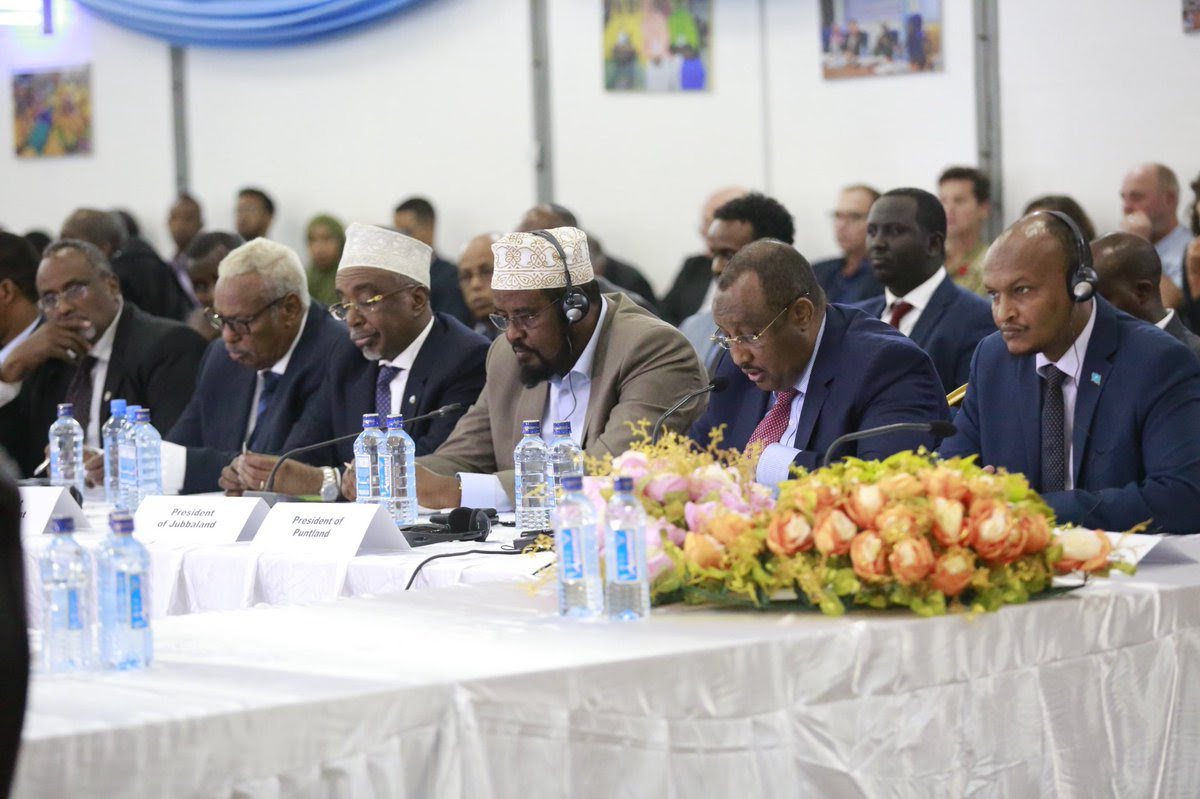 Regional states leaders attending the national security conferences in Mogadishu.
@TheVillaSomalia