December 28, 2017 | Daily Monitoring Report
Puntland State President Gaas Calls For Unity In The Fight Against Al-Shabaab
28 December – Source: Goobjoog News – 181 Words
State president of Puntland, Abdiweli Ali Gaas, has called for a united front in the battle with Al-Shabaab fighters to eliminate their presence in the country whether in the remote Galgala Mountains in Puntland or in the Somali capital Mogadishu. President Gaas noted the ultimate objective of Al-Shabaab fighters is to disintegrate the Somali public and are engaged fueling divisions.
He emphasized the need to carry out a united single action against Al-Shabaab, whom he termed as a destabilization movement against the Somali nation, who constantly cause trouble among the locals in order to destabilise the government. "I would prefer to free the country from today's existing enemy in Somalia in a united move which has denied our nationhood and has set upon the Somalis with many problems and instigates the difficulties that takes place in order to be in the upper hand" He reiterated the need to purge their presence from every corner of the country. "We need to liberate the country from wherever they may be whether in Galgala or Mogadishu" said  President Gaas.
Key Headlines
Puntland State President Gaas Calls For Unity In The Fight Against Al-Shabaab (Goobjoog News)
Somali President Expected To Visit Puntland (Shabelle Media)
Somali Government Officially Takes Control Of Its Airspace Today (Radio Dalsan)
Gunmen Kill A Civilian In Somali Capital Mogadishu (Shabelle Media)
Sustained Cooperation Vital To Address Somalia's Challenges Says UN Envoy (UN News Centre)
A Deadly Year in My Family's Homeland (New York Times)
NATIONAL MEDIA
Somali President Expected To Visit Puntland
28 December – Source: Shabelle Media – 80 Words
Somali President Mohamed Abdullahi is expected to pay his first visit to the country's northeastern semi-autonomous region of Puntland. Sources at Villa Somalia told Radio Shabelle that President Farmajo will travel to Bosaso in the coming days to attend an event to open a new airport in Bosaso, the port city on Gulf of Aden. The President is also scheduled to hold talks with Puntland President Abdiweli Mohamed Ali Gaas and other state officials during his visit in the region.
---
Somali Government Officially Takes Control Of Its Airspace Today
28 December – Source: Radio Dalsan – 242 Words
The Federal Government of Somalia officially took control of its airspace and launched the opening ceremony of the airspace control tower at Aden Abdulle International Airport in Mogadishu today. The Somali Civil Aviation Authority will start operations in Mogadishu for the first time in 27 years after the fall of the Somali central government in 1991. During that period , Somalia's airspace was controlled by the International Civil Aviation Organization (ICAO) based in Nairobi. Many Somalis say that the organization was collecting the country's flyover fees but doing little in maintaining the state Aden Abdulle airport in Mogadishu which is the main airport in the country.
The Somali Transport Minister,  Mohamed Abdullahi Salad said that the Somali air traffic will be controlled from Mogadishu as from today in a better way than it was being controlled in Nairobi as modern equipment have now been installed in the Mogadishu's new air traffic control tower. This will eventually ease the problems faced by aeroplanes using the country's airspace.
The Minister added that Mogadishu will still work with Nairobi for a period of one and a half months to make sure that all the technicalities involved in the operations are in good order. This is a new milestone for the Somali government which has put a lot of effort in making the dream of its people a reality even after ICAO has postponed the move several times over conditions many believe to be unnecessary.
---
Gunmen Kill A Civilian In Somali Capital, Mogadishu
28 December – Source: Shabelle Media – 95 Words
Two men allegedly dressed in military uniform have killed a civilian in Mogadishu. A witness told Radio Shabelle that the killers riding in a rickshaw abducted the man and shot him dead at Badbado, an IDP camp in the broad-daylight. It's not yet clear the motive behind the murder of the civilian, as no group has yet claimed responsibility for the murder of the civilian. Mogadishu has recently witnessed a surge in organized attacks and assassinations in the past few months amidst tight security by special forces tasked with the city's security under stabilization mission.
INTERNATIONAL MEDIA
27 December – Source: UN News Centre – 478 Words
In a year which saw millions of Somali civilians displaced by armed conflict and thousands more killed and wounded in violence, the United Nations envoy to the country has called for sustained cooperation to tackle a number of pressing challenges. "No one should underestimate the many challenges ahead, and the serious issues that continue to retard and even threaten further progress," said Michael Keating, the Special Representative of the Secretary-General for Somalia. "These include pervasive corruption, most obviously in politics, and power brokers' willingness to use violence, or the threat of violence, against opponents," he added. Noting that the militants have retained the capacity to mount such devastating attacks, Mr. Keating also emphasized that the terrorist group thrives, among other things, on the absence of functional local government and on the many conflicts around the country.
At the same time, there is "severe and growing" humanitarian needs across the Horn of Africa nation. According to the UN Office for the Coordination of Humanitarian Affairs (OCHA), food security needs are nearly double the five-year average due to limited rain, increased displacement, lack of access to basic services, and continuing insecurity and conflict. "The number of people in [humanitarian] emergency [phase] have increased tenfold from 83,000 in January to 866,000 people in November 2017," OCHA said in a humanitarian bulletin. "Humanitarian Emergency" is a state in which the acute malnutrition rate has surpassed the "emergency threshold" of 15 per cent. In Somalia, the rate stands at 17.4 per cent.
Across the country, some 6.2 million are in need of humanitarian and protection assistance and more than half that number require urgent life-saving assistance. This year witnessed the displacement of a further one million Somalis, taking the total across the country to more than two million. However, with forecasts for poor rains during the two main crop seasons and as well as a heightened risk of the La Niña weather phenomenon in early-mid 2018, the prospects for recovery next year look "grim," said the UN relief wing.
OPINION, ANALYSIS & CULTURE
"I know that I've inherited more than violence and trauma: I've also inherited Somalia's rich oral storytelling and poetry tradition, which is still a feminist legacy. I'm sustained by the folk tales of the Somali heroine Arawelo and by new narratives being written by and about Somali women. This year was yet another reminder (as if we needed one) that the divisive remnants of clan identity and the pain of war are still present. It also reminded me that Somali women will heal us,"
27 December – Source: New York Times – 817 Words
On a sunny day in 1991, Maryan, my dad's first cousin, was hiding from rifle-carrying soldiers in a house in Mogadishu, Somalia, while the melodic voice of the singer Magool blared from a megaphone outside. Magool repeated an ugly slur for the Darod, our family's clan, while a sweaty Maryan crouched inside the kitchen, holding her breath. When I was 10 years old, Maryan casually told me this story from the civil war in Somalia then almost a decade in the past over breakfast in my family's home in Minneapolis.
I found it perplexing that Magool, an artist many Somalis held in high esteem, would allow herself to become a mouthpiece for violent men. Before I was born, my college-educated, fairly Westernized parents decided they weren't going to teach me about clans because that knowledge, in recent history, has been employed so murderously, especially in the rise of the Shabab militants. Growing up in Minnesota, in the Somali diaspora, I was relatively sheltered from that history. In 2017, however, it has been impossible to ignore the truth because of a particularly grim event: On Oct. 14, a truck bombing in Mogadishu killed more than 500 people and injured hundreds more.
In confronting the deadly toll of this year, I have also confronted the acute awareness of violence I have inherited in the form of tales told over a meal and the inevitability of death and destruction in the country my parents left more than a decade ago. As a child, I didn't understand the extent to which clan ideology distorted many Somalis' thinking. My own paternal grandmother, traumatized by the war, gave me my first introduction to that mind-set. "Do you know the name of your clan, or what a clan is?" she asked me, in Somali, of course, when I was visiting at her home in Ohio during the summer between fifth and sixth grades. I didn't, I told her.
She took it upon herself to teach me not only about my own clan but also about the singer Magool's clan, and her disdain for it. At the time, I cared more about cartoons than about politics or my identity as a Somali, but I didn't judge my grandmother. I know now, and to some extent I knew even back then, that my grandmother is a good woman who adopted a toxic ideology as a way to cope with pain. Relatives of Magool, who died in 2004, would tell you the same about her: the decades of cruelty and marginalization perpetrated by members of the Darod clan justified her hate. I see both my grandmother and Magool, and really all Somali women from that generation, as proxies in a conflict between men.
Shortly after Maryan recounted her story about hiding from soldiers, her daughter Awo, only a few years older than I, told me how she smuggled her family's jewelry — the only wealth they could take with them as they fled Somalia — under her dress. In Somali with bits of English, she told it like a funny story. "The men who were transporting us asked me why I had a lumpy stomach!" she said. "I told them I was extremely sick!"
In the summer of 2014, violent reality intruded again: My mother's good friend, and a distant relative, the singer Saado Ali Warsame, was killed. Last year, I spent some time compiling oral histories by Somali women for the history museum here in Minnesota, which has the largest Somali immigrant population in the United States. I was taken aback by the equanimity with which the women I interviewed spoke of the hardships they've endured since 1991. They calmly and clearly recalled the brutality that forced them to flee the country.
TOP TWEETS
@HarunMaruf :JUST IN: New overnight airstrikes targeted two vehicles believed to be carrying Al-Shabab militants near Maracadde village, outside Mogadishu; occupants reportedly perished, identities of the individuals not yet known: local media quoting regional officials. #Somalia
@HassanIstiila: President @M_Farmaajo has officially opened the ceremony for the transfer of the national airspace to the Somali government. #Somalia
@Mogadishu_News: #BREAKING: #Somaliland suspends building of #UAE military base in #Berbera, days after #Houthirebels threatened to bomb on #Hargeisa town – Media reports#Somalia
@AbdulBillowAli: #Somalia officially reclaims its airspace control from @icao, a first since the fall of the central government in early 90's. It's a remarkable progress for the current govt as#Mogadishu is expected to boost its revenue collection.#NabadiyoNolol.
@shf_somalia:Additional funding will be critical to sustain famine prevention efforts in #Somalia in 2018. Support efficient and fast response through@SHF_somalia , donate now athttp://bit.ly/GiveToSomalia  !
@FAOnews: #Somalia: protracted drought & consecutive poor harvests have pushed the country to the brink of #faminehttp://ow.ly/Hait30hfEak  via @FAOemergencies @FAOSomalia
IMAGE OF THE DAY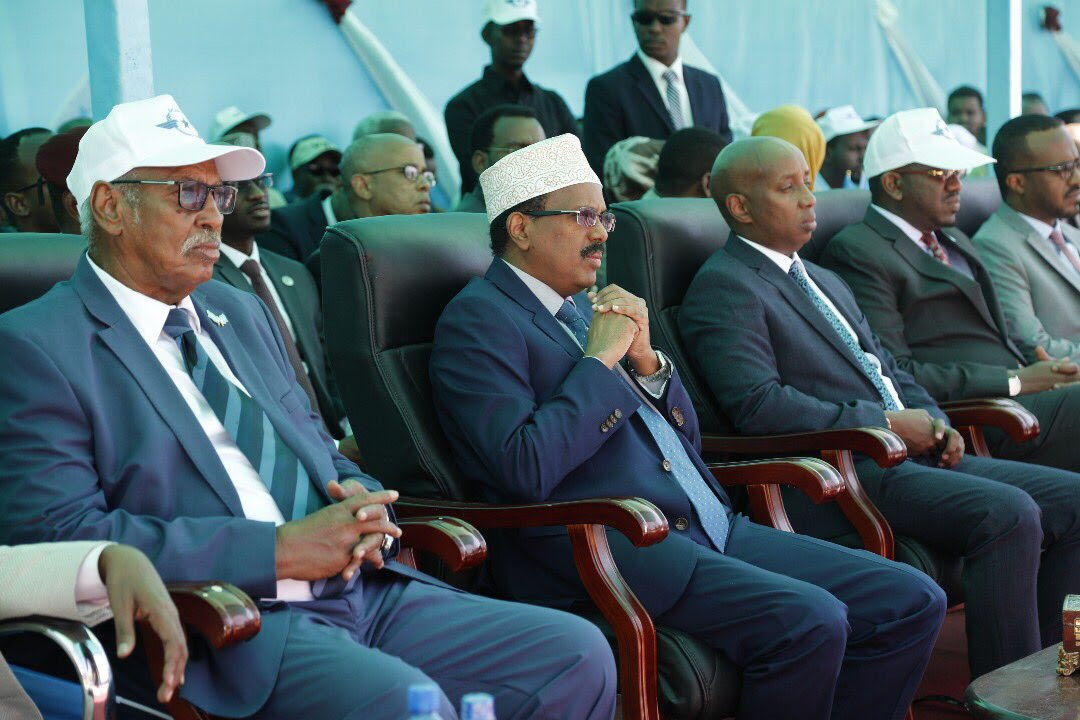 President, Mohamed Abdullahi Farmaajo presides over the official hand over of management of somali airspace to the Federal Government of Somalia.
Photo: Radio Dalsan