December 21, 2017 | Daily Monitoring Report
21 December – Source: Reuters – 257 Words
Somalia has released without charge a former minister and fierce critic of the government who spent two days in jail after being arrested for alleged treason, a lawmaker told Reuters on Thursday. The arrest of Abdirahman Abdishakur, who was a candidate in the February election won by President Mohamed Abdullahi Mohamed, followed mounting pressure on the president and his UN-backed government to end an Islamist insurgency. "Last night at midnight, they released ex-minister Abdirahman Abdishakur," lawmaker Mahad Salad told Reuters.
The MP said he, other colleagues and the ex-minister were going to court on Thursday to "know the evidence on what he (Abdishakur) was first arrested". Islamist militants Al-Shabaab have been escalating pressure on Mohamed's government by staging frequent and increasingly large-scale bombings against both civilian and military targets in recent months in the capital Mogadishu and elsewhere. The group is fighting to expel African Union peacekeeping force AMISOM from the Horn of African nation, topple the federal government and impose rule based on its strict interpretation of Islam's sharia law.
More than 500 people were killed in twin bomb blasts in Mogadishu in October while this month a suicide bomber killed at least 18 people at a Mogadishu police academy. At a news conference after his arrest, Somalia's attorney general Ahmed Ali Dahir had described Abdishakur's house as a hub for the opposition and a gathering point for people "who want to collapse the government". Somalia has been locked in lawlessness and violence since the early 1990s, following the ouster of dictator Mohamed Siad Barre.
Key Headlines
Somalia Releases Jailed Ex Minister And Government Critic (Reuters)
Inter-state Cooperation Council Releases Statement About The Arrest Of Abdirahman Abdishakur (Jowhar.com)
Puntland Deploys More Security Forces To Galgala (Jowhar.com)
Somali Refugees At Dadaab Being Forced Back Home – Amnesty International (The Star Kenya)
AMISOM Donates Crime Scene Investigation Equipment To South West State Police Force (AMISOM)
Somali Refugees Living In Kenya Ponders Return To Motherland With Mixed Feelings (Xinhua)
NATIONAL MEDIA
Inter-state Cooperation Council Releases Statement About The Arrest Of Abdirahman Abdishakur
21 December – Source: Jowhar.com – 120 Words
Inter-state cooperation council (CIC) has released a statement about the arrest of former Minister of Planning and 2017 presidential candidate, Abdirahman Abdishakur who was released last night. The CIC welcomed the release of the politician which has been brokered by politicians, clan elders, MPs, and ministers. They called for a peaceful settlement of the issue and cautioned against the use of force against political dissidents.
The council sent condolences to the families and relatives of security guards killed in the raid on the house of Abdirahman Abdishakur. The council also warned against the use of National Intelligence Agency (NISA) in raids against political dissidents homes, reminding the government that such move could endanger the security and stability of the country.
---
Puntland Deploys More Security Forces To Galgala
21 December – Source: Jowhar.com – 90 Words
Puntland authorities deployed more security forces to the Galgala mountains amid increased Al-Shabaab attacks targeting security forces in the region. On Wednesday, Al-Shabaab claimed to have killed a senior Puntland intelligence officer in an explosion targeting his vehicle. The incident has forced Puntland to send more troops to the region to curb the increasing threat coming from the Al-Qaeda-linked group.
Puntland has severally claimed to have wiped out the militant groups of Al-Shabaab and Daaesh from its regions, but the two deadly groups pose a threat to the northeastern regions.
INTERNATIONAL MEDIA
21 December – Source: The Star, Kenya – 477 Words
Somali refugees are being pressured to leave Dadaab camp back to insecurity, drought and hunger in Somalia, a research by Amnesty International shows. This came as Fillipo Grandi, United Nations Commissioner for Refugees, wound up his regional trip on Thursday with a declaration that those being repatriated are being taken back on voluntary ground.
In a report, Not Time to Go Home, Amnesty International researchers interviewed returnees living in what they termed dire conditions in overcrowded cities or displacement camps in Somalia. Many returnees the report shows left Dadaab because of dwindling food rations and services, or because of fears, stoked by Kenyan government officials, that they would be forced back with no assistance. "In its zeal to return refugees the Kenyan government has made much of small security improvements in Somalia, but the grim reality is that many parts of the country are still plagued by violence and poverty," Charmain Mohamed, head of refugee and migrants rights at Amnesty International, said.
Refugees who fled drought, conflict and hunger in Somalia he said were coerced into returning in the midst of a severe humanitarian crisis. Many now find themselves back in the same hopeless situation from which they fled and still unable to go home. There are about 500,000 refugees in Kenya, of whom 285,705 are Somalis residing at Daadab refugee camp that was established in 1991. UNHCR records as at December 15 showed that a total of 72,362 Somali refugees had been repatriated from Daadab to Kismayu, Mogadishu, Baidoa and other areas with 17,791 set to leave in coming months.
However, in recent months, new arrivals of about 6,000 have been reported at Daadab even though government has stopped registration of new refugees. This means they are not on ration program. Instead of pushing refugees to further displacement and humanitarian crisis, Amnesty called for integration of refugees in Kenya as a long term and sustainable solution. "As the situation of returnees in Somalia becomes increasingly desperate, large scale returns from Dadaab are simply not viable. Rather than pushing to return refugees into a humanitarian crisis, the Kenyan government should be looking for sustainable solutions, including offering opportunities for local integration in Kenya," Charmain said.
---
21 December – Source: AMISOM – 329 Words
The police component of the African Union Mission in Somalia (AMISOM) has handed over an assortment of crime investigation equipment to the South West State Police Force to strengthen criminal investigations in the federal state. The equipment include criminal fingerprint record cards, handcuffs, fingerprint kit, barrier and warning tape and other essential items critical for crime scene investigation.
Tresphord Kasale, AMISOM Police Coordinator for the South West state, who spoke during the handover ceremony held at Baidoa Police Station, on Tuesday, asked the CID department to make good use of the equipment and investigate the cases properly. "The purpose of handing over the equipment is a follow up to the training programme which we have been conducting for the personnel under CID and the other departments so that the equipment which is handed over is well utilized. And we are looking forward to them to ensure that all the cases are properly investigated since they have got the equipment," Mr. Kasale added.
The Bay Region Police Commissioner, Mahat Abdirahman Adan, who received the equipment, said the donation by AMISOM will help the Criminal Investigations Department conduct proper investigations on crimes committed in the region."Today AMISOM has handed over equipment to us, the items they delivered include investigation kits, fingerprint kit, barrier and warning tape, symbols used to locate the scene of investigation, criminal fingerprint record cards, bloodstain pattern documentation kit. AMISOM has brought the items that could be used to examine all these issues. It is an important effort that will help [the CID department] and without it we cannot make accurate investigation" the Commissioner added.
The handover of the items is a follow on to a training programme on Improvised Explosive Device (IED)/Explosive Ordnance Disposal (EOD) conducted for 15 police officers from various parts of South West state. During the training, participants were taught how detect IEDs at crime scenes.
OPINION, ANALYSIS & CULTURE
"Majority of Somali refugees living in Dadaab camp are willing to be repatriated back home on condition they are guaranteed security and access to basic services like education, housing and health,"
21 December – Source: Xinhuanet – 690 Words
Habibu Abdikadir Abdi has lived in Dadaab refugee camp in northern Kenya with her husband and nine children since 2008 while dire economic circumstances have forced her to undertake strenuous jobs in order to put food on the table. The 32-year-old Somali refugee found a safe haven in the sprawling complex that once housed about 400,000 fellow country men and women who fled war and natural calamities in the Horn of African State.
Habibu and her young offspring are lucky to have escaped the devastations of civil strife that has engulfed her native country for two and a half decades though living in a foreign country without a formal job has been an agonizing experience. Speaking to Xinhua at Dadaab refugee camp on Tuesday, Habib decried financial hardships endured by her entire household in recent times thanks to declining support from foreign benefactors.
Currently, Habib ekes out a living from cleaning jobs that earns her 2 dollars a day while her husband's jobless status has made it a herculean task to feed and educate the young children. "The food and financial aid meant for us has been declining," said Habib, adding that female refugees have borne the brunt of a cut back on humanitarian assistance. Habibu retains an emotional attachment to her homeland and in particular the capital city of Mogadishu that she calls her hometown but the thought of going back there disturbs her given the volatile security situation.
She is among a growing number of Somali refugees awaiting repatriation back home under a tripartite agreement signed between the UN Refugee Agency, Kenya and Somalia governments in November 2013. Though Habibu loves her native country, she is still pondering on whether it is prudent to relocate due to the fragile security situation as well as climatic vagaries like droughts that have had a devastating impact on local communities.
Despite the fact that obtaining food rations has been a nightmare in the refugee camp, she is yet to make a decision on a permanent relocation to her hometown. Habibu embodies the dilemma facing Somalia refugees living in Kenya whose desire to relocate to their mother land is constrained by the tragic reality of encountering new forms of security threats, poverty and social stigma.
Faxti, an 18-year-old Somali refugee who settled at Dadaab camp in 2010 with her family members looked forward to a safe return to her native country with a mixture of nostalgia and anxiety. The young woman who is a native of the port city of Kismayo in south central Somalia defied self-doubt and doomsayers to jump into a plane that ferried her and the next of kin back to Somalia on Tuesday. "I want to go back to Somalia, because it is my home country," Faxti told Xinhua on Tuesday before she boarded a UN plane that ferried fellow refugees back home.
On Tuesday alone, 90 Somali refugees left Dadaab camp to Kismayo to start a new life after years of sojourn in a foreign land. The voluntary repatriation of Somali refugees that commenced in early 2014 has been going on smoothly save for minor logistical hitches. Filippo Grandi, the UN High Commissioner for Refugees, revealed that about 75,000 Somali refugees have so far returned home while an additional 20,000 is awaiting repatriation.
TOP TWEETS
@cgtnafrica: Somalia's #Dadaab refugees are free to choose whether to go back home or stay http://ow.ly/LUpk30hmGyQ
@HarunMaruf: BREAKING: Drama after the Somali govt, under pressure from influential clan elders, MPs and military officers freed prominent politician @AAbdishakur. Some units from the army vacated their bases in Lower Shabelle region in protest of the deadly attack and detention, sources say.
@DalsanFM: BREAKING Outspoken Opposition & Ex Presidential Candidate Abdirahman
Abdishakur @AAbdishakur arrived at the courts under heavy security #Mogadishu #Somalia
@MoPIED_Somalia:The Permanent Secretary of@MoPIED_Somalia  @ADirshe in his closing remarks "We are happy to see skilled youth with promising future to bring business ideas to solve social problems and improve the#Somali economy by solving the current challenges".
#Innovate4Somalia #Somalia
@ICRC_Africa: The severe drought in #Somalia had a devastating effect on millions of people. For Isaaq and his family, hope came in the form of a cash transfer.
@ACFsomaliaCD: Failed rains and consecutive poor harvests continue to push #Somalia to the brink of #famine. The time to act is now. https://www.actionagainsthunger.org/donate-now
IMAGE OF THE DAY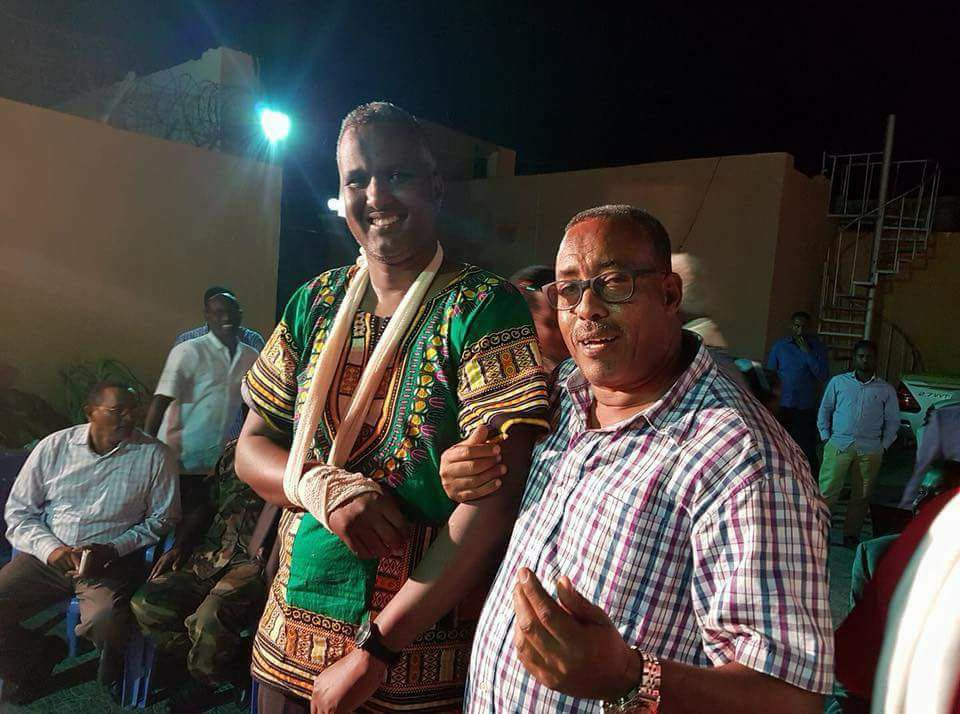 Former Minister and 2017 Presidential Candidate, Abdirahman Abdishakur  following his release last night.
Photo:  @radiogarowe