August 7, 2018 | Daily Monitoring Report
US-backed Somali Forces Capture Bases From Al-Shabaab
07 August – Source: Garowe Online – 243 Words
U.S. backed Somali Special Forces were reported to have successfully captured strategically important bases from Al-Shabaab militants in the south on Tuesday.  Somalia's Special Forces – Danab unit, along with American soldiers launched a surprise dawn attack in the towns controlled by Al-Shabaab, setting off a heavy gunfight with the extremists group.
"The allied troops retook Bulo-Konto, Dangiga Balow, Basro and Garas-weyne villages in Middle Shabelle region, and is now under the control of the forces," Abdifatah Haji, a local official, told   reporters over the phone. Mr. Haji said capture ensued after the operation of the Somali and their allied US forces, noting there was a short resistance by Al-Shabaab militants before vacating the area.
The U.S. military advisers provide substantial air and ground support to the Somali National Army [SNA] and the African Union forces in battling against the Al-Shabaab. "The liberated areas were used to train young recruits by Al-Shabaab to join the Al-Qaeda-affiliated terrorist group," he added.The official did not comment on possible casualties on the troops.
This comes as Somali and foreign forces, including AMISOM, have increased ground and air offensives against the militant group Al-Shabaab, which still controls large swathes of territories in the south and central regions. Somali Federal Government is pushing for the quick integration of federal and state security forces to take the security responsibility from the AU forces who are expected to pull out from the Horn of Africa nation in 2020.
Key Headlines
US-backed Somali Forces Capture Bases From Al-Shabaab (Garowe Online)
Police Issue Security Alert Over Possible Attacks In Baidoa (Halbeeg News)
Deadly Blast Kills 5 Ethiopian Soldiers In Somalia (Mareeg News)
UN Agency EU Train Migrants Returning To Somaliland (Xinhua)
Album Restores Worldly Sounds Of 'Swinging Mogadishu' (Daily Mail)
NATIONAL MEDIA
Police Issue Security Alert Over Possible Attacks In Baidoa
07 August – Source: Halbeeg News – 189 Words
Somali police have issued a security alert over possible attacks in the country – the capital of Southwest State Baidoa.  Baidoa Police commissioner, Mukhtar Mohamed Ibrahim said, security agencies have obtained credible intelligence information,  that Al-Shabaab is planning to carry out attacks in the city.
He asked the public to be extra vigilant and to collaborate with the security forces to beef up security. "We have credible intelligence that Al-Shabaab is planning to carry out further attacks in Baidoa." said Mr. Ibrahim. Al-Shabaab has in the past carried out attacks in Baidoa city, which claimed dozens of lives. Mr. Ibrahim said the law enforcement agencies imposed a temporary ban on motorbikes and rickshaws operating inside Baidoa city."
Our credible sources and intelligence reports, indicate that Al-Shabaab plans to use rickshaws (Bajajs) or motorbikes laden with explosive to execute the attacks" he stated. "Therefore, we decided to temporarily impose a ban on rickshaws (Bajajs) and motorbikes." Located about 250 kilometer northwest of Mogadishu, Baidoa city serves as the headquarters of Southwest state. Al-Shabaab fighters lost the control of the city in 2012 after its fighters were defeated by allied forces.
---
Deadly Blast Kills 5 Ethiopian Soldiers In Somalia
06 August – Source: Mareeg News – 170 Words
Roadside bomb explosion has ripped through an AMISOM armoured carrier near Baidoa town, some 250 kilometer southwest of Somali capital Mogadishu. The blast targeted a military vehicle carrying Ethiopian forces serving under AMISOM, killing 5 soldiers, local radio Risaala reported.
An armoured vehicle was destroyed in the bomb explosion, according to radio reports. Monday's explosion also injured scores of other soldiers onboard. There was no immediate comment from AMISOM over the bomb attack. The blast was claimed by Al Qaeda inspired group of Al Shabaab through its website. The group says the blast killed and injured number of Ethiopian soldiers while traveling between Bardale and Baidoa towns.
The Al-Shabab has been waging an insurgency in Somalia for more than 10 years. A 22,000-strong African Union force is in the country to help the government fight the al-Qaeda-linked militants. The group has been driven out of many urban areas since 2011, however it still controls territories in rural areas and carries out gun attacks and bombings on military and civilian targets.
INTERNATIONAL MEDIA
07 August – Source: Xinhua – 397 Words
The UN migration agency and the European Union are this week training over 60 migrants who opted to return to Somaliland from Libya instead of continuing their journeys to Europe, the UN agency said on Monday. The International Organization for Migration (IOM) said the migrants will now have access to "Start Your Business" training through the EU-IOM Joint Initiative for Migrant Protection and Reintegration in the Horn of Africa.
Jessamy Garver-Affeldt, head of the IOM Sub-Office in Hargeisa, said the training gives migrants business planning, procurement, marketing and financial planning skills. "With those skills, the migrants should be able to open their own businesses, and make them more profitable and sustainable. For most returnees, this is the next stage in the reintegration process. But if they choose to work for someone else, they are also more employable," Garver-Affeldt said.
In February, explicit photos and videos of Somalis being tortured in smugglers camps in Libya outraged the public back in Somalia, prompting President Mohamed Abdullahi Farmajo to order the evacuation of Somali migrants allegedly enslaved in Libya. Garver-Affeldt said the five-day training is part of a wider 25 million euro EU-IOM Joint Initiative on Migrant Protection and Reintegration initiative, which is active in 26 countries in the Horn of Africa, the Sahel and Lake Chad region, and North Africa.
The initiative supports reintegration for returnees in countries of origin. The first group of trainees were mainly young men in their 20s and 30s, with most of them having returned to Somaliland over May and June with IOM help. According to the IOM, after the migrants complete the training, their business plans are vetted, start-up supplies are procured for them and they receive further monitoring and mentoring to ensure the sustainability of their businesses. "The business training is part of what we call economic reintegration," said Julia Hartlieb, senior regional program coordinator for the Joint Initiative in the Horn of Africa.
"We counsel the migrants once they return to understand their interests and capacity. We also work to understand the needs of the communities they live in," Hartlieb said. "We then train them, or send them back to school, college or university to ensure that they have the skills to build their own economic self-sufficiency and to contribute to their communities." Irregular migration, known as tahriib, has been a popular route out of poverty and unemployment for many Somalilanders.
OPINION, ANALYSIS & CULTURE
"It was a weird dichotomy. On the one hand the government was very oppressive, but it promoted the arts," Sohonie said. Music has not left Somalia, with Sohonie finding a vibrant local scene. But younger artists record electronic productions as in so much of the world."
07 August – Source: Daily Mail – 710 Words
Somalia is rarely described as on the musical vanguard but there was a time, before its turmoil, when the Horn of Africa nation bustled with an electrifying mix of the world's sounds. A new album aims to bring a wider audience to the music of Somalia through the restoration of dusty cassette recordings from the 1970s and 1980s, a time when "Swinging Mogadishu" came alive with free-flowing nightclubs that became a crossroads for funk, pop, reggae and Bollywood.
"Sweet as Broken Dates," which comes out August 25 on two LPs or one CD, took more than a year of exploration led by Vik Sohonie, a former news reporter whose New York-based label Ostinato Records seeks out music from countries whose cultures are often overlooked."As someone who has a degree in history, I always knew that these places had more to offer than what's in the media," Sohonie said.
Somalia has lacked a functioning government for a quarter-century and its leading musicians have drifted around the world. Making the project even more complicated, Somalia had no record labels releasing albums; the music industry was entirely managed by the now crumbled state, with Siad Barre's military regime putting bands on the government payroll and tightly controlling selections of state radio.
"This is a music universe that has been just completely untapped," Sohonie said. – Hunt for aging cassettes – Sohonie traveled to Somalia but found that the key resource was scattered elsewhere — cassette tapes, from listeners who taped radio broadcasts or put clunky old recorders on stage at performances.
He found aging cassettes on sale in public markets in nearby Djibouti and seized upon a vital trove in the breakaway region of Somaliland, where an Italian-educated mathematician and preservationist, Jama Musse Jama, has salvaged some 10,000 cassettes as part of his Red Sea Foundation.
Michael Graves, an audio engineer who has won Grammys for restoration work on US folk music and radio recordings of late country music legend Hank Williams, digitally remastered the songs on "Sweet as Broken Dates" but the compilation deliberately keeps some of the cassettes' rough edges.
TOP TWEETS
@EUCAPSOM: @EUCAPSOM supported #Somaliland AGO workshop on police-prosecutor cooperation with focus on Trafficking in Persons and Smuggling of Migrants held in#Hargeisa on 5th and 6th of August 2018
@HarunMaruf: Report: Somali troops accompanied by AU forces have attacked Al-Shabab positions west of Bal'ad town in Middle Shabelle region, Tues morning. Early reports say allied troops seized several villages. AS has been carrying out relentless attacks on Bal'ad-Jawhar Highway for months.
@Fatumaabdulahi: Fatuma Retweeted Mohamed sheik Ali "No regret" was how Maxamed lived. So glad he did this trip to the US, he was excited about it. He was excited about everything: life, work, friends, business ideas. I never saw him depressed or sad. Always upbeat and hopeful. Planning the next business venture. #WeAreNotSafe
@shf_somalia: The Humanitarian Response Plan (HRP) in Somalia remains severely underfunded, especially if compared to 2017. At the end of July, the HRP had received only 76% of the funds made available in the same period of 2017.  More info:https://reliefweb.int/report/somalia/somalia-humanitarian-snapshot-6-august-2018 …#InvestInHumanity
@M_H_Ingiriis: Abdi Ileey has finally acquiesced – like Robert Mugabe – to military negotiators who gave him two options and he chose the safest route: resignation. This former assistant electrician who turned leviathan was rapidly promoted to the top job by the TPLF security apparatus in 2005.
@MopicP: Puntland President H.E Abdiwali Gaas today inaugurated the newly renovated and extension of MoPIC Main building @MopicP, President Abdiwali thanked  @gconway_UNDP the country director of @UNDPSomalia for the wonderful work they are doing to help the Puntland Government.
IMAGE OF THE DAY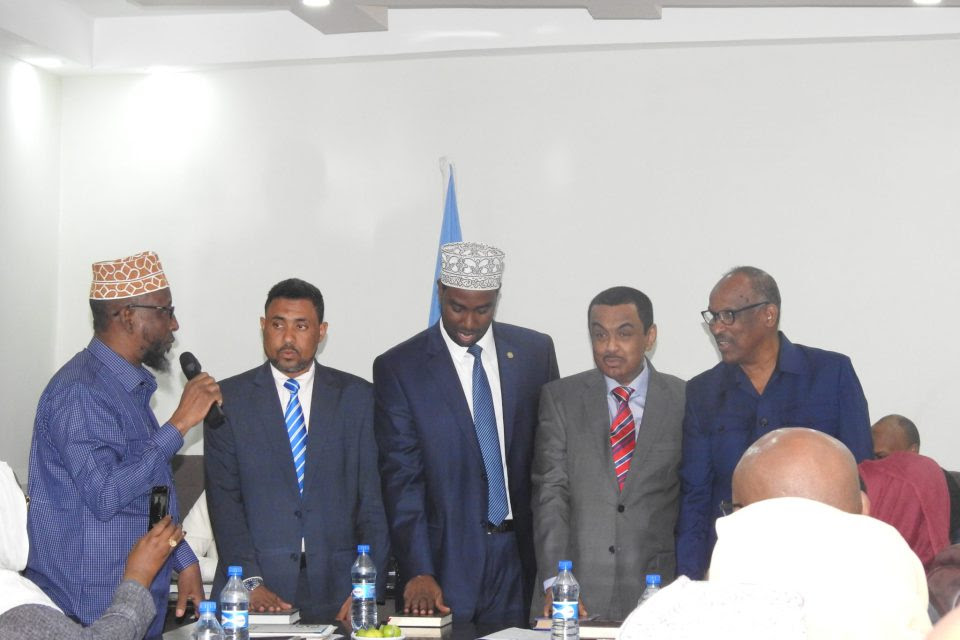 The newly appointed ministers taking the oath of office on Monday in Mogadishu, Somalia.
Photo: @Halbeeg News