August 3, 2017 | Daily Monitoring Report
03 August – Source: Africa Business Communities – 537 Words
Somalia's economy is projected to grow at a steady, nominal annual rate of 5% to 7% over the medium-term, according to the second Somalia Economic Update to be published by the World Bank Group. "Mobilizing Domestic Revenue to Rebuild" assesses the prospects for domestic revenue mobilization to support crucial public services and expand economic opportunity. "Sustainable and reliable domestic revenue is critical for Somalia's delivery of the National Development Plan," says Hugh Riddell, World Bank Country Representative for Somalia. "The new government is already working to establish legal and technical capacities for revenue generation."
To support sustainable development spending and reduce Somalia's reliance on external funding, "the government and the business community need to work together to find ways to increase domestic revenue without undermining a vibrant private sector, which has been an engine for Somalia's development over the past two and half decades." The report shows that Somalia's gross domestic product (GDP) growth continues to be urban-based, consumption-driven, and fueled by remittances and donor support. Over 70% of GDP is generated in urban areas. Nominal GDP is estimated to have grown by 5% in 2015 and by 6% in 2016, but data constraints make it difficult to comprehensively assess the macroeconomic situation, especially the rural sector and non-marketed output, such as water, fodder, and food grown for household consumption.
Growth in 2017 will decelerate to 2.5% in real terms, although it is expected to pick up in subsequent years, and grow steadily over the medium-term. "This growth is driven by aggregate demand, fueled by the private sector, remittances, lower oil prices, and improved security," explains John Randa, Senior Economist at the Bank's Macroeconomic and Fiscal Global Practice, and Lead Author of the report. "Reconstruction efforts are likely to continue to underpin growth as the new government consolidates peace and security."
Key Headlines
Somalia Economy Projected To Grow At 5-7% Over Medium Term (Africa Business Communities)
President Farmaajo Appoints Former Mogadishu Mayor As Senior Adviser (RBC Radio)
Somaliland Parliament Speaker Resigns Ahead of November Elections (Somali Update)
Kenya Official: 3 Killed In Suspected Al-Shabaab Attack (Washington Post)
How The Somali Government Is Getting Terrorists To Defect (Daily Signal)
NATIONAL MEDIA
President Farmaajo Appoints Former Mogadishu Mayor As Senior Adviser
02 August – Source: RBC Radio – 101 Words
Somali President Mohamed Abdullahi Farmaajo has appointed former Mogadishu Mayor, Mohamed Ahmed Nur Tarsan as senior political adviser to the Presidency. In a Presidential Decree, President Farmaajo said, Mr. Tarsan will serve as his senior political adviser. The decree noted that it was effective starting from Tuesday 1st of August.
Mr. Tarsan has served as the Mayor of the capital and Governor of Banadir region between 2010-2012. He was sacked by former President Hassan Sheikh in 2012. During the latest indirect election early this year, Mr. Tarsan was among 25 candidates who run for presidential position but lost to Mr. Farmaajo.
---
Somaliland Parliament Speaker Resigns Ahead of November Elections
02 August – Source: Somali Update -141 Words
Somaliland Parliament Speaker Abdirahman Abdullahi (Irro) has today resigned from his position as speaker of the breakaway region's parliament.  Mr. Irro has earlier announced his candidature for the presidency of Somaliland in the upcoming elections in November. He made the resignation during sitting of Somaliland's House of Representatives on Wednesday in Hargeisa. "I want to announce my resignation as the Speaker of the House of Representatives of Somaliland,"
Mr. Irro told the lawmakers. "As you know, I am Wadani Party candidate for the presidency so I would like to support the campaign." Abdirahman Irro served as the Speaker of Somaliland Parliament for more than a decade. He founded the opposition Wadani Party in 2015, one of the only three recognized political parties in Somaliland. Mr. Irro said he sought to be independent from government and push for his party's election campaign.
INTERNATIONAL MEDIA
02 August – Source: Washington Post – 219 Words
Suspected Al-Shabaab extremists attacked vehicles in Kenya's coastal county of Lamu and killed three people just days before national elections are held, officials said Wednesday. A bus was traveling from Mombasa to Kipini in the afternoon when fighters shot at it from the bushes, coast regional police boss Larry Kieng said. He said the fighters fled once police escorting the bus engaged them. Five people in the bus were wounded.
A private vehicle was later attacked on the same road and set on fire, killing its three passengers, said Joseph Kanyiri, who is in charge of a multi-agency task force to clear Al-Shabaab fighters from a dense forest in the area they have been using as an operating base. Two motorbikes were also set on fire. Al-Shabaab in recent weeks has stepped up deadly attacks in Kenya's border counties of Lamu and Mandera. The extremist group based in neighboring Somalia has threatened to disrupt Kenya's elections on Tuesday.
Al-Shabaab has carried out more than 100 attacks inside Kenya, calling it retribution for the East African nation deploying troops to Somalia in 2011 to fight the extremists. Police escorts for buses travelling through Lamu and Mandera have been mandatory since November 2014 after Al-Shabaab extremists stopped a bus heading to Mandera and killed 28 passengers after separating them from Muslims.
OPINION, ANALYSIS AND CULTURE
"Some people joined Al-Shabaab for practical reasons: for money, because of clan politics, or out of a desire to exact or escape revenge. Others were kidnapped and forced to fight, or duped into joining the group."
02 August – Source: The Daily Signal – 649 Words
The East African country of Somalia recently concluded a 60-day amnesty program for anyone willing to defect from the Islamist terrorist group, Al-Shabaab. It is too soon to judge how effective this amnesty program will be in the long term. However, its inducement of a significant number of terrorist defections at least temporarily boosts the fight against Al-Shabaab, and demonstrates the range of motivations of people who join the group.
The amnesty declared by the Somali government on April 6 was the second one it had offered since 2014. To take advantage of the amnesty, defectors had to renounce their membership with Al-Shabaab, reject Islamist terrorism, and work to improve the country. Defectors participate in a rehabilitation program, known as the Disengaged Combatants Programme, that give job training, reading and writing instruction, and psychological support services. The program concludes with a final interview.
If the "exit board" conducting the final interview concludes that the defector is fully disengaged from terrorism and no longer poses a threat, it allows him to re-enter Somali society. Graduates are safe from terrorism prosecution, and they can rejoin their families and obtain employment. Oftentimes, graduates are encouraged to work in the National Intelligence and Security Agency and to aid officials there in their efforts to induce additional defections. However, former Al-Shabaab leaders and those who committed particularly heinous human rights abuses are handled differently.
The amnesty is a component of newly elected President Mohamed Abdullahi Mohamed's effort to annihilate Al-Shabaab, a goal shared by the U.S. government. The terrorist group has bedeviled Somalia for a decade, and once controlled as much as one-third of the country. A multinational coalition has since driven Al-Shabaab from many of its strongholds, but the group is still dangerous. Last year, it killed almost four times the number of people it killed in 2015. The group recently vowed to escalate its violent campaign and carried out "one of its deadliest attacks in years" on June 8, killing an estimated 70 people in an attack on a Somali military base. Al-Shabaab also threatens Somalia's neighbors, many of whom are U.S. allies. Amnesty is not a silver bullet against such a dangerous terrorist organization, but it could drain fighting power from the group.
Some people joined Al-Shabaab for practical reasons: for money, because of clan politics, or out of a desire to exact or escape revenge. Others were kidnapped and forced to fight, or duped into joining the group. These "pragmatic" members of Al-Shabaab are the best candidates for defection, as they are not fanatically committed to the jihadist cause. An amnesty program can be a useful way to remove them from the battlefield. However, there are some obvious pitfalls and limitations to amnesty programs. Terrorists could pose as defectors to give them an opportunity to strike later when they have the advantage of being considered safe. The Somali government has to determine which crimes are so heinous that they cannot be pardoned, even if the offender defects.
TOP TWEETS
@MofaSomalia: #Somalia thanks #China for food aid and generous contributions to drought-affected Somalis. China delivered 2,821 tons of rice to #WFP.
@Mogadishuupdate: President of the Federal Republic of Somalia @M_Farmaajo appointed @MohamudTarsan to to be his political advisor, #Somalia @HarunMaruf
@Siad_A: 24 Ministers, the President & the PM, all their families live outside Somalia & transfer salaries to outside Somalia@M_Farmaajo @SomaliPM
@HassanIstiila: #BREAKING: #Somaliland president has fired the Auditor General, Mohamoud Aw Abdi Ibrahim known as "Mohamoud Dheere".
@mpfsomalia: Transparency & cooperation with the #media is crucial for development. Q&A on #SomaliaEconomicUpdate with Somali media outlets
@HarunMaruf: Reports of overnight Al-Shabab attack in Lafey, Mandera county. Last attack in that area left 6 dead from IED explosion back in June.
IMAGE OF THE DAY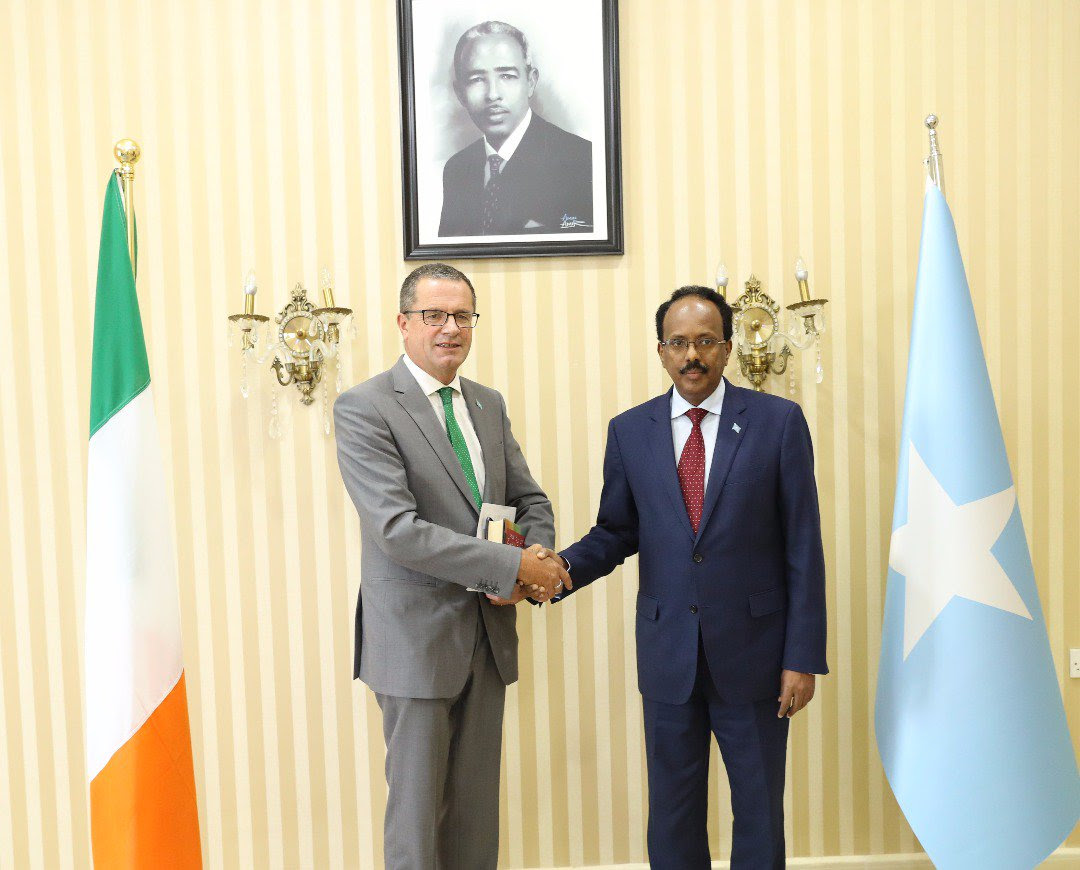 His Excellency President Mohamed Abdullahi Farmaajo receives credential from Ambassador Vincent O'Neill of Ireland
Photo: Villa Somalia