August 22, 2017 | Daily Monitoring Report.
22 August – Source: Evening Standard, UK – 288 Words
Britain today appealed to the international community to step up its support for Somalia as the country remains on the brink of famine. More than 1.4 million children in the east African nation are malnourished and half the country does not have enough food after droughts devastated livestock and crops.
After visiting, Rory Stewart, joint minister for the Foreign Office and the Department for International Development, described the situation as "utterly desperate" and said the UK's lead on averting the famine must be followed by the rest of the world. He said: "Britain has played a leading role in providing urgent support to avert a catastrophic famine … however, as Somalia continues to face a devastating drought, the UK cannot act alone. "We must take collective action to stop more people dying and the international community must step up efforts to build long-term resilience and stability, in order to break the cycle of humanitarian catastrophes."
The United Nations described the number of people starving across east Africa as the largest humanitarian crisis since the creation of the organisation in 1945. Britain has so far spent £170 million in emergency relief to try to prevent famine in the country. "The situation in Somalia is utterly desperate and harrowing," said Mr Stewart, adding that he was proud of the life-saving work being done by British people, diplomats and aid workers.
Key Headlines
Minister Calls On World To Help UK Save Lives In Drought-hit Somalia (Evening Standard)
Shun Extremism And Illegal Immigration President Farmaajo Tells Somali Students In Egypt (Goobjoog News)
Al-Shabaab Attacks Afgooye For The Second Night (Jowhar.com)
20% Drop Seen In Sheep Prices (Saudi Gazette)
Uncovering Somalia's Forgotten Music Of The 1970s (Aljazeera English)
NATIONAL MEDIA
Shun Extremism And Illegal Immigration, President Farmaajo Tells Somali Students In Egypt
22 August – Source: Goobjoog News – 341 Words
President Mohamed Farmaajo has called on Somali students abroad to shun extremist violence and illegal immigration appealing to them to focus on their studies and contribute to building the nation. Speaking during a meeting with students and other Somalis working in Egypt, President Farmaajo said students had the task of contributing to rebuilding the country adding they should support each other to avoid extremism "I know some of you are students while others are working in this country but please avoid the notion of illegal migration to the West," said President Farmaajo. Present during the meeting was former president Dr. Abdiqasim Salad Hassan among other government officials.
Meanwhile University of Alexandria has pledged to increase by 50% the number of scholarships to Somali students. In a separate meeting with president Farmaajo, Imam of Alexandria Mosque Dr. Ahmed Al-Dayib said the university will offer more education opportunities for Somali students and also wished the president well in promoting peace back home. "Mr. President we pray to Allah to guide you to the path of bringing tranquility and progress to your people and country. We also give glad tidings that our centre will provide education and awareness on religious affairs and on how to eliminate extremism," said Dr. Al-Dayib.
The two leaders also agreed to establish education centres in Somalia for the teaching of Arabic language and that Imams from the university would visit Somalia to advance awareness on fundamentalism, Islamic faith and culture. President Farmajo pointed out the role of the Alexandra University Islamic scholars and its activities in Somalia since it is a home for knowledge that Somali students seek education from. "I am confident of the role you can take in the awareness of the Somali youth that were misguided and how to fight extremism which has had a huge negative impact on my country" said President Farmajo. Dr. Al-Dayib pledged to send a delegation of Islamic scholars to Somalia and will also invite their counterpart in Somalia to Egypt in order to cooperate in the eradication of extremist ideas.
---
Al-Shabaab Attacks Afgooye For The Second Night
22 August – Source: Jowhar.com – 112 Words
Fighters from Al-Shabaab have for the second night attacked the district of Afgooye. The attack begun after the fighters launched an offensive on the Afgooye police station and a gunfight ensued. The police officers stationed strongly defended the police station from the heavily armed Al-Shabaab fighters. Residents have mentioned that they heard the sound of heavy gunfire and blasts from the police station.
It was just the other night heavily armed Al-Shabaab fighters attacked Afgooye when they launched an offensive from the riverside and attacked a base for government soldiers.  The attack come in the midst of an ongoing offensive in the region to lodge out Al-Shabaab from the areas they control.
INTERNATIONAL MEDIA
22 August – Source: Saudi Gazette – 305 Words
Sheep prices are expected to decline by 20 percent following the lifting of ban on livestock imports from Somalia and arrival of two million heads of sheep, said Fahd Bin Siban Al-Sulami, a member of the board of directors of Jeddah Chamber of Commerce and Industry (JCCI). Al-Sulami said traders and investors in the sector have started receiving truck loads of sheep at Jeddah Islamic Port (JIP) and other seaports in the country to meet huge demand for livestock during Haj and Eid Al-Adha, when many people sacrifice animals to win the pleasure of Allah.
Annual investments in the Kingdom's livestock market are estimated at SR11 billion, Al-Sulami said while praising the government's efforts to ensure food security to enable citizens to lead a decent life. He commended the decision taken by Environment, Water and Agriculture Minister Abdul Rahman Al-Fadl to lift the ban on cattle imports from Somalia after reopening the quarantine. He said the government's decision to import cattle from different countries including Spain and Georgia would stabilize prices, adding that it would benefit both traders and consumers."The Saudi livestock market mainly depends on imports from Somalia and Sudan," Al-Sulami said while talking to Al-Watan. About 80 percent of sheep sold in the market come from these two countries while the remaining heads of sheep are reared inside the country.
He said the reopening of imports from Somalia would not only contribute to market stability but also bring down prices by more than 20 percent. "Many factors including fall in exchange rate of Sudanese pound have contributed to falling sheep prices in the Kingdom." Al-Sulami said playing with sheep prices would not benefit anybody. "It's demand and supply that determines sheep prices in the Kingdom. Adequate supply of sheep with the arrival of truckloads of cattle will naturally decrease prices," he explained.
OPINION, ANALYSIS AND CULTURE
"Amid Somalia's protracted civil war and ongoing security threats, in the confines of places such as Hiddo Dhawr, Somali music has a rare space for expression in which a hint of the 1970s can still be felt,"
18 August- Source: Al Jazeera English- 2840 Words
In 1331, famed Moroccan explorer Ibn Battuta arrived in Mogadishu, on the Banaadiri coast, in what is today Somalia. Battuta came across the richest, most powerful port in East Africa, at the fore of the Indian Ocean trade system, then the centrepiece of the global economy. Anchored off the coast, he was greeted by "boatloads of young men … each carrying a covered platter of food to present to one of the merchants on board," writes Ross Dunn in The Adventures of Ibn Battuta: A Muslim Traveler of the Fourteenth Century. Such renowned hospitality welcomed seafarers and merchants from across the Arabian peninsula, Persia, India, Southeast Asia, and even China.
Mogadishu derives from "Maq'ad-i-Shah", Farsi – one of the lingua francas of Indian Ocean merchants and traders – for "Seat of the King". Its local name, Xamar, was given by Arab traders, after the Arabic word "ahmar" for the red soil along Somalia's coastline. The East African coast's role as multicultural crossroad imbued Somali culture with the traditions of its biggest trading partners, leaving an indelible mark on language, cuisine, dress, worldview, and, revealingly – its music.
Indian scales, Yemeni chord progressions, Sumatran melodies, and the rhythms of Bantu peoples just to the south created a sound that reveals not only the intermingling of Somalia's past but of the world's. That rich legacy could be heard in a newly recovered archive of more than 10,000 cassettes and master recordings we came across last year in Hargeisa, Somaliland. Radio operators hid this music, recorded in the 1970s, until 1987, to protect it during the bombardment ordered by Somalia's then military dictator.
Since Battuta's arrival, the subsequent sultanates, democratic republics, and collapsed states occupying continental Africa's longest coastline have suffered often at the hands of others – Portuguese warships, colonial dealmakers, great power games during the Cold War, Ethiopian and Kenyan armies, and the US' drones. As a result, Somali culture has registered little in the global imagination.
The two-decade civil war that began in 1991, preceded by heavy aerial bombardment of the north three years before, eviscerated Somalia's cultural revival of the 1970s. A prolific music scene, both live and recorded, and theatre were the forgotten casualties of the collapse.
TOP TWEETS
@HassanIstiila: #AlShabaab fighters have fired mortar shells in Barire town, govt forces backed by AU troops captured the town on this week. #Somalia.
@wakiilorg:The Upper House of the Federal Parliament has approved the Telecommunications Act. Here's the timeline from start to finish. #Somalia
@Vatescorp: #Somalia: Military Operation Kicks off after Militants Attacked Base in Afgoye http://ow.ly/4s8730eyExU
@HassanIstiila: #BREAKING: A #Somali military court has sentenced Hassan Ali (23) & Abdirahman Ise (20) to death for the killing of an elder Suldan Hilowle.
@gecpdsomalia: We conduct awareness raising sensitization on child rights and abolishment of child labour in Bocame district – Sool region #Somalia
@NJtweeting: Launching ceremony of the Local Governance law&district council formation #Kismayo LG Law is inline with National WADAJIR framework #Somalia
@pndichu: Great story on how tech is changing #Africa one country at a time. Congrats in advance  @caadilfarah for launching 1st tech hub in #Somalia
@Somaliupdate: #Somalia: The End of Osoble Rule in Hirshabelle http://somaliupdate.com/articles/10665/Somalia-The-End-of-Osoble-Rule-in-Hirshabelle …
IMAGE OF THE DAY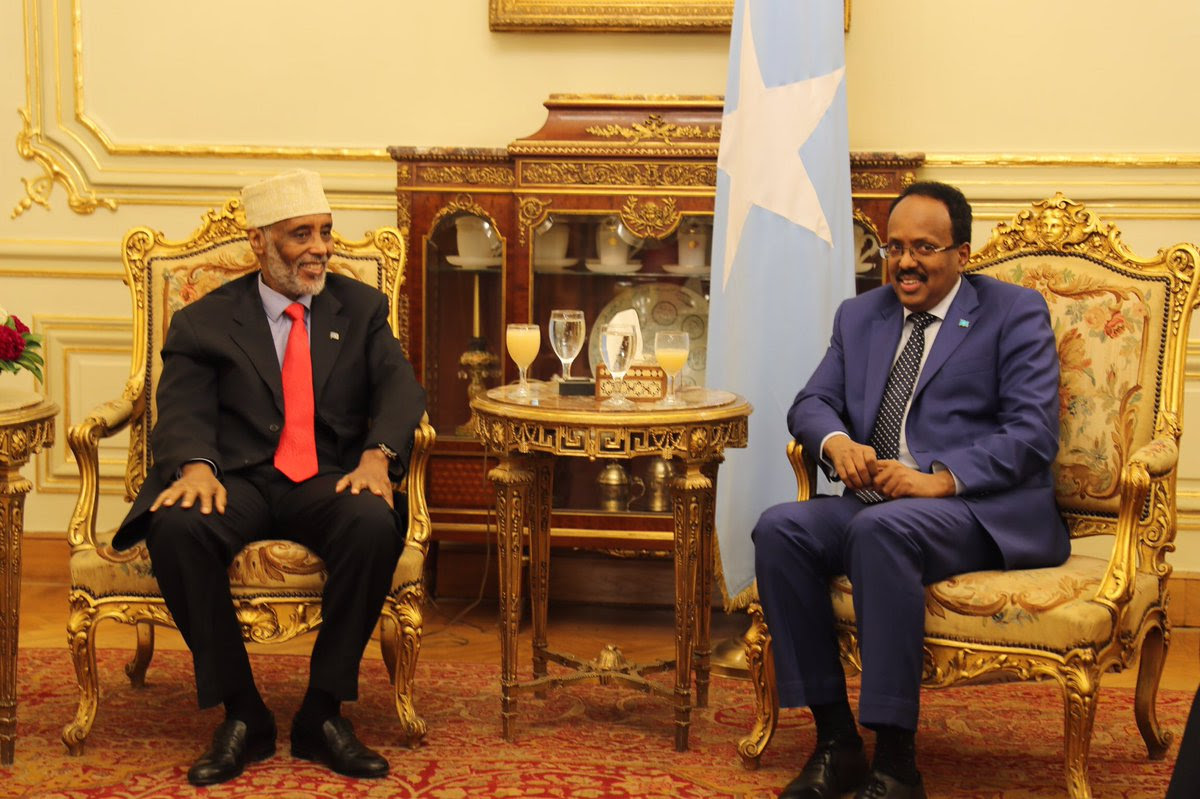 President, Mohamed Abdullahi Farmaajo meets former President, Abdiqasim Salad Hassan in Cairo during his state visit.
Photo: @TheVillaSomalia