August 1, 2017 | Daily Monitoring Report
Outcome Of Key Security Meeting Between President Farmaajo And Security Chiefs
01 August – Source: Jowhar.com – 180 Words
President Mohamed Abdullahi Farmaajo on Monday held a crucial meeting with the country's security chiefs. The meeting discussed key security-related issues including bettering the quality of the country's security forces, the war against Al-Shabaab, strengthening of cooperation among security branches and developing mechanisms to allow for take-over of the country's overall security responsibility before the end of the African Union Mission.
President Farmaajo instructed the security bosses to form a commission that is tasked with the preparation of a unified plan towards strengthening of cooperation among various branches of the army. President Farmaajo assured the commanders that his administration will take every necessary step to ensure the improvement of the quality of the army.
After the meeting, Deputy Police Commissioner Brigade General Bashir Abdi Mohamed told the press they formed a committee of eight members selected from SNA, police, intelligence and custodial corps to work on achieving the said goals. The plan will soon be shared with the president. The meeting came a week after the deadly infighting between the security forces that led to the death of several soldiers.
Key Headlines
Outcome Of Key Security Meeting Between President Farmaajo And Security Chiefs (Jowhar.com)
World Bank To Launch 2nd Economic Update On Somalia Today (Goobjoog News)
Bomb Under Car Seat Wounds Three In Somali Capital (Shabelle News)
Jubbaland President's Addresses Troops Readied For New Offensive In The Region (Dhacdo.com)
Worsening Drought Makes East Africa The Frontline Of The World's Fight Against Climate Change (Inews)
Somalia Is The Canary In The Coal Mine' Says Climate Change Expert Amid East Africa Drought Crisis (Inews)
NATIONAL MEDIA
World Bank To Launch 2nd Economic Update On Somalia Today
01 August – Source: Goobjoog News – 290 Words
The World Bank is today launching its second economic update on Somalia in Mogadishu two years after its first edition in 2015. The Update, the Bank said will assess the prospects for domestic revenue mobilization in the face of the many challenges Somalia faces especially in the wake of a devastating drought which has claimed several lives and destroyed livelihoods across Somalia. Key also is that the update identifies the priority needs for improving revenue mobilization and provides a timetable for actions and reforms. It assesses current tax laws and policies and identifies opportunities for broadening the tax base by introducing new taxes and fees and improving tax administration.
Currently Somalia does not have an effective tax regime relying on sales tax, income tax from civil servants, license fees and income from the Mogadishu seaport and airport as major sources of domestic revenues. In the 2017 national budget, the government proposed the strengthening of tax collection mechanisms and expansion of the tax bracket to rope in the private sector employees which are largely out of the tax man's reach.
In its update, the World Bank is calling for significant investments to close the country's huge capital and infrastructure gap, improve resilience, and improve the business environment over the medium term. The World Bank launched its first Economic Update for Somalia in 2015. The report identified two pillars critical to enhancing growth and macroeconomic stability. It noted the rehabilitation of public institutions that can generate public goods and services will be an enabler of long-term economic development, but it will rely on increasing the state's fiscal capacity. The report also said improvement of human and economic development outcomes was central if Somalia is to sustain its transition from conflict to stability.
---
Bomb Under Car Seat Wounds Three In Somali Capital
01 August – Source: Shabelle News – 124 Words
At least three people, including two women were reported to have been wounded in a car bomb blast in Somali capital, Mogadishu on Monday night, witnesses said. A witness, speaking to reporters said the explosion took place at Horseed area in Mogadishu's Waberi district, after an explosive device fitted into a car went off there. Three people have sustained wounds in the blast, and were rushed to a hospital.
Unconfirmed reports said the car belongs to a member of Southwest State Parliament. There was no immediate claim of responsibility for the latest bombing in the capital. On Sunday, an explosives laden car was detonated at a security checkpoint near Waberi district Police station, along Makka Al-Mukarama street, that left at least six people dead.
---
Jubbaland President's Addresses Troops Readied For New Offensive In The Region
01 August – Source: Dhacdo.com – 129 Words
Jubbaland President Ahmed Mohamed Islan has visited a military training camp outside the city of Kismayo where he met and spoke to dozens of the state's Dervish Force who have been trained and mobilized to carry out fresh offensive against Al-Shabaab. The offensive is aimed at liberating Al-Shabaab-held territories in the two Jubba regions.
In his address to the soldiers, Ahmed Madobe lauded them for remaining patient and strong while operating under tough situation. He pledged his administration's support to the army, saying that it will strive to pay their regular wages and salaries. He reminded them of their responsibilities to regain the country's security and liberate Al-Shabaab from areas under its control. He said Al-Shabaab was at a "collapse stage" thus the need to intensify operations against them.
INTERNATIONAL MEDIA
01 August – Source: Inews – 384 Words
Victims of climate change are starving to death after seasonal rains failed once again in parts of East Africa afflicted by a three-year drought – with 19 million needing help in getting food and water just to stay alive. I has visited Sanaag, one of the worst-hit areas in Somaliland, finding a remote camp in Fadhigab where six children had died in the past month as vital deliveries of food and water are unable to provide for ever-increasing numbers of desperate families arriving there. Clan elders – who have seen entire herds of livestock wiped out, destroying their communities' livelihoods – said the conditions were the worst they had ever experienced, after their hopes were dashed of summer rain finally providing respite. This area of the world has experienced many droughts before, but the length and severity of the dry spell here is unprecedented, resulting in malnutrition and acute watery diarrhoea while also worsening the refugee crisis as it forces people from their land.
I also visited an overstretched hospital for malnourished mothers and babies, where some patients are treated by doctors and nurses who are going unpaid as funds are running low. Dr Chris Funk, an expert on the East African climate with the US Geological Survey, said the situation in wider Somalia was "one of the most concerning rainfall trends in the world" and that average temperatures had also increased significantly. He believed this was "highly related to climate change" and said the fatal effects were a warning to the rest of the world because "Somalia is our canary in the coal mine".
The situation in East Africa was declared an international emergency this year, leading to charities and governments from across the world responding to a UN appeal for $1.5bn (£1.1bn) for Somalia – but so far there is a $600m shortfall. The British Government has contributed £170m from its aid budget for Somalia, while the British public has donated £60m to the East Africa Appeal for the whole region. While the funding has so far prevented the humanitarian crisis from getting worse, the situation remains extremely precarious as millions of people may continue to rely on emergency aid for months or even years to come. More than 800,000 children aged under five are severely malnourished.
OPINION, ANALYSIS AND CULTURE
"But then on the margins of these societies, you still have millions and millions of poor people. I feel concerned for my own children as well not just the children in East Africa. People need to realise that a place like Somalia is our canary in the coal mine – it's one of the places that will see the effects of climate change first, but we are all in the same mine as the canary at the end of the day."
01 August – Source: Inews.com – 774 Words
Dr. Chris Funk has no doubt that climate change is making things worse in the East African drought crisis – and believes Somalia is a warning to the rest of the world I've been studying the East African climate since 1999, when I started working with the Famine Early Warning Systems Network. We try to see the effects of climate change before they happen and predict them – so we can try to prevent the worst impacts. The climate in Somalia is difficult to assess because of the political and social situation, but we have quite a bit of data from there this year and we know they've had almost no rainfall in a lot of areas. There are two rainy seasons in East Africa, one in October to December and another one in March to May. The March to May one has seen a really big decline – one of the most concerning rainfall trends in the world. In terms of farming, the March to May season tends to be the more important time of year. But when you have two seasons in a row that are bad, that can be a real nightmare. For Somalia specifically, it was dry in the spring of 2016, it was very, very dry in the fall of 2016 and then it was dry again in the spring of 2017. Three bad seasons in a row have placed millions in peril. The temperatures have also been going up, approaching 0.8C above what they were at the beginning of the 20th century.
Why I firmly believe climate change is making things worse. There's a bit of debate about the cause of the rainfall declines – quite a few people think it may be due to natural decadal variability. But I most definitively think both the increasing temperatures and the decreasing rainfall in the spring are highly related to climate change. Some of our research definitively shows the strong negative impacts of this. It's really well established that if you're growing corn and the temperatures go up over 30C, that's bad for production. It's also really well established, including in work by our group, that as temperatures go up, that lowers the birthweight of children and increases the rates of severe malnutrition. And when there is a rainfall shortage, you get more evaporation from the land, so you'll run out of water sooner. Satellite vegetation data shows us the conditions on the ground really well, and going back 14 years we can say this is the worst drought that we've seen in a lot of these places. When we are looking at a map of a drought, we think about the people behind the pixel.
There is still a lot that east Africans can do to adapt, especially in places like Kenya and Ethiopia where there are highland areas that always receive quite a bit of water and are conducive to good crops. But there is a huge underlying vulnerability in the people living in extreme poverty in these areas. In countries like Kenya and Ethiopia there's a lot of progress, there's a middle class that is growing with lots of educated people. Things are really getting better for a lot of people. But then on the margins of these societies, you still have millions and millions of poor people. I feel concerned for my own children as well not just the children in East Africa. People need to realise that a place like Somalia is our canary in the coal mine – it's one of the places that will see the effects of climate change first, but we are all in the same mine as the canary at the end of the day. Look at the migrant crisis in Europe, for example – we're all on the same planet, so if we try to ignore the effects of global warming that we are seeing now, it's going to be to the detriment of a lot of vulnerable people but also the people in the developed world.
It's certainly going to be a race to see whether we curb emissions in time or not to prevent the very worst effects of global warming – but you could say it's to our advantage is that we're already seeing a lot of effects of climate change. The better we can alert people to those, the more of a chance we'll have to turn the ship around. Whether people will listen or not remains to be seen. But science has been progressing pretty steadily for the last 300 years, so in the long run I think science is going to prevail.
TOP TWEETS
@engyarisow: World Bank to launch 2nd Economic Update on#Somalia today…
@HassanIstiila: #BREAKING: #SomaliaEconomicUpdatemeeting kicked off in #Mogadishu airport, deputy PM, MPs, minister and other stakeholders are attending.
@UKinSomalia: #Somalia Deputy PM Ahmed Khadar attended  #QBPMogadishu2017 celebrating #UK's long history & close relationship with #Somalia
@AbdulBillowAli: Following recent Al-Shabaab attacks, experts say that #Somalia not ready to take control of its own security. https://www.youtube.com/watch?v=4WCIUX971JA
@Hamza_Africa: #AlShabaab's #Mogadishu governor killed in a US drone strike. Sheikh Ali Jabal was killed late Saturday near Toratorow. #Somalia
@golfyare: A bomb planted in one of bride's motorcade goes off just before z bride/groom entered the car, The driver was injured#Mogadishu
@HarunMaruf: BREAKING: Two security personnel were killed following #IED explosion outside Mogadishu: source
@PizzaHouse252: We're breaking from the painful past and gracefully rejoicing the future with our customers and whole of#Mogadishu #RebuildPizzaHouse
@engyarisow: Addressing Galkayo Joint Security Patrol..forces from GalMudug and Puntland. #Somalia moves on.
IMAGE OF THE DAY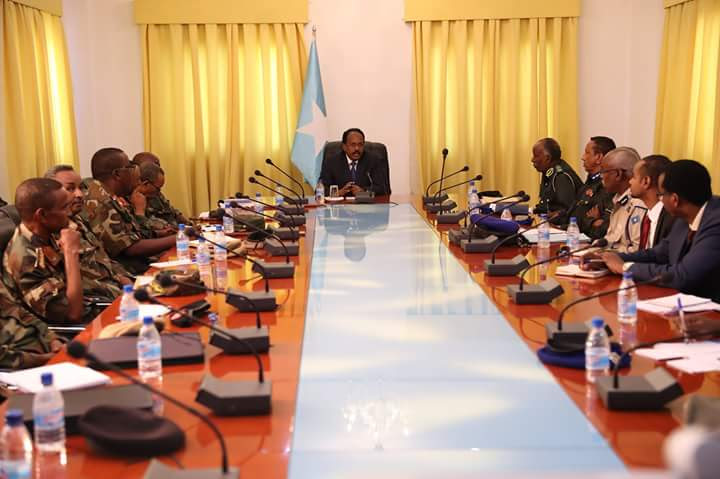 His Excellency President Mohamed Abdullahi Farmaajo meeting with the Senior Security officers in Villa Somalia to discuss recent security incidents in the city.
Photo: @VillaSomalia