April 3, 2017 | Daily Monitoring Report
Puntland VP Decries Inequitable Resource Distribution By Federal Government
03 April – Source: Jowhar.com – 152 Words
Vice President of Puntland, Abdihakim Abdullahi Amey has accused the federal government of inequitable distribution of national resources. Amey said it was unfortunate for his administration to receive only $150,000 towards the ongoing drought response efforts despite hosting people displaced from four other regions hit by the droughts. "It is not fair for the federal government to allocate more resources to regions that have less population and landmass. We have said this before and reiterate once again that the Farmajo-led federal government has followed the footsteps of its predecessors.
We, therefore remind them they are not only responsible for the northern and central regions of the country and that they need to distribute national resources equally," said Amey. The VP's remarks come days after the federal government's national drought committee handed over 200,000 USD to the Somaliland administration towards drought response, as has been done for all the other regions.
Key Headlines
Puntland VP Decries Inequitable Resource Distribution By Federal Government (Jowhar.com)
Puntland Minister Suspended Over Corruption Allegation (Garowe Online)
Garissa University Marks 2nd Year Since Deadly Al-Shabaab Attack (Goobjoog News)
Somalia Calls For Economic Investments To Beat Al-Shabaab (The New Arab)
Qatar Charity To Aid Famine-hit Somalia (New Arab)
WhatsApp Groups Address Food Crisis In Somalia (Borgen Project)
NATIONAL MEDIA
Puntland Minister Suspended Over Corruption Allegation
02 April – Source : Garowe Online – 181 Words
The President of Somalia's northeastern region of Puntland, Abdiweli Mohamed Ali "Gaas" is believed to have suspended his Livestock Minister Abdi jamal Osman over corruption allegation of development projects managed by the Ministry. Sources tell Garowe Online that Puntland administration didn't release official document in regard to the move, but indicated that Parliament committee and members of the civil society have filed complaints accusing the Minister of mismanaging projects funded by the African Development Bank.
Those projects aimed to improve livestock sector in all Puntland regions, but overshadowed by corruption and funds misappropriation, which led projects not to be implemented according the desired plans. However, this is the first time that President Ali has suspended a cabinet minister from his post over graft allegation, despite mounting corruption scandals against other officials from his government.  Other sources noted that relation between President Ali and Osman has worsened recently despite the latter being a strong ally for Ali in the past 3 years.   The suspension coincides with new appointment by Puntland President who picked new deputy for the Ministry of information and State.
---
Garissa University Marks 2nd Year Since Deadly Al-Shabaab Attack
03 April – Source : Goobjoog News – 170 Words
Garissa University in Kenya's north eastern province which was the scene of a deadly Al-Shabaab attack commemorated the second anniversary as students, parents and lecturers remembered 147 lives lost during the attack. Athletics Kenya organised a 5 km marathon in memory of the victims who were either killed or maimed during the militant's raid on the institution.
College principal Ahmed Warfa said security had been tightened including the setting up of a police post inside the institution manned by 42 armed personnel. "We set up police post inside and a biometric identification device has also been placed at the entrance of the college restricting strangers from accessing the institution,' said Warfa while speaking at the anniversary ceremony in Garissa town. Warfa said the institution had introduced lectures to deter students from radicalisation. "This is to ensure that the students are not brainwashed by radical groups who are now targeting university students," he said. The current admission of the university stands at 585 with 200 being residential, according to the principal.
INTERNATIONAL MEDIA
03 April-Source: New Arab- 274 Words
The capital of Somalia is now open for foreign investment as the city has significantly improved its security and infrastructure issues, according to the mayor of Mogadishu, Yussuf Jimale. Speaking at a welcome event for the Turkish deputy prime minister, Veysi Kaynak, Jimale said he also offered other incentives to member of Somalia's diaspora, including tax breaks and the fast-tracking of company registrations."We have achieved a lot in improving security," he said."Even though Al Shabaab still remains a challenge, Mogadishu is far better than it was five years ago. We have been trying to create jobs and attract investments by building roads."
Jimale alluded to the benefits already created by diaspora investments in Mogadishu, particularly with regards the town's hotels, supermarkets, universities and hospitals.One of the main benefits of this increased investment is that creating jobs for the country's youth removes the economic incentive for them to join al-Shabaab, he added. During a meeting with the Somali president, Mohamad 'Farmaajo', Kaynak said that Turkey would remain a major provider of aid to Somalia."Turkey donated at least 170 tons of aid on Sunday and soon Somalia will receive 11,000 tons from Turkey," he said.
Turkey will open a $50 million military base in Mogadishu in April to help train 500 new troops a year in the fight against the country's al-Shabaab militants.Turkey faces regional competition in the region from the UAE, which also wants to build up its military presence in the Horn of Africa.The UAE signed a deal with the Somaliland parliament in February, allowing them to open a military base in the port town of Berbera.
---
03 April- Source: Gulf Times – 410 Words
Due to the famine in Somalia, which caused the death of 100 people within 48 hours, and the unprecedented drought, which threatens the life of five million Somalis, Qatar Charity (QC) has decided to increase its relief efforts. QC announced yesterday that it is implementing a number of new urgent projects, which was earlier initiated by a project aiming at providing food and medical supplies to about 19,000 affected people. The project contributes to saving the lives of people affected by drought and malnutrition. International organisations reports indicate that more than two million Somalis need relief, and one million children suffer from malnutrition.
The project also seeks to alleviate the suffering of people living in drought-affected areas and have lost their livestock and displaced from their villages and rural areas owing to the lack of necessities such as water, food and medicine. Mohamed al-Kaabi, QC's Relief Department director said the agency had begun to intervene to face the drought in Somalia since the beginning of the crisis earlier this year. It launched 'Somalia: suffering and drought', campaign and carried out several projects in different areas, the last of which was supplying people of the West Somalia region with potable water. He pointed out that the new relief project, which will be implemented in the next few days, aims at relief of more than 1,800 affected families. Each family will benefit from a food basket that lasts for a month. Each basket contains rice, sugar, flour, edible oil, dates and milk. In addition, QC will be leading medical convoys that provide the needy with health services.
OPINION, ANALYSIS AND CULTURE
"The network is growing every day, and members are primarily of the Somali diaspora. Forty-five thousand people in Canada identify their ethnic origin as Somali, and tens of thousands of people in Minnesota are also a part of the Somali network addressing the food crisis in Somalia,"
03 April- Source: Borgen Project – 449 Words
A food crisis in Somalia has its citizens on the brink of another famine. Waiting on international or government aid is a slow process, so Somalis are turning to each other for support. "Combining 21st-century social media with the age-old clan network, the bedrock of Somali society as well as its safety net," as Ben Quinn from the Guardian puts it, communities of Somalis around the world are using WhatsApp to sponsor families affected by food insecurity. Humanitarian organizations like the U.N. have warned that 6.2 million Somalis are on the verge of famine, but foreign aid has been slow coming. Saad Ali Shire, the foreign minister of the republic of Somaliland, says that Somalia needs immediate aid in the form of life-saving supplies in the next two to three weeks to avoid a declared famine.
Aid organizations are trying to prevent a repeat of the famine that killed 260,000 Somalis between 2010 and 2012. Britain's Department for International Development gave £100 million to Somalia, but the money only covers a small fraction of the need.With the response to the food crisis in Somalia lagging, networks around the world are turning to social media to support people in need of life-saving aid. Users of WhatsApp are forming groups and pooling their resources to sponsor Somali families. The groups figure out how much aid they can provide based on the formula that says families can survive on $60 per month.
The group then deposits money into a Dahabshiil bank account. Dahabshiil is an African international funds transfer company started in 1970.
The company was initially set up so that migrants from countries in East Africa could send money back to their family and friends still living there. Dahabshiil now allows groups like the Somali clans to transfer funds during crises in addition to offering banking services to the World Bank, Oxfam, the U.N. and Save the Children.After WhatsApp groups deposit money into a Dahabshiil account, they nominate a five-person committee to withdraw the money and buy supplies for families usually powdered milk, rice and water.
TOP TWEETS
@TheVillaSomalia: Congrats to @DalsanFM  for its 5th anniversary. Free media indispensible for accountable & democratic government. @MOISOMALIA @engyarisow
@ICVA_MENA: The number of people in need of aid including health needs in Somalia is increasing with 65% in remote areas@Intersos @ICVAnetwork briefing
@faoinsomalia: At a water truck supplied by #FAO, pastoralists tell the #BBC's @Abdynoor of 'the worst drought in years' –http://goo.gl/SFk4tT
@jeromejarre: The airplane for Somalia is here !!! It has our name on It INCREDIBLE HOW MUCH CAN BE DONE WHEN HUMANS COLLABORATE TOGETHER!!
@WorldVisionEARO: Only 20% of #Somalia's required emergency funding has been received, leaving millions of people at the risk of famine @SNyabweng @WVSomalia
@NRC_HoA: #Somalia: Cholera outbreak has hit 18,800 people, 443 deaths since start '17. We're concerned April rains will worsen already dire situation
IMAGE OF THE DAY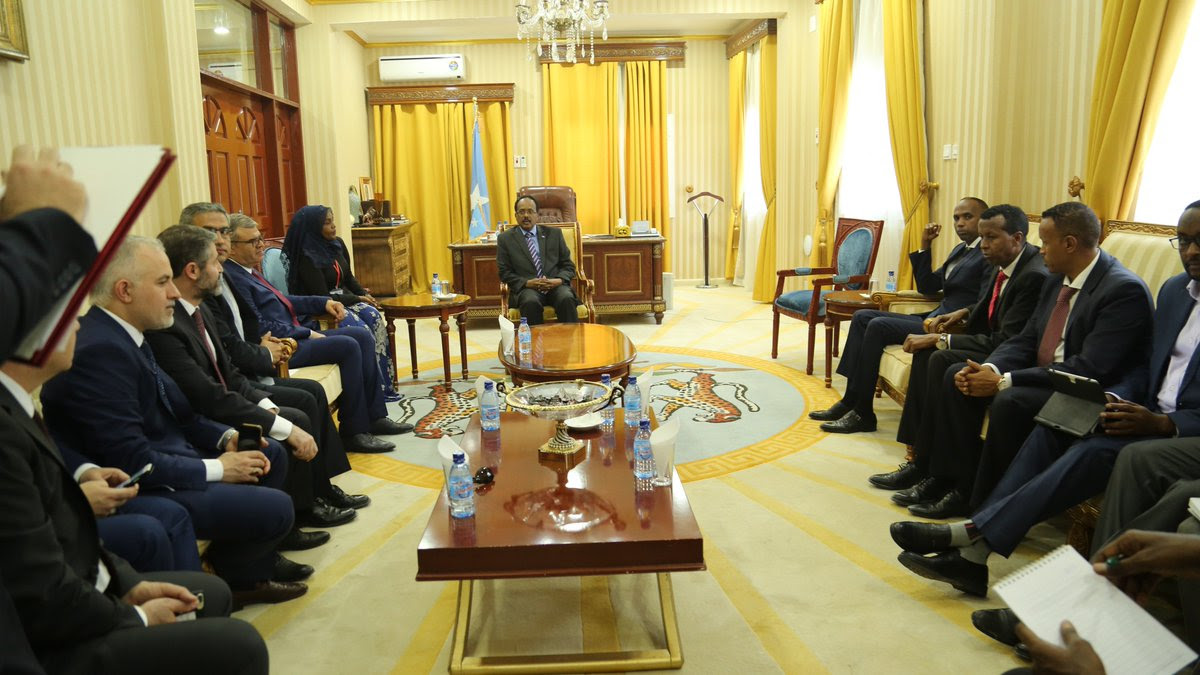 Somali President Mohamed Abdullahi Mohamed "Farmaajo" welcome Turkey's Deputy Premier Veysi Kaynak at Villa Somalia to discuss about Turkish Aid and development programmes in the country
Photo: @TheVillaSomalia