April 19, 2017 | Daily Monitoring Report.
IED Explosion Targets Govt Convoy Near Mogadishu
19 April – Source : Shabelle News – 81 Words
A powerful roadside explosion targeted a military escorted convoy of government officials in the outskirts of Somali capital Mogadishu on Wednesday morning. Reports said a remote-controlled landmine blast ripped through vehicles carrying top Somali officials in Garas-balay area as they were heading to the IDP camps outside Mogadishu. It is not yet clear the main target of the IED blast, and no group has yet claimed responsibility for the attack. Unconfirmed reports suggest that foreign nationals were travelling in the convoy.
Key Headlines
IED Explosion Targets Govt Convoy Near Mogadishu (Shabelle News)
Gunmen Kill An Elder Injure Three Others (SONNA)
Hiiraan Governor Criticises National Drought Committee (Hiiraan Online)
Rain Gives Hope To Herders And Farmers in Parched Villages in Southern Somalia's Bay Region (Radio Ergo)
Qatar Charity Launches Several Relief Projects In Somalia (The Peninsula)
Drought Affects Water Quality In Somalia(The Borgen Project)
Why Somalia Is Getting More Foreign Aid Than South Sudan (Daily Nation)
NATIONAL MEDIA
Gunmen Kill An Elder, Injure Three Others
19 April – Source : SONNA – 87 Words
Gunmen who are believed to be Al-Shabaab militants killed community leader and wounded others in Beledweyne town in Hiiraan region overnight, SONNA reported.Deputy Police Commissioner for Beledweyne town, Nur Hassan said that the assassinated elder was among delegates who chose members of parliament in Jowhar."Mustaf Mohamed was peace activist and famous elder and he was killed in the evening by gunmen who the escaped, but the security are on the case", Mr. Hassan said.Al-Shabaab militants often commit such assassinations against scholars, politicians and community leaders.
---
Hiiraan Governor Criticises National Drought Committee
19 April- Source: Hiiraan Online- 112 Words
The governor of the Hiiraan, Ali Jeyte Osman has criticised the National Drought Committee for failing to deliver aid allocated to the drought victims who are suffering in the region."We don't see this committee is working for the people of Somalia, we only see the head of the committee addressing the media saying they have dispatched money to the regions of Somalia. We even don't have one dollar from them,"Ali Jeyte said the drought situation has reached a level where people are dying of starvation." The people are dying because of starvation, we see it as unfortunate that the money meant for this people is been contested upon,"  said Jeyte.
INTERNATIONAL MEDIA
18 April – Source : Radio Ergo – 430 Words
Twenty parched villages in Qansax Dheere district in the southern Somali region of Bay have received heavy rainfall over the last two days, after two years of water shortage. People and their livestock are now drinking from about 30 water pans that filled up with rain. Many people had left the village during the drought and those who stayed were forced to use salty water bought from wells in Qansahdere town. Those with donkey carts used to trek for a day or two to the town and sell the water in the villages for 150,000 Somali shillings ($6.5) a barrel.
However, the biggest worry is trying to save the livestock that are already weakened by months of lack of water and food. The rain also brings colder conditions. Aden Haji Mohamud in Kaban village, 70 km from Qansax Dheere, told Radio Ergo he lost 58 goats and cows over the past three months.  He thought he was going to lose his 90 remaining animals as he could no longer afford to buy water. "We will take advantage of the rain for our drinking needs and for our livestock," he said. "I am leading the animals that are strong enough to drink at the water pan and carrying water back for the weaker ones."
Aden said all six water pans in the village are full for the first time in more than two years. But nobody knows how much rain they can expect this season. "Even if it does not rain again, the water in the pans can at least sustain us for three months," said Abdirahman Ma'alim Hussein, in Bunbekay village about 78 km from Kansahdere.
---
18 April – Source : The Peninsula – 469 Words
A delegation from Qatar Charity (QC) headed by Sheikh Hamad bin Fahd bin Abdulaziz Al Thani has visited Somalia to observe the worsening humanitarian situation there. QC has launched several relief projects in Somalia and met with the Prime Minister of Somalia and other officials. The delegation included: Jasem Aljasem, the adviser to the Executive Manager of QC, Mansour Dafaa, an adviser of International Arbitration and a member of the General Assembly of QC, Ahmed Saleh Alali, QC's Media Manager, Nayef Alanzy, and other media contributors including: Abdellah Anzy, Ahmed Abdellah, Sayed Hussam Rowhy, Abdullah Helali, and from Marsal Qatar network Yaseen Harsi.
After observing the Somalis' difficult conditions of living, Qatar Charity's delegation launched a number of important humanitarian projects including opening a kitchen that will serve 7,000 people and launching of an artesian well that will provide drinking water for about 4,000 in drought-devastated areas. Sheikh Hamad bin Fahd bin Abdulaziz Al Thani pointed out that the recent surge of drought has an effect on all aspects of life in Somalia.
It has caused a loss of livestock that farmers relied on for daily needs, and people take refuge at shelters at cities so that they could find minimal safety and stay alive. Detailing more on the humanitarian condition in Somalia, Aljasem said: "It is in fact a catastrophe, unbelievable thing. There is a gloomy and heart breaking situation, it is a fact. Nobody could imagine the existence of people living in such situation.
---
19 April – Source : The Borgen Project – 314 Words
Clean water is essential to the survival of all living things. Weather conditions in the Horn of Africa, the lack of the yearly rainy season in 2016 and an increase in sea surface temperatures have created an extreme emergency. Drought conditions have affected water quality in Somalia and have created both a food and health crisis.
According to the World Health Organization (WHO), extreme drought affects more than 6.2 million people. Water quality in Somalia has deteriorated placing 5.5 million people in danger of contracting waterborne illnesses with half being women and children under the age of five. Drought conditions have also led to a food crisis affecting at least three million people and prompting President Abdullahi Mohamed to declare a national disaster. If conditions do not improve, the U.N. expects these numbers to double this year.
As the water quality in Somalia worsens so does the spread of diseases, such as acute watery diarrhea and cholera. More than 17,000 cases have been reported at the local Cholera Treatment Centre, and the number is expected to increase. The situation has been made worse by the food crisis, as people become undernourished and weak. A lack of knowledge also contributes to the crisis. Ruun Ali, the mother of four-year-old Asma, said, "We don't know what causes it, but many people are getting sick." She brought Asma to the Cholera Treatment Centre when she became sick with vomiting and diarrhea.
OPINION, ANALYSIS AND CULTURE
"Of even greater significance, Mr Ging added, is the $1.2 billion in remittances that Somalis living abroad send annually to their families. In South Sudan, by contrast, a $1.6 billion UN appeal is only 27 percent funded, Mr Ging said. The $438 million contributed to date is "insufficient to keep pace" with hunger in a country where 100,000 people are living in officially declared famine zones"
19 April – Source : Daily Nation – 497 Words
International donors are responding adequately to the food crisis in Somalia but are falling far short of supplying required amounts of aid in South Sudan, a United Nations humanitarian aid director has said. "The needs are escalating, but the response is currently keeping pace with those needs," UN official John Ging told reporters Tuesday at a briefing on his recent monitoring visit to the towns of Baidoa and Kismayo in Somalia. The UN has appealed for $825 million to help stave off famine in Somalia and has so far received $558 million in donations, Mr Ging said. That nearly 70 per cent response rate is "quite unprecedented," he noted.
Somali Diaspora: Of even greater significance, Mr Ging added, is the $1.2 billion in remittances that Somalis living abroad send annually to their families.
In South Sudan, by contrast, a $1.6 billion UN appeal is only 27 percent funded, Mr Ging said. The $438 million contributed to date is "insufficient to keep pace" with hunger in a country where 100,000 people are living in officially declared famine zones. Another one million South Sudanese are in danger of experiencing famine, Mr Ging emphasised. A team of UN officials, including Mr Ging, recently visited the towns of Wau and Mayendit in South Sudan. Asked to explain the difference in donors' response, he said the South Sudan government has not fulfilled its stated commitment to making dangerous parts of the country accessible to aid providers. "We see a gap between statements of the government comments made by the president and others and actions on the ground," Mr Ging declared
Hospitality: Violence has claimed the lives of 82 aid workers since the start of South Sudan's civil war in 2013, he noted. Nine employees of humanitarian organisations have been killed in just the past month, Mr Ging added. In Somalia, on the other hand, the recently installed government headed by President Mohamed Abdullahi Farmajo is engaged in "a very strong partnership with international organisations," he said. In addition, Mr Ging continued, the UN and donor countries are determined to prevent a recurrence of the 2011 famine in Somalia that claimed an estimated 260,000 lives. "We were collectively seen as not responding quickly enough" to that emergency, he said.
TOP TWEETS
@AadamIbraahim: #News:- Hirshabelle's armed soldier fires bullets to disperse patients In Inter Sos Hospital Jowhar District, Middle Shabelle, Somalia.
@Daudoo: BREAKING: Explosion targets convoy of govt officials in the outskirts of #Mogadishu, casualties unknown http://bit.ly/2olZRaZ  #Somalia
@cmc_vip: Somalia# Thrilled to see Somalia Government taking its leading role in humanitarian coordination. #NHCCSomFedGov
@HIPSINSTITUTE: New @HIPSINSTITUTE policy brief: #SomaliCitizensPriorities
A Memo4 #Somalia's Leaders
http://bit.ly/2oU8zAK
@SomaliPM @TheVillaSomalia
@PeterTatchell:#Somalia: 1/2 population currently need humanitarian assistance; systemic abuses & ongoing crises https://www.opendemocracy.net/laetitia-bader/in-crisis-stricken-somalia-no-safe-haven-0 … via @openDemocracy
@HassanIstiila: #BREAKING: Explosion targets convoy carrying National Drought response committee members on outskirt of #Mogadishu, no casualties
IMAGE OF THE DAY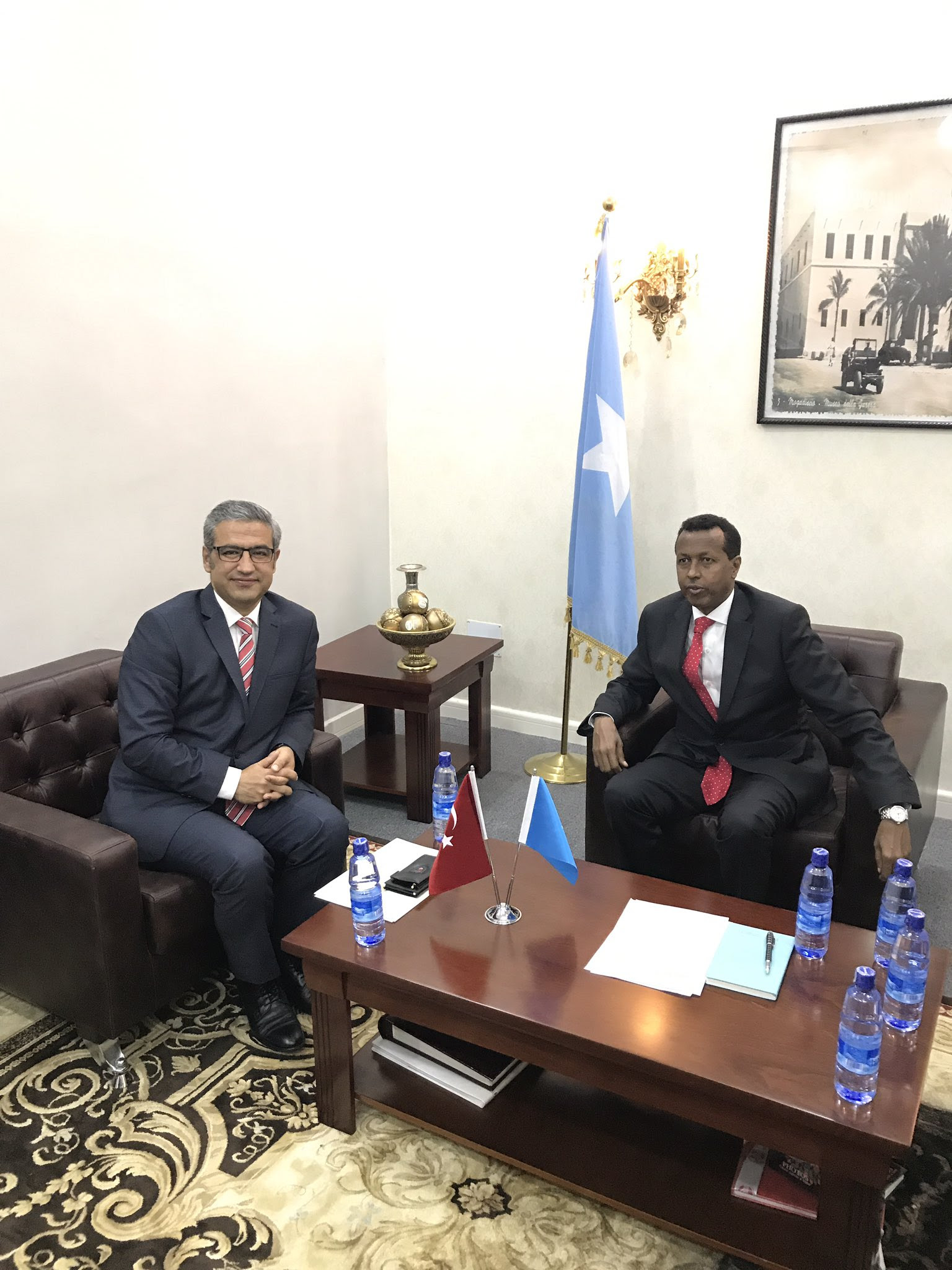 Somali Foreign Affairs and International Cooperation minister Yusuf Garad host Turkish Ambassador to somali HE Olgen Beker in his office in Mogadishu
Photo: @TC_Mogadishu