April 10, 2017 | Daily Monitoring Report
10 April – Source : SBS News/Associated Press – 217 Words
A suicide bomber has blown himself up at a military academy west of Somalia's capital, killing at least five soldiers, a military officer says.The bomber dressed in a military uniform walked into the Somali military training camp on Monday morning and detonated explosives strapped to his waist near soldiers and officers, Colonel Abdi Hassan said. The bomber, posing as a military trainee, had crossed the gate checkpoint and targeted soldiers and officers resting after their daily military exercises.Somalia's Islamic extremist rebels, al-Shabaab, have claimed responsibility for the attack.In a separate incident on Monday, a government worker was killed after a bomb in his car was detonated by remote control in Mogadishu's Hamarweyne district, police say.
Abdikadir Osman, an officer with the education ministry immediately died before medics took him to a hospital.Al-Shabaab, which is allied to al-Qaida, has stepped up its campaign of bombings in Mogadishu in recent weeks.New President Mohmed Abdullahi Mohamed has named a new military chief and other officials in an attempt to improve the worsening security situation. Al-Shabaab has denounced the new president as an "apostate" and warned Somalis against supporting him.The Trump administration approved greater US military authority to pursue al-Shabaab, including more aggressive airstrikes as parts of southern Somalia will be considered areas of active hostilities.
Key Headlines
Somali Military Academy Attacked 5 Dead (SBS News/Associated Press)
President Farmaajo Off To UAE As Pressure Builds Over Naval Base And Ports Deals (Goobjoog News)
Car Bomb Kills Government Worker In Mogadishu (Shabelle News)
NISA UAE-Trained Forces Clash In Mogadishu (jowhar.com)
13 People Killed In Clan Clashes In Sool Region (Goobjoog News)
China Navy Says It Foiled Pirate Attack On Ship Off Somalia (The Globe & Mail)
What Donald Trump Order On Somalia Means (Daily Nation)
NATIONAL MEDIA
President Farmaajo Off To UAE As Pressure Builds Over Naval Base And Ports Deals
10 April – Source : Goobjoog News – 398 Words
President Farmaajo jetted off to the UAE on Sunday, leaving behind a twitter storm over the unilateral ports and naval base agreements between the Middle Eastern country and two of Somalia's regions. The visit which is the second for Farmaajo to the Gulf region comes barely three days after Puntland government announced a 30 year concession to UAE's P&O Ports to develop and manage the port of Bosaso. The $336 million deal adds to another $442 million deal by UAE's DP World over the port of Bosaso for the same period of time with an automatic ten year renewal. A Puntland lawmaker who declined to be named told Goobjoog News the state's assembly had not debated the matter. "I cannot comment about this issue since we have not seen the deal yet. We are waiting for President Ali Gaas to brief us about it," the MP said.
The Puntland leader, Gaas was in the United Arab Emirates past week to sign the deal which he said was 'a huge undertaking in Puntland and will greatly contribute to the infrastructure development in Somalia, particularly the Puntland State of Somalia'. A source privy to the foregoing has told Goobjoog News the Emiratis are also keen on striking another port management deal with Jubbaland authorities to take over Kismayu port.
A Twitter hashtag, UAE Hands Off Somalia generated debate with Somalis calling on the UAE to rid itself of dealings with Somalia. President Farmaajo will be expected to protest UAE's involvement with regional administrations in what analysts and Parliament have termed a violation of the country's constitution and international law. A section of Federal Parliament MPs last week tabled a motion questioning UAE's naval base agreement with Somaliland which would grant the Emirati military rights to pitch camp in Berbera port raising fears of a collateral damage in the war against the Iranian backed Houthi rebels in Yemen.
The lawmakers asked Farmaajo administration to come clean on the matter and state what it knows about it. Sources have said the immediate former administration may have been privy to the deal and that there may have been cases of money changing hands. During his visit to Saudi Arabia in March, President Farmaajo is reported to have sought the support of Saudi's second deputy premier and defense minister Mohamed bin Salman Al Saud to convince the Emirati government to drop the deal.
---
Car Bomb Kills Government Worker In Mogadishu
10 April – Source : Shabelle News – 101 Words
A bomb device concealed under a car seat has killed a government employee in Mogadishu on Monday, the latest in series of attacks in the capital since the election of President Farmajo last February. Eyewitnesses said Abdulkadir Osman Farah popularly known as (Dr Yare) died when an explosive device fitted into his vehicle exploded outside Martini hospital in Hamar Weyne. The late Dr Yare was working for the ministry of education of Somalia's Federal government. No one immediately claimed responsibility for the blast, but Al Shabaab intensified bombings in Mogadishu to topple a new government led by President Mohamed Abdullahi Farmajo.
---
NISA, UAE-Trained Forces Clash In Mogadishu
10 April – Source: Jowhar.com – 141 Words
A fierce clash has reportedly erupted between Somali Intelligence Agency NISA forces and UAE-trained forces in Mogadishu's Hodan district on Sunday night. The fight occurred when heavily armed NISA troops began security operation near positions manned by the UAE-trained forces' bases in the area, resulting in a sustained gunfight between the two sides. However, it was later intervened by senior security officials who persuaded the two sides to stop the fight and go back to their respective bases.
The incident comes barely a day after newly appointed NISA chief Abdullahi Sanbaloolshe assumed office and threatened to take stern measures against government soldiers who carry firearms in the capital.  Sanbaloolshe is said to be known to authorize such controversial raids. It is not yet known the exact casualty of the clashes, and normalcy has returned in the area where the clashes erupted.
---
13 People Killed In Clan Clashes In Sool Region
10 April – Source : Goobjoog News – 84 Words
Thirteen people have been killed and several others injured on Sunday in clan clashes in Sahardher and Dhumay villages, Sool region of northern Somalia, residents have said. Witnesses told Goobjoog News the fighting broke out midday Sunday running for several hours and that tension still remains high in the areas. There is no comment yet from the authorities. The region has experienced perennial clan clashes. Arguments over land use, boreholes and pasture have perennially contributed to fighting among Somali clans who are largely pastoralists.
INTERNATIONAL MEDIA
10 April – Source : The Globe and Mail – 250 Words
China's naval forces foiled an attack by pirates on a freighter in the Gulf of Aden, the navy said, but gave no word on arrests or other contact with suspects. The statement said 16 members of the Chinese special forces were lowered onto the Tuvalu-flagged ship OS35 by helicopter at dawn on Sunday. They placed the 19 crew members in a safety cabin and searched the ship to ensure there were no further threats. The navy said a distress signal was received Saturday saying the ship was under attack by an unknown number of pirates aboard a single boat. It then circled the ship by air and sea before launching the rescue operation from the missile frigate Yulin, part of the 25th anti-piracy squadron sent by China since it joined multinational patrols in 2008.
China's involvement in the patrols is seen both as a sign of China's growing engagement in the global commons and as practice for its navy in how to operate far from China's shores. The mission has also resulted in China building its first military base in a foreign country in the African Horn nation of Djibouti, mainly as a supply and recreation facility for its anti-piracy patrols and peacekeeping operations in South Sudan and elsewhere on the African continent. The navy says it has escorted a total of 6,337 Chinese and foreign vessels during its anti-piracy operations and intervened dozens of times in cases where ships were either attacked or were being pursued by pirates.
OPINION, ANALYSIS AND CULTURE
"Stig Jarle Hansen, a Somalia expert at Harvard's Kennedy School of Government, agreed that intensified US military support will "potentially give Amisom, and also including Kenyan forces, a new capacity to attack gatherings of Shabaab forces."But the Trump order may not translate into an actual escalation of US military operations in Somalia, said Jack Serle, a reporter who has covered Al-Shabaab for the London-based Bureau of Investigative Journalism,"
10 April – Sourcen : Daily Nation – 895 Words
President Donald Trump's recent order allowing more aggressive US military action in Somalia increases the risk of civilian casualties and consequent recruitment gains for Al-Shabaab, analysts say.But Mr Trump's lifting of Obama administration restrictions on US air and ground strikes could also hamper Shabaab's ability to carry out strikes of its own, these analysts add. President Trump's directive last month can be interpreted as an attempt to answer a question his transition team put to State Department officials early in January."We've been fighting Al-Shabaab for a decade," the Trump team wrote. "Why haven't we won?"
In the view of Trump administration officials, President Obama's cautious approach in directly attacking Al-Shabaab prevented the US Africa Command (Africom) from effectively supporting African Union and Somali government forces.The move to give US commanders greater latitude in targeting suspected Shabaab elements had been advocated by the Pentagon."It's very important and very helpful for us to have little more flexibility, a little bit more timeliness, in terms of decision-making process," Africom chief Gen Thomas Waldhauser said at a news conference five days prior to Mr Trump's shift in US policy.
His March 29 directive removes a requirement that proposed US strikes on Shabaab be vetted at high levels in Washington.The new policy also ends the Obama condition that US attacks can be launched only when the targeted entity is believed to pose a specific threat to Americans.And US raids will no longer be predicated on high probability that civilians will not die as a result. According to a New York Times account, the Trump order permits attacks when civilian casualties "are deemed necessary and proportionate."
US officials have acknowledged the heightened danger of civilian deaths and enhanced recruitment opportunities for Shabaab as a result of this new authorisation."It's very, very important that we have a very, very high degree of certainty" in limiting or entirely avoiding civilian casualties, Gen Waldhauser said on March 24."And obviously the cardinal rule in these types of engagements is to not make more enemies than you already have."
TOP TWEETS
@Daudoo:BREAKING: #Somalia govt official, identified as Dr Yare, killed/Wounded badly after bomb fitted to his car explodes in #Mogadishu
@Daudoo: BREAKING: A man wearing #Somalia military uniform blew himself up inside military camp in #Mogadishu's Wadajir district. Casualties reported
@JeromeOLLIER: Actus Mer/Sea News: China navy says it foiled pirate attack on ship off Somalia – @AP via @washingtonpost http://dlvr.it/NrjtDH
@UNFPA_SOMALIA: Ambulance handed over to #Somaliland Ministry of Health to assist in averting maternal deaths in drought response #avertsomaliafamine
@Daudoo: 4 days since Pres Farmajo declared "state of war in the country" & Mogadishu is facing the consequences. Deadly bombings every day. #Somalia
@HarunMaruf: BREAKING: Suicide bombing reported in a military camp at the former candy factory, southern Mogadishu.
@amisomsomalia: .@AU_PSD strongly condemns the terrorist attacks in #Somalia and Sweden. http://bit.ly/2nwAGGx
IMAGE OF THE DAY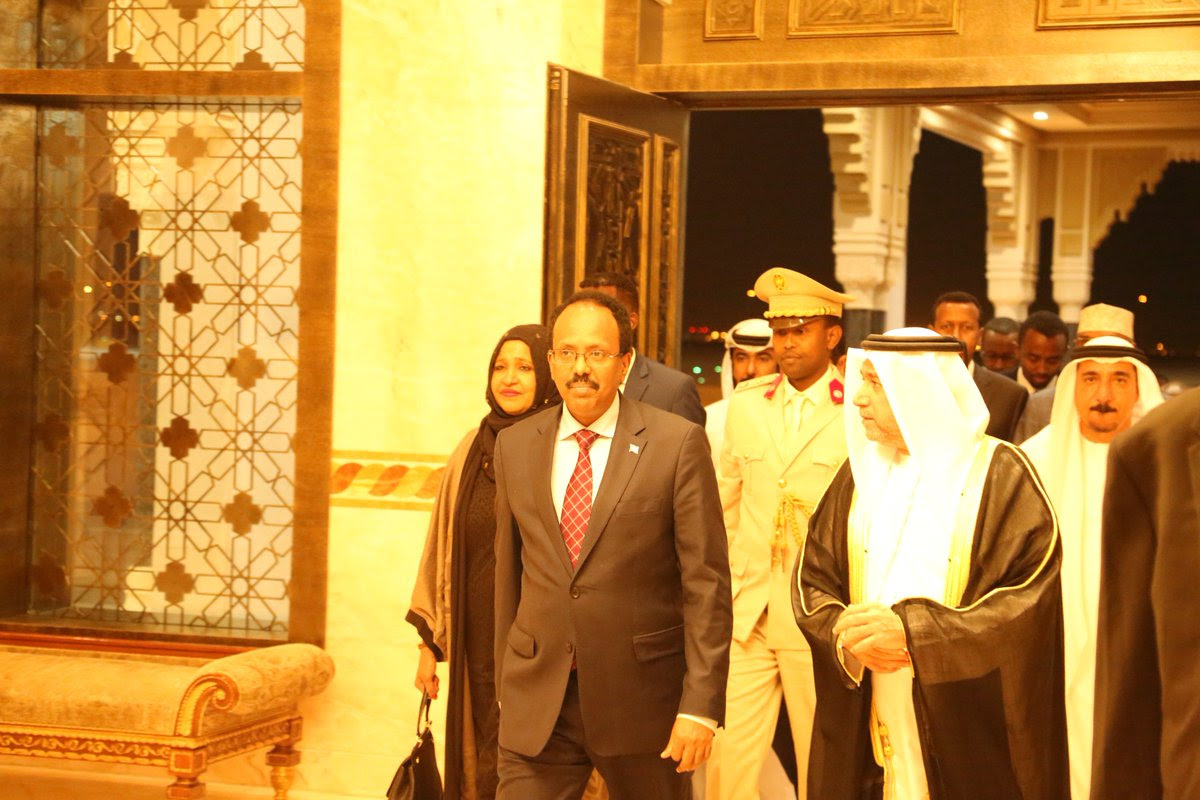 Somali President arrives in Abu Dhabi to discuss bilateral relations with UAE leaders
Photo: @TheVillaSomalia