December 29, 2017 | Daily Monitoring Report
29 December – Source: Voice of America – 666 Words
The United States military says its support for the Federal Government of Somalia is making an impact in a year in which the Trump administration increased attacks against al-Shabab militants. In 2017, the U.S. conducted at least 34 strike operations against al-Shabab and a militant splinter group supporting the Islamic State, according observers of U.S. military activities against al-Shabab. Last year there were 14 strikes. Thirty-one of the strikes targeted al-Shabab while the other three targeted pro-Islamic State militants in northeastern Puntland region.
Since U.S. President Donald Trump eased combat rules in March and declared parts of Somalia a "war zone," strike operations conducted by the U.S. have killed more than 155 militants, according to a press statement given by the Africa command.  At least 100 of those were killed November 21 in a single attack on a training camp near Leb-Adde Mountains in Bay region. In addition, in at least three strikes the U.S. said "several" militants were killed but didn't follow up with specific figures.
In a news briefing by the Africa Command, Commander of U.S. Africa Command General Thomas D. Waldhauser said attacks on al-Shabab and ISIS militants "provide time and space for the gradual development of the Somali National Army, police force and government." "The threat from al-Shabab continues to be a serious one, as shown by their deadly attacks killing more than 500 in Mogadishu back in October," Waldhauser said. "While we are not increasing our presence or assets there, or intentionally escalating strikes, our pressure on the network and information sharing efforts are paying off with an increasing awareness of what the enemy is doing, making our targeting efforts more successful."
Key Headlines
US Airstrikes In Somalia Increasing Pressure On Al-Shabaab (Voice of America)
President Farmaajo Sends Message To Al-Shabaab Fighters (Radio Mustaqbal)
Somali Government Forces Conduct Security Operations In Gaalawer Village In Afgoye District (Jowhar.com)
Corruption Rife In Somalia UN Says In Year-end Assessment (Daily Nation)
Women And Family Institution Between Established Culture And Religious Duties In Somalia (World Bulletin)
NATIONAL MEDIA
President Farmaajo Sends Message To Al-Shabaab Fighters
29 December – Source: Radio Mustaqbal – 100 Words
President, Mohamed Abdullahi Farmaajo has once again sent a message to Al-Shabaab fighters who are  fighting the government. The President said the Somali National Army is prepared how to liberate areas under Al-Shabaab control saying the Somali public is rallying behind the Somali National Army in their new plan.
The President said the government will welcome all those who desert the Al-Shabaab group saying they have been wrongly indoctrinated in the first place.  The President made the remarks during a ceremony in Mogadishu that saw the launch of the transfer of the Somali airspace management to the Federal Government of Somalia.
---
Somali Government Forces Conduct Security Operations In Gaalawer Village In Afgoye District
28 December – Source: Jowhar.com – 196 Words
Reports from the Lower Shabelle region says that Somali National forces and foreign troops have carried out operations in Gaalawer area, approximately  five kilometers  from the town of Afgoye. Some of the people who live in the village told the media that many troops come to the village at night to conduct security operations. "The troops who had never seen before in the area have begun to arrest the youths in the village, an elders who was one of the mosque official was killed during the operations after he refused the security officials to arrest his son," said one of the resident of the village. The report have added that more than 6 youth were arrested in the operations at Gaalawer Village.
The Somali special forces and and soldiers believed to be Americans have launched operations in Lower Shabelle region as a night operation in the Wanlaweyn district killed one person identified by the government as an Al-shabaab member. However, residents in Wanlaweyn district said the man who was was killed popularly known as Macaalin Jeelle was a man of peace. However, the Federal Government of Somalia did not comment on last nights  operation in Afgoye district.
INTERNATIONAL MEDIA
29 December – Source: Daily Nation – 354 Words
United Nations officials are offering a mixed but mainly negative year-end assessment of conditions in Somalia, while warning of a "grim" humanitarian outlook for 2018. Progress towards stability is being impeded by extreme drought and hunger, by Al-Shabaab's continued ability to slaughter large numbers of civilians, and other "enormous challenges," said Michael Keating, head of the UN Somalia Mission. "These include pervasive corruption, most obviously in politics, and power brokers' willingness to use violence, or the threat of violence, against opponents," he said in a review of Somalia's status.
Noting that Al-Shabaab remains capable of launching devastating attacks, Mr Keating said the militant Islamist group "thrives, among other things, on the absence of functional local government and on the many conflicts around the country". And it is not only Al-Shabaab that threatens the country's future, he added. "Somalis deserve better than to watch as the most privileged compete for personal gain at a time when they face so much adversity and insecurity," Mr Keating said.
In a bulletin issued on Wednesday, the UN's humanitarian agency cited a 10-fold increase in the number of Somalis classified as on the brink of famine from 88,000 in January 2017 to 866,000 in November. Overall, 6.2 million Somalis require humanitarian aid, the UN body said. "More than half of these require urgent life-saving assistance." Projections of below-average rainfall for the coming year indicate that Somalia's "unprecedented drought" is likely to persist, the bulletin added.
OPINION, ANALYSIS & CULTURE
"After all, being a woman, especially being a Somali woman is really hard. The women challenged by  every difficulty are left to sustain their life on their own. Women, who can not even benefit from the rights that Islam has given them, continue their lives among the traditions and religious conflicts that are adopted as cultures,"
29 December – Source: World Bulletin – 1530 Words
As known, Somalia is an East African country with a Sunni Islamic background. Somali society adopts a settled lifestyle besides having a nomadic culture. In this direction, it is a community displaying settled and nomadic cultures together. Despite all the negativities in the country, it is possible to trace the social and cultural life such as pre-marriage rituals, bridewealth, dowry, wedding ceremony, birth, circumcision, and divorce.
How do the Somali people who fled to other countries during the war get married? What the bride want as the bridewealth from her husband-to-be? Is there a time difference between the marriage contract and ceremony? Is there a tradition that couples called engagement are like each other's recognition process? Is there any cost to the family of the bride for the dowry? How does the wedding ceremony take place? How did the tradition of circumcising women come into being? In which situations do couples choose to divorce?
Primarily, young Somali women marry mostly when they are between 12 and 19. Husbands are usually older than wives. Sometimes Somali girls can be the second wife of their husbands. The tribes called the clan are very important for the people of Somalia. They can not marry a person from the upper class or lower class. Similarly, the members of the clan in the lower class can marry only one of their own group.
Weddings in Somalia; Spouses never see each other before the wedding if they are not relatives or neighbor. There is no such thing as a relationship between couples called engagement. On the first day they get married in the presence of witnesses and in front of the shaykh; just like the religious wedding in Turkish culture. After the marriage contract husband and wife declare their marriage.
During the period between the marriage contract and wedding ceremony, which is about one month, spouses try to know each other closely. In the meantime, if they want to do so, they keep a house close to the father's house, but some of the tribe's members are separated from the father's house only by the father's death. One month later, the bride wears a white wedding dress. During the wedding, the boy's side sends various gifts to the girl's side. As a result of the negotiations under the title of dowry money, 15 camels, in some cases up to 100 camels, and some other gifts are sent to the girl's side.
One week after the wedding, the bride is dressed in traditional Somali clothing and entertainment is organized, of course, among women. After this wedding tradition, gifts prepared for the boy's side are presented. The girl's side presents including the meat, ginger, palm, fragrance and dress in an embellished chest. Also, the bridewealth is given to the bride, which an Islamic assurance for the bride. However, there are some cases in which Somali men do not give the promised bridewealth. For instance they decide 4 camels to be given but men give only 2 camels to their wives or sometimes the men refuse to give anything; whereas in some cases men keept their words and give the bridewealth immediately.
TOP TWEETS
@AbdirizakOm: #FactCheck. What we got is transfer of Flight Information Service for Somalia (FISS) & ICAO will continue to manage air control fees collected by IATA. The projected 30 M per year from flights that use our air space is not reflected in our 2018 budget.This is a work in progress
@Blaiserboy: US Airstrikes in Somalia Increasing Pressure on al-Shabab  http://dlvr.it/Q838m4  #USA #Africa
@HarunMaruf: Excellent human story from Dadaab on how Trump's refugee ban leaves some at risk of dying@washingtonpost @ksieff https://www.washingtonpost.com/amphtml/world/africa/2017-was-a-terrible-year-to-be-a-refugee-but-at-a-massive-camp-i-saw-hope/2017/12/26/4fd89af8-e0fc-11e7-b2e9-8c636f076c76_story.html?__twitter_impression=true …
@omabha: #Somalia Women and Family Institution Between Established Culture and Religious Duties in Somaliahttp://dlvr.it/Q82vwS
@adancabdulle: Somalia likely to start the new year without an intel chief. Former intel chief was fired following the devastating Oct 14th terror attack. Among the top contenders are an ex Banadir governor, ex Mogadishu Port DG & deputy NISA director.
@SomaliaToday1: Corruption rife in Somalia, UN says in year-end assessment, http://www.somaliatoday.so/2017/12/29/corruption-rife-in-somalia-un-says-in-year-end-assessment/ …,
@HarunMaruf: Somalia president renews appeal to Al-Shabab fighters to abandon the group's, says the will receive a better life: @DalsanFM
@USAfricaCommand: U.S. support to the Federal Government of Somalia continues to make a positive impact –http://go.usa.gov/xnES7
IMAGE OF THE DAY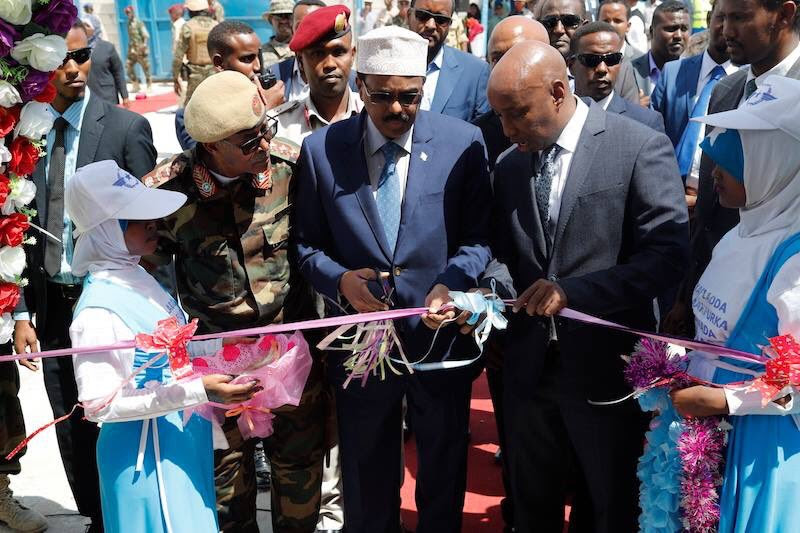 President, Mohamed Abdullahi Farmajo officially opens the new airspace control centre as Somalia's Civil Aviation & Meteorology Authority (SCAMA) takes over control and management of Airspace.
Photo: SCAMA